In the last couple of months, I have launched not one, but two volumes of Learn French with Stories for Beginners. You can read about the introduction to the first one here, and the second book here. To complete the entire package for beginners, I have produced the 3rd and final book of the series – Learn French with Stories for Beginners Volume 3.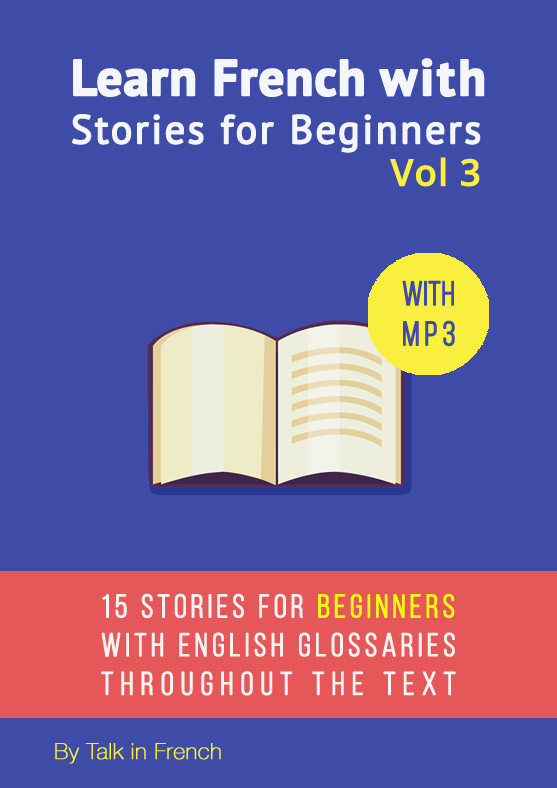 Here are some answers to questions you might have about this new book:
1. What is Learn French with Stories for Beginners Volume 3?
It's the latest ebook by Talk in French written for beginner-level learners. It has 15 different short stories about a variety of topics to help you improve your reading and listening comprehension.
2. How is it different from other ebooks in the market?
The stories all come with a built-in French and English glossary so that you don't have to look up the words you don't understand. The grammar structures, vocabulary, and dialogues are also well-selected to help you with both formal French as well as the French spoken on the street. But the best part is that it comes with free audio that you can listen to! Every story is recorded in two ways: normal speed and a slow version. You can choose which version suits your comprehension level!
3. How much does the e-book cost?
It only costs $4.90! Unbelievable value for such a useful product. But if you get it during the LAUNCH WEEK which is from 3th October 2015 until 12th October 2015 you can get all 3 volumes for only $7.90 (normal price: $14.70) !
That's a 40% slash off the total price! For a little more than what you spend for coffee, you can already get 45 short stories ideal for beginners with 12 hours of audio that you can listen to while you're on your daily commute, your run, or while wrapping up some household chores. Amazing value, isn't it?
So hurry, get your copy now! Don't forget to share with your friends and family on social media, too!