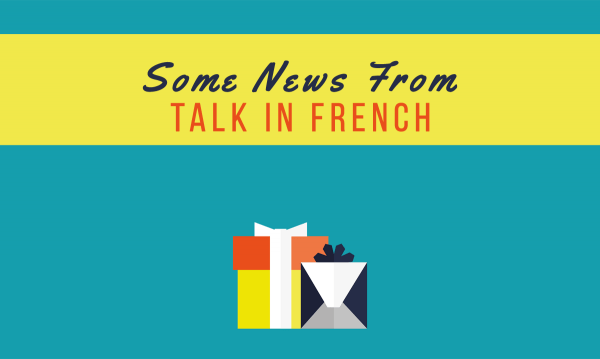 A lot of amazing things have happened to Talk in French since I started it two years ago and I have you my awesome readers and followers to thank for it. I don't get to say this enough but, merci beaucoup, thank you very much for all of your support. Your feedback, comments, email replies, and all-around awesomeness have kept me going all these time.
Now that I'm rolling out something new and different for all of you, I want nothing more than to have you be a part of it every step of the way.
But first, the news.
Beginning this week, you will be seeing a new line of products coming to the Talk in French store. And no, it's not e-books and learning resources. Talk in French will be offering exclusive merchandise in the store including gift items, wall art, tote bags, and more. Now you can get exclusive items that I will personally design for the community.
So, I did mention earlier that I want you to be part of it. This is a step that I will only be taking if I have your support. For that, I would like to ask you a few things:
Some of the products will be about educational posters:

Do you have any topics about the French language that you want me to include?

Inspirational wall art:

What type of inspirational art related to France would you like to see gracing your walls?

Gift items:

Any prints on gift items (mugs, tote bags) you would like to buy for yourself or give to a Francophile or French learner in your life?
You can also participate in this survey (only one question)
I'd love to hear your thoughts on this. Your response to those questions as well as any other input from you would be very helpful to me and will be truly appreciated.  As my way of saying thanks, I will be raffling off a special gift to everyone who sends their feedback.
Thank you, merci beaucoup. I look forward to hearing from you.
Frédéric