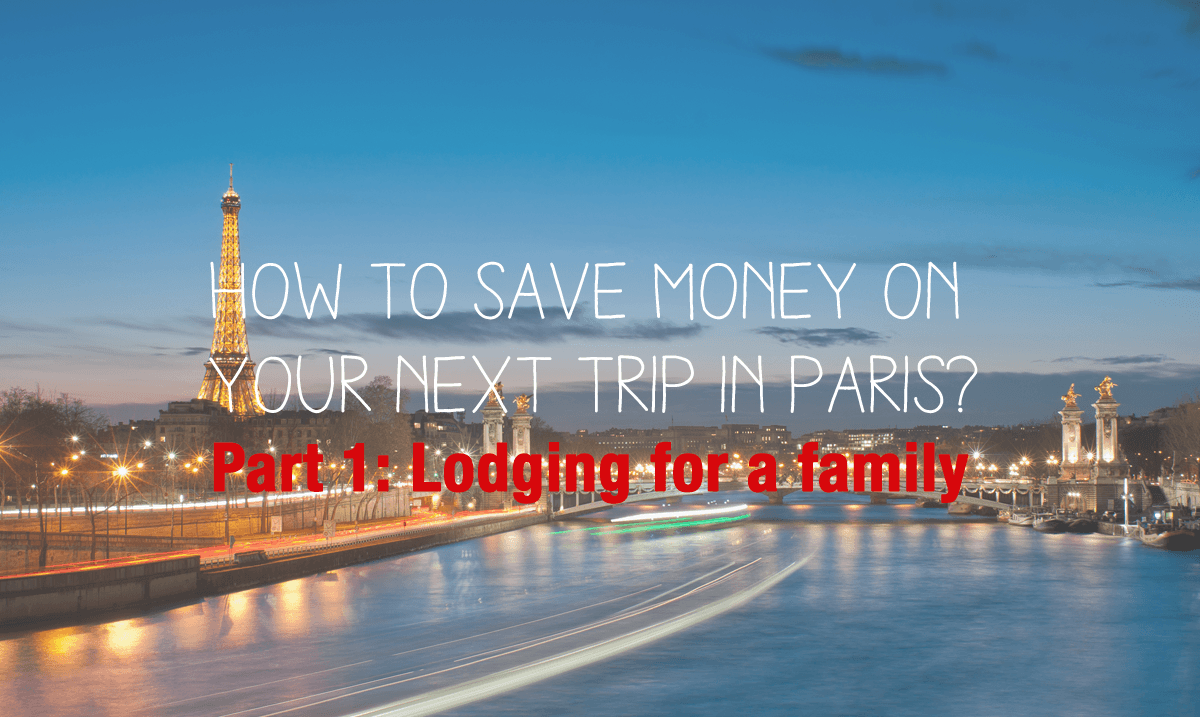 [symple_highlight color="green"]Reading time: 8 minutes[/symple_highlight]
Are you planning to visit Paris with your family and want to minimize your accommodation expenses? I share few tips on how to save money on lodging for a family with Airbnb.
In this article, I will share some information about:
Things to consider when looking for a place here
Some recommended areas for a family
How much you can save per night,
Some examples of good places that may be suitable for you and your family.
And a little gift at the end of this article  😉
So, what is Airbnb?
Airbnb was founded by Brian Chesky, Joe Gebbia, and, later, Nathan Blecharczyk, under the original name AirBed & Breakfast in 2008. It is a portal for people to advertise, explore, and book lodging in unique surroundings around the world via mobile phone or the internet. It offers over 500,000 listings in 33,000 cities and 192 countries.   
Why a family should consider AIRBNB when travelling to Paris:
Cheaper price (30- 50% less on average)
Lodgings that can sleep five or more
Child-friendly homes with yard, nursery, etc.
Personal service
If you choose to stay with a host, they can give you invaluable tips about the area of your choice, and perhaps show you some of the local sites. Almost all hosts are willing to lend a hand if you need to know more about directions, places, and the Parisian culture. It is a favoured choice for families. Given that your planned recreational activities may be more relaxation-orientated than youngsters wanting to go clubbing, this is a great way to truly explore the culture of this unique city.
What to consider?
1/ Family Background.
First of all, when looking for a place to stay, you should consider your family details (number of children, medical problems etc.),  the requirements for any elderly members (stairs, bathrooms etc.), and, of course, your desired location.
This is essential to help you narrow down your choices and provide maximum convenience for your family upon arrival. Children are a major factor in choosing a space. When you arrive in your destination, it means leaving the comforts of your home, so you should also consider the style of the space you will book. Before booking, it is recommended that you discuss all these aspects with the owner before making your choice.
2/ Sharing the space with a host or not? 
Decide whether you'd be comfortable sharing your accommodation with your host. There are advantages to living with a host, for example, if you are planning to experiment with the French lifestyle, if the host is nice enough, you can probably have a meal or two with him/her and experience a typical French meal. You can also share stories, experiences and culture with each other.
If you are on talkinfrench, you probably know a little French a by now, so experiencing an authentic French atmosphere will be a great experience and allow you to hone those skills a little more.
3/ How will your kids behave in the host's home? 
Keep in mind that you will live in somebody's place. If you think your kids are a bit 'excitable', make sure they understand acceptable behaviour; any breakages will have to be paid for.
4/ Go the extra (s)mile. 
There is nothing more touching than showing your gratitude to your host. For instance, if the weather is awful, what about making a card, drafting a letter or buying a small token of appreciation to thank them for the wonderful time you've had? Sometimes, guests and hosts make a deep connection that endures long after the holiday ends.
5/ Respect your host. 
When sharing with your host, it is best to respect the schedule and personal space of your host. For example, you can ask them if they have a bathroom schedule, so you can adjust yours accordingly. You can also ask their work schedule, so you have knowledge when you will expect them home. Just be considerate and everything will work out smoothly and memorably.
Where to live for your family :
There are 20 arrondissements/districts in Paris, but, for a family trip I would recommend the area covering the 1, 2 3ème and 4ème,   6,7,8 , 15,16 arrondissement. They are considered the most family-friendly (not too noisy, safe, clean…) . Obviously, since they are very central, 1,2,3,4 would  be your top choices, but bear in mind that Paris is fairly small so you can travel almost everywhere within 30 minutes by subway.
1st arrondissement   – 1st arrondissement was once the haunt of Royalty and the intellectual elite. It is still a place for art lovers and educational family vacations with its major museums like Musee du Louvre (the largest museum in the world), Musee des Artes Decoratifs (the museum of fashion), and Musee de l'Orangerie. Moreover, 1st arrondissement houses a number of historical churches like the Notre Dame Cathedral, beautiful gardens, and  high-end shopping malls.
2nd arrondissement – It is the smallest area in Paris, but it contains some of the most affordable hotel accommodation and apartments in the whole of Paris. A modest room usually starts at 50 euros, and you will find some decent shops and cafes in the area. It is the financial centre of the city though, so you cannot expect many tourist spots here.
3rd arrondissement –  Like the 1st and 2nd arrondissements, 3rd arrondissement is also a great choice for a family stay. The area contains the northern, quieter part of Le Marais and a small Chinatown. Some popular tourist attractions here are: Le Marais, Carnavalet Museum, Conservatoire National des Arts et Metiers, Le Defenseur du Temps, Institut Tessin, Musee des Arts et Metiers, and five more famous museums.
4th arrondissement – The fourth arrondissement is the twin sister of the third, but livelier. Some historical spots can be seen here, but it mainly reflects contemporary Paris with its bustling neighbourhoods such as Marais and Beaubourg.
6th arrondissement – With its central location, the sixth arrondissement is the home of contemporary French intelligentsia and Bohemia. It is also defined by beautiful landscapes, architecture and monuments like Saint-Germain-Abbey and Jardin de Luxembourg. Economically, it is one of the richest arrondissements in the city.
7th arrondissement – The seventh arrondissement is in the heart of Paris. It houses some of the grandest tourist spots of the city, like the Eiffel Tower. The area is peaceful and relaxing, and offers sophisticated shopping malls, patisseries, and other tourist attractions.
8th arrondissement –  8th–along with 1st, 9th, 16th and 17th arrondissements–is one of Paris main business hubs. It is the location of Champs-Elysees, the Arc de Triomphe, Place de la Concorde, and the Elysee Palace, the official residence of the President of France.
15th arrondissement- 15th arr is the most populous district in Paris. You will see the tallest skyscraper, The Tour Montparnasse, and Gare Montparnasse in this neighbourhood.
16th arrondissement- It is proudly called the "Arrondissement de Passy" by the French high-society. With its status as the fourth richest district in the capital, you will find 19th century buildings, wide streets and avenues, prestigious schools and various parks and museums.   
"How much can I save per night?"
The average hotel room in Paris costs $239 for three to four star hotel rooms, up to $1,500 for a five star hotel. Staying with children means another room and more expenses. However, an average family rental cost in a house or room in AirBnB will range from $114 to $350. You can save up to $1000 on your trip and $5000 for five days!
A more detailed comparison: some examples
A/ Example 1: One room for four in 15th arrondissement
Expedia: A room for four in a hotel in 15 arr in Paris will cost you $379 per day. For a week's stay, this works out at $2653.
Airbnb:   An entire home/ apt for five in Porte de Versailles will cost you only $109.28 per day, and in the equivalent time, you will spend only $764.
You will automatically save $270 per day and  $1889 in seven days. Your basic necessities like bedroom, strategic location to the metro/buses, Wi-Fi, etc. are provided in both services, but a whole apartment in Porte de Versailles is considerably cheaper than that in a hotel from expedia.
B/ Example 2: In the 16th arrondissement.
Expedia: A large, modern room in the 16th arrondissement will guarantee a comfortable place for your family for $300. Strategically it is ideal because the hotel is located near Arc de Trocadero, Baccarat Museum, Arc de Triomphe, Eiffel Tower, Louvre Museum and Palais de Chaillot.
Airbnb: On the other hand, a charming apartment in the 16th arrondissement will provide you a homely Parisian stay in Paris, complete with a double bed, single beds, dining area, bathroom, living room, and a balcony.  The house is available for $271.
Personal recommendation:
I recommend these places because of their affordability, location, and the room itself.
1. 2 Bed Apartment in 7th arrondissement – I would recommend this place due to its affordability at $274 for a fully furnished flat with two queen-sized beds, and very close proximity to museums, cafes, iconic places, and transportation.
2. Lovely Apartment in the City of Lights – This apartment is one of the most economical on Airbnb. With a rate of $137, the apartment offers the basic necessities a family needs: cable, internet, kitchen, one bed and one sofa bed, etc. It is also kid-friendly, great for young families.
3. Romantic Eiffel Tower – This cute and cosy space with a view of the Eiffel tower from your window is a great place for a small family. It is a small studio type apartment in the 15th arr. It has complete amenities and even has a small working place at the corner.
4. Stay on a Barge in Paris – This is one of the most exciting places I've seen on Airbnb. Wouldn't it be exciting to stay in a barge in your first time in Paris, with the bonus of having the Seine River, Notre Dame, and Eiffel tower near you? If you are thinking that this privilege will also cost you, you will be surprised that it is a lot cheaper than a night in a hotel. It costs around $452 a night for accommodation. Remember that it has a minimum requirement of three nights for every renter.
5. Feel Home in Paris (8 Beds) – 200 m away from the Eiffel tower, this spacious apartment is a great place for a big family of up to 8 people. I like it because it's spacious, and offers complete amenities for the comfort of a big family.
There are many more offers you can choose from: enjoy surfing the rooms, houses, tree houses, and even castles in Airbnb.
An extra gift for you : Get $25 dollars off on your first booking
If you haven't yet signed up to Airbnb, you can get a $25 discount on your first reservation (in Paris or not) by clicking on this link here.  Sign-up today and get a $25 off on your first booking.
Please note that I also get a $25 credit for airbnb. A win-win for both of us!
Conclusion
I hope this little guide will help you make the right decision. If you already have an account in Airbnb, I will appreciate it so much if you can share your experiences with us.
Which do you think will suit your next family trip in Paris: a hotel accommodation or a place from airbnb? In your opinion, what are the most essential factors in choosing a place for a family trip? Let me know your answers, opinions, suggestions, experiences and reactions in the comment section below, and let us all help each other maximize each other's stay in the City of Lights.
[symple_highlight color="red"]P.S. You would be doing me a HUGE FAVOR  by sharing it via Twitter, Facebook, Google + or Pinterest. [/symple_highlight]