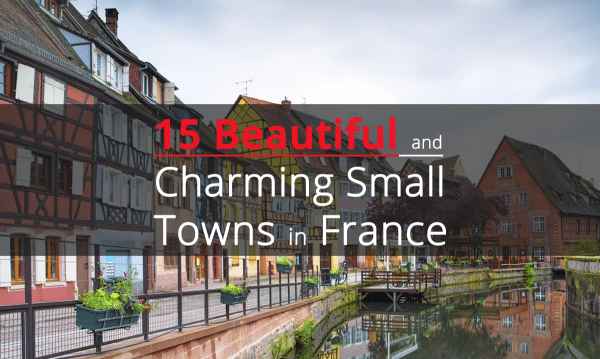 Reading time: 8 minutes
Are you wondering what are some great places to visit aside from the City of Lights? Most of the time, we correlate Paris with France. When we speak of France, the "Eiffel Tower", "Notre Dame" and Parisians almost always come up in conversations, but how will you really know France by looking at only one of its faces, right?
There are thousands of beautiful villages and small towns in the country, and each region has its own special qualities. Travelling around some of the small towns in France means travel between hilltops, rocky coastal towns and breathtaking scenery while enjoying the local lifestyles of the people.
What's Inside? Click For Quick Navigation1. Ars-en-Ré2. Piana3. Bonneval-sur-arc4. Annecy5. Colmar6. Dinan7. Locronan​8. Saint Veran9. Perouges​10. Domfront11. Kaysersberg12. Lourmarin​13. Gaillac​14. Eguisheim15. EtretatConclusion/ DisclaimerQuick Recap of this Article:
1. Ars-en-Ré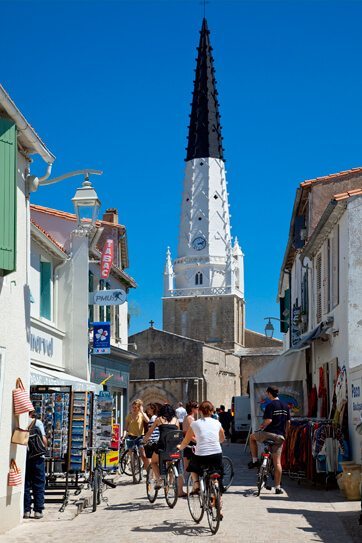 Source: tmagazine
A charming town of bicycles! This is how most people describe Ars-en-Ré. With its white-washed houses and traditional green shutters, hollyhocks, salt pans, and relaxing but sleepy beach town, it is a pleasure to explore this tiny seafarer village.
The center of the village is around an open central square with its trademark Church spire. During summer the clock tower is open to the public. It is a good place to unwind with a relaxing view of the town and the sea. This tiny village on the island of Ré has been drawing sailors and traders for centuries, but modern travelers also succumb to the seaside beauty and valor of this place.
Région/Area: Charente-Maritime
How to get here: To get here, you can take a train from Montparnasse to La Rochelle, and then you will have to get another train or a bus from La Rochelle to Ars-en-Re.
Travel Duration: approx. 6 hrs.
2. Piana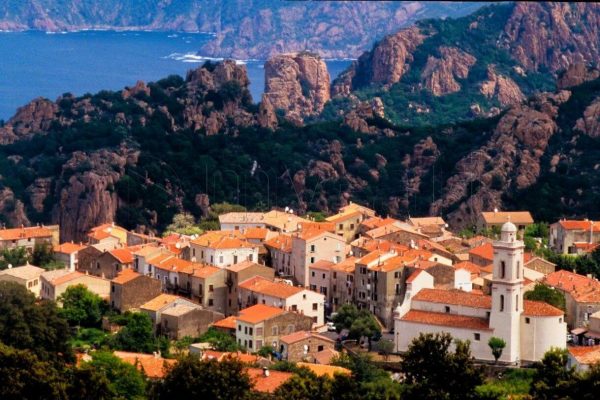 Source: my-art.com
Similar to Ars-en-Ré, Piana is also made up of traditional white-washed stone houses and churches. A town in Corsica, which is also known as the Island of Beauty and listed as a Unesco World Heritage site, Piana is a picturesque setting with the Gulf of Porto below it. Piana has several boutiques, bars and restaurants to choose from.
Some of its main attraction are:
the 18th century Italian-style church of Saint-Marie. It contains a 17th century painting of Saint Hugo of Lincoln and a wooden statue of the Assumption.

the lovely town is only one reason why people visit this place

the scenery along the road from Piana to Porto which is known as the Calanches de Piana.
Région/Area: Corse-du-sud
How to get here: Take a train from Paris (Saint Michel) to Antony Ratp, and then from Antony Ratp, take another train to Paris Orly. From Paris Orly you can get a Calvi plane. The travel time is around one hour and thirty five minutes. When you land at Calvi, you can take a taxi to Piana.
Travel duration: approx. 3 hours and 40 min.
3. Bonneval-sur-arc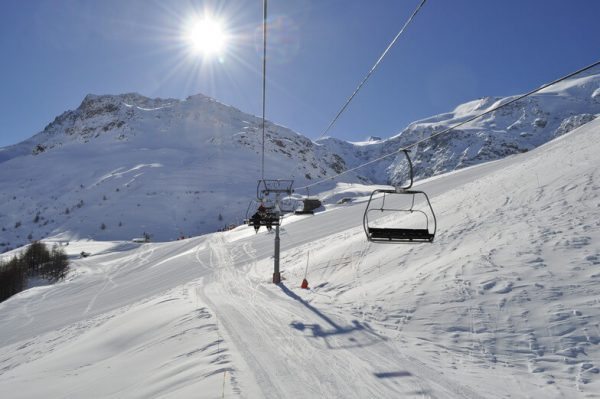 Source: snow-forecast
If you are looking for a combination of skiing, hiking and a provincial way of life, Bonneval is a good place to visit. It is below the Col de l'lseran, one of the highest mountains in Europe, so it is recommended for sports enthusiasts and nature lovers.
Bonneval is quite different during summer and winter. During summer, it is a great place for family picnics and outdoor activities. During winter, it turns into a ski resort. It might be a smaller and less known ski area, but it maintains its good reputation for the quality of its snow, plus less crowd mean more space and freedom for you to move and have fun with your friends.
Région/Area: Savoie
How to get here: Take a train from Paris Gare de Lyon to Modane, and take a bus from Modane straight to Bonneval Sur Arc.
Travel duration: Approx. 6 hours and 24 min.
4. Annecy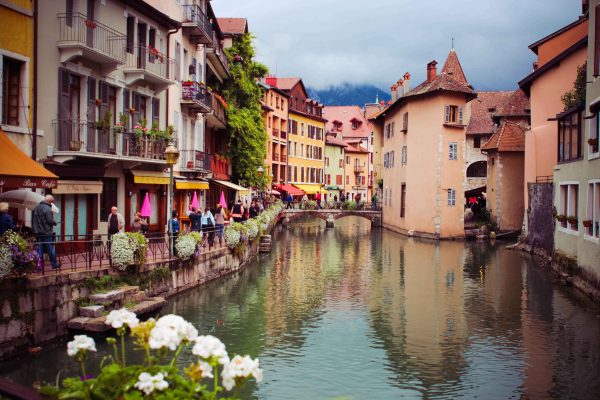 Source: barefootblonde
Sometimes referred to as "Little Venice", Annecy is best for romantic couples.
Annecy's main attractions include:
Le Palais de l'Isle (a historical 12th century castle built right in the middle of one of its canals which is now classified as a Historical Monument and a local history museum)

the dark blue waters of the Annecy lake

the colorful Rue Saint Claire

the diverse vegetation of the European Gardens

the Pont des Amours (Lover's Bridge).
Région/Area: : Haute-Savoie
How to get here: Take a train from Paris Gare de Lyon to Annecy .
Travel duration: approx. 3 hrs. and 44 min.
5. Colmar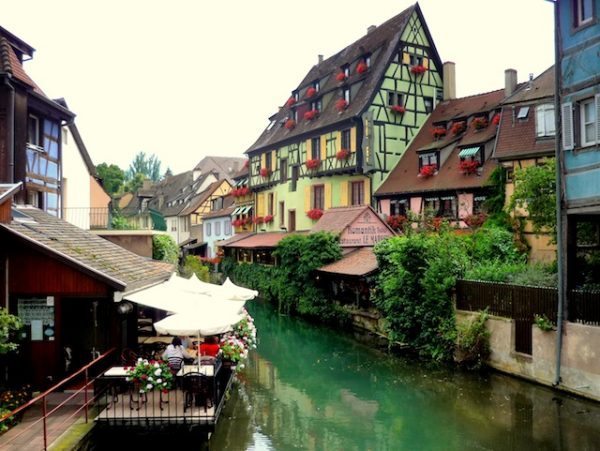 Source: frenchmoments
Colmar is well-known as the Alsatian wine capital. It is a colorful town and is considered as one of France's "Little Venices". Colmar is full of brightly-colored houses, bright flower-lined canals, and a fairytale-like atmosphere. You can take a canoe trip through the canals of Colmar.
You can also visit:
Unterlinden Museum repository

The house of Bartholdi (the creator of Statue of Liberty)

The house of a local artist best known as Hansi (whose artworks are almost everywhere in Colmar)

The eighth century's Germanic-French religious architectural landmarks in the town, like: Eglise St.-Martin, Water Tower, Maison Adolph, etc…

Unterlinden Museum repository

Unterlinden Museum repository
Région/Area: Haute-Rhin
How to get here: Take a train from Paris Est to Colmar.
Travel duration: approx. 3 hours.
6. Dinan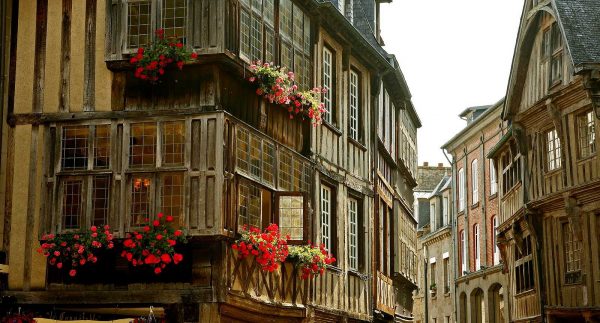 Source: photos.creafrance.org
The prettiest town in Brittany! This is the title Dinan holds until now. A medieval town on a hilltop overseeing the river of Rance, Dinan is surrounded with long ramparts or walls, Tudor type houses, port, cobbled streets, art galleries, and shops. Dinan is a well-preserved place with most of its old buildings, some of which were built during the 13th century, and most of its magnificent ramparts still in place.
Some of its major attractions:
The Jacobins Theater, St. Malo's Church

Duchess Anne's Tower
The Chateau de Dinan.
The best time to visit Dinan is July when they are celebrating the Fête des Remparts.
Région/Area: Côtes-d'Armor
How to get here: Take a train from Paris Montparnasse going to Rennes. From Rennes take another train to Dol de Bretagne and then another train going to Dinan.
Travel duration: approx. 3 hrs and 40 min.​
7. Locronan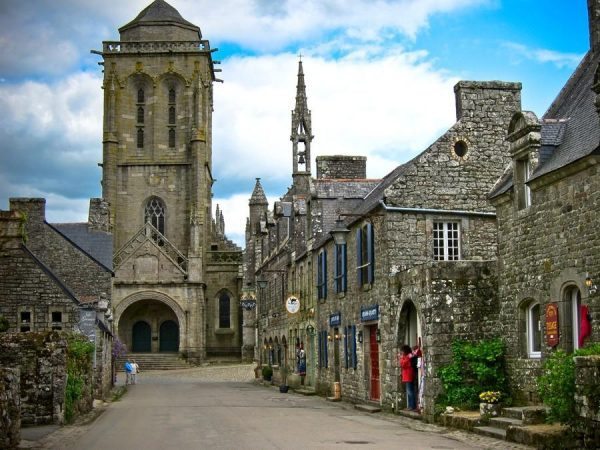 Source: pixdaus
Another pride of Brittany, Locronan is hailed as one of the Plus Beaux Villages in France (most beautiful villages of France).
The Locronan pilgrimages, for instance, hold a high importance in the land of Brittany. They call this pilgrimage "Tromenie", which occurs every six years between the second and third Sundays of July. This pilgrimage festival includes a large procession and participants who carry the banners of participating parishes.
Locronan prides itself on its remarkable grand houses built way back in the 18th century, as well as its local museum covering the history of its weaving industry and arts.
Région/Area: Finistère
How to get here: You can take a train from Paris Montparnasse to Quimper, then take the line 37 bus from Quimper to Locronan.
Travel duration: approx. 5 hours.
​8. Saint Veran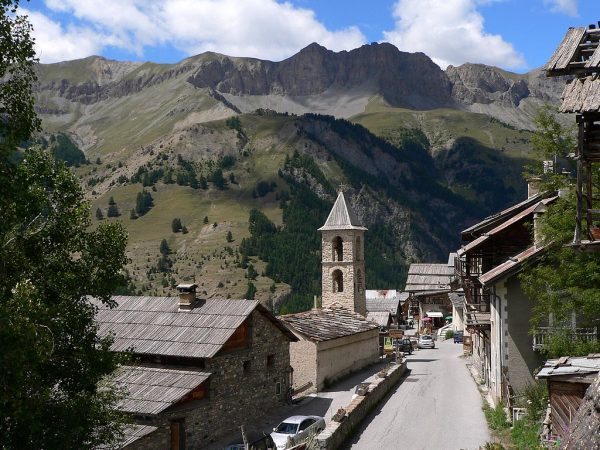 Source: panoramio
Saint Veran is the most elevated commune in France, and the third in whole Europe. It is located in the heart of the "Parc Naturel Regional du Queyras" Nature Park in Southern Alps. Upon entering Saint Veran, you will see its traditional hamlets, fountains, wooden chapels, sundials, etc…
Places to visit in Saint Veran are:
the old copper mine and its exhibition
Le musée du Soum
L' Observatoire.
Région/Area: Hautes-Alpes
How to get here: Take a train from Paris Gare de Lyon to Valence TGV, the from Valence TGV to Montdauphin-Guill. Reaching Montdauphin-Guill, you can get a taxi to Saint Veran.
Travel duration: approx. 6 hrs and 46 min.
9. Perouges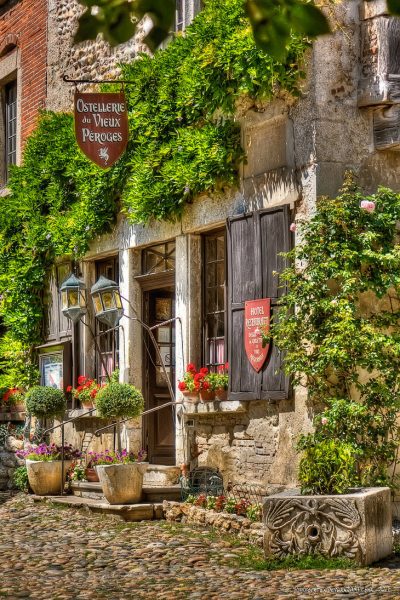 Source: sylveryfox.deviantart.com
Perouges is a medieval walled town in the northeast of Lyon. The town of Perouges is so romantic, homey and old-fashioned that it is often used in many films. Some of the films created here are The Bride (1985) and The Hour of the Pig (1993). Indeed, Perouges has preserved its medieval landscape.
Going here during April and June will give you a bonus with its spring festival during April and various musical events ranging from Baroque to jazz every June.
​Région/Area: Ain
How to get here: Take a train from Paris Gare de Lyon to Lyon Part Dieu, then a train from Lyon Part Dieu straight to Meximieux-Perouges
Travel duration: approx. 2 hours and 44 minutes.
​10. Domfront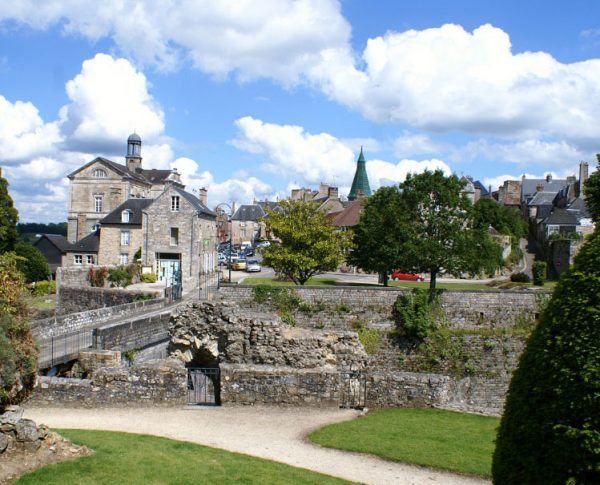 Source: ajpn
Hiking, horseback riding, cycling, sightseeing…., these are only some of the activities that you can do while in Domfront.
You can start your day by visiting some of its historical sites:
The ruins of the Chateau de Domfront

The mansion of the Saucers

The 11th century roman style church of the Notre Dame

A trekking in the Andaines Forest
A trip to Bagnoles de l'Orne.
The theme park in the Colmont Gorron
Charles Leander Museum
Région/Area: Orne
How to get here: Take a train from Paris Montparnasse Vaugirard to Flers, then there is a bus from Flers to Domfront.
Travel duration: approx.4 hours.
11. Kaysersberg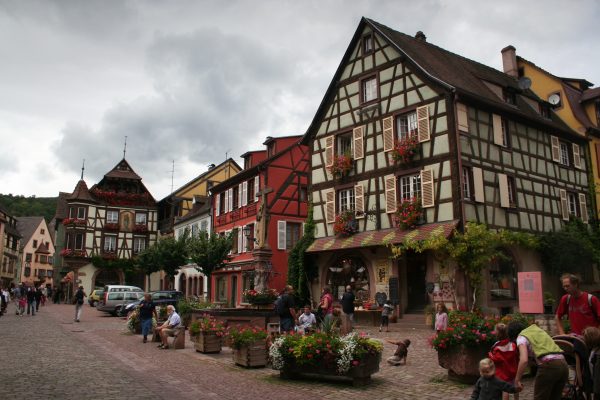 Source: wikimedia
Kaysersberg, a.k.a the Mountain of the Emperor, attracts visitors because of its classic Alsace wine trail, so expect barrels of outstanding wines!
​Upon entering the town, you will find the high fortress that dominates the city, which serves as a reminder of both its strategic and historic significance. Moreover, similar to some other towns in France, Kaysersberg is made up of old Medieval type houses, half-timbered houses, cobblestoned streets and of course, various Medieval churches. Don't forget to take a stroll along its 16th century fortified bridge which offers a beautiful view of the river..
Région/Area: Haut-Rhin
How to get here: Take a train from Paris Est to Colmar, and another 5 min train from Colmar to Logelbach. From Logelbach, take the Line 145 bus to Kaysersberg.
Travel duration: approx. 5 hours
12. Lourmarin​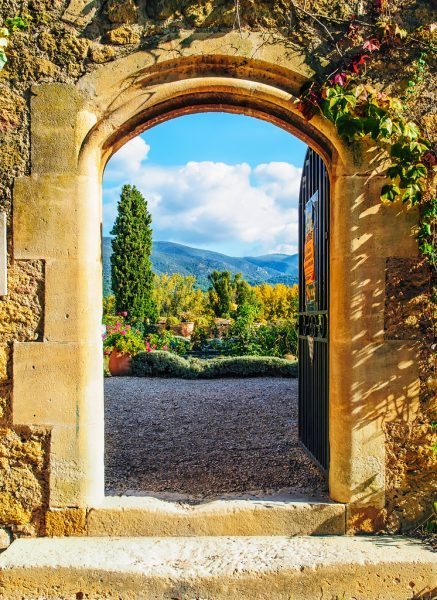 Source: livingginafairytale.tumblr.com
Lourmarin is poetry in motion. It has numerous cafes, restaurants, boutiques, and ivy-covered streets full of a lavender scent which will give you an exquisite taste of its locality.
The town's main attraction:
The 15th century Renaissance castle
Various Catholic and Protestant Churches
The view of the Proches Bastides.
Just 20 minutes drive from the village is the Durance River and then 40 minutes from it is the city of Aix-en-Provence if you are looking for a shift in environment.
​Région/Area: Vaucluse
How to get here: Take a train from Paris Gare de Lyon to Avignon Center then another train to Cavaillon. In Cavaillon, get the Line 8 bus to Lourmarin.
Travel duration: 6 hours and 45 min.
13. Gaillac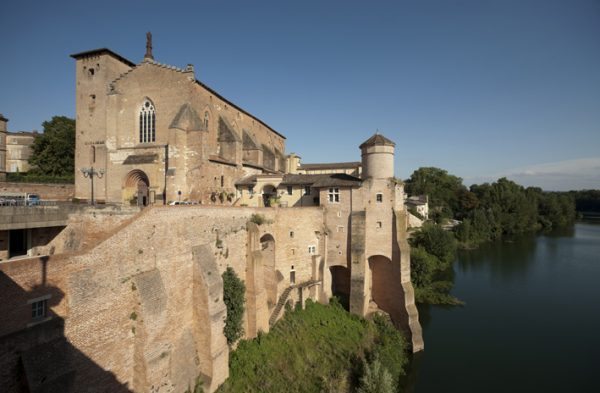 Source: bordeaux-undiscovered
Gaillac will offer you a warm welcome of wines and vineyards, as you stroll around its charming little streets. Gaillac is full of chateaux, dovecotes and umbrella pines. Gaillac has been a major producer of wines from white, to red, and rosé. Gaillac's other attractions:
Abbaye Saint-Michel XIII
Palmata 13th round
Peter's Church, Abbey Museum
Castle Foucaud (château de Foucaud)
Région/Area: Tarn
How to get here: Take a train from Paris to Toulousse- Matabiau, and another train to Gaillac.
​Travel duration: approx. 6 hours and 41 min.
​14. Eguisheim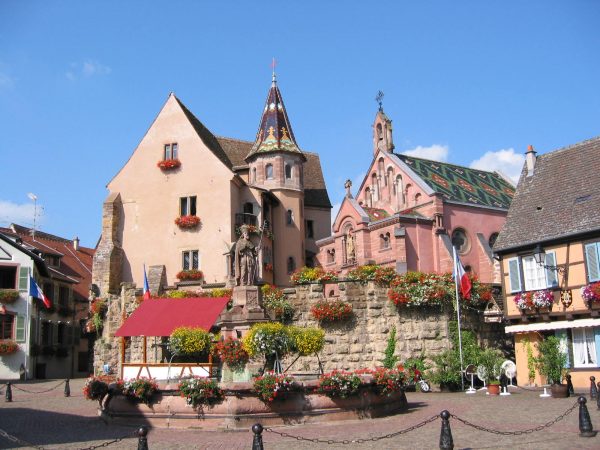 Source: wikimedia
Eguisheim is very unique with its concentric layout of streets unlike other towns and villages in France.
​It is a magnet for tourists and visitors because of its flower-filled villages and colorful houses, which give it a fairy tale ambiance. As part of the Alsatian Wine Route, Eguisheim is also a producer of great wines. This is evident with its vineyards, cellars and wine bars all around the city.
Région/Area: Haut-Rhin
​How to get here: You can take a train from Paris EST to Colmar and then get a bus from Colmar to Eguisheim.
​Travel duration: approx. 4 hours
15. Etretat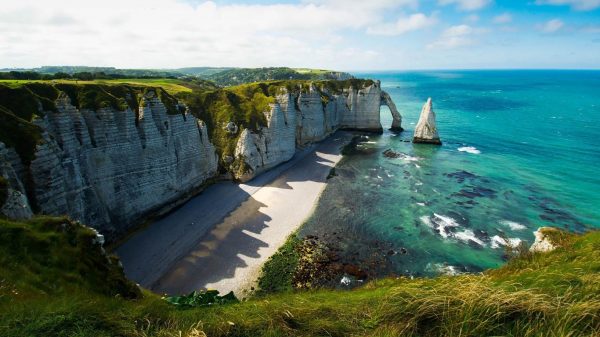 Source: hqwallbase
Last but not least, one of the most popular tourist spots in Upper Normandy.
Etretat offers:
Dramatic cliffs and arches,
A wonderful gravel beach.
Etretat is best known for its three natural arches and the pointed needle. It attracts tourists and even celebrities because of its peaceful scenery.
Région/Area: Seine-Maritime
How to get here: Take a train from Paris St. Lazare to Le Havre, and then take the Line 24 bus from Le Havre to Etretat.
Travel duration: approx. 3 hours and 31 min.​
Conclusion/ Disclaimer
With thousands of small towns and villages in France, I cannot include every town in one article; therefore, I tried my best to choose some of the best places I think are worth visiting. Each region and department also has a unique character of its own.
What's your favorite village?
Quick Recap of this Article:
France has so many beautiful lesser-known little towns that are worthy of a visit.
Whether you're in the mood for sleepy beach towns, colorful villages, or icy slopes, there is a perfect French town for you.
Before you travel to the beautiful French destinations mentioned above, get your copy of the most complete French Phrasebook. It has everything you need to travel in France with confidence.