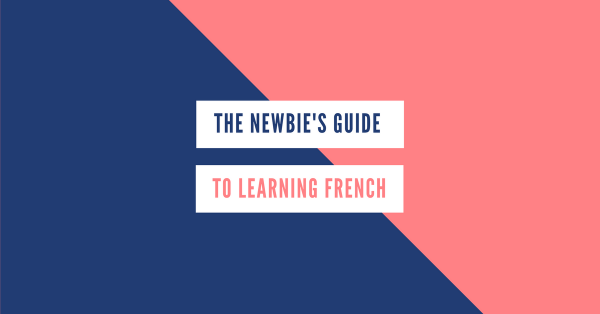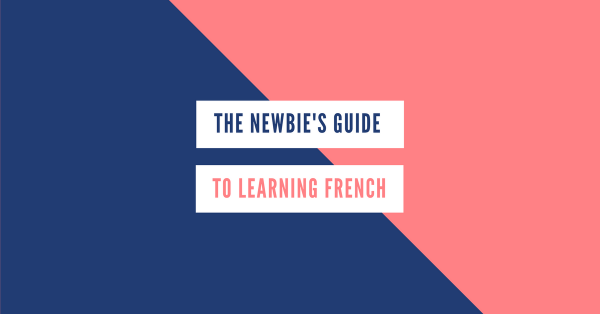 There are a lot of possible reasons why anyone would want to learn French but you probably have your very own. Is it your lifelong dream to speak French? Are you travelling or moving to France soon (or other French-speaking countries)? Do you want to expand your horizons by immersing in a different culture?
Regardless of whatever it is that pushes you to learn French, you deserve a pat on the back. Good decision! Just hold on tight to that spark of motivation and let this guide help you start the ball rolling.

Remember, Il vaut mieux faire que dire. Doing is better than saying. So let's get started.
Now, where should you start?
Before you make plans on which book to buy, which class to enroll to, or which online courses to take, slow down a little bit and examine something important: YOU.  
Work on your mindset
It all starts with you. So take a piece of paper and pen and jot down your answers to some basic self-assessment exercises below.
Take note of your learning style.

Which learning method do you think would work best for you? Are you more the visual type or auditory? Do you learn better with a group or do you do it better on your own?
Examine your goals and motivations.

Why exactly do you want to learn French? Remember,

votre source de motivation est l'ingrédient qui peut faire toute la différence.

Your source of motivation is an ingredient which can make all the difference.
Ask yourself what you want to achieve in your language study. What's your end goal in learning French? Do you simply want to know how to speak basic French that will tide you through a trip? Do you want to become fluent in both writing and speaking? Do you want to get a DELF or DALF certification? Your answers to these questions matter a lot.
Figure out your personal time frame.

How long do you wish to spend learning French? Months? Years? Depending on your goals, the shorter the period of time you spend learning, the more intense and heavy your study has to be. But if you give yourself a very lengthy time, there is a higher chance of abandoning it later on. So choose a manageable timeline that will work best for you.
Set realistic expectations.

There's no "language gene" or quick-fix solutions in learning French. You will need to really set aside time to study. No amount of  the best learning resources available in the market can help you learn French if you do not pair it with effort. How many hours can you really commit to learn French each day? Give yourself an honest answer.
Proceed with confidence.

In any endeavor, confidence is key.

Give yourself a pep talk to make sure that you will be confident enough and will not be afraid to speak in French as you go along. You will have trouble expressing yourself in French in the beginning, but never be afraid to make mistakes.
Learn how to make a habit out of learning French.

If you're going to be in it for the long haul, building a learning habit will help you make sure you'll stay on track even if your motivation lags or you hit a few bumps on the road. Here's my guide on how to turn learning French into a daily habit:

https://www.talkinfrench.com/create-habit-guide-language-learners/
There are plenty more tips and practical insights to help you start learning French. You can get that with a copy of the Fluent in French Study Guide. Make it your personal roadmap–your BFF– when learning French.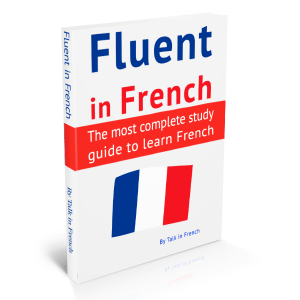 2. Learn French Pronunciation Rules
To non-natives beginning to learn French, French words sound nothing like they look. You need to start with a good foundation of the rules of French pronunciation. Familiarize yourself with the sounds so you could associate it with written words as you go along. This would be the prerequisite you need to practice listening, reading, and speaking later on.
Check out the rules of French grammar here: https://www.talkinfrench.com/french-pronunciation-guide/
3. Tackle first the most frequently used vocabulary
You'd be wise to give yourself a boost in the vocabulary department by learning the most common words first. Here in the Talk in French website, I have previously listed down some of the most frequently used French words in conversations.
You can start working your way into the following lists first before you proceed to vocabulary per theme.
You can also check out the different beginner-level vocabulary sorted by theme here in the beginner vocabulary category. Or for the most complete listing of French vocabulary, get your copy of the Talk in French vocabulary e-book.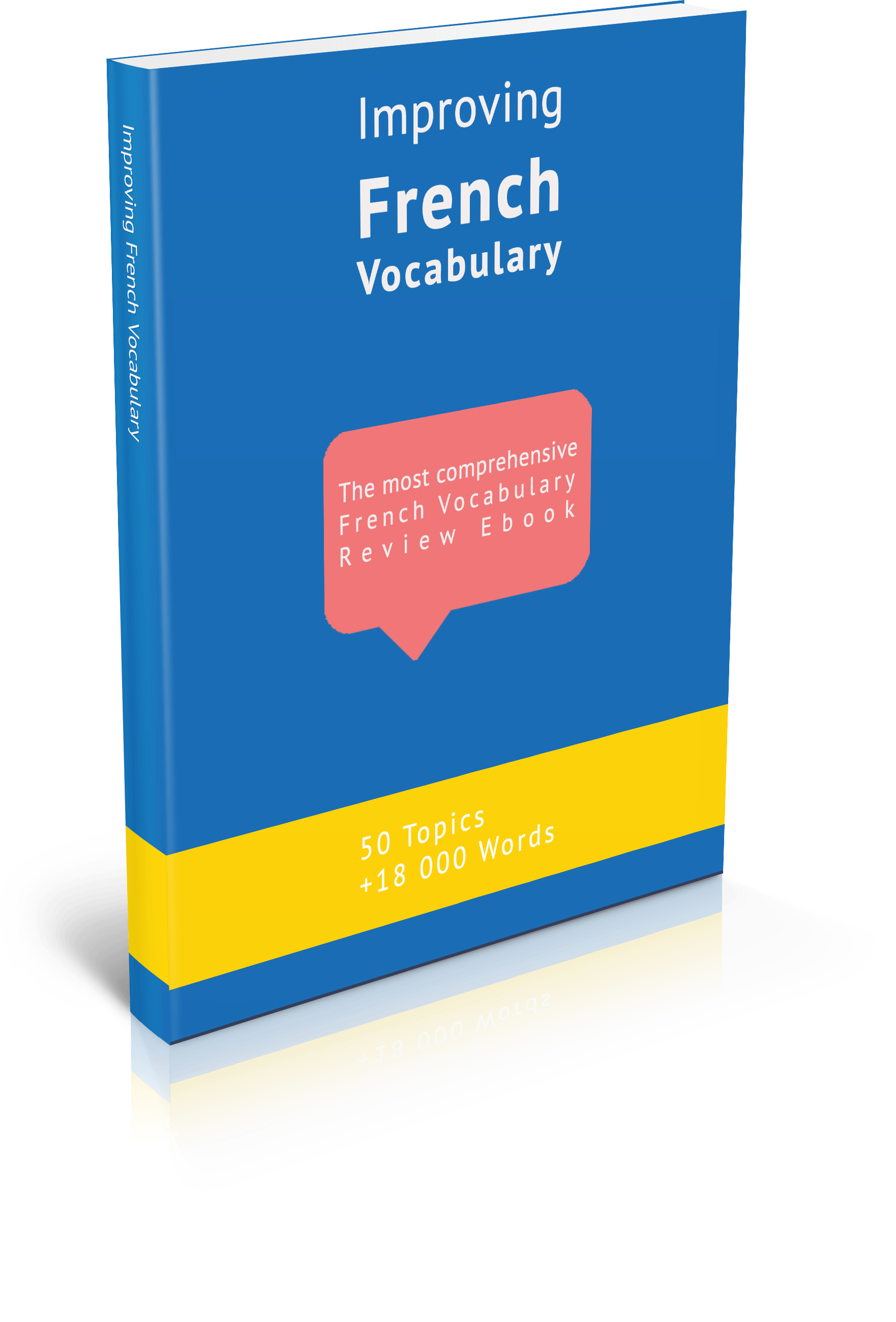 4. Begin with Grammar Suited For Your Level
Regardless of what amazing and innovative method you plan to use when learning French, you can't ever ignore basic grammar. Yes I know, I know, it's one of the most boring parts of learning French, but it doesn't have to be that way.
There are several good bite-sized grammar lessons in the Beginner Grammar category of Talk in French, but if you want a properly sorted grammar book with short and fun daily lessons, you may want to get your copy of 30 Days of  Beginner's French Grammar instead.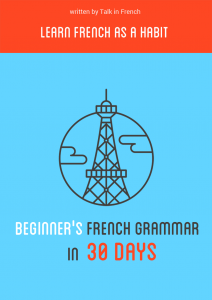 Another one of the important foundations you need to build as you start learning French is your listening comprehension skills. And what's the best way to go about it?
Practice, practice, practice! Make listening a habit (see related article about that here).

I understand that it's not easy to look for listening materials that you can use to practice. So I prepared some short dictation exercises for beginners. 10 exercises to be exact and you can access it all for free below.
6. Learn Noun Genders the Easy Way
Another thorn in a lot of new learners' side is noun genders. Why oh why do things have to be either male or female? Well, the answer beats me, but I've found a way to beat it back.
Let me show you an easy way to learn noun genders by heart: through gender drills! Of course, if you want, you can learn noun genders by memorizing the words with its corresponding articles, but you can also make it a breeze (and decidedly more fun) through the help of a noun gender drill.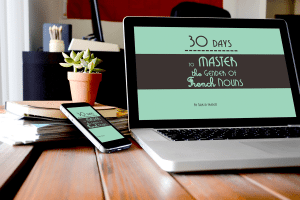 7. Tackle Verb Conjugations
Yeah, well. This one is another troublesome topic. I can see a lot of eyes rolling from here. But it doesn't have to be hard at all. Just like noun genders, we can beat it together using verb drills.
Start with the most common, frequently-used French verbs with the Verb Drills and focus first on the present tense before moving on to the rest of the other useful tenses.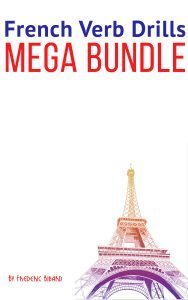 8. Find appropriate reading materials for your level
If you love reading, as I'm sure many of you do, it can be a very good habit to cultivate when learning French. Reading in French makes it easier for you to construct better sentences and to learn new words in context. It will also give you a better idea of how grammar structures are used in actual sentences.
Unfortunately, it's easier said than done because finding reading materials for newbie learners is more difficult than you think. This is why I created Learn French with Stories for Beginners. It's perfect for beginners who need something suitable to read. But not only that, it comes with free audio, too! This way, you can practice both your reading and your listening comprehension.

Learn French with Stories for Beginners is a bestseller in Amazon. Check it out now to find out why it's selling like pancakes! 🙂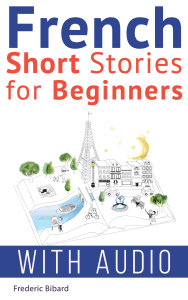 9. Mix it up a little
As with any other new activity, boredom is one of your biggest enemies. When it comes to learning French, you can avoid monotony by doing things you like.
Get creative with your approach to learning French. Just be sure to stick to the beginner level material first, otherwise you'd be frustrated when you find yourself with higher level materials.
10. Get a book that covers everything
If you find that there are too many things to do all at once, too many things to remember when you start to learn French, well, keep your hopes up because there's one more.
I understand how difficult it is to have too many materials to refer to, so I made a book (a series of books actually) that covers everything. A step-by-step learning guide. It already has grammar, vocabulary, listening exercises, reading practice, quizzes, and basically everything you need to learn French.
The book is divided into short and fun daily lessons to help you create a daily learning habit. And the best part is, it's a 6-part series, so once you're done with the first volume, you can move up to the higher levels to intermediate and later on to advanced level.
Sounds interesting? It's called My French Routine and you can check out volumes one and two below.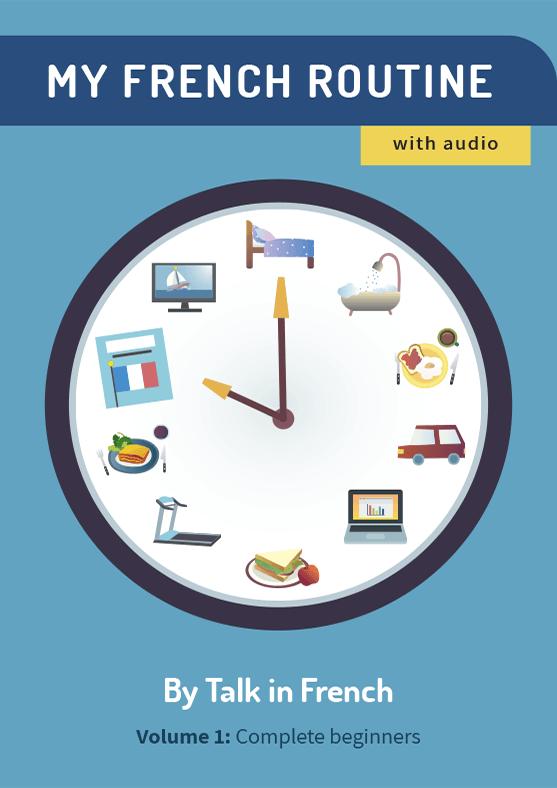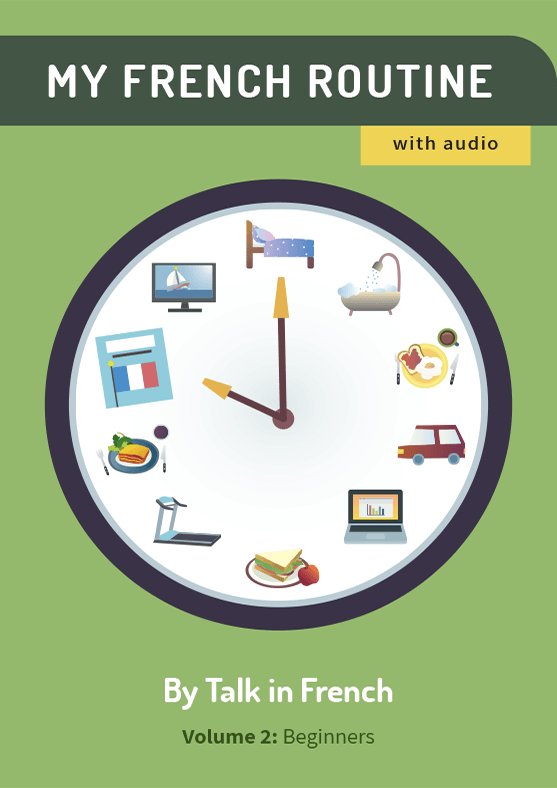 Conclusion
Learning French is not that easy especially when you're a busy person. But Talk in French is committed to deliver a lot of free lessons and some premium products to help you start. Feel free to bookmark the Talk in French website and use it as your go-to source not just for grammar lessons and learning tips, but also for culture topics.

Happy learning!