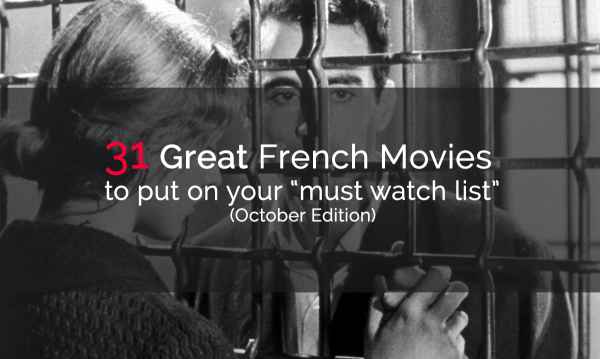 Comment allez-vous tout le monde? We are here again to welcome another month with another set of French films to explore. In Paris, October means chilly and cloudy days. There are also lesser tourists exploring around which surrounds the place with more gloomy ambiance.
However, one of the best ways to spend a chilly and rainy day in Paris is to watch and learn from French movies. Practice your French while enjoying a cup of tea in front of your television.
See also: How to Learn French with Movies in 7 Easy Steps (+ free e-book)
Day 1: Le feu follet (The Fire Within)
Directed and Written by: Louis Malle Year: 1963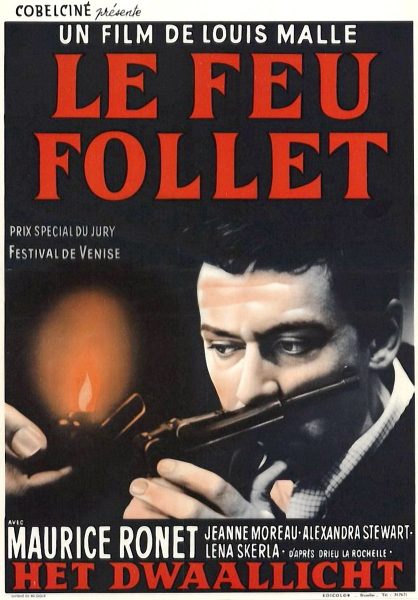 Source: bonjourtristesse
Alain Leroy (Maurice Ronet) is on the verge of taking his own life. He is a writer who drowned himself with alcohol and women during his good days. Anyhow, he is now staying in a rehabilitation center in Versailles where he starts to suffer from depression. He intends to commit suicide but first decides to visit his friends in Paris to seek last minute answers for his seemingly lost life.
"Le Feu Follet" is based on the novel of the same name by Pierre Drieu La Rochelle, and was inspired by the life of Jacques Rigaut.
Available on Netflix: No (DVD only) or Amazon Instant Video
Day 2: Monsieur Klein (Mr. Klein)
Directed by: Joseph Losey Written by: Franco Solinas, Fernando Morandi Year: 1977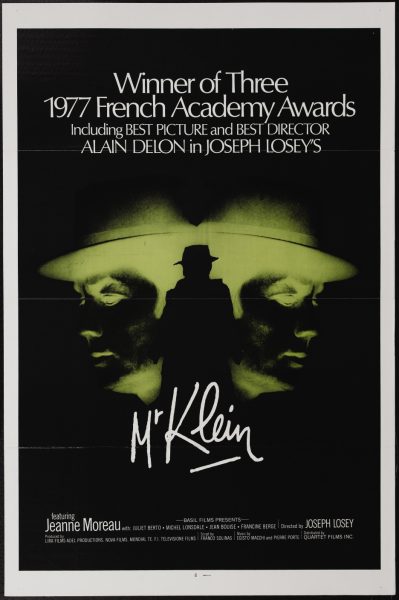 Source: diyanwap
Filmed with an intention of reconstructing the lives of the Jews and how some entrepreneurs took advantage of the situation during the Vichy regime, "Monsieur Klein" is a mysterious and subtle portrayal of a life of a free man turned into the hunted.
Set in Paris, on January 1942, when France experiences defeat and occupation by the Nazis, Robert Klein – an art dealer – takes advantage of the desperation of the French Jewish community for money to raise cash and leave the country. One day, he wakes up learning that there is another Robert Klein living in Paris, but this time, it is a Jew. He reports the incident to the authorities but the authorities are suspicious, so they ask him to offer proof of his French heritage.
Will Klein manage to pass all the suspicion about his race? As his pursuit goes on, he starts to learn more and gain empathy to the victims of the infamous Vel d'Hiv Roundup.
Available on Netflix: No or Amazon Instant Video
Day 3: Pickpocket
Directed and Written by: Robert Bresson Year: 1959
Source: dvdclassik
A young cocky Michel has a very unusual hobby of pickpocketing. It all started with a first successful attempt in the race track stealing some cash. He is arrested immediately but released thereafter due to lack of strong evidence. The incident makes him reflect about the morality of his habit, but soon falls in the hands of a small group of professional pickpockets who teach him the art of their trade.
From being a mere hobby, pickpocketing becomes a form of lifestyle for Michel. Eventually, he could not stop himself even though his family and friends try to help him to do so. In this film, Bresson integrated the surreal hobby of pickpocketing and the desire of man to find a means of expressing himself. He even hired a true pickpocket as his 'technical adviser' for the said film.
Available on Netflix: No (DVD only) or Amazon Instant Video
Day 4: Le Plaisir (House of Pleasure)
Directed by: Max Ophüls Written by: Jacques Natanson and Max Ophüls Year: 1952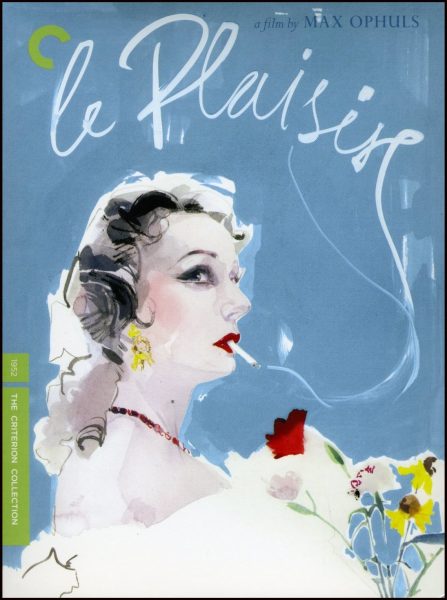 Source: criterion
"Le Plaisir" is an anthology of three different stories centered to pleasure, adapted from Guy de Maupassant collection. The first story, "Le Masque" is about a man who wears a mask to continuously attract young women in balls. He used to be a handsome and charming man, but starts to lose his looks as he ages. "Le Masque" speaks about how men are blinded by the idea of pleasure being attainable through youthfulness.
After this story is the story of "Le Maison Tellier" which is about pleasure and purity. The story revolves on how and why a brothel keeper brings her girls to attend the first communion of her niece.
The third and last story is "Le Modèle" which is about a painter who falls in love with his model. Things are idyllic at first, but after some time, they start to fight and when he leaves her alone, she threatens him with her own death. The last story materializes the irony of pleasure and death.
Available on Netflix: No (DVD only) or Amazon Instant Video
Day 5 : L'esquive (Games of Love and Chance)
Directed by: Abdellatif Kechiche Written by: Abdellatif Kechiche, Ghalia Lacroi Year: 2003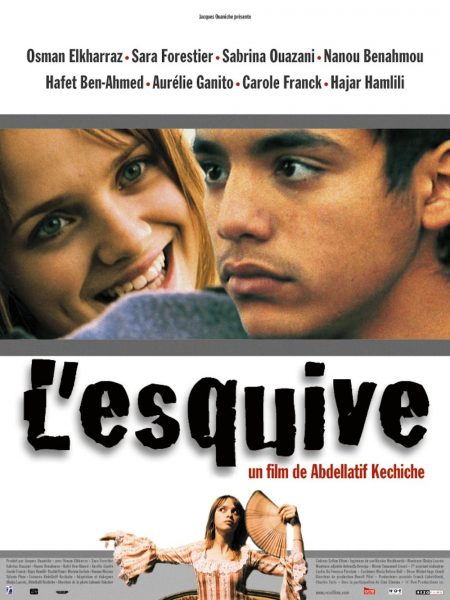 Source: allocine
A story of teenage love developed further by a school project about staging one of Marivaux's plays, "Games of Love and Chances" uses literature as an escapist outlet to the repressed emotions and innocence in love of teenagers who struggle to fit in.Abdelkrim or Krimo, who is not really an actor and does not have any acting role for the school project, falls in love with Lydia, who is in contrary part of the said production. In order to impress her, he accepts the role of Arlequin and joins the rehearsal, yet his introversion is blocking his every chance to participate in the play successfully and to win the heart of Lydia. "Games of Love and Chance" is not just any typical high-school romantic comedy, but it involves an experimental demonstration on how an 18th century classic French comedy still has relevance to our today's romantic adventure.
Available on Netflix: No or Amazon Instant Video
Day 6: L'enfance nue (Naked Childhood)
Directed by: Maurice Pialat Written by: Arlette Langmann and Maurice Pialat Year: 1969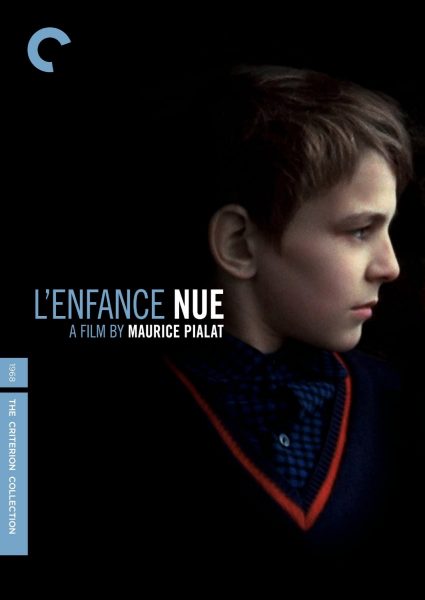 Source: amazon
"L'enfance nue" revolves around the life of a 10-year-old boy who is given up into adoption by his mother, and has been shuttled from one foster home into another every time the recent family finds his behavior too much to handle. Francois (played by Michel Terrazon) feels lost and unwanted when her mother leaves him for adoption.
As he is growing up, the abandonment persistently disturbs him and it affects his behavior greatly. His erratic behavior brings him into numerous troubles, yet he only wants to gain affection and boost his self image to overcome his mother's rejection. With its sentimental scenarios and sober form, "L'enfance nue" remains one of Pialat's finest works.
Available on Netflix: No (DVD only) or Amazon Instant Video
Day 7: Comment je me suis disputé… (ma vie sexuelle) (My Sex Life… Or How I Got Into An Argument
Directed by: Arnaud Desplechin Written by: Arnaud Desplechin, Emmanuel Bourdieu Year: 1996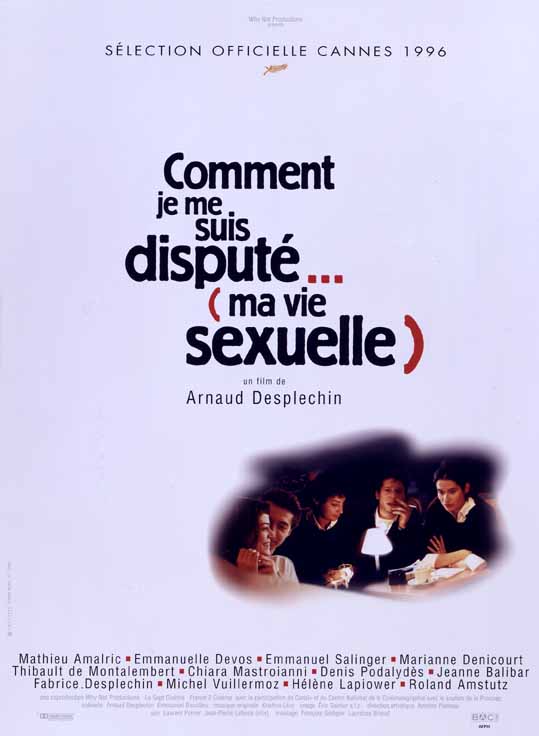 Source: blog
What are the problems that intellectual type of students encounter during their mid to late 20s? Most of us think that intellectual students are greatly blessed as they excel in the academe and has great opportunities ahead, but in this film, "Comment je me suis dispute… (ma vie sexuelle)" demonstrates how it really feels inside a mind of an indecisive but intellectual philosophy student who still searches his purpose in this life.
Paul Dedalus is in a crisis to make several big decisions for his future. He wonders whether he will complete his doctorate degree, or if he really wants to become a full-time professor, or if he really loves his girlfriend. He knows he wants to be successful, but the success he desires is still far from the reality he's in.
The film is highly praised for its subtle penetration inside the students' loneliness with the mind games they constantly engage with, their ideas about sex and love, their pride, white lies, and their quite neurotic lifestyles which might seem incomprehensible at first, but will gradually envelop you on how chaotic it is inside a smart mind.
Available on Netflix: No (DVD only) or Amazon Instant Video
Day 8: La Collectionneuse (The Collector)
Directed by: Éric Rohmer Written by: Patrick Bauchau, Haydée Politoff, Daniel Pommereulle, Éric Rohmer Year: 1967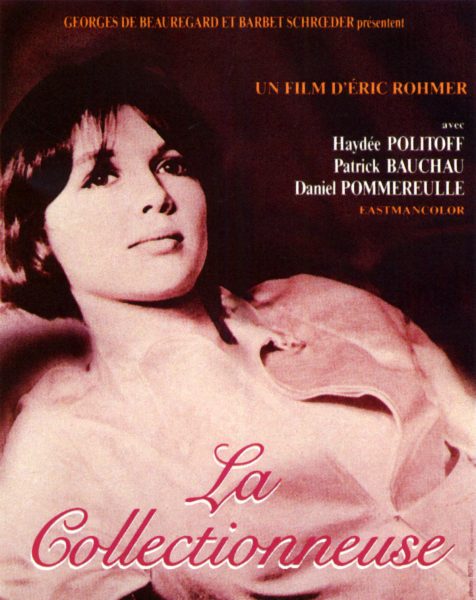 Source: filmsdulosange
"La Collectionneuse" is the third movie in the "Six Contes Moraux" (six moral tales) of Director Eric Rohmer. Daniel and Adrien are invited to spend a vacation at a mutual house in Saint-Tropez. When they arrive, they discover that they are not alone in the house; in fact, there is a vivacious bohemian woman staying with them. This woman turns out to be pleasuring herself with several lovers.
Both Adrien and Daniel despise her because of this revelation; however, Adrien gradually becomes more and more infatuated with the personality of the woman which turns out to be a bigger problem. Eric Rohmer displays his active and uninhibited moral skepticism regarding the moral grounds confining most of the people. The film will help us introspect on our own accounts of morality.
Available on Netflix: No (DVD only) or Amazon Instant Video
Day 9: L'Age d'or (The Golden Age)
Directed by: Luis Buñuel Written by: Luis Buñuel, Salvador Dalí Year: 1930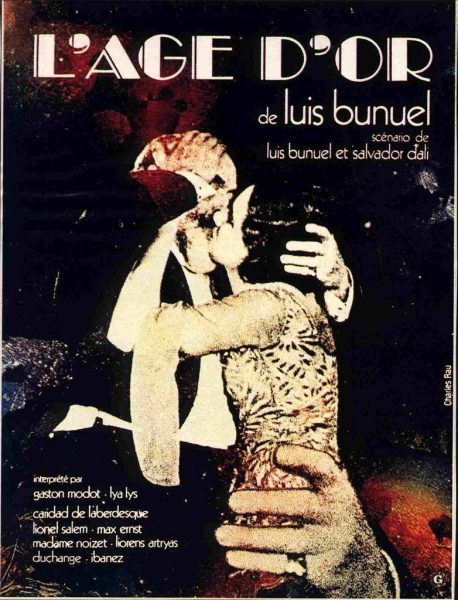 Source: whitecitycinema
An example of a psychoanalytic Freudian movie from the 1930's and a surrealist tale of a man and a woman who are passionately in love with one another. However, their relationship is constantly rebuked by their families, the Church and the bourgeois society.
The plot of the film depicts various instances of repressed sexual urges, suppressed animalistic desire for violence (of many the sexual mores of bourgeois society at the time), and the value of the dogmatic Catholic Church in the eyes of the people. At the beginning of the story is a scorpion, which according to some critics has a tail composed of five prismatic articulations where it injects venom to its prey. These five sections of the scorpion's tale is claimed to be represented by the five vignettes of the film.
Available on Netflix: No (DVD only) or Amazon Instant Video
Day 10: La permission de minuit (The Moon Child)
Directed and written by: Delphine Gleize Year: 2011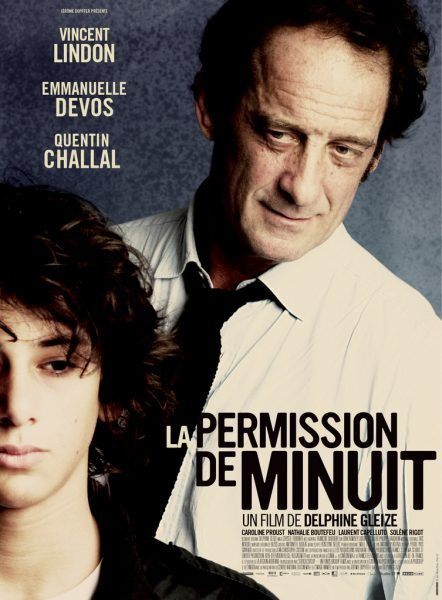 Source: amazon
How will you break the news to a patient about your impending leave after the long years you have been together? You have created an unusual friendship, and you know that his case is special and severe that you cannot just turnover his case to another doctor. This is the dilemma of David, a fifty-year-old doctor specializing in dermatology who has a special patient which he has been treating for almost eleven years.
His patient is Romain, a thirteen year old "moon child" boy. He is afflicted with a rare genetic disorder known as a "photosensitive skin". Romain can't be exposed to UV radiation; thus he cannot stay under the sun. Due to his condition, the lighting in his room or wherever he will go must also be checked firsthand.
The basic doctor/patient relationship turns complicated due to the degree of trust, love, and care that each starts to give to one another since Romain is still a child. How can David tell this pity boy about his leaving when Romain is also struggling with his sickness and adolescence? As the day of separation draws nearer, the challenges they experience each day becomes harder.
Available on Netflix: No or Amazon Instant Video
Day 11: Généalogies d'un crime (Genealogies of a Crime)
Directed by: Raúl Ruiz Written by: Raúl Ruiz, Pascal Bonitzer Year: 1997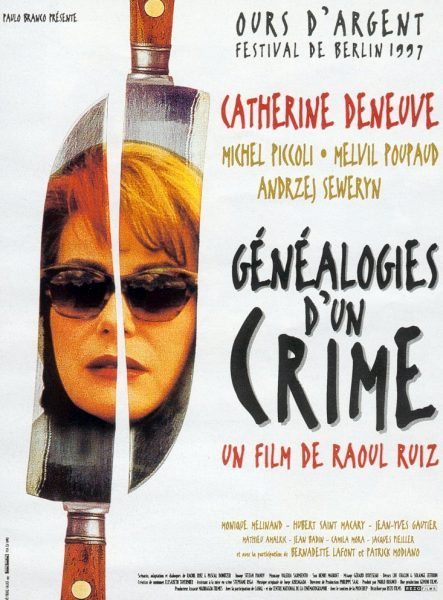 Source: lesinrocks
Can a person's interest or desire for criminal activities be determined as early as the age of infancy? Jeanne is a cruel psychiatrist who is convinced that her nephew, Rene, has criminal tendencies, and is destined to a life of vices afterwards. Her death thereon puts Rene on trial for murdering her. However, on the other side of the story, Solange is a defense attorney known for her reputation of losing cases that has low chance of winning.
Solange meets Rene when Rene's only hope is to find a good lawyer to defend him. Nevertheless, though Rene still needs a more suitable lawyer, he prefers to add Solange in the game, while forming an alliance with a surreal group of French and Belgian psychologists headed by Georges. "Genealogies of a Crime" takes an eccentric look at the nature of crime in relation to the human mind, science, and the modern society.
Available on Netflix: No or Amazon Instant Video
Day 12: Ressources humaines (Human Resources)
Directed by: Laurent Cantet Written by: Laurent Cantet, Gilles Marchand Year: 1999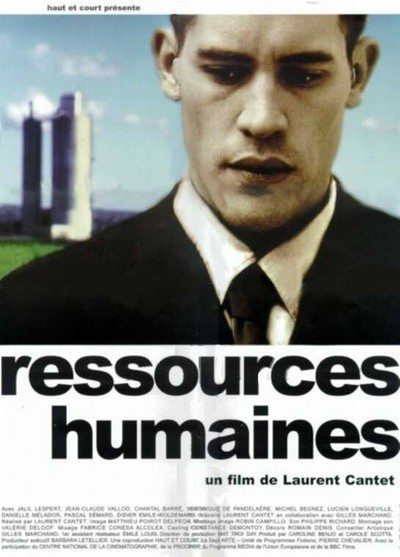 Source: rogerebert
A multi-awarded film by Laurent Cantet, "Human Resources", as its title implies, is about the personal difficulties and conflicts between management or corporate leaders and their labour forces. The movie tells the story of Franck who returns to his hometown after receiving his degree in business. He applies as a trainee in the Human Resources department of the factory where his father has been working for 30 years.
Franck discovers that the management wants to manipulate his field study about the proposed 35-hour workweek to justify their decision on downsizing, which will put several employees unemployed – including his father. The film illustrates the typical gap between labor and management, and the ethics behind business politics. It also tackles a tale of filial piety and paternal love of Franck and his father.
Available on Netflix: No (DVD only) or Amazon Instant Video
Day 13: Il est plus facile pour un chameau… (It's Easier for a Camel)
Directed and written by: Valeria Bruni Tedeschi Year: 2003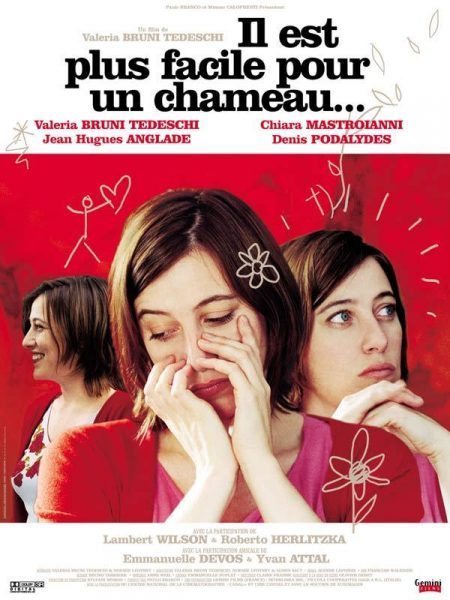 Source: amazon
How we envy the life of the rich people with their privilege of worry-free, financially stable lives. They don't have to work as much as we do, yet they can go anywhere they want, whenever they want, and do whatever they want to do. What a perfect life right?
Frederica has nothing to ask more for her life. She is extremely rich, with a loving fiancé, and a loving father. However, due to the privilege of being a daughter of a rich family, she becomes detached from the reality of the common life. As a consequence, she seeks meaning in her life and is faced with problems which money could not save her from.
Available on Netflix: No or Amazon Instant Video
Day 14: Présumé Coupable Presumed Guilty
Directed by: Vincent Garenq, Alain Marécaux, Serge Frydman, Hubert Delarue Written by: Vincent Garenq Year: 2011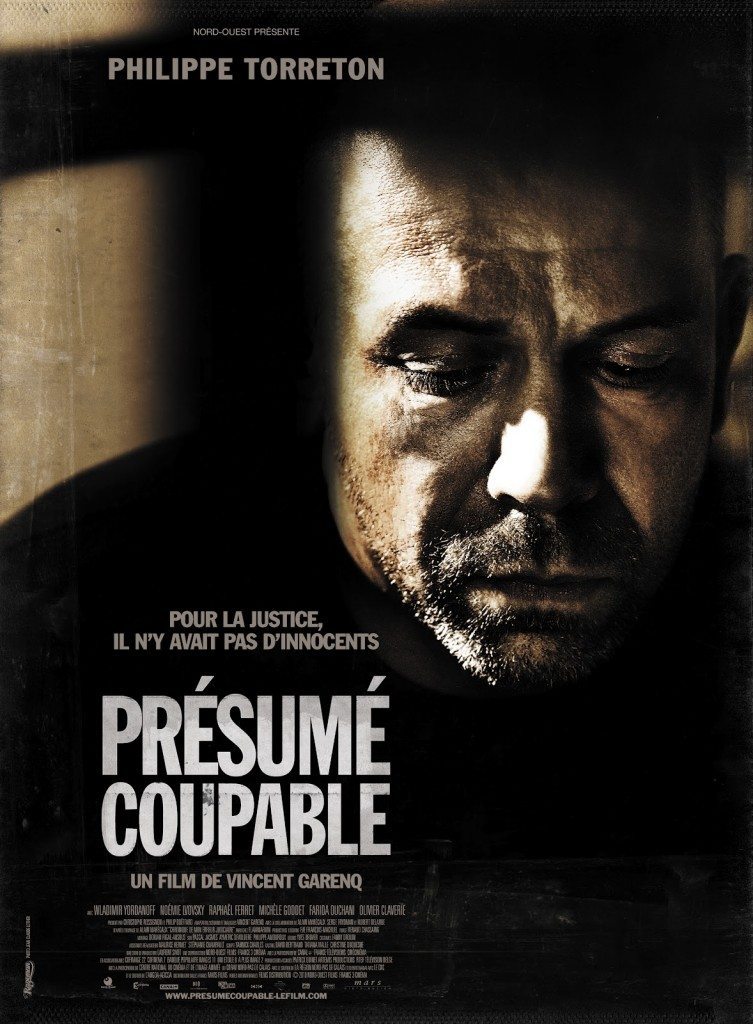 Source: filmski-koticek
Where is justice? You will hear victims of false accusations and miscarriage of justice asking this with confusion while mourning about their unfortunate end at the expense of the corrupt justice system. However, the only thing we could give to them as outsiders is to send our utmost sympathies.
The film "Presumed Guilty" tells the story of a man, his wife, and their three children tear apart by an accusation of child molestation. One day, Alain Marécaux and his wife are taken into police custody after being wrongly accused as pedophiles. They are given under a young judge who sees the case as a stepping stone for his own career, thus deliberately ignoring the fact that there is no substantial evidence to support the allegations.
This film emphatically depicts under the life of Alain some of the significant parts of the scandalous case of the seventeen people who were wrongly accused of paedophilia, and incest; power-played by the French justice system in 2001.
Available on Netflix: No or Amazon Instant Video
Day 15: La Ligne droite (The Straight Line)
Directed by: Régis Wargnier Written by: Régis Wargnier, Edwin Kruger Year: 2011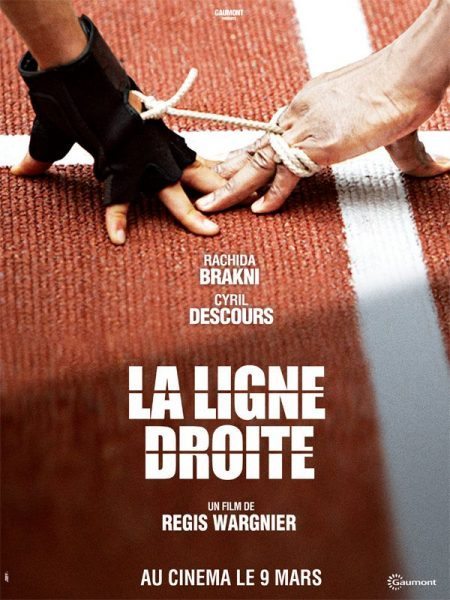 Source: divxhell
Yannick is a young French runner who lost his sight in a car accident six months ago. On the other hand, Leila is a former athlete and an ex-convict. After her release from prison, Leila is asked to train with Yannick as his running guide. Being more than a coach, their simple training partnership develops into a deeper romantic love for each other. It already sounds a happily-ever-after if Yannick's all-powerful mother does not step into the scene to keep them apart.
Available on Netflix: No or Amazon Instant Video
Day 16: 17 Rue Bleue
Directed by: Chad Chenouga Written by: Chad Chenouga, Philippe Donzelot, Dominique Golfier Year: 2001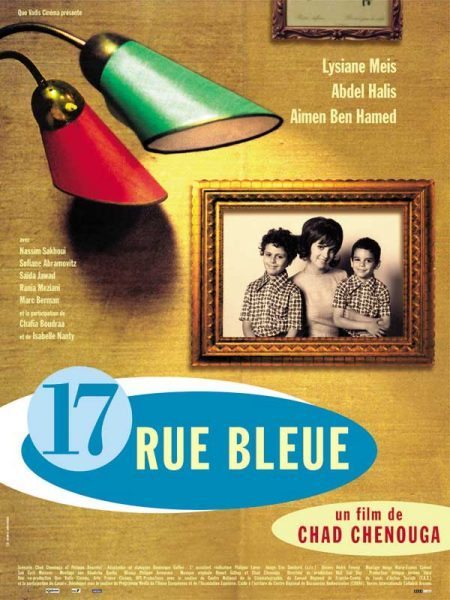 Source: allocine
Director Chad Chenouga displays his great affection and admiration to his mother by crafting a movie dedicated to the aspirations, struggles, defeat, and endless hope of his mother to get out of poverty. Adda hopes to escape the haunting secrets of her native land by coming to France to rebuild her life. She enters France as an illegal alien and finds work and eventually family with a wealthy Parisian named Merlin.
All her sufferings could have ended if Merlin did not die leaving behind no will at all. As a great believer of superstitions, she leaves her hope to her only son, whom she believes will give her the life she wants in the future. She throws her life, becoming destitute and taking drugs. She drives away her friends and family members until the only thing left to her is her only son.
Available on Netflix: No or Amazon Instant Video
Day 17: Vilaine – Ugly Melanie
Directed and written by: Allan Mauduit, Jean-Patrick Benes Year: 2008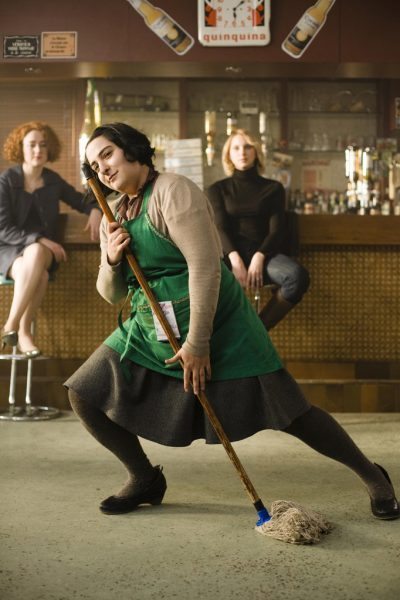 Source: en.unifrance
We are always taught that kindness will produce kindness right? Unfortunately, for Melanie, she thinks that her too much kindness has been the cause of all the humiliations and abuse in her life. All the people in her life take advantage of her being too nice. Her mother, boss, friends, neighbor, and even her neighbor's dog… they all think she can and will always be the 'nice Melanie'.
One day, following another humiliation, Melanie decides to change. She decides that she wants revenge to all the people who made her life hell.
Available on Netflix: No or Amazon Instant Video
Day 18: Gigola (2010)
Directed and written by: Laure Charpentier Year: 2010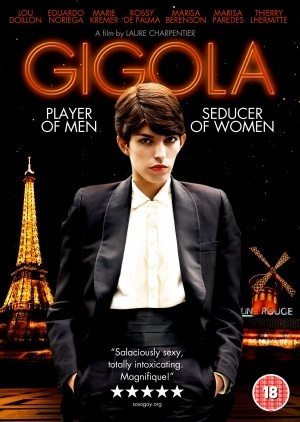 Source: coolmoviezone
A film dedicated to gays particularly to lesbians, "Gigola" is about Georgina (Lou Doillon), a teenage girl who falls in love with her school mistress. She is from a Catholic family (which might give you as early as now a vision on how hard it could be for her family to accept her sexual orientation). Anyway, Georgina becomes extremely devastated when her lover died, and starts to embark a life of hasty yet exiting adventures to the depths of the Parisian lesbian underworld life.
From spending time with an older but very attractive and wealthy Odete, Georgina starts to be a Gigola. By being a Gigola – counterpart of gigolo – she offers companionship and sexual favours in return of money, gifts, and other luxuries in life.
Available on Netflix: No or Amazon Instant Video
Day 19: Claire's Knee (Le Genou de Claire)
Directed by: Éric Rohmer Written by: Éric Rohmer Year: 1971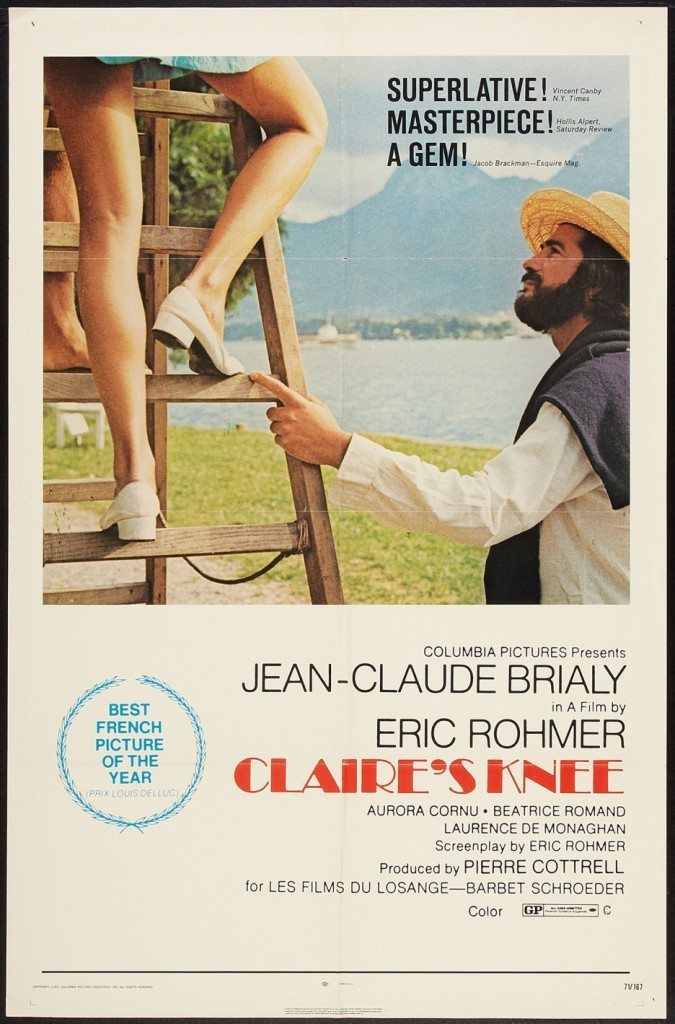 Source: burning-fuse
Another tale from Eric Rohmer's "Six Moral Tales", "Le Genou de Claire" is the fifth in the series. "Claire's Knee" is a story of sexual obsession and fetishism. One holiday, Jerome, a French diplomat, is spending his last bachelor's days on a resort in Lake Annecy for a vacation. He meets Claire, the teen-aged daughter of his friend. Although, he is already engaged to be married, he sees himself falling in love with Claire's knee.
He is not really interested in Claire, but cannot stop thinking of caressing her knee. Realizing that his obsession can ruin his reputation, he tries with all his might to repress this fetish. Eventually, he sees an opportunity to fulfill this desire without looking like a pervert, but how long will he be able to stand this repressed unacceptable fetishism? "Le Genou de Clair" talks about the moral behind sexual deviancy which might sound obscure and not harmful but is still unacceptable in the eyes of the society.
Available on Netflix: No (DVD only) or Amazon Instant Video
Day 20: Beau Travail
Directed and written by: Claire Denis Year: 1999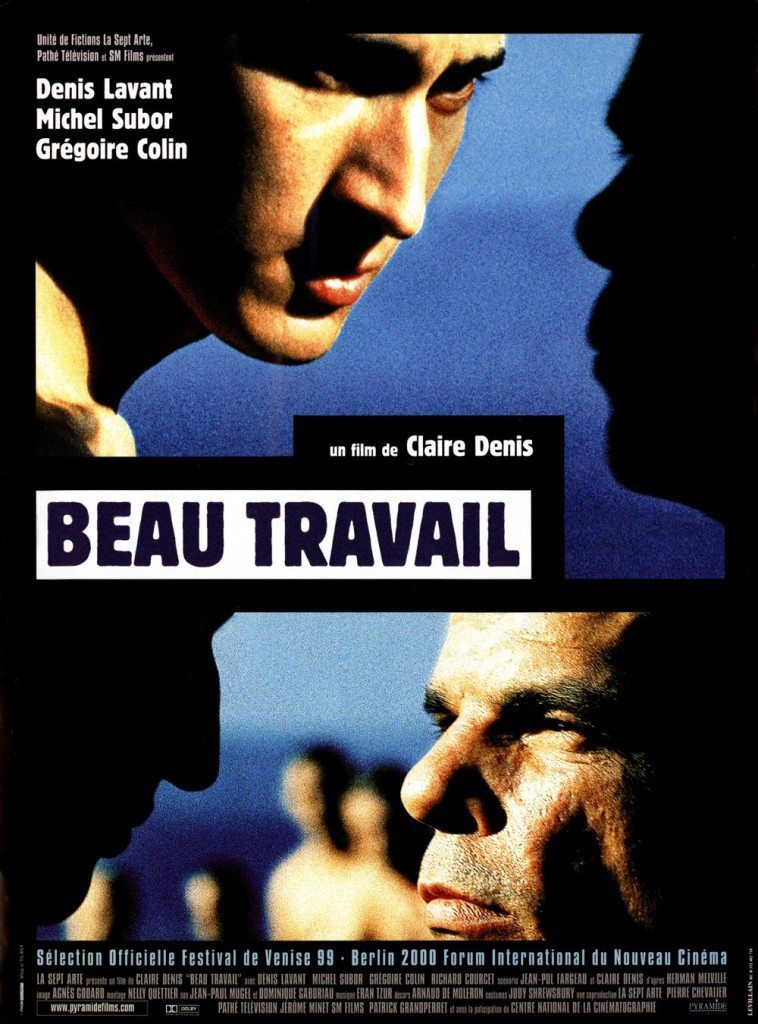 Source: burning-fuse
"Beau Travail" is a military drama revolving around jealousy, hideous plot, and karma. Master Sergeant Galoup is a prominent soldier and leader of his troop in the desert of Africa till a new recruit exceeds his popularity among his men and commander. As an officer at a French Foreign Legion outpost in the Gulf of Dijbouti, Galoup enjoys close relationship with his Commanding Officer.
When Sentain enters the scene, Sentain receives more attention due to his good humor and selfless nature which makes him well-liked in the troop. Due to extreme jealousy, Galoup decides to eliminate Sentain from the scene, and devises a plan to discredit the latter in the eyes of the other men. Galoup is successful in leaving Sentain in the heart of the desert with useless compass and not enough resources, but his plot is found out. He is removed of his position and sent back home. Jealousy can really make man do things!
Now, Galoup does not lose his post alone, but also faces trial to what he did.
Available on Netflix: No (DVD only) or Amazon Instant Video
Day 21: Le Bruit des Glaçons (The Clink of Ice)
Directed and written by: Bertrand Blier Year: 2010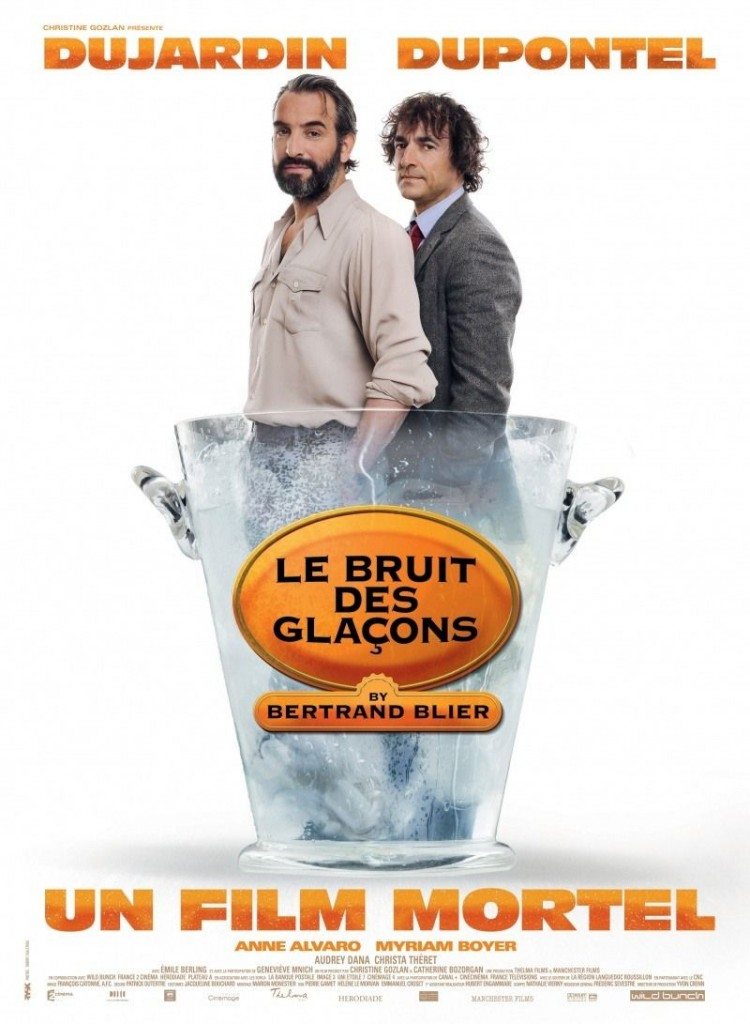 Source: brandonfilm
How will you feel when you will be confronted by your own cancer? This hilarious black comedy film by Bertrand Blier is comprised of sadness, black humor, comedy, and a realization about life plus an ever-annoying cancer. The plot circles around Charles, an alcoholic writer whose marriage and career has long been fallen apart, and is now being confronted with his falling health as well. He is shocked when his brain cancer shows up in his door and never leaves him away. It also talks too much, which worsen the case.
Available on Netflix: No or Amazon Instant Video
Day 22: Mammuth
Directed and written by: Benoît Delépine, Gustave de Kervern Year: 2010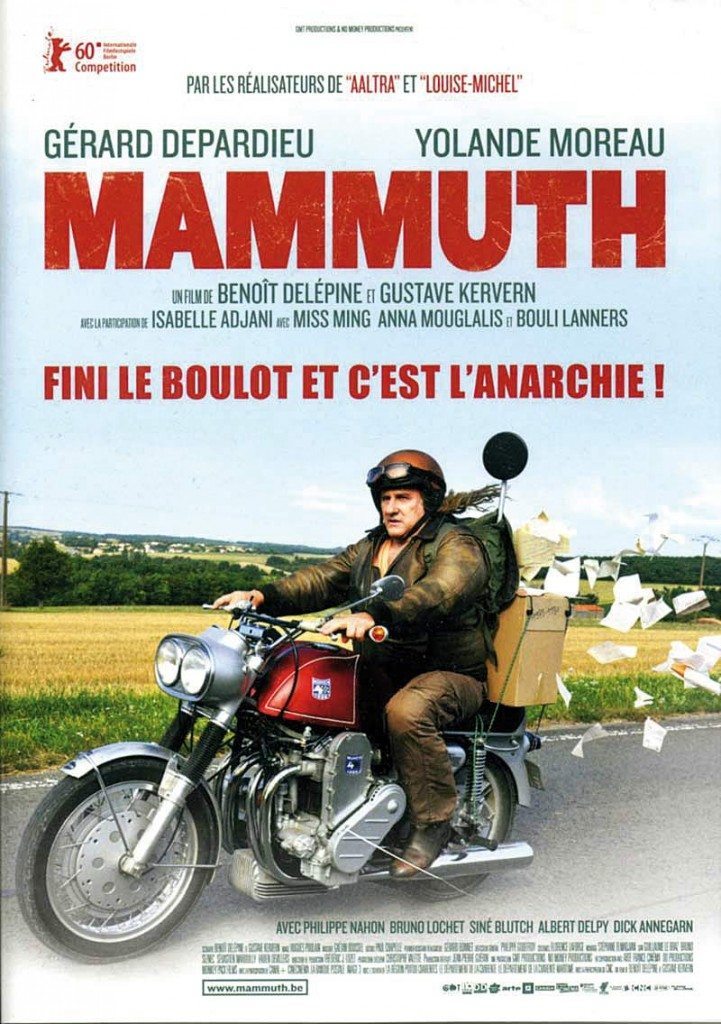 Source: goeland
Mammuth talks about the rigidity of the retirement system in France. Serge Pilardoess has just turned 60 and is about to retire from his job in the slaughterhouse. The problem is, his retirement benefits are cut-off because of the negligence of some of his former employers to do the requisite paperwork. It is now up to Serge, on how he will collect all the documents needed from his work while riding his old Munch 'Mammut'.
Available on Netflix: No (DVD only) or Amazon Instant Video
Day 23: Van Gogh
Directed and written by: Maurice Pialat Year: 1991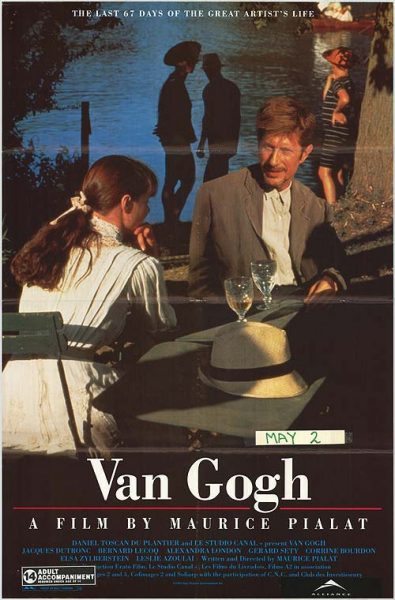 Source: movieposter
For three hours, you will see Pialat's examination of the last 67 days in the life of Van Gogh, noted as the father of impressionism and modern art. The film is noted for its simplistic approach to Van Gogh's life. In short, it is illustrated as naturally as it could be. The film omits many of the most famous incidents in Van Gogh's life and focused on his various relationships and declining mental state.
The film starts in in the late spring of 1890 in Auvers-sur-Oise. Van Gogh moves here under the care of Dr. Gachet who lives in a small inn. For 67 days, he lives a common life of a painter with difficult relationships with his brother Theo, wife Johanna, their daughter, Gachet's daughter Marguerite, pimps and prostitutes, and other little acquaintances till the day of his death.
Available on Netflix: No (DVD only) or Amazon Instant Video
Day 24: Sans Rancune- No Hard Feelings
Directed by: Yves Hanchar Written by: Yves Hanchar Year: 2010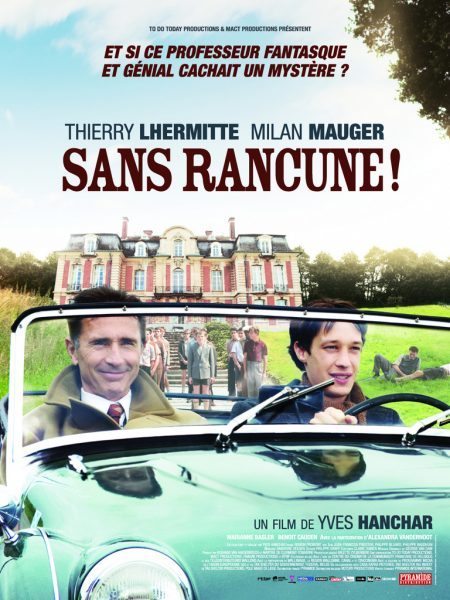 Source: en.unifrance
Set up in the 1950s, Laurent Matagne, still experiences the pain from the memory of his father's disappearance during a 1940 air raid. Now, at the age of seventeen, he studies in a boarding school in Belgium. In the midst of the semester, a new professor starts teaching in their school. The students are enchanted with his charm and passion, which also inspires Laurent to pursue his dream of becoming a novelist.
Somewhat in the middle of the course, Laurent becomes emotionally involved with the professor which strikes him with peculiar familiarity that causes him to suspect that they might have familial connection. He wants to uncover the truth behind this mysterious man, and discover whether he is his father or not.
Available on Netflix: No or Amazon Instant Video
Day 25: Un Baiser s'il vous plaît (Shall We Kiss)
Directed and written by: Emmanuel Mouret Year: 2009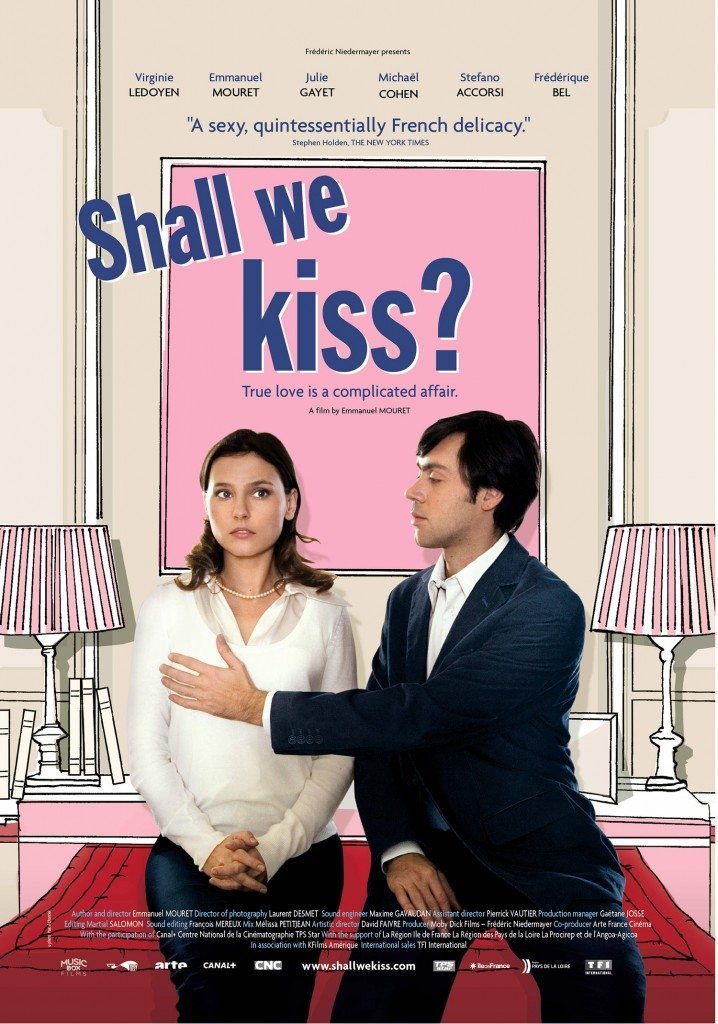 Source: rdujour
What can a single kiss do to change another's life? This is the center of the story "Shall We Kiss". It all begins with two strangers who end up attracted to each other, but are both involved in relationships. At the end of the night, Emilie refuses to kiss Gabriel after a dinner together, believing that one, single kiss can change their lives.
Emilie warns him that a kiss could have unexpected consequences, which is logically correct, and that they must not indulge into it casually. The story slowly unfolds a past about a kiss which shows how a kiss turns a life upside down.
Available on Netflix: No (DVD only) or Amazon Instant Video
Day 26: Avenue Montaigne (Orchestra Seats)
Directed by: Danièle Thompson Written by: Christopher Thompson & Danièle Thompson Year: 2006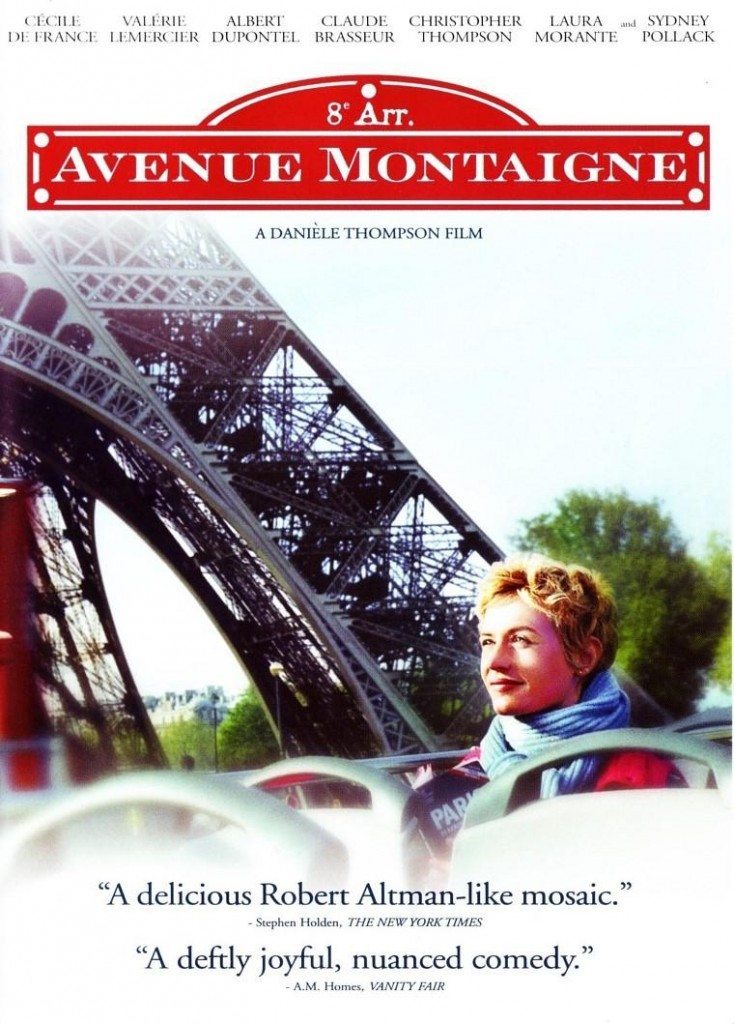 Source: d.ratingmovies
A young ambitious woman arrives in Paris where she finds a job as a waitress in the last old-fashioned café in Avenue Montaigne. This café caters to the elites of the Paris Theater while they are preparing for the biggest night of the year – with a play, a concert, and an art auction at the same night.
Here, she meets a pianist, a famous actress and a great art collector who show her the imperfection of the luxurious life that they have. As she indulges herself with these people, she will see more of the real world of flux and unhappiness that the world of the elites of the Paris Theater tries to hide.
Available on Netflix: No or Amazon Instant Video
Day 27: L'Armée Des Ombres (Army of Shadows)
Directed and written by: Jean-Pierre Melville Year: 1969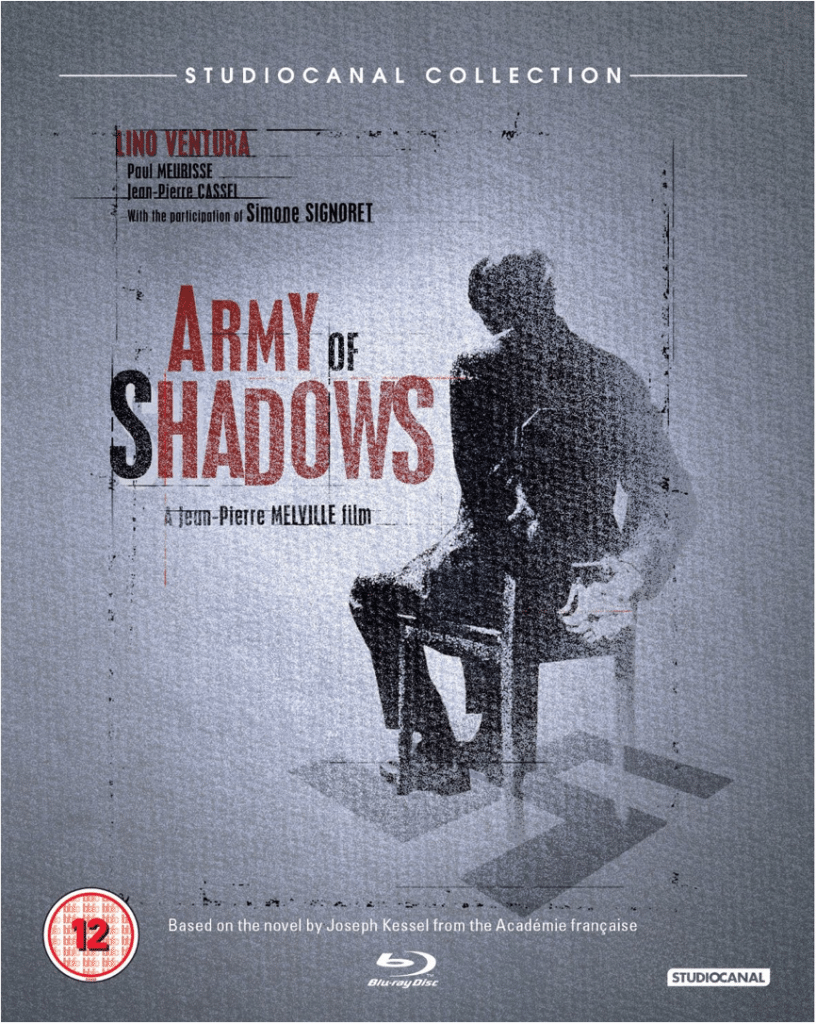 Source: theartsshelf
In this account of the underground resistance fighters during the time of Nazi's occupation in France, it depicts a "shadow army" who are willing to sacrifice their lives for the huge benefit they will receive after. The movie is adapted from Joseph Kessel's book of the same name which was released in 1943. It speaks of Kessel's own experiences as a member of the French Resistance with additional fictionalized versions of other Resistance fighters he met.
It shows how they move between safe houses, kill informers, work under Allied militaries, and evade times of arrests and execution. There are also moments of fear, solitude, and cruelty or sometimes inhuman choices they have to make in order to survive.
"L'Armée Des Ombres" differentiates itself from other French Resistance Movies by picturing an un-Romantic face of the period without the romance and thorough emphasis on heroism –though you will still see that the main character is the hero of the story.
Available on Netflix: No (DVD only) or Amazon Instant Video
Day 28: Coco Chanel & Igor Stravinsky
Directed by: Jan Kounen Written by: Carlo de Boutiny, Jan Kounen Year: 2009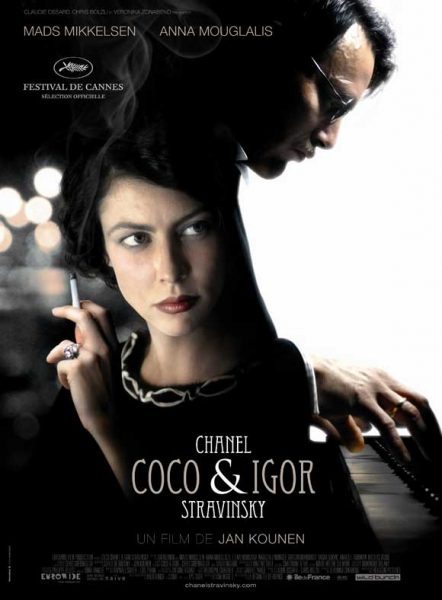 Source: cinemamondo
"Coco Chanel and Igor Stravinsky" is about the rumoured affair between Coco and Igor which was first fictionalized in Chris Greenhalgh novel 'Coco and Igor' in 2002. In Paris, circa 1913, Coco Chanel attends in the premier of Igor Stravinsky's 'The Rite of Spring'. She becomes mesmerized with the revolutionary and modern work of Igor, matching her own radicalism and ideals to democratized women's fashion.
Seven years later, they meet again, but now Igor is penniless and living in exile after the Russian Revolution. The attraction between them is electric. She offers her villa in Garches to Stravinsky for him to continue his work and provide a roof to his family. This is then the start of a passionate, intense love affair between these two creative giants.
Available on Netflix: No (DVD only) or Amazon Instant Video
Day 29: Les beaux gosses The French Kissers (2009)
Directed by: Riad Sattouf Written by: Riad Sattouf, Marc Syrigas Year: 2009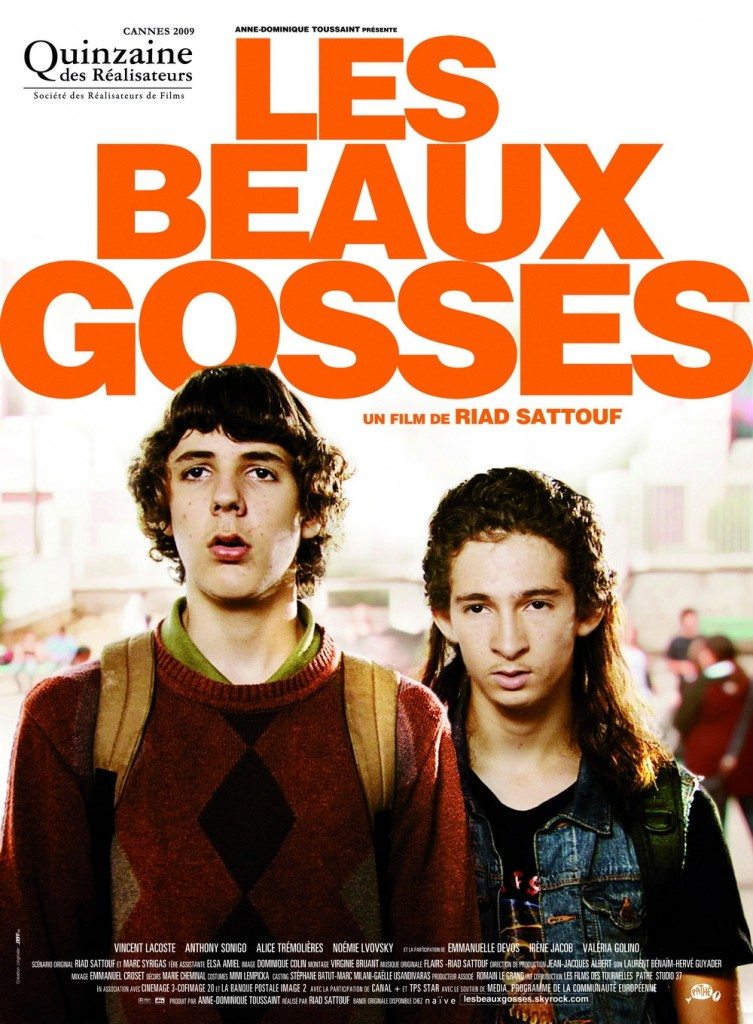 Source: blog.sina
Puberty life! How hard it is to fit in a life between not young anymore and not yet old enough? Le Beaux Gosses is a tale about an adolescent boy and his efforts to fit in amongst the social circles around him. As Hervé struggles with social awkwardness and is nothing but an average school boy, he suffers from rejection after rejection from girls. One day, he receives a favorable response from Aurore without knowing that she will just break his heart in the end.
With Aurore in his side, he started to feel how it is to fit in, but finds himself in a more complicated series of being an adolescent. This movie is fun and radical in a sense of its attempt to show even the most private things that an experimental adolescent guy would do, but it is not really recommendable for family time, most of all with kids around.
Available on Netflix: No or Amazon Instant Video
Day 30: Les Demoiselles de Rochefort
Directed and written by: Jacques Demy Year: 1967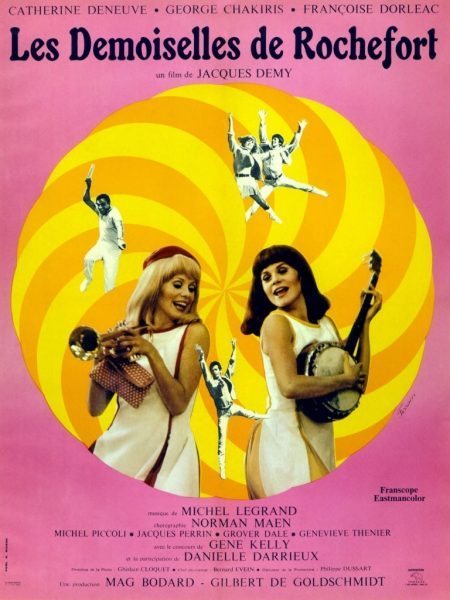 Source: tele.premiere
Delphine and Solange are twin sisters living in Rochefort. Delphine is a dance teacher, while Solange, is a pianist and a composer. The two ladies have a big dream in the world of music. Like everybody, they are also looking for each of their one great true love. "Les Demoiselles de Rochefort" is a 1967 French musical directed and written by Jacques Demy.
Available on Netflix: No (DVD only) or Amazon Instant Video
Day 31: Sur mes lèvres – Read My Lips (2001)
Directed by: Jacques Audiard Written by: Jacques Audiard and Tonin Benacquista Year: 2001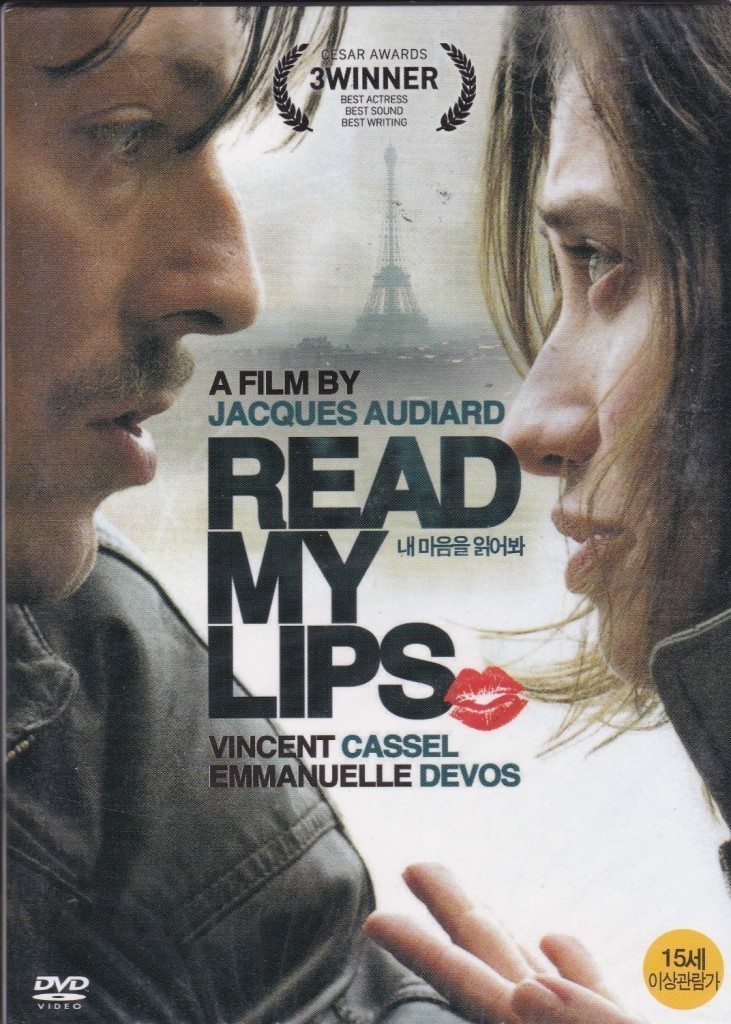 Source: www.amazon
A typical romance of bad boy meets good girl, 'Read My Lips' revolves around the intertwined lives of Carla and Paul. Carla is a young secretary in a property development company. She is loyal and hardworking, but she has one shortage, she has hearing deficiency. She uses hearing aids to help her with her everyday life.
Carla is lonely and underappreciated by the people around her, so when Paul, an ex-convict, applies for a job to be her intern, she hires him thereon. She wants to help him with his internal problems, but he thinks that the only person who could help him is himself alone.
Available on Netflix: No or Amazon Instant Video
Conclusion
How uninviting a rainy weather is for an outdoor activity, right? However, I do believe that in this time of the year, rainy and chilly days does not mean boring days; rather, it paves way for more indoor expérience et les activités françaises.
Watching movies is a great way to endure the boredom, learn and practice your French, and savour the unique experience of a rainy day. [symple_highlight color="red"]You would be doing me a HUGE FAVOR  by sharing it via Twitter, Facebook, Google + or Pinterest. [/symple_highlight]
Make sure to grab your FREE e-book 365 Days of French Movies! Click the photo below to get your copy!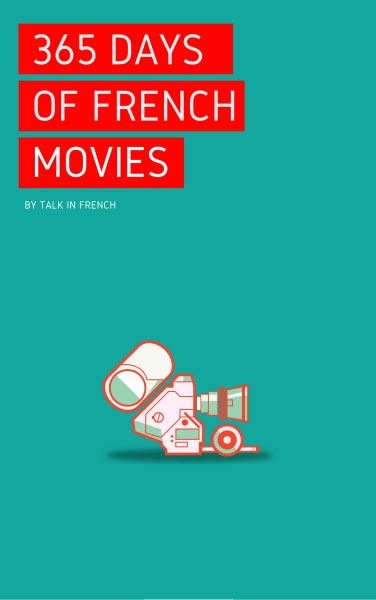 [/thrive_2step]