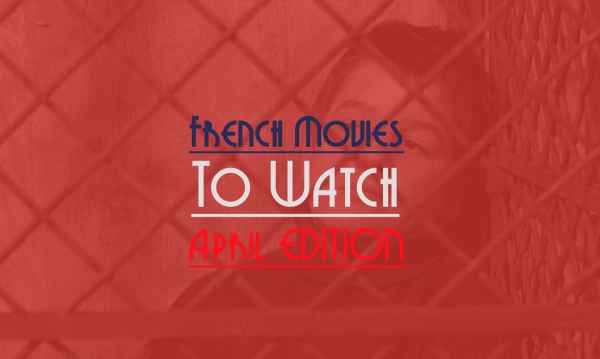 [symple_highlight color="green"]Reading time: 11 minutes[/symple_highlight]
Compiling a top list of the greatest movies fabriqués en France turned out to be  a tough task . For sure every movie fan has his own favorites, with no one or two films the same. But I worked hard and long over the best French movies to watch this month of April. Et…voilà!
You're welcome to enjoy the black-and-white epoch treasures, gory horror moments, modern day hits wedged between song and dance performances and animated action sequences. Did I miss something? Let me know! 
See also: How to Learn French with Movies in 7 Easy Steps (+ free e-book)
Day 1: 2 days in Paris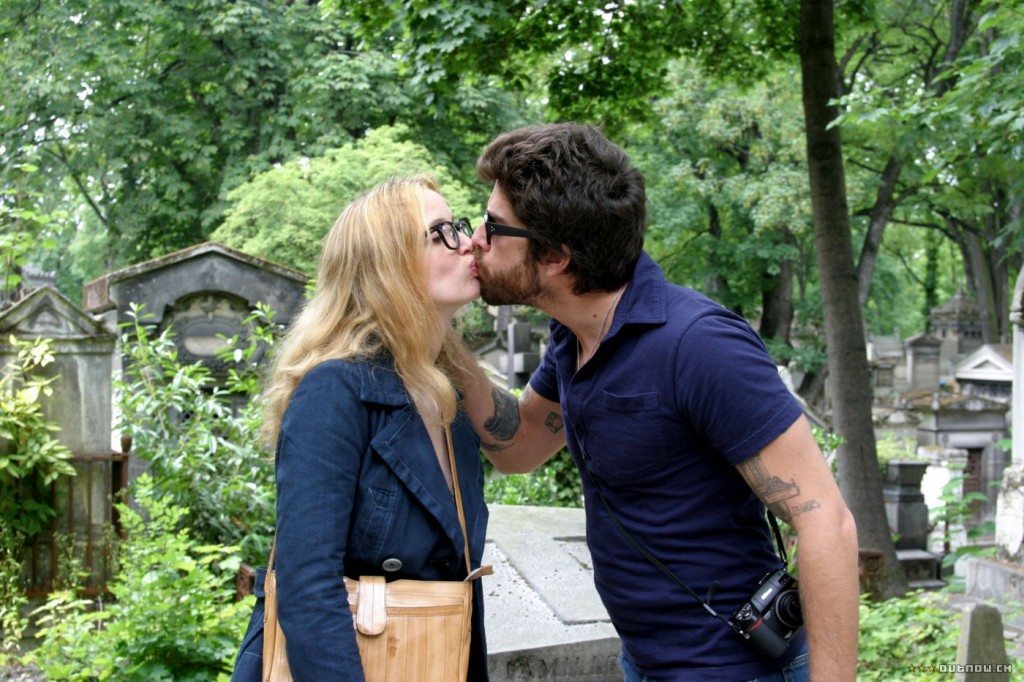 Directed: Julie Delpy
Written: Julie Delpy
The "2 Days in Paris" movie proves that Deply can boast of having an authentic style of humor! French-born photographer Marion and American designer Jack are on their way back home from Venice. A lovely voyage turns into quarrels and scandals. Maybe a two-day stop in Paris will save the day? Unlucky for Jack, the city of love and fashion proves to be a culture shock. Marion's mom and dad appear as two old-fashioned "revolutionaries", who make knock-down statement regardless of who's around. Adding more to the problem are Marion's parents who are pretty yucky about Americans.
Witty romcom opens up a down-to-earth relationship. If you're stuck in the chaos of a  struggling-relationship, "2 Days in Paris" is the right way to kill time.
Available on: Netflix (DVD only), Amazon Instant Video
Day 2: Viens chez moi, j'habite chez une copine (Come to My Place, I live at a Girlfriend's)
Directed: Patrice Leconte
Written: Luis Rego (play), Didier Kaminka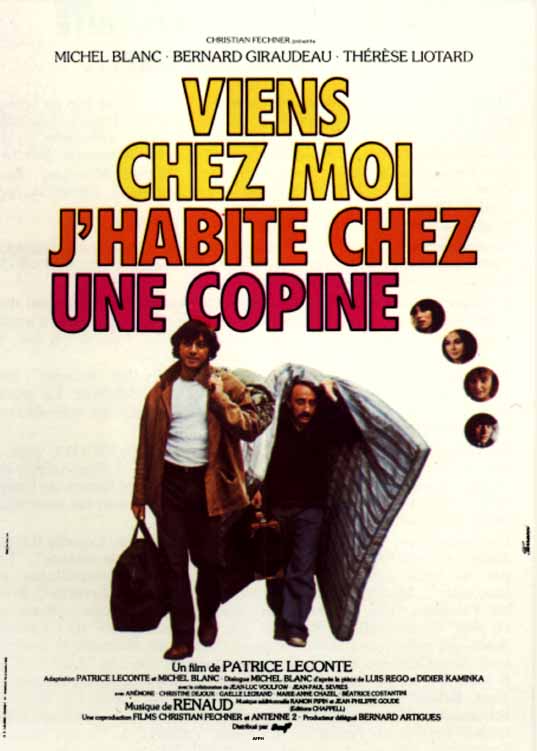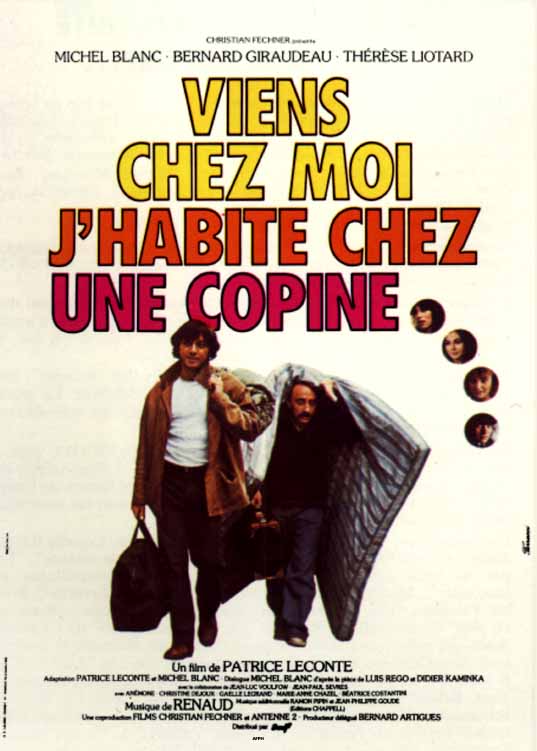 Based on a cabaret theater play, "Viens chez Moi, J' habite chez une Copine" makes you laugh until you cry tears of joy. A carefree gas station assistant suddenly needs shelter over his head after his boss catches him trying to swindle the clients. As a result, Guy is thrown into the street. An easy-going and kind couple, Francoise and Daniel, are ready to share their flat with a needy friend … "for a couple of days". The "couple of days" turns into a week, then two, a month into a year… The heartwarming welcome begins to wear out and Guy turns into a real disaster for Francoise and Daniel's relationship. 
Available on:  Amazon (Import DVD)
Day 3: La vérité si je mens ! (Would I Lie to You?)
Directed: Thomas Gilou
Written: Gérard Bitton, Michel Munz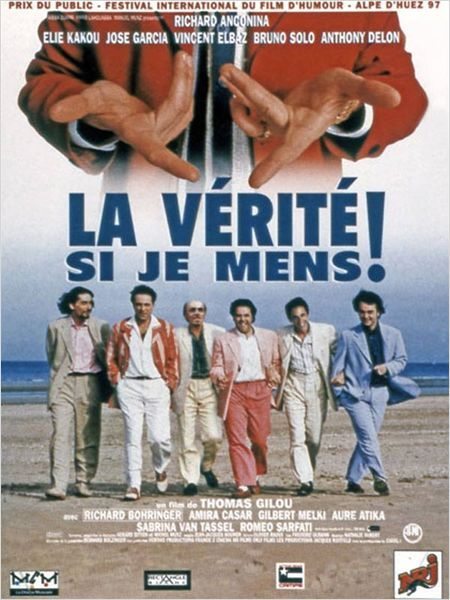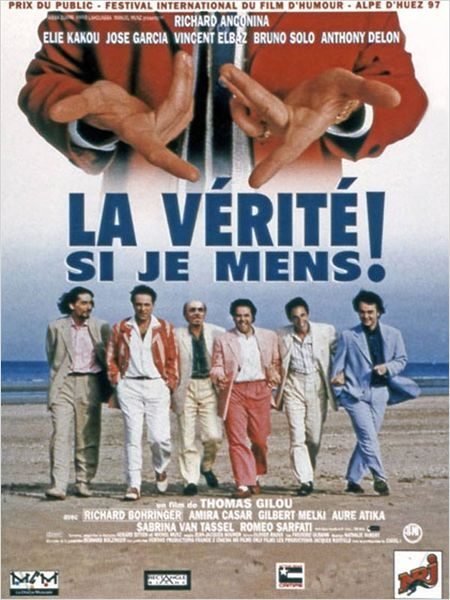 Mistaken for a Jew, an unemployed dude is given a break by a top-notch Paris tailor. A sudden journey into the world of Sephardic Jews of France! Simply hilarious!
Available on:  DVD
Day 4 : Un homme et une femme: Vingt ans déjà (A Man and a Woman: 20 Years Later)
Directed: Claude Lelouch
Written: Claude Lelouch, Pierre Uytterhoeven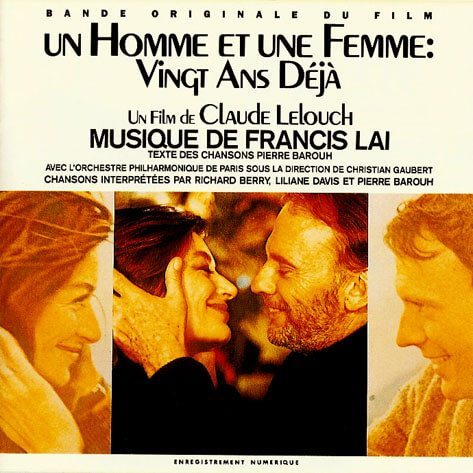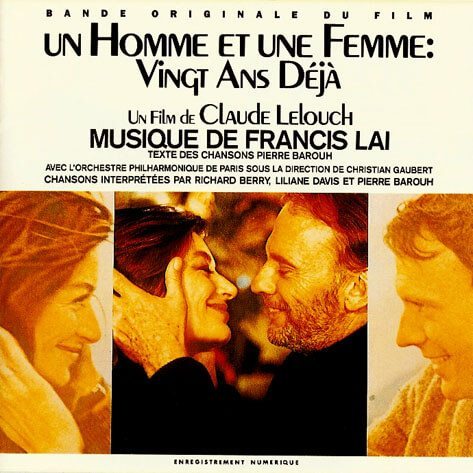 Anne and Jean-Louis have had their fling and breakup. 20 years later their lives cross again. He's still dating every "skirt". She is a big-hit director whose work is booming. Should THESE TWO souls unite once again? We'd recommend cynics to proceed watching this movie and see for themselves.
Available on:  DVD
Day 5 : La cité des enfants perdus  (The City of Lost Children)
Directed: Marc Caro, Jean-Pierre Jeunet    
Written : Gilles Adrien, Jean-Pierre Jeunet , Marc Caro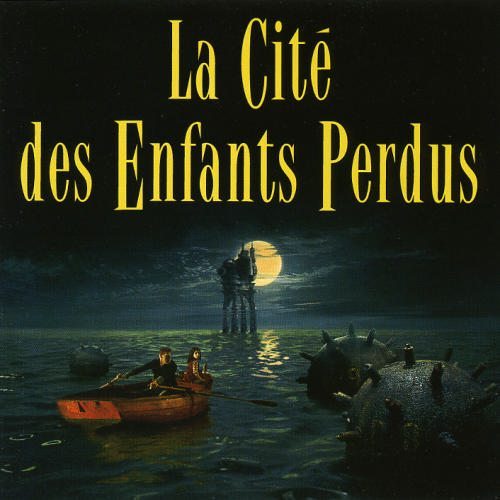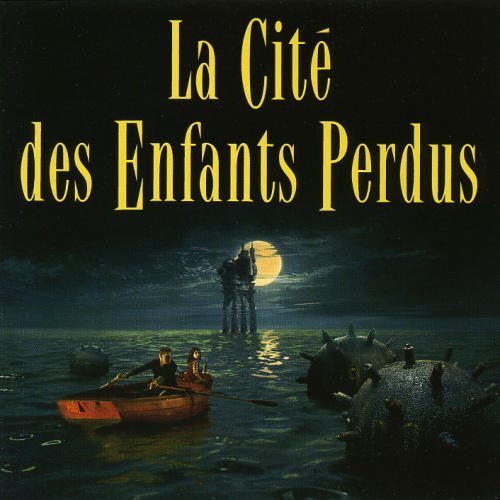 It's hard to find the right words to describe the film "La Cité des enfants perdus". So, we'll just provide you with some highlights. OK. There's an ancient castle. Then there's Siamese twins, a crazy head scientist, a talking brain and a gang of… clones. Should we go on? If you're a fan of bizarre stuff – this oughta be your number one pick! Jeunet and Caro prove their distinctive signatures in movie-making.
Available on: Amazon Instant Video
Day 6 : Mon père, ce héros (My Father the Hero)
Directed: Gérard Lauzier
Written: Gérard Lauzier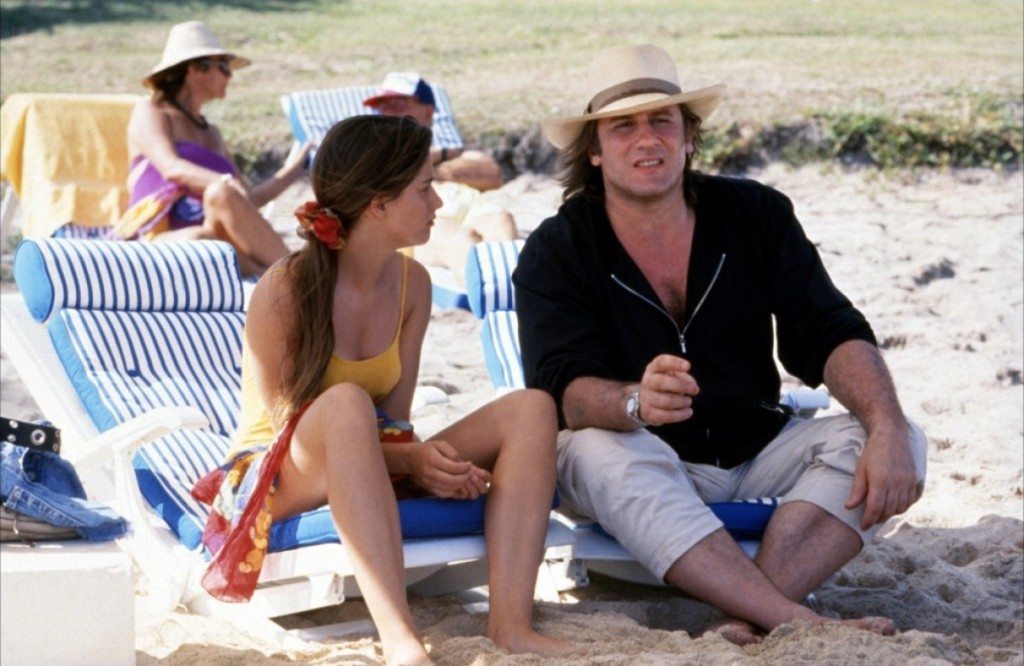 How do you cheer yourself up if you're a teen girl and you're bored? Go on vacation à l'île Maurice with your dad. Meet a potential boyfriend there. Impress him by saying that your father is actually your … lover. Pretend to be a mistress of a cruel ex-gangster who's dying. See how it works out with Véronique and André.
Available on: Netflix, DVD
Day 7: LOL (Laughing Out Loud)
Directed: Lisa Azuelos
Writen : Lisa Azuelos, Nans Delgado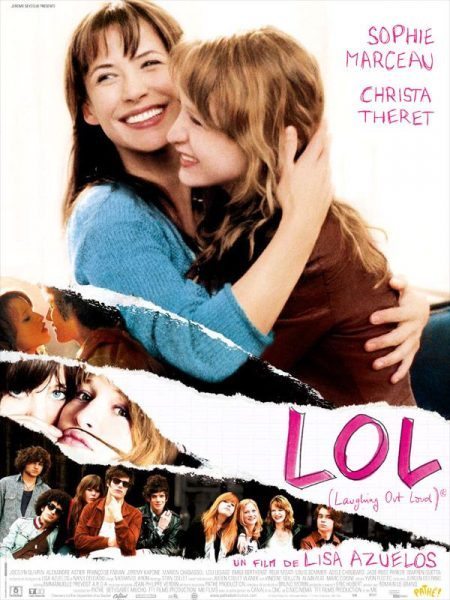 A charming and jaw-dropping cast and laugh-out-loud moments – that's what makes "Laughing Out Loud" a big hit.
When Lola finds out that her bf cheats on her during his summer trip, she longs for revenge. To punish the unfaithful boyfriend, Lola flirts with his best pal. But the situation heats up when their class plans a trip to London.
In text slang LOL means "laughing out loud". That's what you'll actually do when watching a stunning comedy with Sophie Marceau.
Available on: Amazon Instant Video
Day 8 : Mon oncle (My Uncle)
Directed: Jacques Tati
Written : Jacques LaGrange, Jean L'Hote, Jacques Tati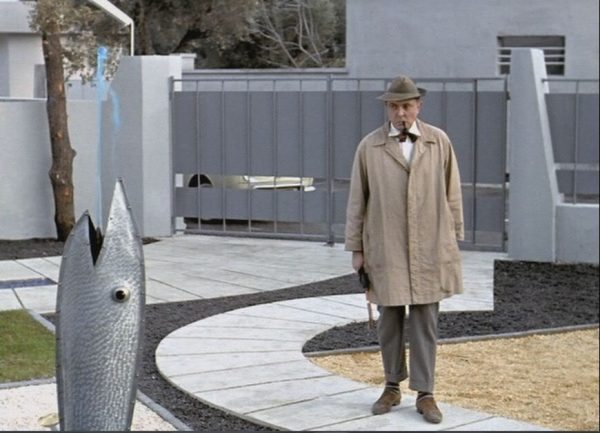 This award-winning 1958 comedy centers around the awkward but lovable Monsieur Hulot and his struggles with modernism and materialism as reflected  by his sister's ultra-modern geometrical house. Considered a satirical comedy that pokes fun at France's post-war consumerism and obsession with modern architecure, this movie has received wide acclaim all over the world.
Available on:  Amazon Instant Video
Day 9: L'homme orchestre
Directed: Serge Korber
Written: Serge Korber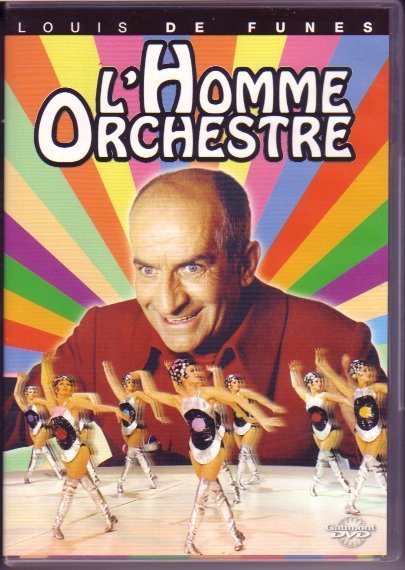 Forever young Louis De Funes (Evans) stars as a brilliant but tyrannical ballet director. The only other male in the crew is his real-life son Olivier De Funes (Philippe). As one of the girls gets pregnant and labels Philippe as the young dad – Evans turns into a babysitter. Let the craziness begin! 
Available on: DVD
Day 10 : Panique au village (A Town Called Panic)
Directed:    Stéphane Aubier , Vincent Patar
Written: Stéphane Aubier, Vincent Patar, Vincent Tavier, Guillaume Malandrin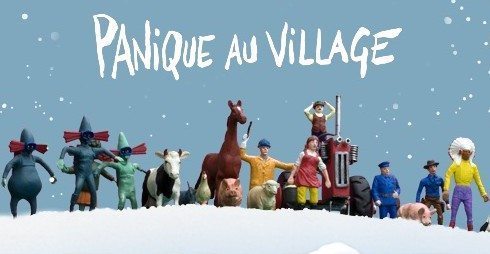 There's not much to say about this movie except that it is absolutely awesome! Animated plastic friends like Indian, Cowboy and Horse face a bag of trouble. Indian and Cowboy's plan to make a Birthday surprise for Horse ends up with a house destryoed. The Trio goes on an insane trip to the center of the earth. Join the group's surreal adventures in their hyper-vivid world!
Available on:  DVD
Day 11: La fée (The Fairy)
Directed: Dominique Abel , Fiona Gordon
Written: Dominique Abel, Fiona Gordon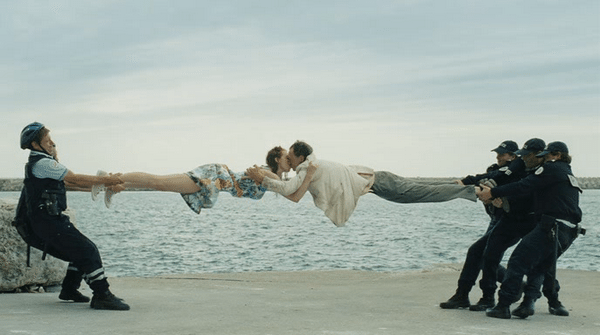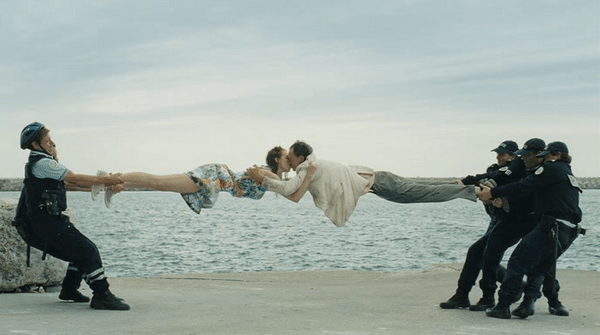 The best thing you can say about the movie "La Fée" is that it certainly sweeps you up and carries you into its own world. A unique treasure trove of  gags, the film shows a real-life fairy, who suddenly pops up in the life of a hotel clerk. La femme makes promises. She grants (traditionally) a couple of promises and vanishes in a twinkling of an eye. That's act one. Curious about what happens next? Watch this and you won't definitely regret it.
Available on:  DVD
Day 12 : Une femme est une femme (A Woman Is a Woman)
Directed: Jean-Luc Godard
Written: Jean-Luc Godard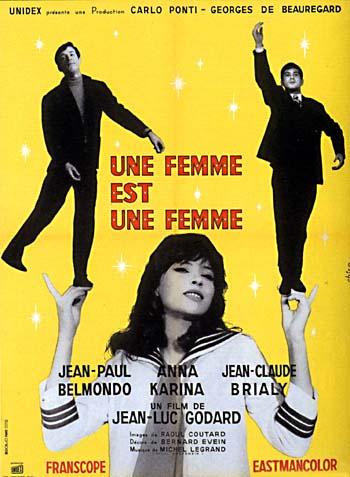 When a stripper's lover suggests the idea of having a baby, she switches to the next best thing – her boyfriend's best pal. But just as always, Jean-Luc Godard highlights his priorities d'amour, and once remarkably stated, "No need to FEEL for the "Une femme est une femme" film. You must feel for a woman for you can't kiss a film".
Available on: Amazon Instant Video
Day 13 : Toute une vie (And Now My Love)
Directed: Claude Lelouch
Written: Claude Lelouch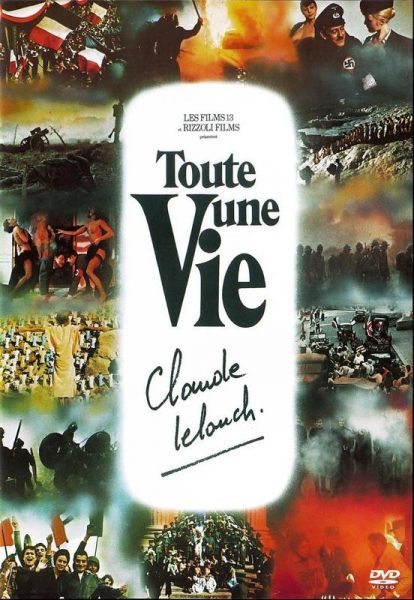 As a tradition, Mr. Fabulous Claude Lelouch gives eternal love its due in  "Toute Une Vie"! More like a glossy romantic drama, the movie takes you into the lives of three generations of Parisians. The film chronicles three love stories in three generations.
Available on:  Amazon Instant Video
Day 14 : L'enfant (The Child)
Directed: Jean-Pierre Dardenne , Luc Dardenne
Written: Jean-Pierre Dardenne, Luc Dardenne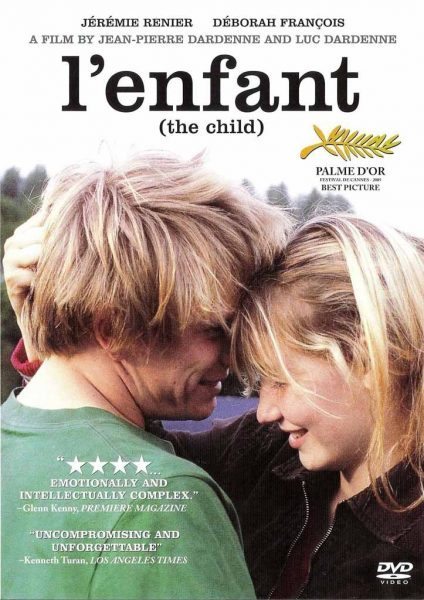 Another ultra-realistic, astonishing family drama from the talented Dardenne frères. The Cannes Film Festival winner "L'enfant" tells a story of 18 year old Sonia, who gives birth to a boy. Bruno, the baby's dad, doesn't show much interest in fathering the new-born.  Can we forgive what is impossible-to-forgive?
(Note: This movie is actually from Belgium. The Dardenne brothers produce so much good movies that I needed to introduce at least one here.)
Available on:  Amazon Instant Video
Day 15 : Des hommes et des dieux (Of Gods and Men)
Directed: Xavier Beauvois
Written: Xavier Beauvois (adaptation), Etienne Comar (scenario)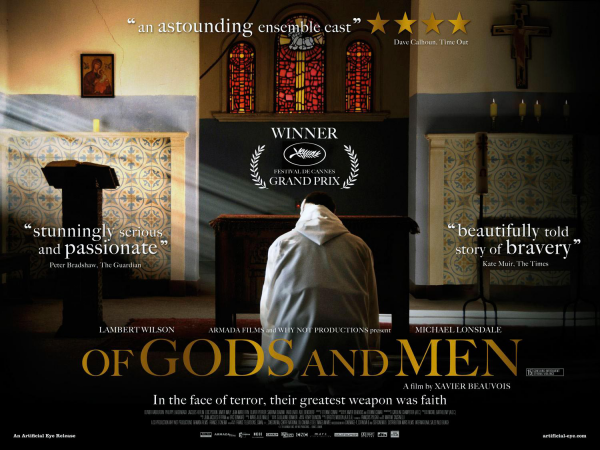 A deeply touching and profound film showing a group of monks working in the Algerian mountains. Under terroristic threat, the Trappist monks must decide whether to stay or leave the place for good. Alternately humbling and harrowing, the story reveals the destiny of men whose compassion is put to the test in the most brutal fashion. Need a thought provoking movie? Try this one.
Available on:  Amazon Instant Video
Day 16 : La vie rêvée des anges  (The Dreamlife of Angels/The Daydreams of Angels)
Directed: Erick Zonca
Written : Erick Zonca, Roger Bohbot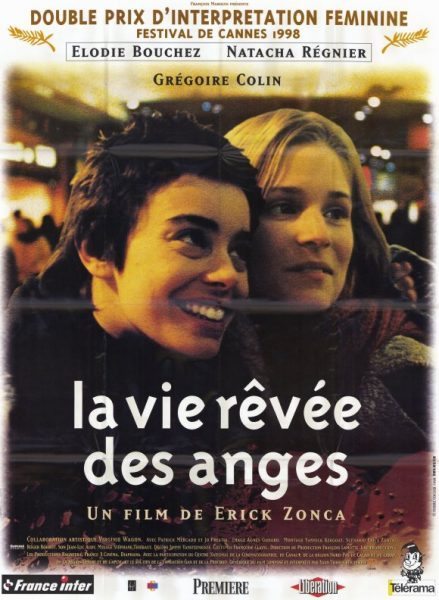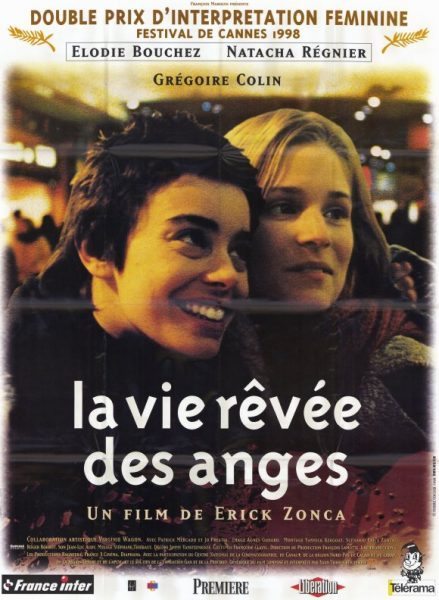 Those blokes who don't have the slightest idea of what is going on in the female psyche will be pleased with "La Vie rêvée des anges". Zonca shows an extraordinary way to get into a lady's mind.
As one of the French masterpieces, this film understands what only few Yankee-made films dare admit: not every individual can afford the luxury to follow his heart.  Zonca's lyrical style results in the smallest flare-ups and tensions that can ruin a solid friendship in a flash.
Available on:  DVD
Day 17 : Les yeux sans visage (Eyes Without a Face)
Directed: Georges Franju
Written : Pierre Boileau, Jean Redon, Thomas Narcejac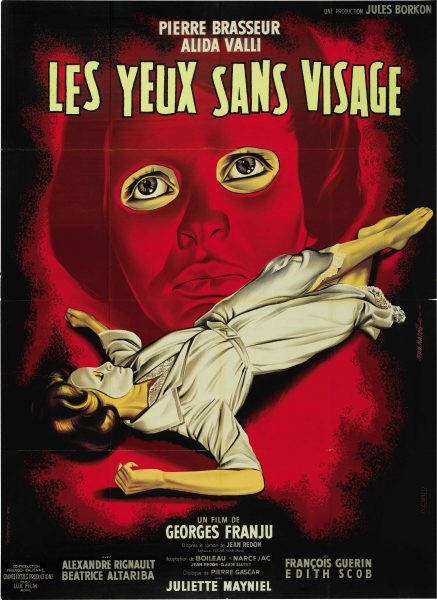 Horror at its worst. Pure evil. Ready for some wild goosebumps? We promise that you won't be able to shake the movie out of your head! Dr. Genessier, a plastic surgeon steals the face of an unwilling young female donor in order to save his daughter. Dr. Genessier fears that the transplant may fail. And of course, his fears turn into reality.
Available on:  Amazon Instant Video
Day 18 : Les quatre cents coups  (The 400 Blows)
Directed: François Truffaut
Written: François Truffaut, Marcel Moussy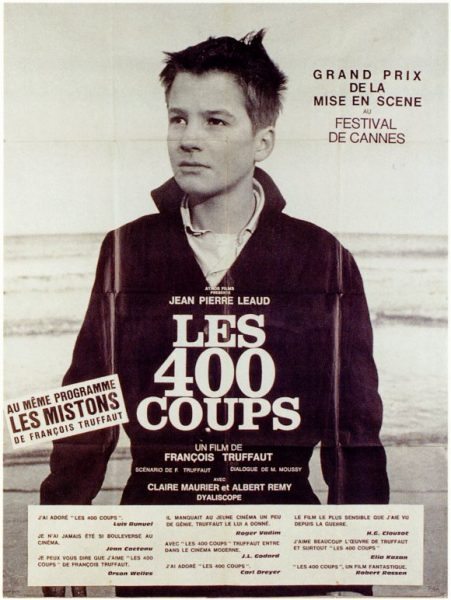 Distinguished by its close-to-real-life, quasi-documentary and sentimental approach, the movie "Les Quatre cents coups" is a piercingly frank picture of troubled youth. An amazing central performance of 12-year-old Jean-Pierre Léaud touches all the strings of the viewer's heart. An intensely moving portrayal of a misunderstood adolescent who strives for attention and slowly slides into a life of a criminal.
Available on: Netflix (DVD only) , Amazon Instant Video
Day 19 : La haine (Hate)
Directed: Mathieu Kassovitz
Written: Mathieu Kassovitz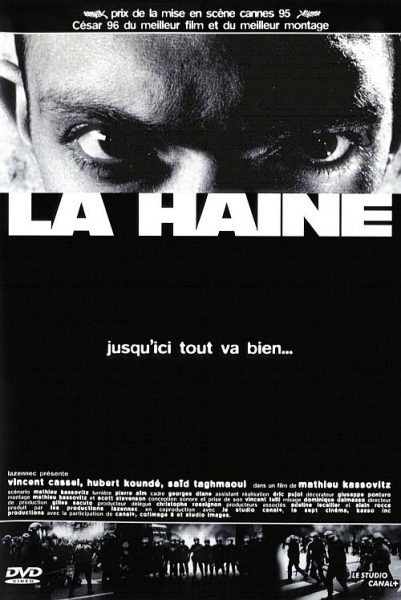 A Powerful urban drama combined with an excellent performance by Vincent Cassel. This film will truly make your day. Concentrated over one day in the routine life of suburban social outcasts, and amazingly shot in black and white, the movie hooks you in. Intense drama comes as a thought-provoking commentary on the never ending cycle of hatred that gives birth to more and more hatred. 
Available on: Netflix (DVD only), Amazon Instant Video
Day 20 : À bout de souffle (Breathless)
Directed: Jean-Luc Godard
Written: François Truffaut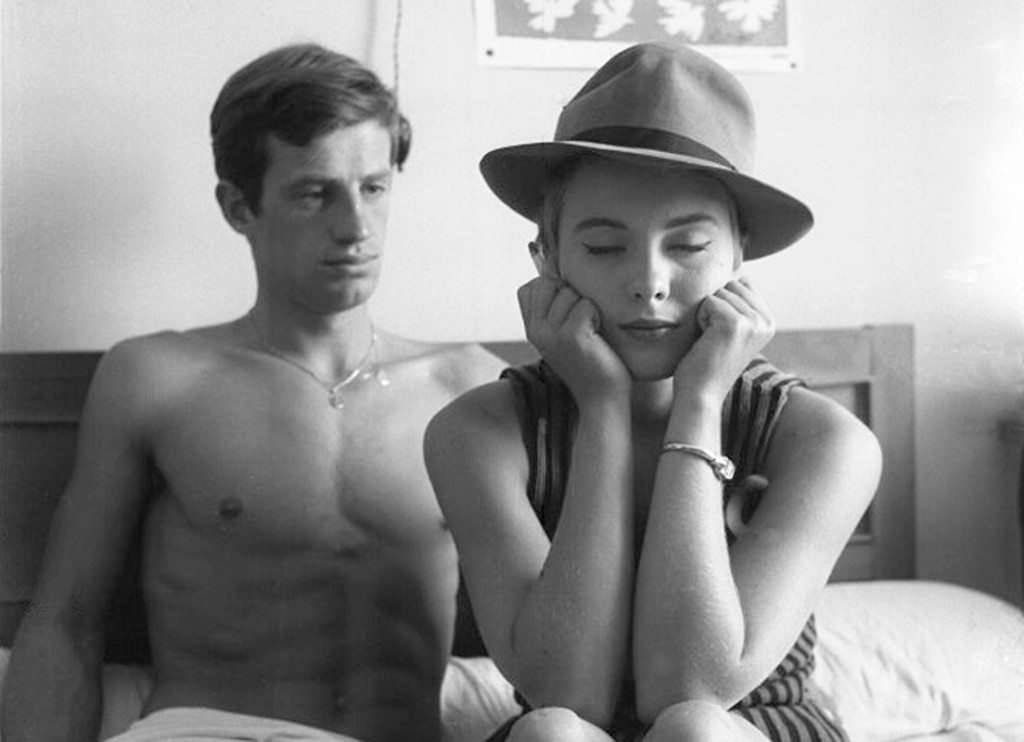 Jean-Luc Godard at his best! The topnotch movie "À bout de souffle" is a groundbreaking cinematic masterpiece and considered as Godard's best work.
The story follows a young drifter who, on a panic, kills a cop and  has to hide out in his girlfriend's apartment. The story may seem simple enough, but that's not the core of Godard's masterpiece. "À bout de souffle" is at the same time a heart-breaking monochromatic representation of Paris. A perfect demonstration of what it is like to be young and reckless.
If you have never seen "À bout de souffle", watch it now and see for yourself why critics and viewers alike have raved about this film.
Available on:  Amazon Instant Video
Da 22 : Ernest et Célestine (Ernest & Celestine)
Directed: Stéphane Aubier, Vincent Patar, 1 more credit »
Written: Gabrielle Vincent, Daniel Pennac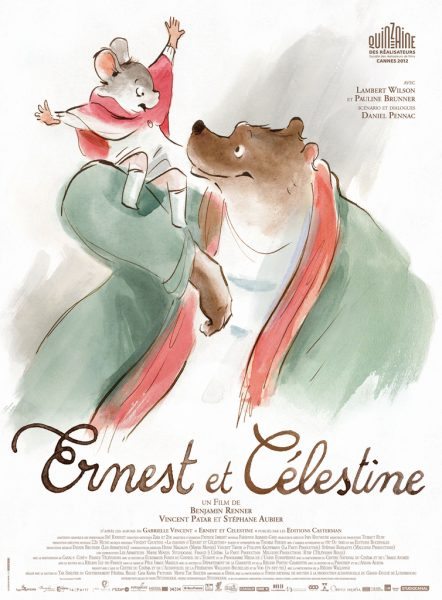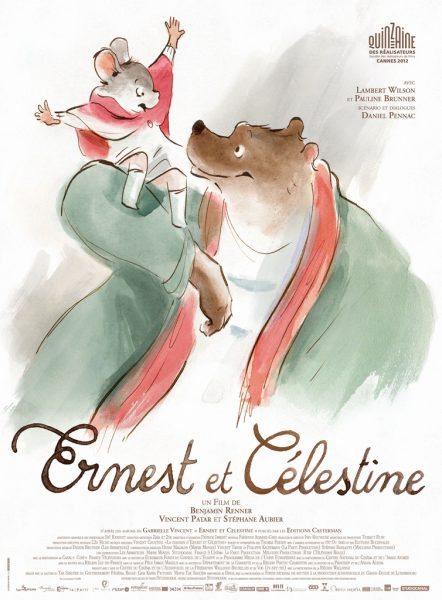 An Animated story of an unlikely bond between two creatures – a young and sweet mouse Celestine and a bear named Ernest. Although solid and forever lasting, this unprecedented friendship is not widely accepted by everyone living below and above the ground.
Available on: Amazon Instant Video . You can watch this movie for free if you sign-up with Amazon Prime (30-day free trial)

Day 23 : Dans la maison (In the House)
Directed: François Ozon
Written: François Ozon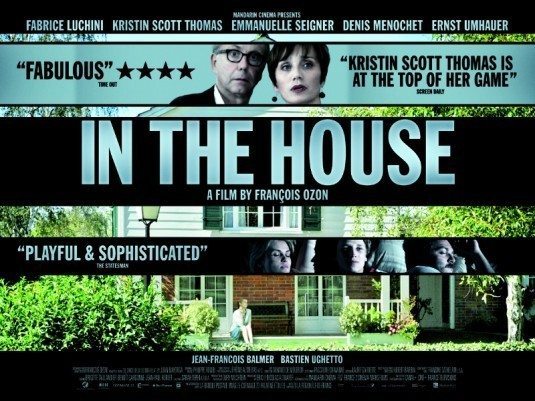 This one is quite an impressive movie. Although you may look at it as at some sort of psycho-drama experiment, it covers reality and fantasy in the most unusual ways, showing imaginary and realistic evens with equal sincerity.  A high school French tutor dives deep into a gifted student's story, that of his relationship with a pal's family. "Dans la maison" blows your mind and hooks you in.
Available on: Netflix, Amazon Instant Video
Day 24 : Sur la piste du Marsupilami (HOUBA! On the Trail of the Marsupilami)
Directed: Alain Chabat
Written : Alain Chabat, Jeremy Doner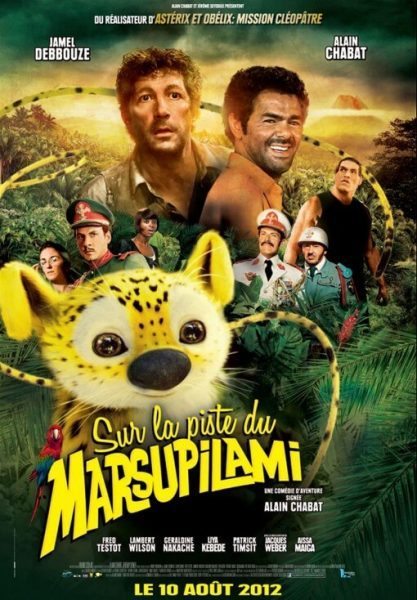 While out hunting for a news story in Palombia, reporter Dan Geraldo is confronted with an unbelievable discovery that gives him the chance to share a huge news with the whole world!. Cooperating with a local guide Pablito, he goes on a breath taking adventure that takes him to the unusual and mischievous animal called – the Marsupilami!
Available on: Amazon Instant Video
Day 25 : Comme un chef (Le Chef/The Chef)
Directed: Daniel Cohen
Written : Daniel Cohen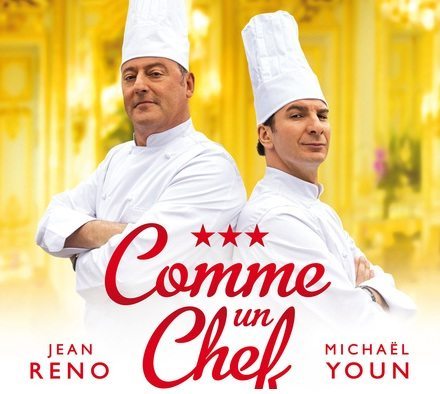 Soufflé-light, is a light-hearted French comedy. A self-trained cook named Jacky is slightly crazy about haute cuisine. Unfortunately, Jacky gets fired from several jobs. Trying to save their financial situation, his pregnant lover Beatrice arranges a handyman position for her boyfriend. Nonetheless, Jacky hears the siren of haute cuisine. At the same time, Alexandre, the 3-star Cargo Lagarde chef is having a crisis. Will their paths cross?
Available on: Netflix, DVD
Day 26 : Tomboy
Directed: Céline Sciamma
Written: Céline Sciamma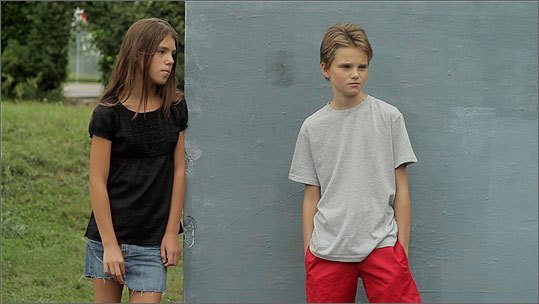 This film explores the relationships between grown-ups, kids, and even more complex ones between a human's body and heart.
A typical French family moves to a new district during their summer vacation. On one hand, they're absolutely happy with two daughters, Laure (10 years old) and Jeanne (6 years old). But if you take a closer look at them, you'll see all the skeletons in the closet. With her tomboy ways and haircut, Laure is mistaken for a teen boy in her new neighborhood. She seems to like this "game" and passes herself off as a boy named…Michael.
The "Tomboy" movie is a charming reminder that for a pretty long time France has been well-known for an absolutely different kind of movie-about-kids.
Available on: Netflix, Amazon Instant Video
Day 27 : L'illusionniste (The Illusionist)
Directed: Sylvain Chomet
Written: Sylvain Chomet (adaptation), Jacques Tati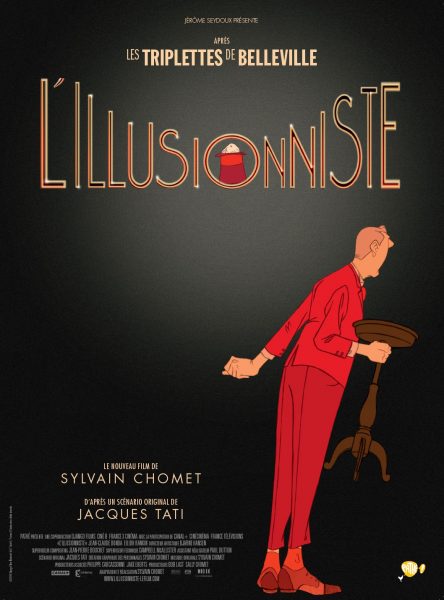 A jobless French illusionist makes a trip to Scotland where he meets a young lady  and their lives are changed for good! A hand-drawn eighty-minute animation from Sylvain Chome packed with heart-breaking emotions, this is considered as one of the most depressing fins ever performed in French animated works. A perfect mix of crack-a-smile humor and romeo-et-juliette schmaltz makes L'illusionniste such a divine masterpiece. 
Available on: Netflix, DVD
Day 28:  Un coeur en hiver (A Heart in Winter)
Directed: Claude Sautet     
Written : Claude Sautet, Jacques Fieschi,  Jérôme Tonnerre, Yves Ulmann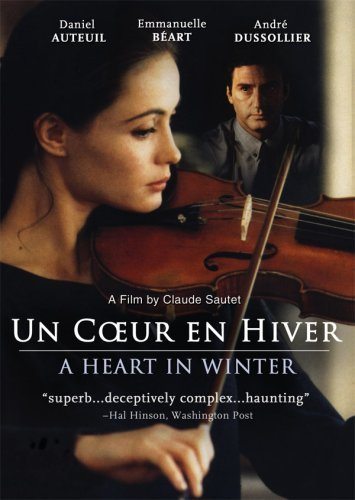 Stephane is a genius. Being a violin maker, he works magic when it comes to fixing damaged instruments. He runs a business together with his pal, Maxime. But Maxime falls in love with charming Camille et voila! Here comes a love triangle!
Beautiful and sad, this film will tug at your heartstrings.
Available on:  DVD (import)
Day 29   Title: Belle de jour (1967)
Directed: Luis Buñuel       
Written : Joseph Kessel, Luis Buñuel, Jean-Claude Carrière
One of the brightest representations of French cinéma of all times, The "Belle de Jour" film concentrates on a woman who slowly loses her attractiveness in her husband's eyes. She starts turning her sexual fantasies into reality, but the results she faces are shocking.
Available on: Amazon Instant Video
Day 30 : Une vie de chat (A Cat in Paris)
Directed: Jean-Loup Felicioli, Alain Gagnol          
Written: Alain Gagnol, Jacques-Rémy Girerd, Alain Gagnol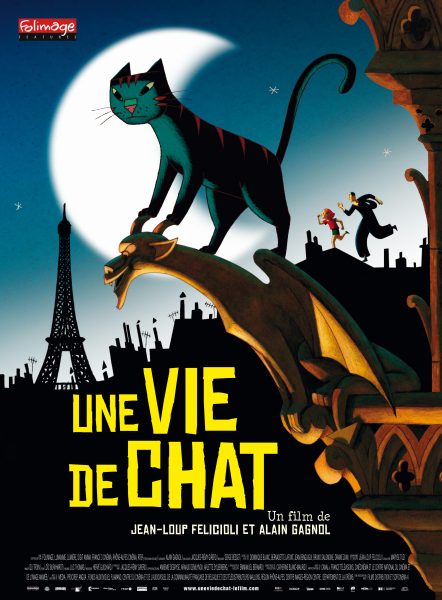 Cats are not as simple as they may seem. They lead a double life. In Paris, a fluffy protagonist Dino runs a secret life. By day, he is a pet cat licking himself clean in the kitchen and playing with a ball of string.  But when night falls, Dino sneaks out of the bedroom window to meet Nico, a big-hearted slinky cat who moves from rooftop to rooftop guarding the City of Lights. The Two worlds suddenly cross when Dino's owner Zoe follows her pet in his night adventures. The young girl falls into the hands of a gangster. Now Dino has no other choice but to team up with his nocturnal friends to rescue Zoe's life!
Available on: Amazon Instant Video. Free if you signup with Amazon Prime.
And I have a question for you, which French movies did you enjoy and watch from this list?
[symple_highlight color="red"]P.S. You would be doing me a HUGE FAVOR  by sharing it via Twitter, Facebook, Google + or Pinterest. [/symple_highlight]
Make sure to grab your FREE e-book 365 Days of French Movies! Click the photo below to get your copy!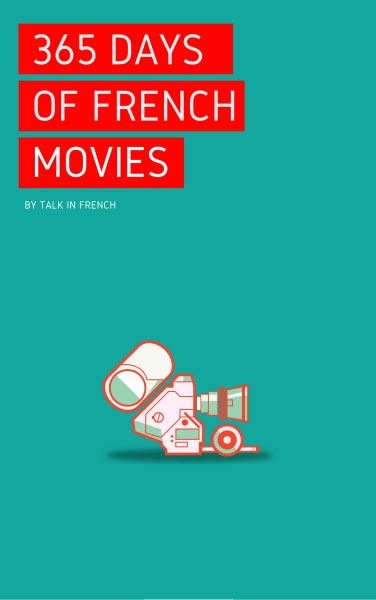 [/thrive_2step]
Want to know how you can use movies to learn French? Check out this article!