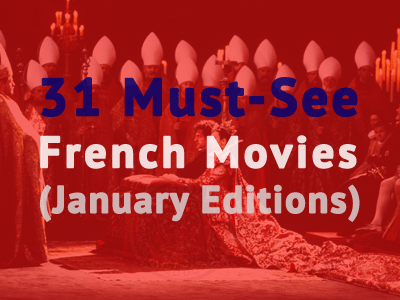 Here we go again with a list of movies for you to watch this month: one movie for every day of the month!
As the weather gets colder this January, it's time to stay in and stay warm and we have just the perfect selection of fantastic movies.
So sit back and stay indoors with these movies to keep you company.
Day 1: Les temps qui changent (Changing Times)
Year: 2004
Director: André Téchiné
Screenplay: André Téchiné, Laurent Guyot, Pascal Bonitzer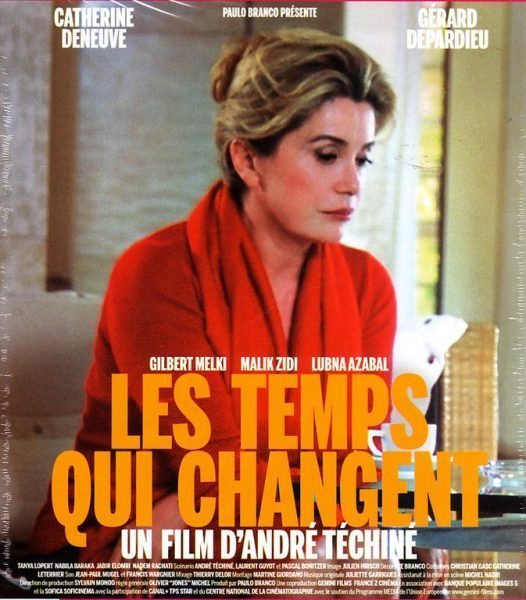 (source:koinotopia)
What lengths would you go to in order to look for the first love of your life ? The chance of seeing them again and bringing them back into your life is slim, but the main character Antoine is ready to risk it. On a hopeless romantic whim, Antoine moves from France to Tangiers to track down her first love.
Available on Netflix: No (DVD only) or Amazon Instant Video
Day 2: Monsieur Lazhar
Year: 2011  
Director: Philippe Falardeau
Screenplay: Philippe Falardeau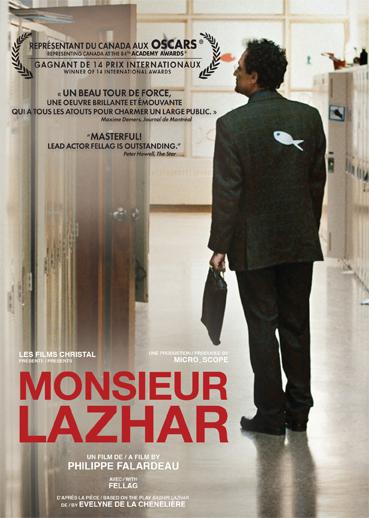 (source:movies.film-cine)
For our second film of the month, let us welcome an award-winning Canadian-French language movie Monsieur Lazhar.
Monsieur Lazhar is about an Algerian immigrant who works as a teacher in an elementary school in Montreal. After a suicide tragedy at the school by one of the former teachers, Bashir Lazhar applies as the replacement.  However, there are many struggles that await him teaching in a foreign school, in a foreign country.
Available on Netflix: No (DVD only) or  Amazon Instant Video
Day 3: Nés en 68 (Born in 68)
Year: 2008
Director: Olivier Ducastel, Jacques Martineau
Screenplay: Catherine Corsini, Olivier Ducastel, Guillaume Le Touze, Jacques Martineau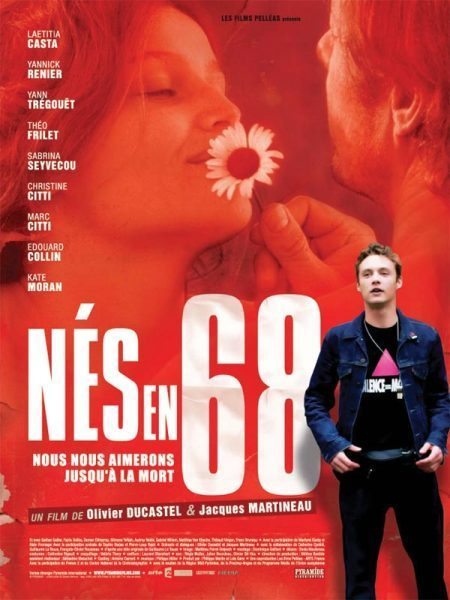 (source:allocine)
The next film, Nés en 68, is all about the challenges faced when living in a revolutionary society. The dramatic events of May 1968 are featured in this film throughout the journey of three revolutionary students and the riots and protests they experience during this time.
Starring Catherine, Yves, and Herve as three of the student protesters who seek change during the late 60s. May 1968 cast life into the shadows of civil unrest, and during this time the three students bond together in face of the difficult situation.
Available on Netflix : No (DVD only) Amazon Instant Video
Day 4: Un amour de jeunesse (Goodbye First Love)
Year: 2011
Director: Mia Hansen-Løve
Screenplay: Mia Hansen-Løve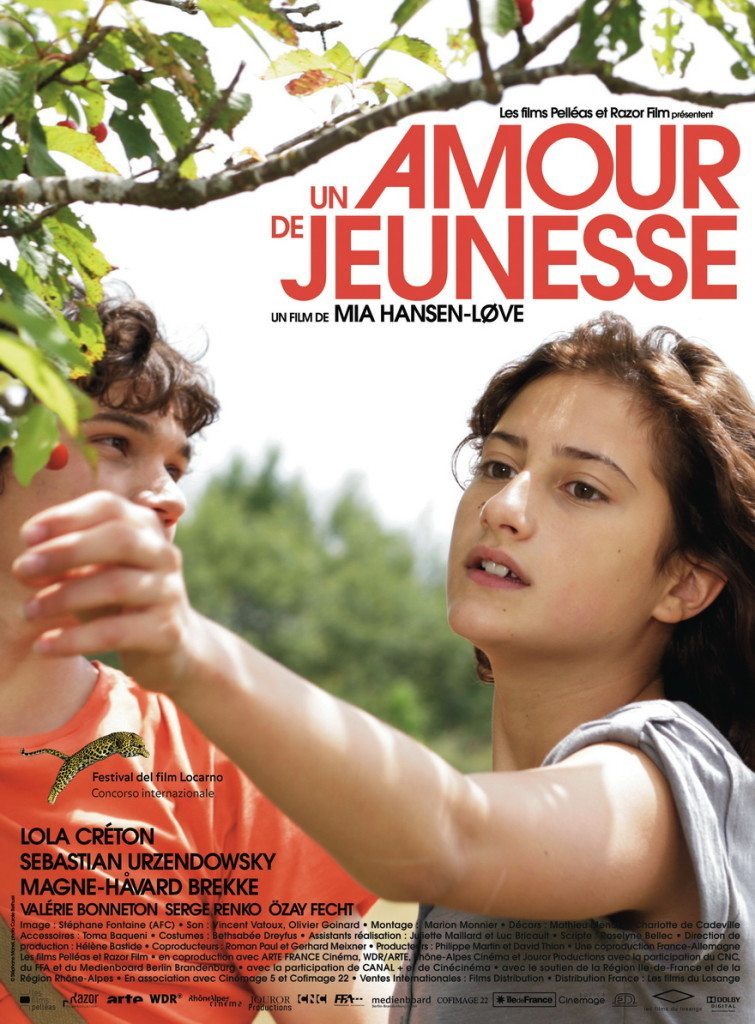 (source:filmosphere)
The films explores the themes of love in a teenage couple who grow apart because of their different personalities, goals and desires in life. Sullivan, the male protagonist, desires to learn more about himself by exploring the world. Camille, a studious fifteen year old girls falls for Sullivan's attitude and ambition. Sullivan, however, is not interested in anything serious. His feelings for her grow, but his youthfulness desires to be a world explorer drive him to leave her. Camille descends into a state of depression at his abandonment, to the point of being suicidal. Eight years later and the question remains if time can heal all wounds and if they can move on from their first love.
Available on Netflix : No (DVD only) Amazon Instant Video
Day 5: La Bonne Année (Happy New Year )
Year: 1973
Director: Claude Lelouch 
Screenplay: Pierre Uytterhoeven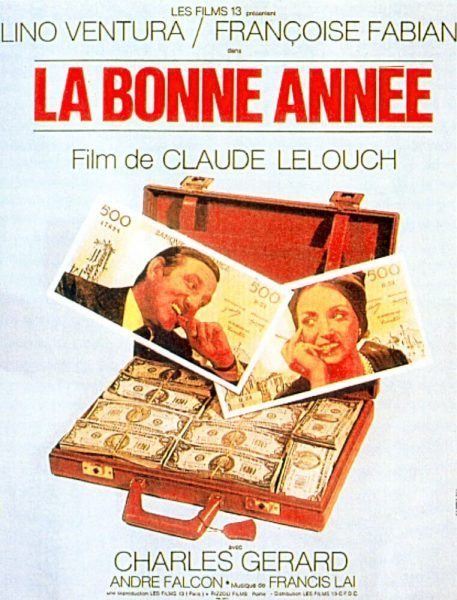 (source:cineclap.free)
Love can happen at the most inappropriate times, as we find out in our fifth movie. Claude Lelouch plays with the idea of stealing someone's heart in La Bonne Année. 
The main character, a thief gangster, finds a stumbling block in his career when planning a heist to rob an antique shop. Instead of stealing the items as he plans to, he accidentally loses his heart to Francoise, the intelligent and beautiful antique owner. He must change his scheming from robbing items to giving compliments in order to seduce his new-found love. How will this unplanned, and rather inconvenient love affair impact the heist ?
Available on Netflix: Amazon Instant Video
Day 6: La Reine Margot (Queen Margot)
Year: 1994
Director: Patrice Chéreau
Screenplay: Danièle Thompson, Patrice Chéreau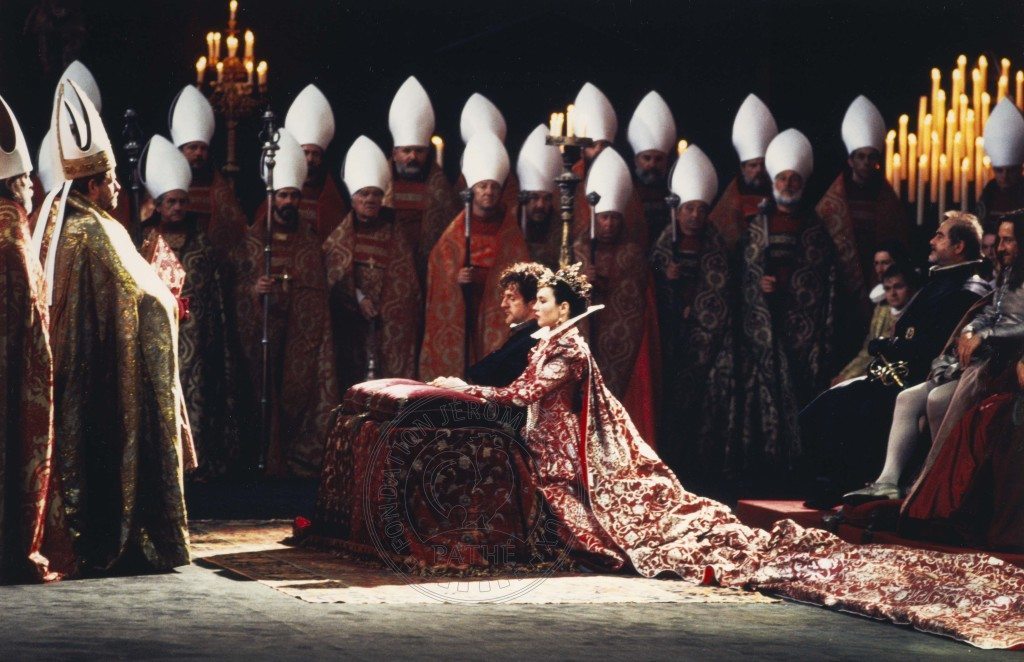 (source:filmaffinity)
For movie number six we have a historical film to enjoy. La Reine Margot stars Isabelle Adjani, Daniel Auteuil, Virna Lisi, and Vincent Perez in the 16th century historical drama.
During this period, an ongoing war rages between the Catholics and Protestant Huguenots who fight for power over France. Political control, religious disputations, arranged marriages and treachery surround the characters in the film. King Charles IX and his mother Catherine de Medici rule France, but are threatened by the Huguenot. In a bid to defeat the enemy, Catherine offers her daughter to marry Henri de Bourbon, a Huguenot king of Navarre. Murder, massacres and chaos ensue after this decision.
La Reine Margot is an internationally co-produced film adapted on the historical novel of the same name written by Alexandre Dumas. The film received high praise in all countries it had been shown gaining a box-office success in the United States as well.
Available on Netflix: No (DVD only) or Amazon Instant Video
Day 7: Roman de Gare (Crossed Tracks)
Year: 2007
Director: Claude Lelouch
Screenplay: Claude Lelouch, Pierre Uytterhoeven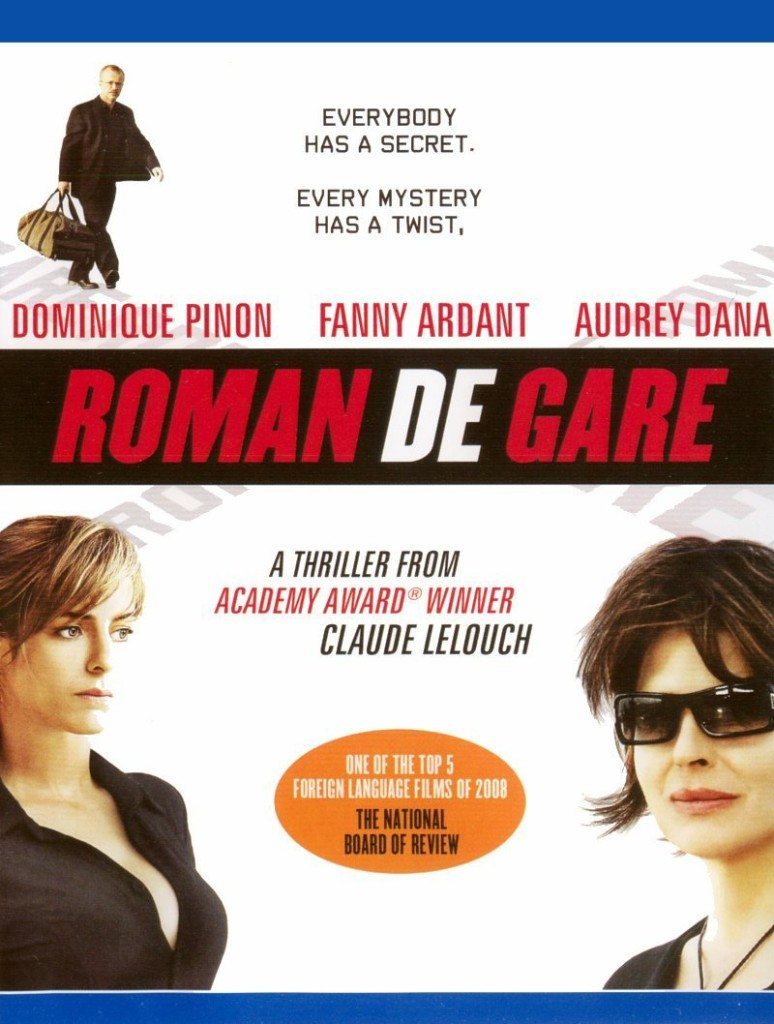 (source:amazon)
Also known as Crossed Tracks, Roman de Gare explores the life of ghostwriter.
In this thriller-suspense film, Judith is a novelist who doesn't know the true identity of her ghostwriter, who goes by the name of The Magician. As a frustrated writer, Judith just wants someone to bring her a best-selling book giving her popularity and money. She isn't interested in the identity of the ghostwriter. The worlds of fiction and reality combine as themes about serial killers and identity revelations occur. The twisted plot unfolds as the famous writer and the mysterious ghostwriter use their words to uncover the truth.
Available on Netflix:  No (DVD only) or Amazon Instant Video
Day 8: La Femme d'à côté (The Woman Next Door)
Year: 1982
Director: François Truffaut
Screenplay: Jean Aurel, Suzanne Schiffman, François Truffaut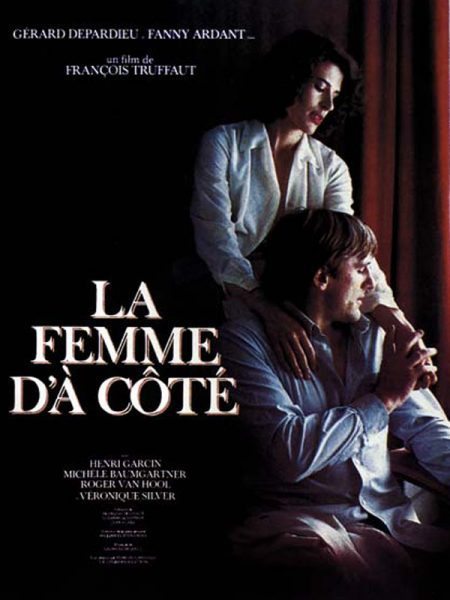 (source:allocine)
Meeting up with an ex can always be awkward, but our eighth film takes it to a whole new level of discomfort.
Bernard Coudray and Mathilde Bauchard don't expect to meet up ever again after their break up, but fate has a different idea. After many years, they find out that they are not only living in the same neighbourhood, but next door to each other ! The flame that they thought was extinguished comes alight after their awkward reunion. They must try to repress their past feelings for each other to save their current marriages. How will they handle the challenge of being torn between fiery love and love for their families?
Available on Netflix:  Amazon Instant Video
Day 9: Callas Forever
Year: 2002
Director: Franco Zeffirelli
Screenplay: Franco Zeffirelli and Martin Sherman
(source:pixmule)
Number nine on our movie list is a biopic by Franco Zeffirelli about a well-known opera diva.
Callas Forever tells the story of the life of Maria Callas. This famous opera singer died in 1977 due to heart failure and the film follows the last days of her life. As Callas ages, the once successful opera singer finds her voice starting to fade. However, she meets a longtime friend who gives her another opportunity to revive her fame. This comes at the cost of her integrity. Will she ignore her conscience and take the tempting offer ? This film closely follows the theme of losing and regaining one's identity through accepting who you are.
Available on Netflix: No (DVD only) or Amazon Instant Video
Day 10: Je m'appelle Hmmm …(My Name is Hmmm…. )
Year: 2013
Director: Agnes B.
Screenplay: Agnès B., Jean-Pol Fargeau, Christopher Yggdre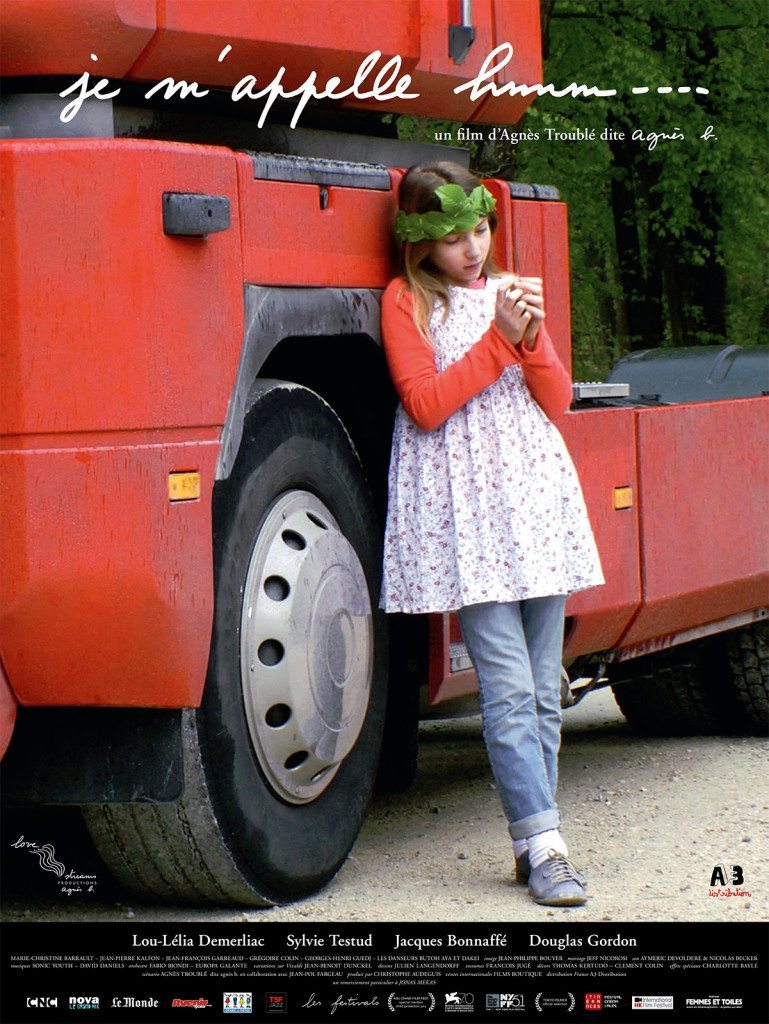 (source:allocine)
The story revolves around a little girl who would never say her name. Running away from her dysfunctional family,  she disappears during a field trip and befriends a truck driver.
Available on Netflix: No or Amazon Instant Video
Day 11: 9 Mois Ferme (9 Month Stretch)
Year: 2013
Director: Albert Dupontel 
Screenplay: Albert Dupontel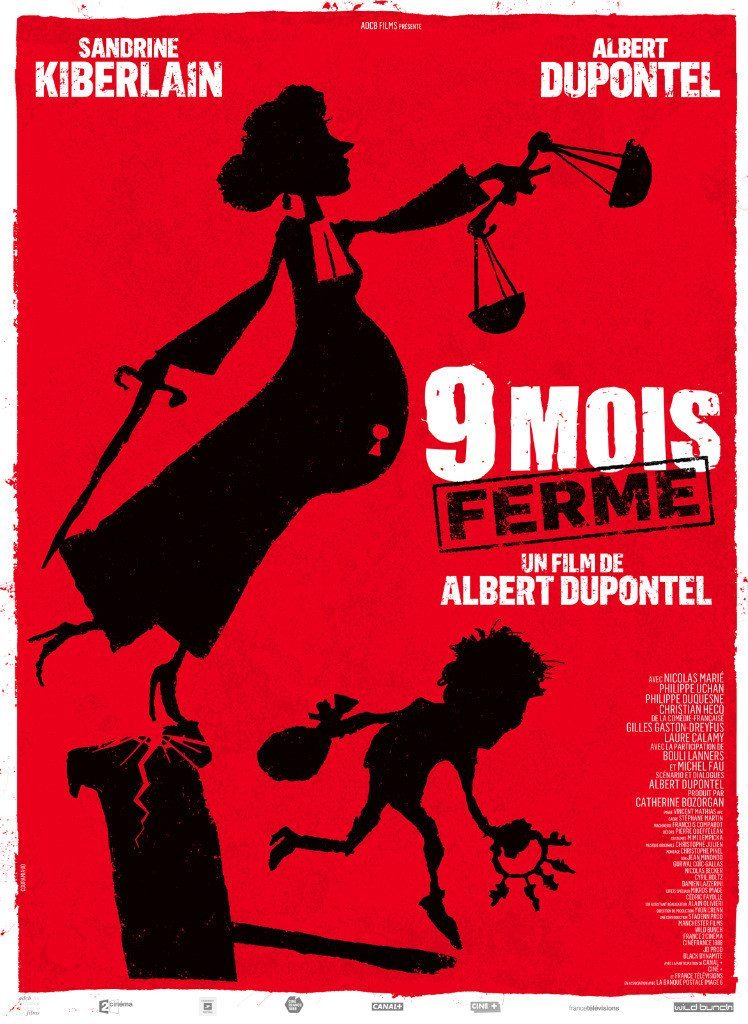 (source:allocine)
The movie tells the story of Ariane Felder, a highly conservative and morally strict judge, who experiences an unplanned pregnancy. What complicates the situation further is that the father is an infamous criminal, Bob Nolan, played by Dupontel. Felder is a conservative magistrate so many are shocked to find out she is pregnant. How does she deal with the shame of knowing the father is a suspect on a murder case ? Albert Dupontel won Best Director and Best Actor for this movie, while the film received multiple positive reviews and various award nominations.
Available on Netflix: No or Amazon Instant Video
Day 12: Le Vilain
Year: 2009
Director: Albert Dupontel
Screenplay: Albert Dupontel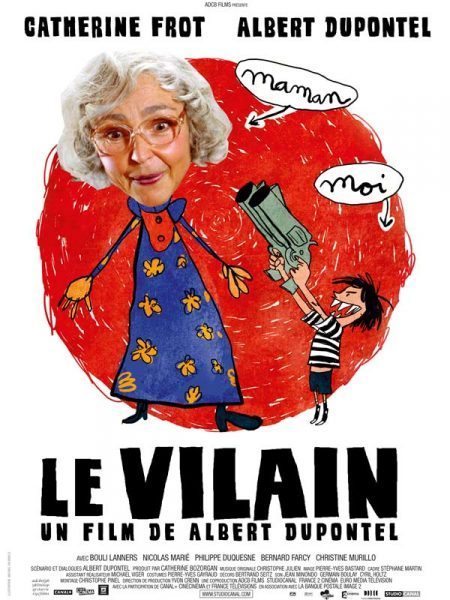 (source:allocine)
This comedy film is about a villainous bank robber, Korazy who attempts to stay safe by hiding out in his old neighbourhood. However, his mother has issues with his mischievous past activities and is eager for him to repent his sins. To his mother's dismay, Korazy values his life of crime more than he does his promise to his family. The film unfolds in his comical situation where Korazy must deal with the police running after him, hiding from his mother's oath of repentance and a witty property developer. Laugh along as he has to carefully plan his next move to stay safe !
Available on Netflix: No or Amazon Instant Video
Day 13: LOUISE-MICHEL (Louise Hires a Contract Killer)
Year: 2008
Director: Gustave de Kervern, Benoît Delépine
Screenplay: Gustave de Kervern , Benoît Delépine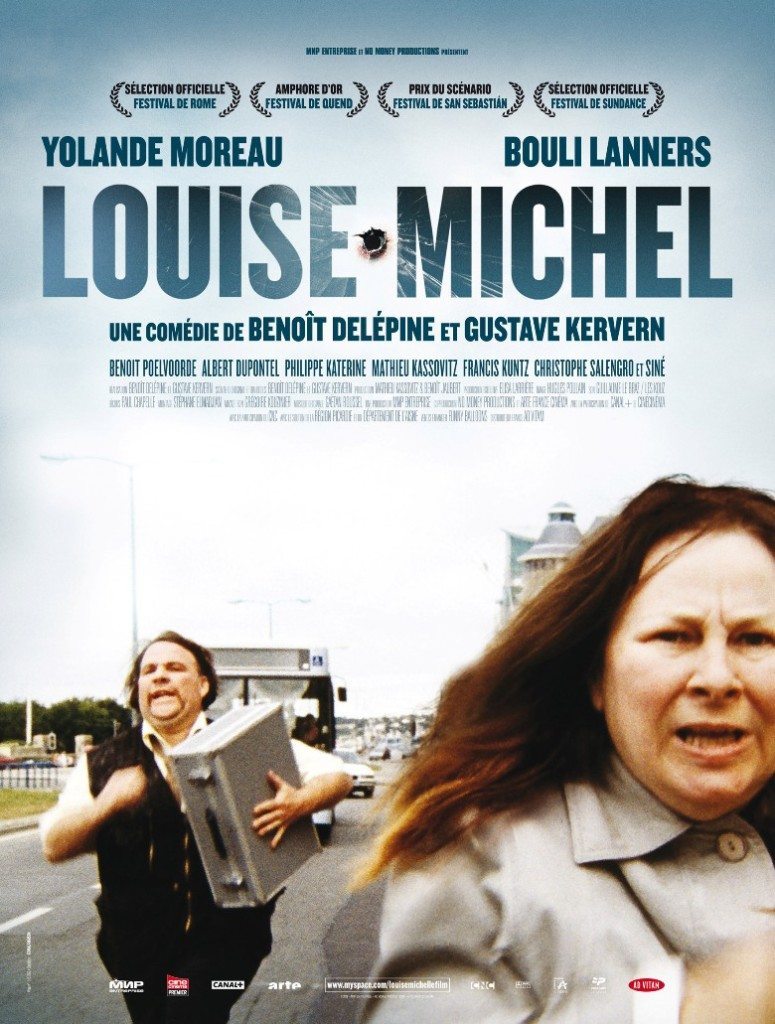 (source:une-lettre-francaise)
Louise is an ex con and has recently been fired from a children's clothing factory without any notice. Frustrated by the injustice, she decides to take the law into her own hands. To get revenge on the company, she seeks to get rid of the man who forced her into unemployment. To do this, she hires Michel. Unfortunately, she is duped by Michel's fraudulent way. He is incapable of finishing the job and hires some dubious novices.
The movie depicts a vicious cycle of taking advantage of one another as it attacks the deeper connotations of this capitalistic society. In a harsh way, viewers witness the disadvantages of being part of the lower class society and the "measures" they are forced to take.
Available on Netflix: No or Amazon Instant Video
Day 14: Elle s'en va (On My Way)
Year: 2013
Director: Emmanuelle Bercot
Screenplay:Emmanuelle Bercot, Jérôme Tonnerre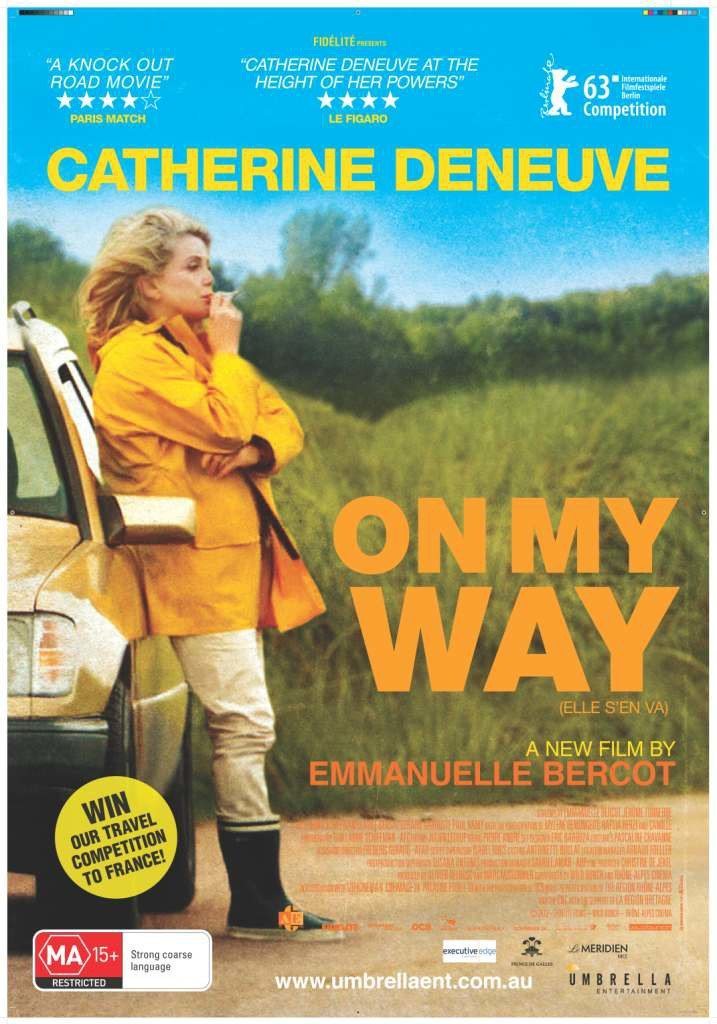 (source:cinephilus)
Bettie is a restaurant owner and former beauty queen. Living with her daughter, grandson and elderly mother, Bettie struggles to find her independence as they always interfere in her life. She is caught up in a love affair with a married businessman who promises divorce so that they can be together. These prove to be empty promises as he seeks a younger mistress.
Bettie embarks on a long drive to an unplanned destination as her life spirals out of control around her. During her journey, she finds herself marveling at parts of France she has never seen before and makes new friends along the way. Is Bettie running away from love on her journey, or towards it ?
Available on Netflix: No (DVD only) or Amazon Instant Video
Day 15: Artemisia
Year: 1997
Director: Agnès Merlet
Screenplay: Patrick Amos, Agnès Merlet, Christine Miller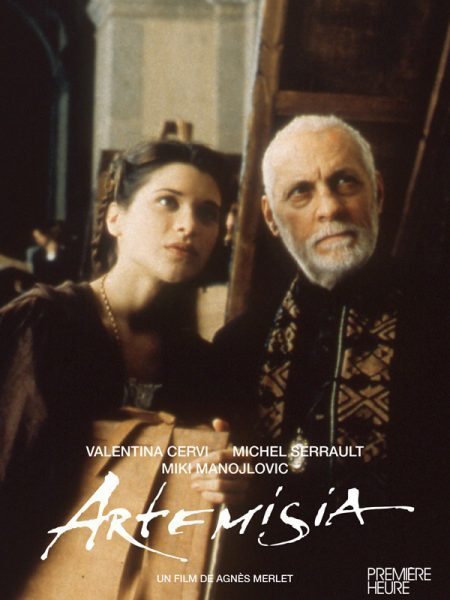 (source:allocine)
French, Italian and German cinematography combine to bring us our fifteenth film. Artemisia revolves around the life of Artemisia Gentileschi, a female Italian Baroque painter who lived in 1593-1653.
During this time, women artists had many restrictions, including being forbidden to study in the Academy and paint naked bodies. Artemisia was protected and guided by her influential father, Orazio Gentileschi, and was able to develop her art skills. Her curiosity to view male bodies and paint them leads her to seek out male volunteers to pose as models in exchange for a kiss. Artemisia became one of the first well-known female painters of her time and created a legacy of feminism. She is renowned as the epitome of a modern woman who takes control of her life and circumstances.
Available on Netflix: No (DVD only) or Amazon Instant Video
Day 16: Quai d'Orsay (The French Minister)
Year: 2013
Director: Bertrand Tavernier
Screenplay: Christophe Blain, Abel Lanzac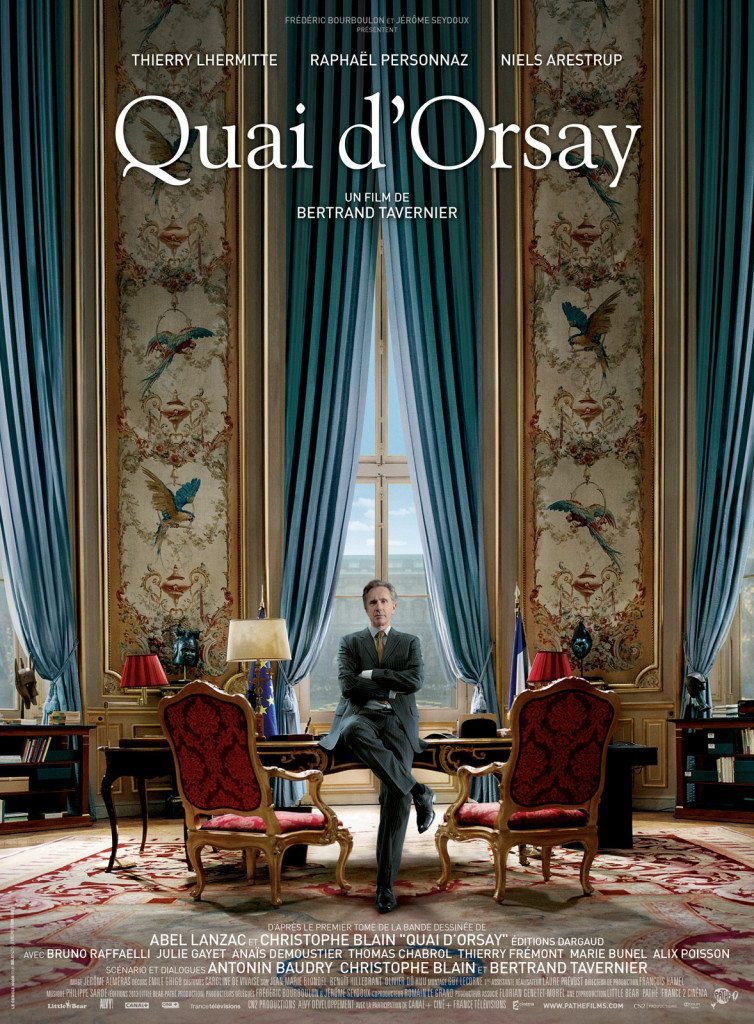 (source:wikipedia)
Alexandre is not your ordinary French Minister. He is tall, stylish, charming and intelligent. As the Minister of Foreign Affairs in France, he is ambitious and determined to overcome powerful technocrats. To do this, he espouses three diplomatic concepts : legitimacy, lucidity, and efficacy. Alexandre is determined to win the war against the Neo-cons, Corrupt officials, and fraudulent criminals.
On the other hand, there is a young graduate of the prestigious National School of Administration, Arthur Vlamnick. He is hired to write the speeches of the minister, but he has to learn in addition the complex system running in the hallways of Quai d'Orsay.
Available on Netflix: No (DVD only) or Amazon Instant Video
Day 17: Monsieur Ibrahim et les Fleurs du Coran (Monsieur Ibrahim and the Flowers of the Koran)
Year: 2003
Director: François Dupeyron
Screenplay: François Dupeyron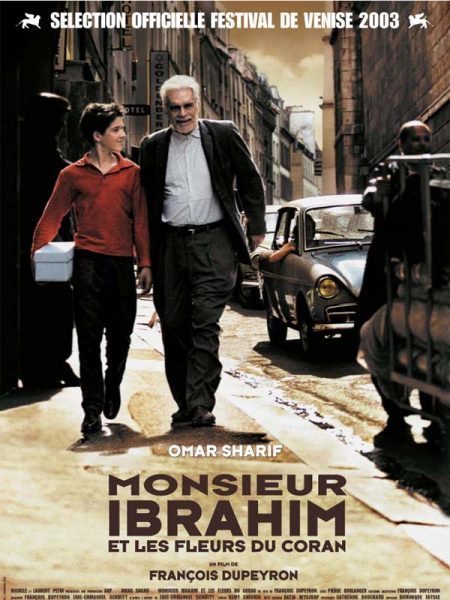 (source:cineplex)
Our next film, number seventeen, is a touching cross-cultural film. Starring Omar Sharif, Monsieur Ibrahim is a French movie adaptation of the book and play written by Eric-Emmanuel Schmitt.
The story revolves around the growing relationship between an elderly Turkish man, Ibrahim Demirci and a younger Jewish boy, Moise Momo, most commonly known as Momo. Ibrahim is running a grocery store in a lower class neighborhood in the 1960s in Paris. Momo is living with his father, who has depression, in a small apartment across the street. Since Momo lacks the paternal love that he needs, he finds it instead with Ibrahim. The death of Momo's father leads to the opportunity for Ibrahim to adopt the boy. They return to Ibrahim's hometown where Momo learns more about Muslim and Ibrahim's culture.
Available on Netflix: No or Amazon Instant Video
Day 18: Enfermés dehors (Locked Out)
Year: 2006
Director: Albert Dupontel
Screenplay: Albert Dupontel, Guillaume Laurant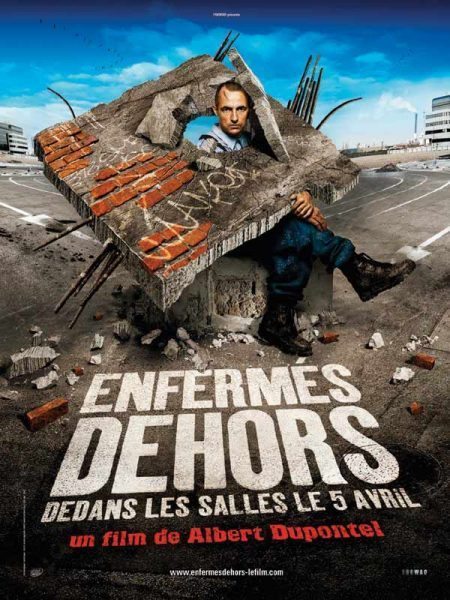 (source:allocine)
Albert Dupontel is back for movie number eighteen, which tells a story of desperation to change one's identity.
Roland is a homeless man who stumbles across a deserted policeman's uniform. Hungry and desperate, he wears the police uniform in order to gain access to the police's canteen. To be convincing in this, he must act like a police man and maintain peace and order in the community. As he becomes more comfortable in his new identity, Roland eventually becomes involved in high-profile cases.
Available on Netflix: No or Amazon Instant Video
Day 19: La vie devant soi (Madame Rosa)
Year: 1977
Director: Moshe Mizrahi
Screenplay: Romain Gar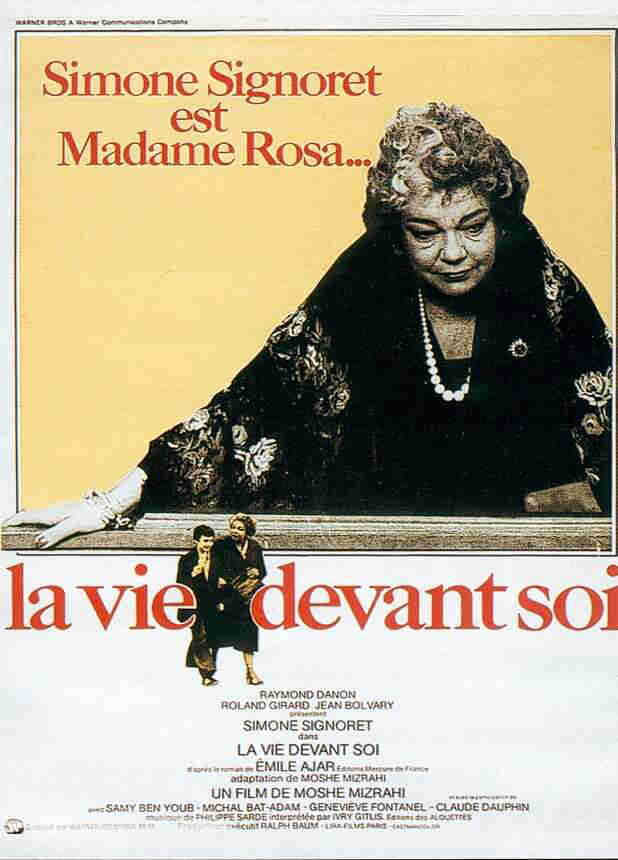 (source:gopixpic)
The story centres around Madame Rosa, an aging and former Jewish prostitute who is an Auschwitz survivor. She now makes ends meet by living off a meagre income babysitting the children of younger prostitutes. One of these children, Momo, an Arab boy, is living under her custody. He hasn't seen his parents in years. In her aging state, Momo is the only thing that brings Madame Rosa joy and happiness. Despite the hardships she has faced in her life, Momo teaches her to love selflessly and value the meaning of family.
Available on Netflix: No
Day 20: Potiche (Trophy Wife)
Year: 2010
Director: François Ozon
Screenplay: François Ozon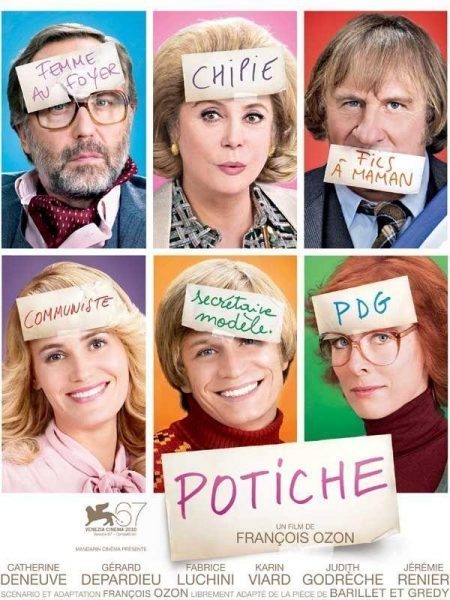 (source:criticsatlarge)
Our twentieth film delves into the themes and questions surrounding gender equality in politics and business back in the 1970s.
Francois Ozen takes the concept of the typical trophy housewife back in 1977 and puts an interesting spin on it. Suzanne Pujol, played by Catherine Deneuve, finds herself under bizarre circumstances substituting for her husband in his position at a factory when the workers go on strike. With a new attitude and approach, Suzanne changes many aspects in the management of the company and the treatment of workers. She proves herself to a competent female leader. However, conflict arises when her husband wants to take back his position. This movie depicts the struggles of women to make themselves heard in workplace politics in the 1970s.
Available on Netflix: No (DVD only) or Amazon Instant Video
Day 21:Mr. X, le cinéma de Leos Carax (Mr Leos caraX)
Year: 2014
Director: Tessa Louise-Salomé
Screenplay writer:  Tessa Louise-Salome ,Chantal Perrin-Cluzet , Adrien Walter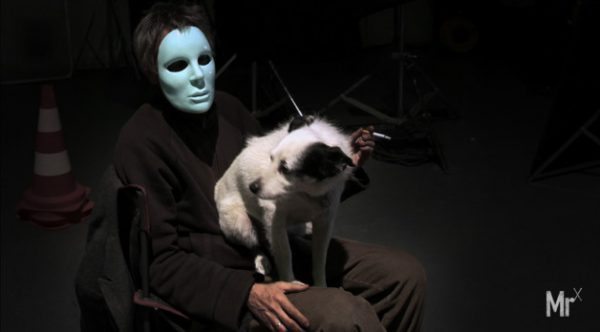 (source:filmmakermagazine)
The film/documentary revolves around the life of solitary French filmmaker Leos Carax who became an icon in the world of cinema.
Available on Netflix: No or Amazon Instant Video
Day 22: Fanny (2013)
Director: Daniel Auteuil
Screenplay writers: Daniel Auteuil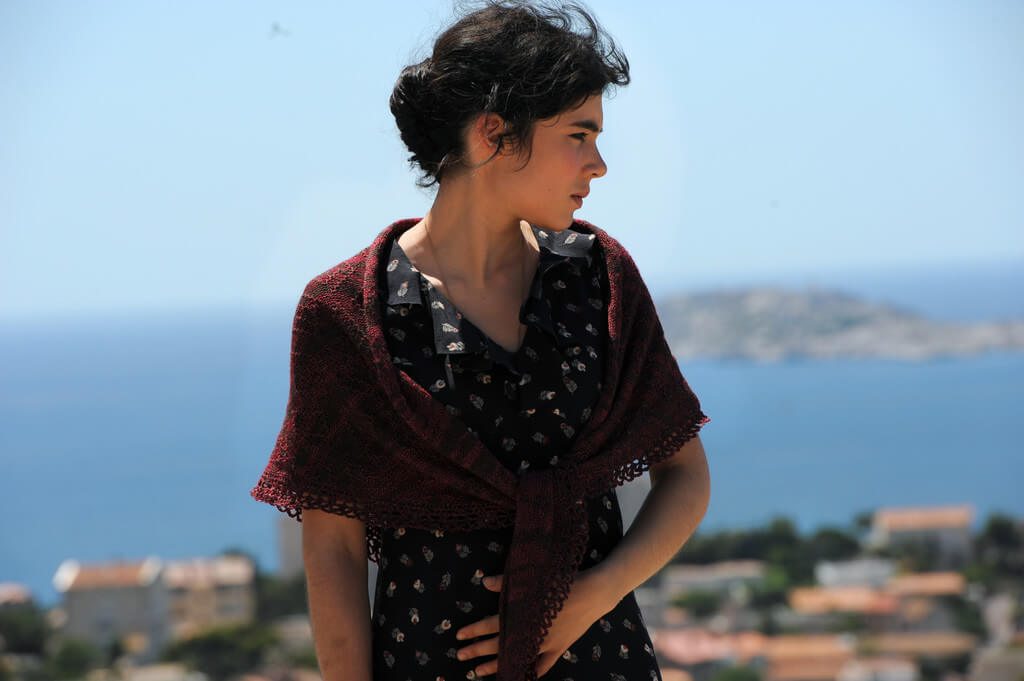 (source:lci.tf1.fr)
The themes of strength, faith and love intertwine in film number twenty-two as we watch the story of Fanny unfold.
Fanny finds herself in complex circumstances as she has fallen pregnant to a man who abandoned her. Despite this, she tries to remain a firm believer in true love. With so many societal expectations and perspectives surrounding her, Fanny struggles to stick to her beliefs. This touching film is all about learning to love, trusting the promises of those you care about, and having faith that it is possible to embrace the challenges, flaws and beauty of a person.
Available on Netflix: No or Amazon Instant Video
Day 23: Alceste à bicyclette (Bicycling with Moliere)
Year: 2013
Director:  Philippe Le Guay
Screenplay: Philippe Le Guay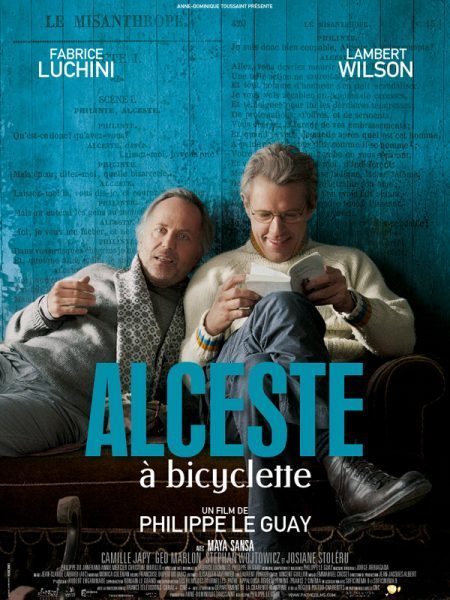 (source:cinebel.dhnet)
Serge is a strong and brave protagonist in Bicycling with Moliere, but he is shut off from the possibility of finding love. Serge is a proud man who doesn't like to compromise his beliefs. His independent and stoic mannerisms are confronted when he meets a woman who changes his perspectives on life. Watch the story unfold as Serge is forced to question things he has always been certain of. The process of caring for another person changes his outlook on the world, but will this be a good thing for Serge ?
Available on Netflix: No (DVD only) or Amazon Instant Video
Day 24: Une vieille maîtresse (The Last Mistress)
Year: 2007
Director: Catherine Breillat
Screeenplay: Jules-Amédée Barbey d'Aurevilly and Catherine Breillat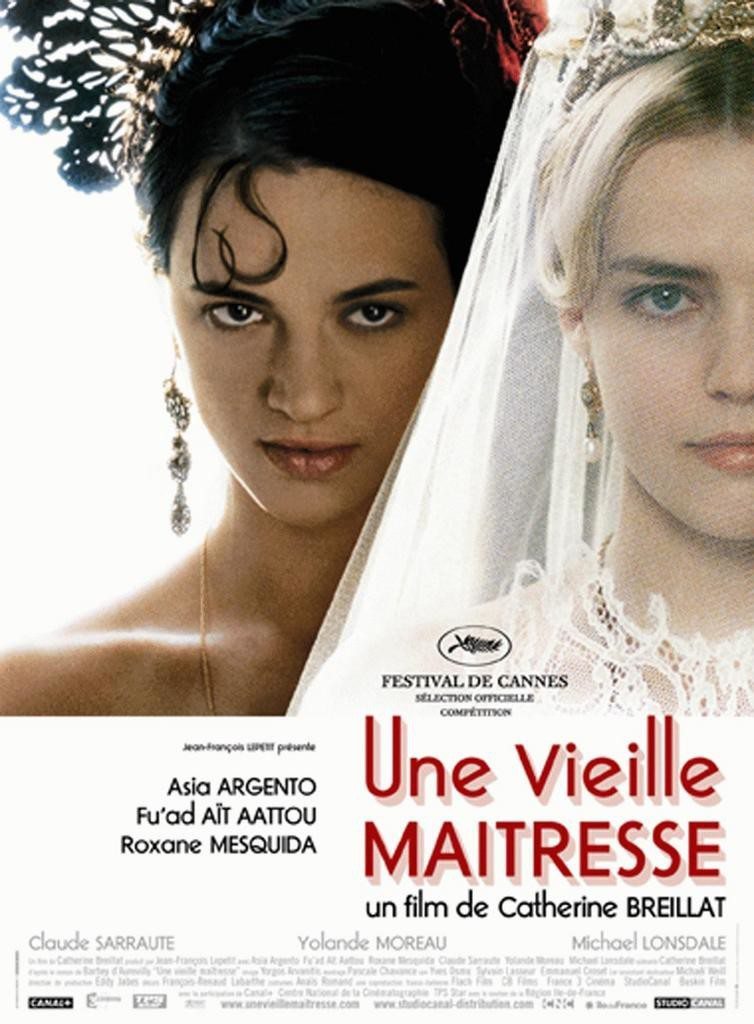 (source:en.unifrance)
Ryno and Hermangarde are newlyweds in Une Vielle Maitresse and their new life together is off to a rocky start. The reappearance of Ryno's former Spanish mistress raises many questions and puts some shaky ground between him and his new wife. In the ultimate test of their marriage, Hermangarde must trust her new husband and have faith in his love for her. This is made all the more difficult by the Spanish mistress threatening to reveal more details of her past with Ryno.
Available on Netflix: No or Amazon Instant Video
Day 25 : L'ivresse du pouvoir (Comedy of Power)
Year: 2006
Director: Claude Chabrol
Screenplay: Odile Barski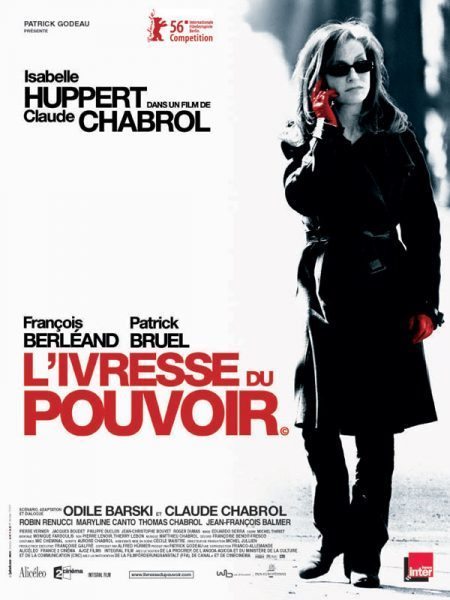 (source:allocine)
A magistrate Jean Charmant Killman  investigates a corporate executive responsible for a significant misuse of corporate assets.  But this  sensitive investigation raise concerns in the politics and business community. Pressures and intimidation are taking place to stop this nosy judge. But it is too late to act. Drunk with the power, Killman judge is determined to go through with her investigation. She is ready to sacrifice everything, safety and even her husband.
Available on Netflix: No (DVD only) or Amazon Instant Video
Day 26: Adorables Créatures
Year: 1952
Director: Christian Jaque
Screenplay writer: Charles Spaak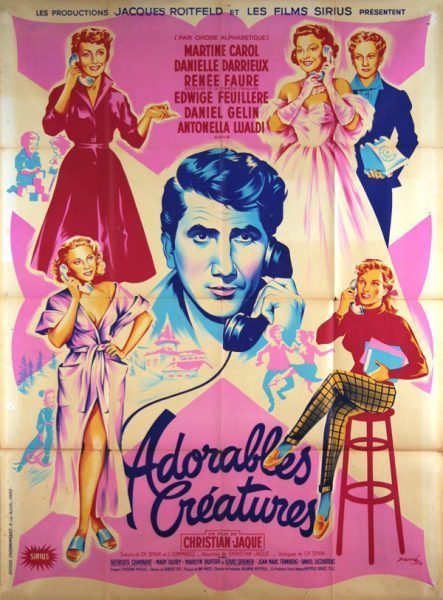 (source:movieposteroftheday)
Andrei is a youthful 21 year old looking for love. Surprisingly loves shows itself in Christine, a much older woman who is married with two children. Andrei and Christine embark on a passionate love affair. They plan to reconcile after Christine divorces her husband. However, fate and the complexities of feelings get in the way, as they both meet new people along their journey back to each other.
Available on Netflix: No or Amazon Instant Video
Day 27: Les ambitieux (Ambitious)
Year: 2006
Director: Catherine Corsini
Screenplay writer: Catherine Corsini , Benoît Graffin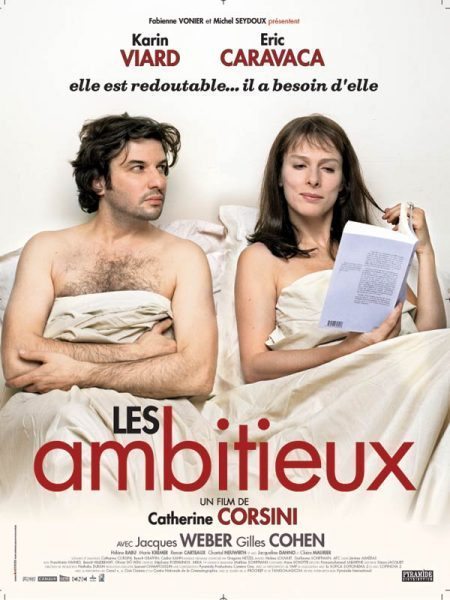 (source:allocine)
Julien is a focused and determined writer with hopes of becoming published one day. He is often blinded by ambition and makes some mistakes along the way. His latest mistake was embarking on a relationship with the daughter of the editor. Rather than advancing his career as he might of hoped, he finds some complex circumstances happening around him. Julien's world is suddenly filled with confusion and mistrust from the women in his life and he still struggles with becoming published. His only hope is his past mistakes won't ruin his future prospects.
Available on Netflix: No or Amazon Instant Video
Day 28: L'animal (The Animal)
Year: 1977
Director: Claude Dizi
Screenplay writer: Claude Dizi and writer Michel Audiard , Dominique Fabre , and Claude Zidi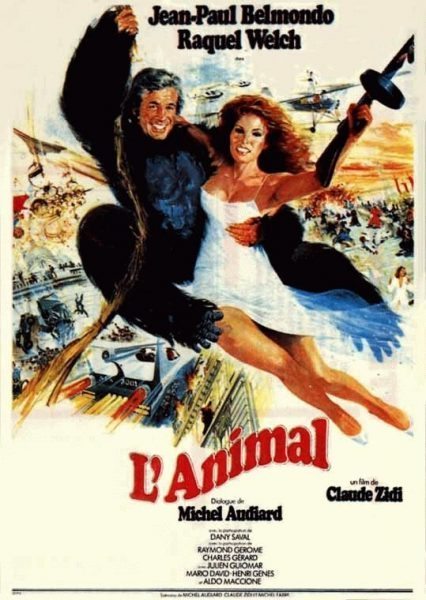 (source:benitomovieposter)
Mike Gaucher is a stuntman, happily in love and about to marry his coworker Jane. Unfortunately Jane has some doubts about the upcoming marriage and begins to question if Mike is good enough for her, causing her to run away. Mike then meets another beautiful woman who appears to be out of his league. He doesn't know what he can offer her, but falls hopelessly in love with her anyway. This film explores the dilemmas of pursuing someone who isn't the same social class and gives hopes for the possibilities of love beyond societal expectations.
Available on Netflix: No or Amazon Instant Video
Day 29: Crime d'amour (Love Crime)
Year: 2010
Director: Alain Corneau
Screenplay writer: Alain Corneau and Natalie Carter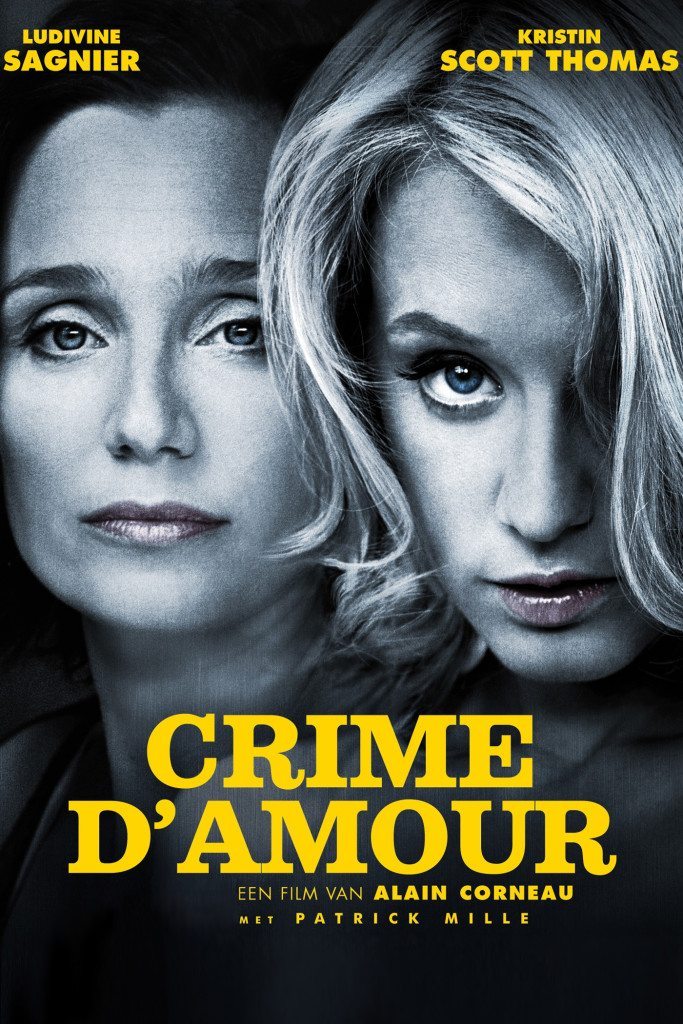 (source:hacerselacritica)
For number twenty-nine, we have a suspense thriller that has an interesting twist on the minds' psychology.
Christine and Isabelle are office workmates. However, ambition and greed get in the way of this as Isabelle steals Christine's project and claims it as her own. Christine, angered by this betrayal, plots a mischievous plan against Isabelle. A series of mind games ensue as the women deal with the consequences of betrayal.
Available on Netflix: No (DVD only) or Amazon Instant Video
Day 30:  Une part du ciel (A Piece of Sky)
Year: 2002
Director: Benedicte Lienard
Screenplay writer:  Benedicte Lienard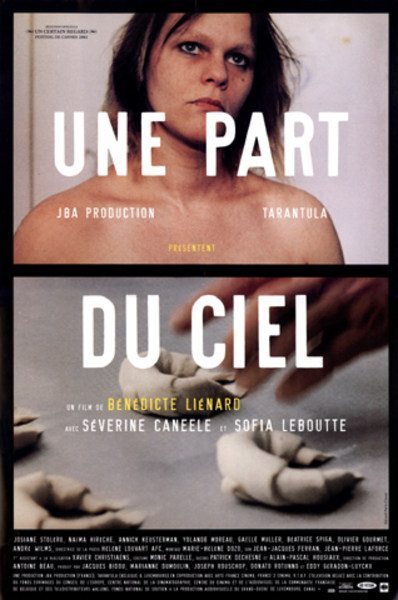 (source:cgrcinemas)
Our thirtieth movie is a French-Belgian film by Benedicte Lienard.
Une Part du Ciel tells the story of Claudine and Joanna, two very opposite women. Claudine is a union worker and Joanna is her friend, who is in prison. Joanna needs Claudine to testify for her, but Claudine refuses because it may risk her reputation. A friendship is jeopardized by politics and social statuses in an unfair way.
Available on Netflix: No (DVD only) or Amazon Instant Video
Day 31: Sequins  (A Common Thread)
Year: 2004
Director:  Éléonore Faucher
Screenplay writer: Éléonore Faucher, Gaëlle Macé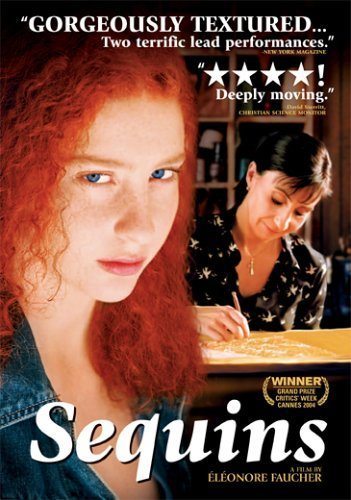 (source:amazon)
Our final film for the month is a story of friendship and the way it impacts our lives.
Eleonore Faucher explores the foundations of friendships by asking how friendship begins, and is it more than just common interests and personal connection that is the foundation.The protagonist Claire finds herself unexpectedly pregnant and moves to a new town. Madam Melikian has just suffered the loss of her son due to an accident. The two form an unlikely relationship and begin to bond. Over time, their friendship grows deeper as they start to appreciate and value each other's presence in their lives.
Available on Netflix: No or Amazon Instant Video
So…Which movie are you planning to watch?
This list features some comedy, romance, dramas, thrillers and political movies for your enjoyment. Throughout the film, we find an underlying theme of change and how inevitable it is in life. This is certainly true for the New Year and worth keeping in mind as we start the year with new resolutions and transitions.
[symple_highlight color="red"]P.S. You would be doing me a HUGE FAVOR  by sharing it via Twitter, Facebook, Google + or Pinterest. [/symple_highlight]