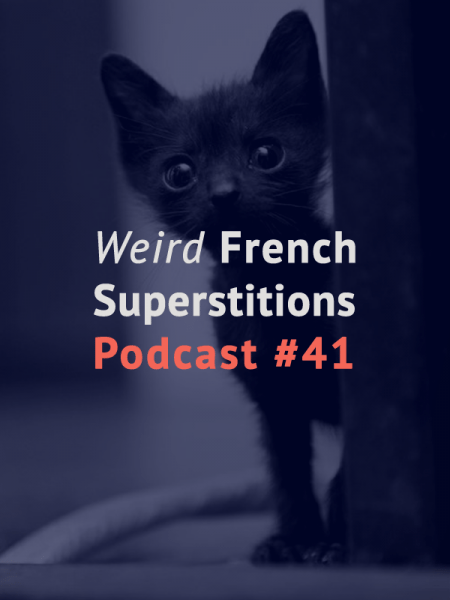 [symple_highlight color="green"]Listening Time:  32 minutes.[/symple_highlight]
Here is the 41st session of  Talk in French Podcast! You can download the podcast to your computer or listen to it here via iTunes. There is a button where you can download the Podcast.
In this episode:
– Discover some Weird French superstitions.
– Learn some recently created French Words (Noniste, Zénitude… ) and how they appear in a dictionary.
– Some French Words and expressions.
Download the Podcast now
Right click here and save-as to download this episode to your computer.
or listen on the website.
French Language Point
Pipole
Noniste
Vapoteur (Cigarette électronique) / vapoter (verb)
Candidater/ postuler
Annus horribilis
Post-ethnique
Marée verte
Scud (fam/ colloquial)
Surinterpréter
Zénitude or zenitude
Learn the meaning by listening this podcast.
French Words in the Podcast
indépendant- independent

sérieux –  serious

curieux – curious

attentionné – attentive

naïf – naïve

équilibré – balanced

têtu – stubborn

généreux – generous

méchant – mean

raffiné – sophisticated 
French Expressions of the week
être comme les moutons de Panurge – to act like a bunch of sheep
être à cheval sur ses principes – to be very strict, to be a martinet
bête à… so stupid that… [so] stupid that…
Sauter du coq à l'âne – To go from one subject to the other
avoir un coeur bien accroché – to have nerves of steel
faire le cochon pendu – to hang one's knees from a bar
Saisir la balle au bond – To seize the opportunity
You can also buy an Ebook if you like this part:
365 days of French Expressions.
It includes:  French Expression/ Meaning / Literal Translation/ MP3/ Weekly Recap and Quizz
Available on:





Also mentioned in this article
Again your opinion are appreciated and a review on iTunes as well.
P.S: Do not hesitate to share this article on pinterest,facebook, twitter or google plus.