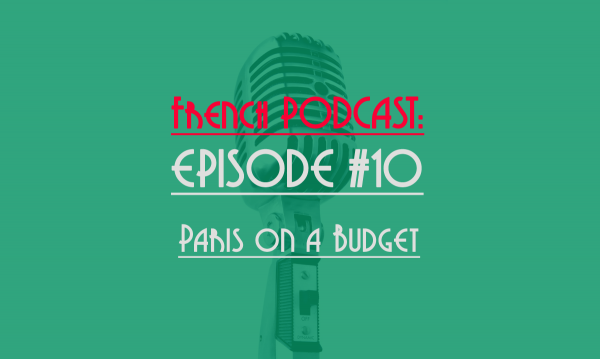 [symple_highlight color="green"]Listening Time: 33 minutes.[/symple_highlight]
Here is the 10th session of  Talk in French Podcast!
You can download the podcast to your computer or listen to it here via iTunes. There is a button where you can download the Podcast.
In this episode:
– Some information about French Culture. How to save money on your trip to Paris?
– Some French Words with an English Translation. Ideal when you cook, run, commute….
– A quick French Grammar Explanation. How to memorize French Verbs?
– Some French Expressions and their translation
Download the Podcast now
Right click here and save-as to download this episode to your computer.
or listen on the website
Listen on iTunes
The podcast has been approved by Apple so you can now listen the podcast on iTunes and give me an honest review here .
I will create a french version of the podcast in the coming weeks,  if you are a bit advanced learners you should enjoy it more.

Listen the Podcast Now.
Articles Mentioned in This Session:
French Words in the Podcast
le fer à friser – curling iron
la coiffeuse – hairdresser (feminine)
une coiffure/ coupe de cheveux – hairstyle/hairdo
le shampooing – shampoo
un peigne à cheveux – comb
les ciseaux de coiffure  scissors
le salon de coiffure – hairdressing salon
une permanente – a perm
les soins capillaires – haircare
French Expression in the Podcast
Nous cherchons la tour Eiffel. – We are looking for the Eiffel tower.
Nous sommes perdus. – We are lost.
J'aime cet hôtel – I like this hotel.
Cet hôtel est trop cher – This hotel is too expensive.
À quelle heure est-ce que le train part? – When does the train leave?
Le train est en retard. – The train is late.
C'est combien par kilometre? – How much is it per kilometer?
Again your feedback are appreciated and a review on iTunes as well.
P.S: Do not hesitate to share this article on pinterest,facebook, twitter or google plus.