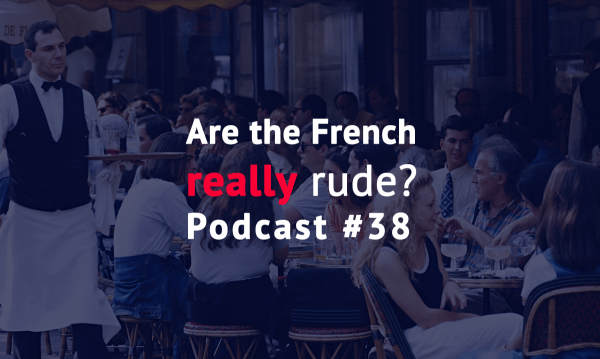 [symple_highlight color="green"]Listening Time:  37 minutes.[/symple_highlight]
Here is the 38th session of  Talk in French Podcast! You can download the podcast to your computer or listen to it here via iTunes. There is a button where you can download the Podcast.
In this episode:
– Some information about French culture. Are the French rude? My opinion about this common question.
– Some French Words and expressions.
– French nouns with two genders: How the gender of a word changes a sentence immensely. Like saying "This is a basement" to "This is an idiot".
Download the Podcast now
Right click here and save-as to download this episode to your computer.
or listen on the website.
Confusing French Words with a double meaning
le cave – (familiar) idiot, sucker vs  la cave – basement, cellar
le livre – book vs la livre – pound (currency and weight)
le manche – handle vs la manche – sleeve la Manche – English Channel. Also an expression: "Il s'y prend comme un manche". Listen the podcast to learning the meaning
le mémoire – memo, report, memoirs vs la mémoire – memory
le mi-temps – (work) part-time vs la mi-temps – (sports) half, half-time
le mode – method, way, mood vs  la mode – fashion
le moule – mold vs la moule – mussel
le physique – physique, face vs la physique – physics
le plastique – plastic vs  la plastique – modeling arts, body shape
le platine – platinum vs  la platine – turntable, deck, strip of metal
le poêle – stove vs la poêle – frying pan
le tour – tour, turn, trick vs  la tour – tower, rook (chess)
French Words in the Podcast
des baskets – trainers
des chaussures – shoes
les vêtements – clothes
un haut – a top
un jogging – a tracksuit
un maillot de foot – a football shirt
un pantalon – trousers
un polo  – a polo shirt
un pull – a jumper
un short – shorts
un sweat – a sweatshirt
une chemise – a shirt
une jupe – a skirt
une robe – a dress
une veste – a jacket

   
French Expressions of the week
c'est kif-kif et bourricot-  it's even, it's all the same

Sauter au plafond – To show extreme signs of happiness

une bonne bête good -natured person good beast

Tenir quelqu'un à l'oeil –  To watch someone 

C'est dans la poche It's in the bag 

Chassez le naturel mais il revient au galop – You never hide / can rid of your natural tendencies 

bête à manger du foin – dumb enough to eat hay  
You can also buy an Ebook:
365 days of French Expressions
It includes:  French Expression/ Meaning / Literal Translation/ MP3/ Weekly Recap and Quiz
Available on:





Also mentioned in this article
Again your opinion are appreciated and a review on iTunes as well.
P.S: Do not hesitate to share this article on pinterest,facebook, twitter or google plus.