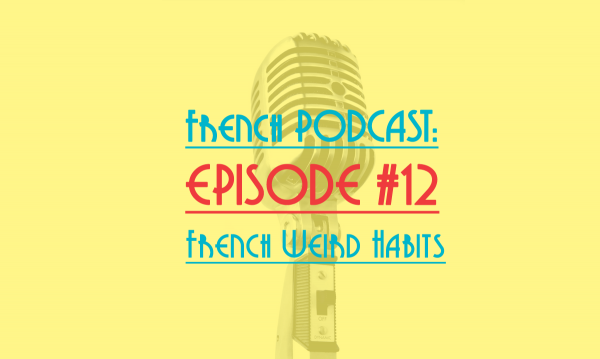 [symple_highlight color="green"]Listening Time: 28 minutes.[/symple_highlight]
Here is the 12th session of  Talk in French Podcast!
You can download the podcast to your computer or listen to it here via iTunes. There is a button where you can download the Podcast.
In this episode:
– Some information about French Culture. I explain 6 Quirky French Habits.
– Some French Words with an English Translation. Ideal when you cook, run, commute….
– A quick French Grammar Explanation. 6 underused French verbs that you should use  often if you want to speak French naturally.
– Some French Expressions and their translation
Download the Podcast now
Right click here and save-as to download this episode to your computer.
or listen on the website
Listen on iTunes
The podcast has been approved by Apple so you can now listen the podcast on iTunes and give me an honest review here .
I will create a french version of the podcast in the coming weeks,  if you are a bit advanced learners you should enjoy it more.

Listen the Podcast Now.
Articles Mentioned in This Session:
French Words in the Podcast
le maquillage – makeup
le mascara – mascara
le fond de teint – foundation
l'anti-cernes – concealer
le eye-liner – eyeliner
le crayon à sourcils – eyebrow pencil
le baume pour les lèvres – lip balm
le gloss – lip gloss
le parfum – perfume
le visage – face
French Expression in the Podcast
Cela ne te regarde pas. – It's none of your business.
Ce n'est pas grand-chose. – It's no big deal.
C'est clair – It's clear
D'où vient que…? – How is it that…?
Madame est servie. – Dinner is served.
Merci mille fois – Thanks a million
Mettre les voiles (fam) – Get lost!
Again your feedback are appreciated and a review on iTunes as well.
P.S: Do not hesitate to share this article on pinterest,facebook, twitter or google plus.