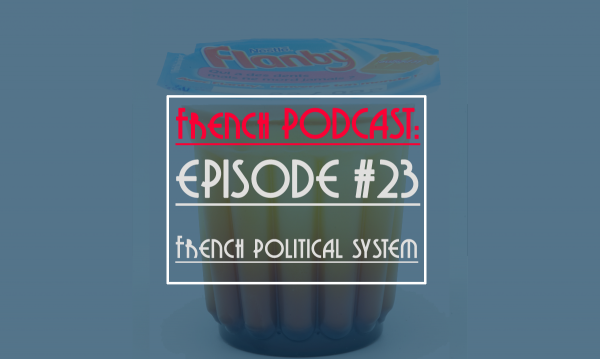 [symple_highlight color="green"]Listening Time:  38 minutes.[/symple_highlight]
Here is the 23th session of  Talk in French Podcast!
In this episode:
– Some information about French Culture. Today about the French Political System.
– Some French Words with an English Translation. Ideal when you cook, run, commute….
– A quick French Grammar Explanation. Learn the difference between Apporter, Amener, Emporter, Emmener (The equivalent of "Take" and "Bring" in English)
– Some French Expressions and their translation (New: literal translation too)
Download the Podcast now
Right click here and save-as to download this episode to your computer.
or listen on the website.
Listen on iTunes
The podcast has been approved by Apple so you can now listen the podcast on iTunes and give me an honest review here . I will create a french version of the podcast in the coming weeks,  if you are a bit advanced learners you should enjoy it more.
Articles and vocabulary Mentioned in This Session:
French Words in the Podcast
le couloir/le hall – hallway
la fleur – the flower
la cour – the garden / the yard
la pelouse – the grass (lawn)
l'herbe – the herb
le lac – the lake
la chaîne de montagnes – the mountain range (*I said Mountain Chain in the podcast so sorry for this mistake)
le fleuve / la rivière – the river
l'océan – the ocean
la plante – the plant
French Expression in the Podcast
je ne vais pas très bien – i am not very well
à tout à l'heure – see you later
c'est parfait – it's perfect!
non, ça va pas – no, not okay.
Où est-ce que ça fait mal? – Where does it hurt?
à tout de suite – see you right away
en pleine forme – in good shape
Two more resources about the French Political System
From RendezvousenFrance
From France.about.com
From Expatica
About the different verbs: Amener/ Emmener / Apporter/ Emporter
| | | |
| --- | --- | --- |
|   | portable object | person / animal / vehicle |
| to bring | apporter | amener |
| to take | emporter | emmener |
Again your opinion are appreciated and a review on iTunes as well.
P.S: Do not hesitate to share this article on pinterest,facebook, twitter or google plus.