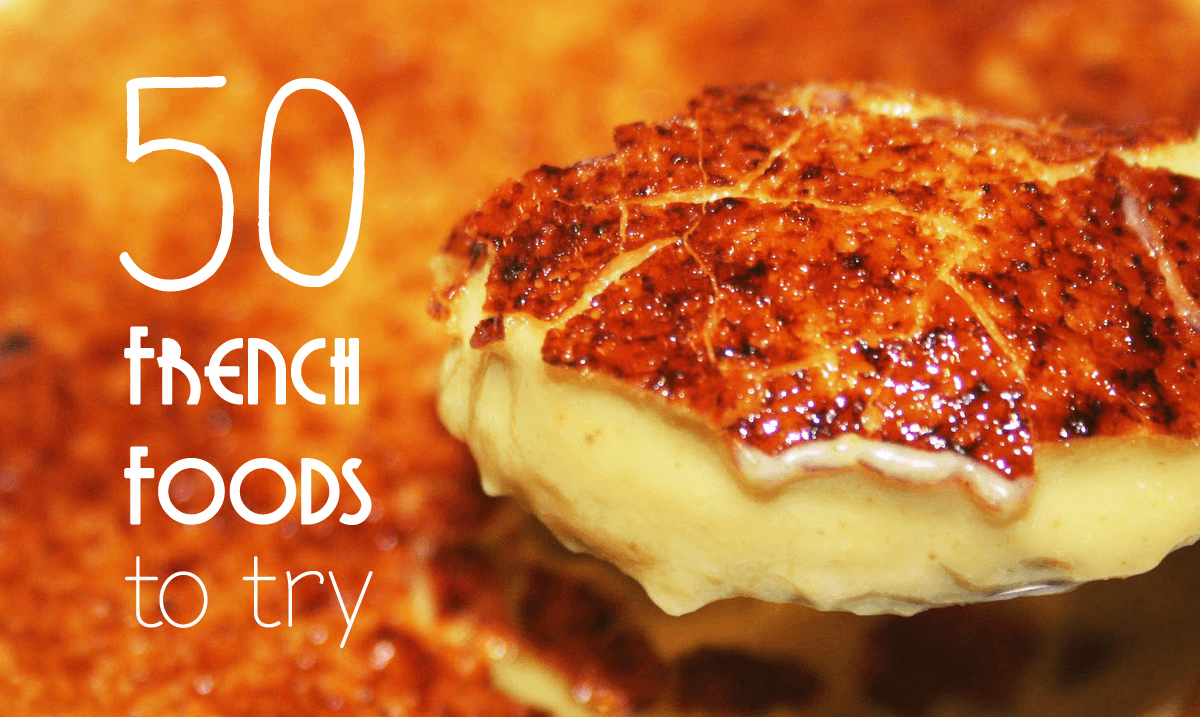 [symple_highlight color="green"]Reading time: 9 minutes[/symple_highlight]
From appetizers to soups, main dishes to desserts, the French sure love to eat. The land is practically  flowing with some of the world's best culinary wonders. It doesn't even matter which season the country is in. But for the sake of exploration, we've searched far and wide and across various regions to give you 50 fabulous French dishes to try to make each season more awesome. Bon appétit !
Winter
When: December to March
Wintertime can be gloomy because of the cold but it doesn't have to be. In fact, it can be the some of the best months for anyone who loves to eat. This time of year is a hearty season because the French tables are filled with all kinds of comforting and filling dishes.
1. Fondue Savoyarde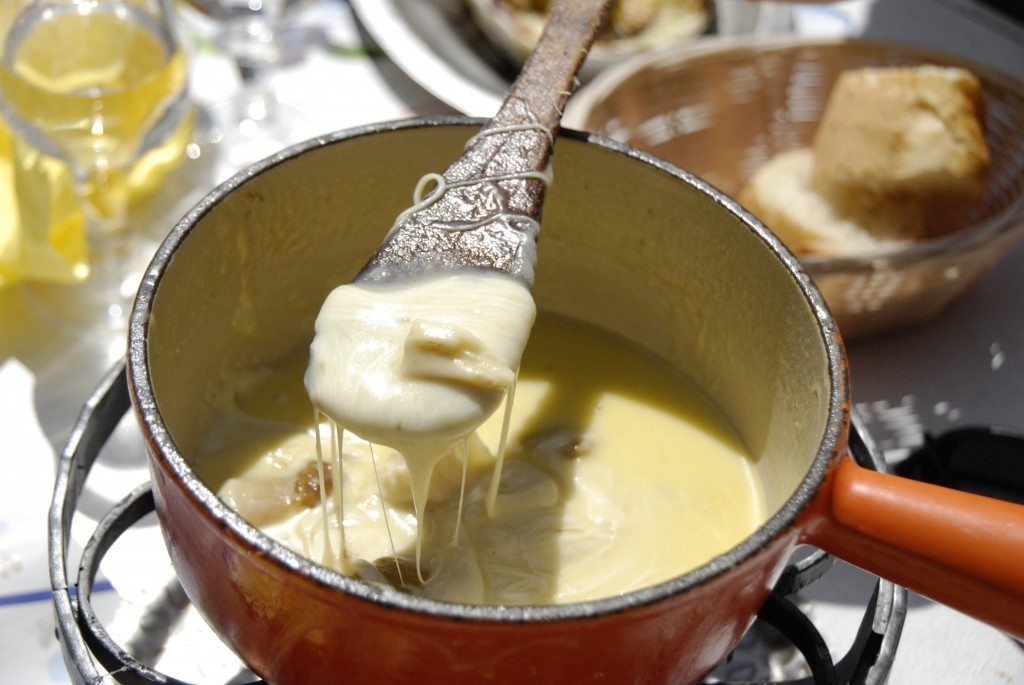 We all know how the French love their cheeses. One that is most famous in the world for its impressive melting characteristic is the Fondue Savoyarde,made with comte emmental and beaufort cheeses cooked with white wine and garlic. If you drop your bread in the pot you might have a forfeit.
2. Foie Gras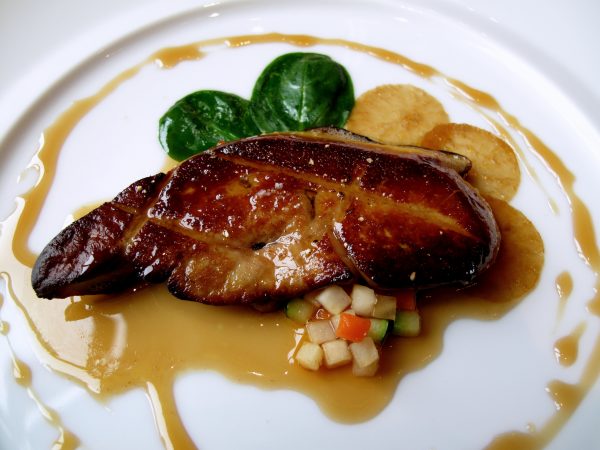 An iconic delicacy in French cuisine, foie gras is as much a cultural heritage as a culinary pride. It's not like your ordinary duck or goose liver. This one is especially fattened for a rich and buttery flavor that tastes perfect in various preparations
3. Truffles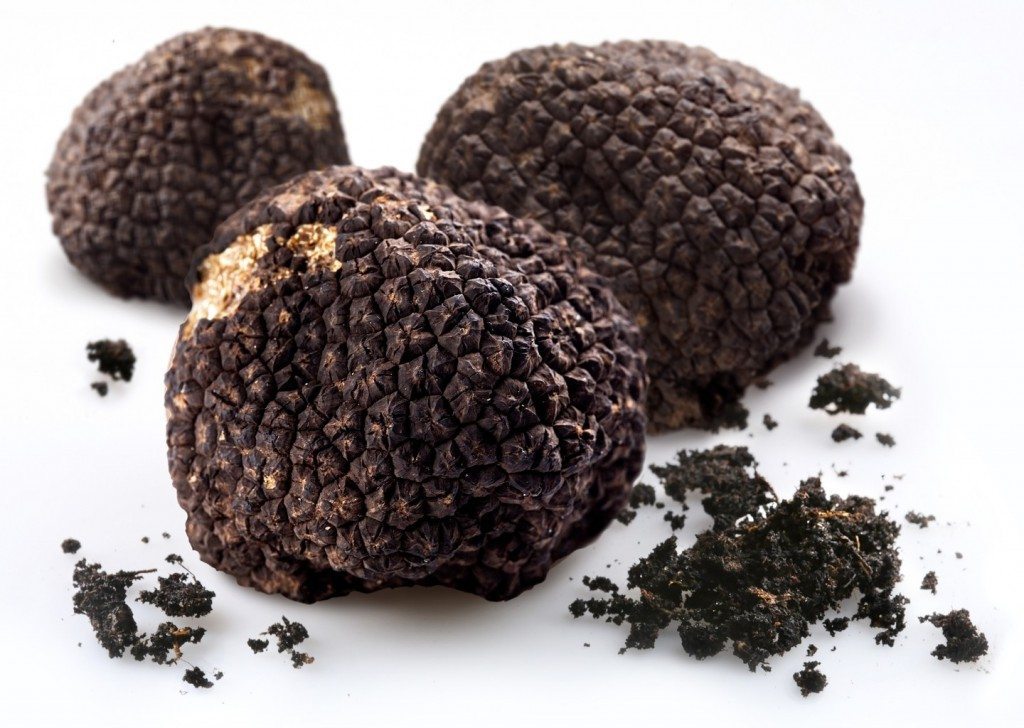 Where do you find the best truffles? Of course, in France! One renowned gourmand dubbed them as the "diamonds of the kitchen" while the winter black truffles, in particular, are called the Diamond of Perigord. Fancy titles, huh? All the more reason you should taste them.
4. Choucroute Garnie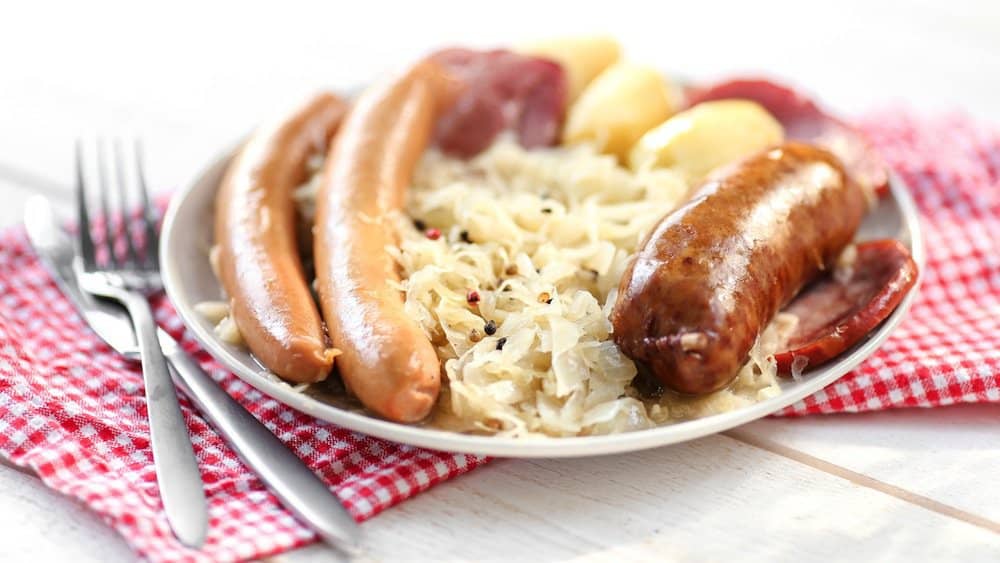 The Alsatians love to devour a hearty, comforting and filling dish during the wintertime. And dressed sauerkraut has remained a favorite featuring a mix of sausages, other meats and charcuterie/delicatessen.
5. Garbure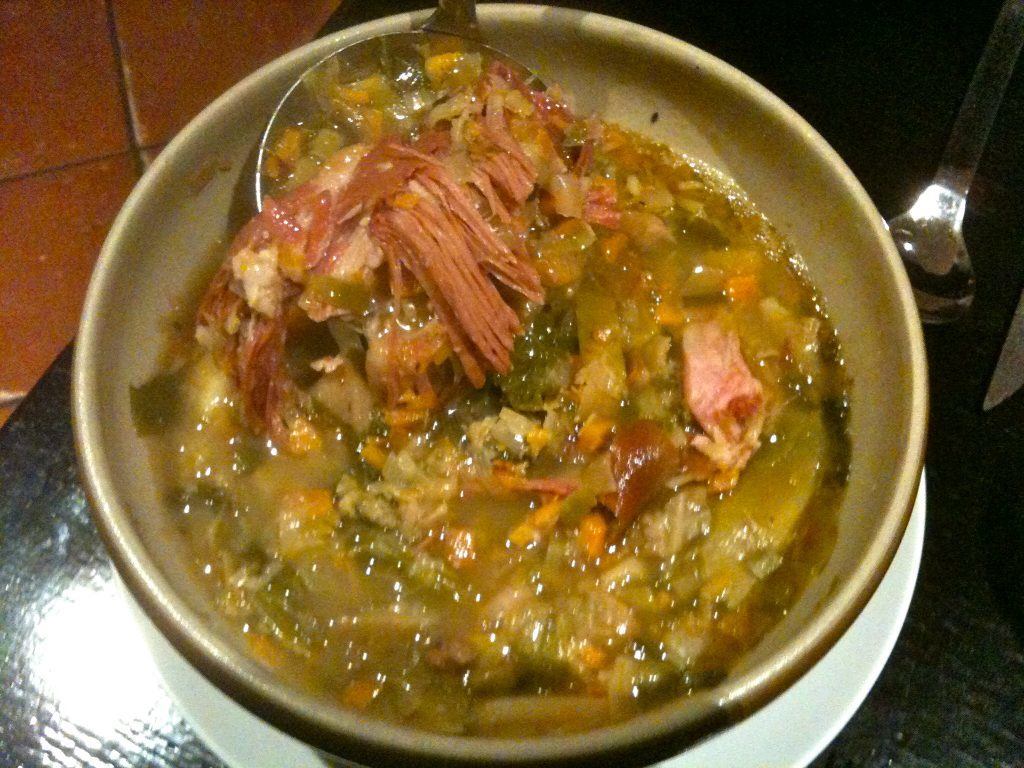 What better way to keep warm during the cold winter months by indulging in a steaming bowl of classic French stew. The meat and vegetables are simmered for hours resulting in a truly comforting dish.
6. Daube de Boeuf Provencal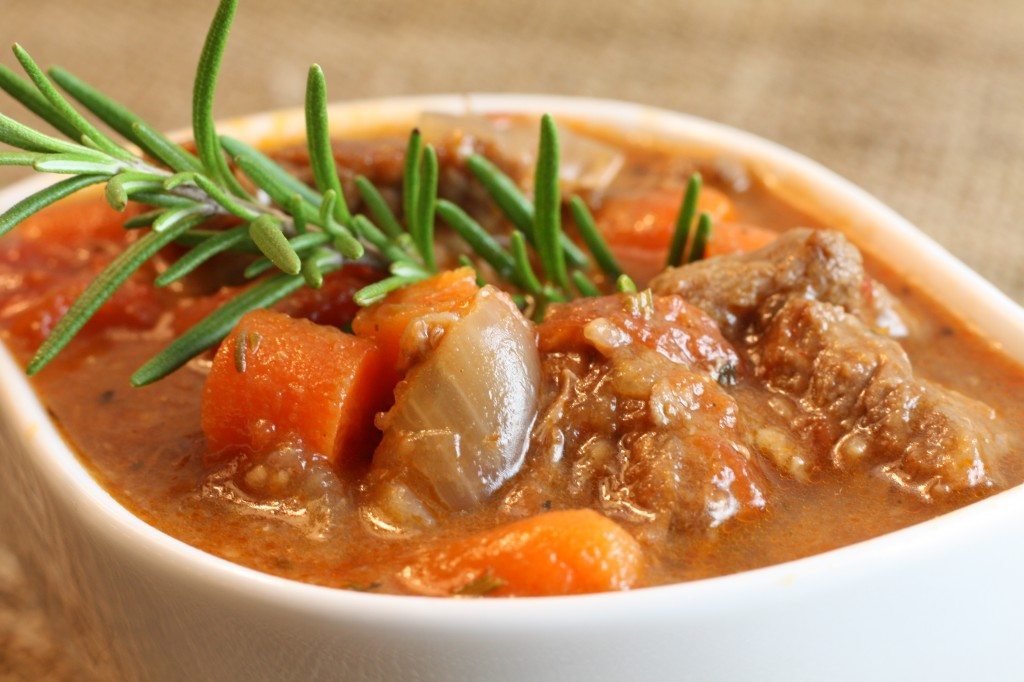 When it's winter in France, one stew is never enough. Another variety that's well loved by many is the daube, an inexpensive option where beef is braised in wine, vegetables and herbes de Provence. Cooking is often done a day before to allow the flavors to fully bloom.
7. Confit de canard
If duck breasts are delicious, can you imagine what will duck legs taste like? Prepared using a proven and tested process, the Gascony specialty is a wonder of flavors in every bite.
8. Poulet Basquaise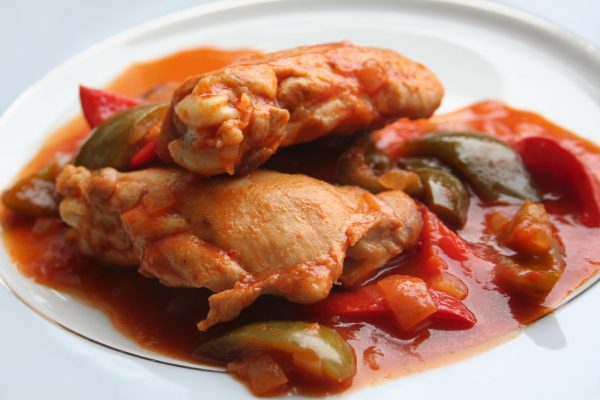 Simple yet sophisticated, this traditional dish is the epitome of French Basque cooking. Chicken is made more savory when mixed with well cooked onions, garlic and peppers.
9. Pain au Chocolat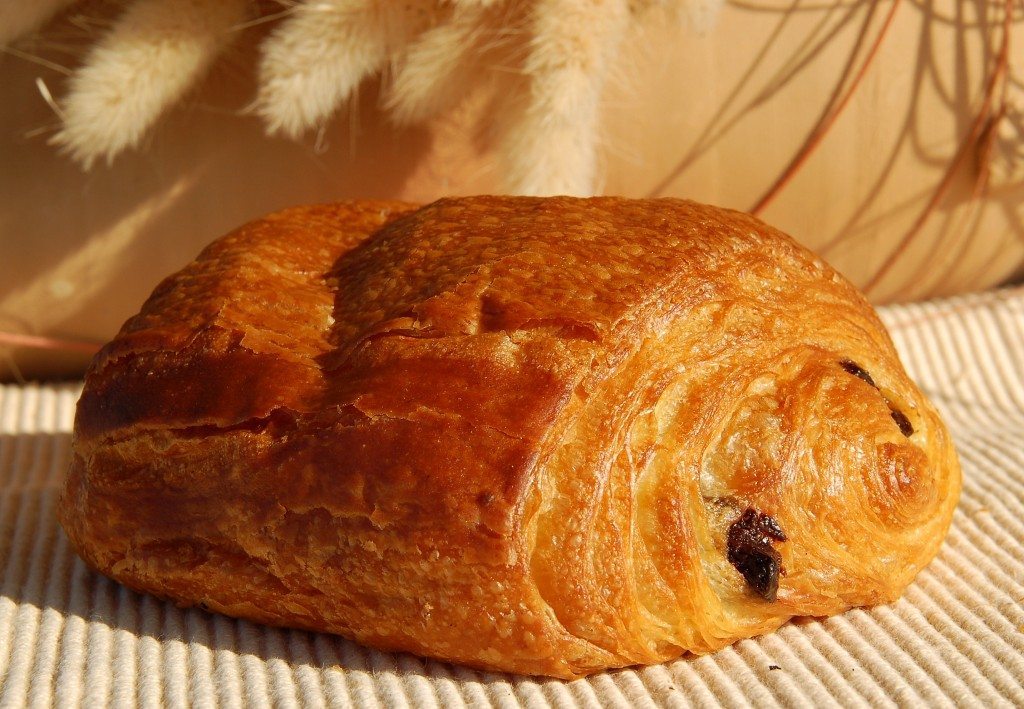 Even though winter can be unpleasant at times, you can always find comfort in fresh from the oven pain au chocolat. The sweet rolls from south of France is one treat you cannot simply pass up. Golden in color, crisp outside and melted chocolate… get the picture?
10. Poulet /Chicken Provençal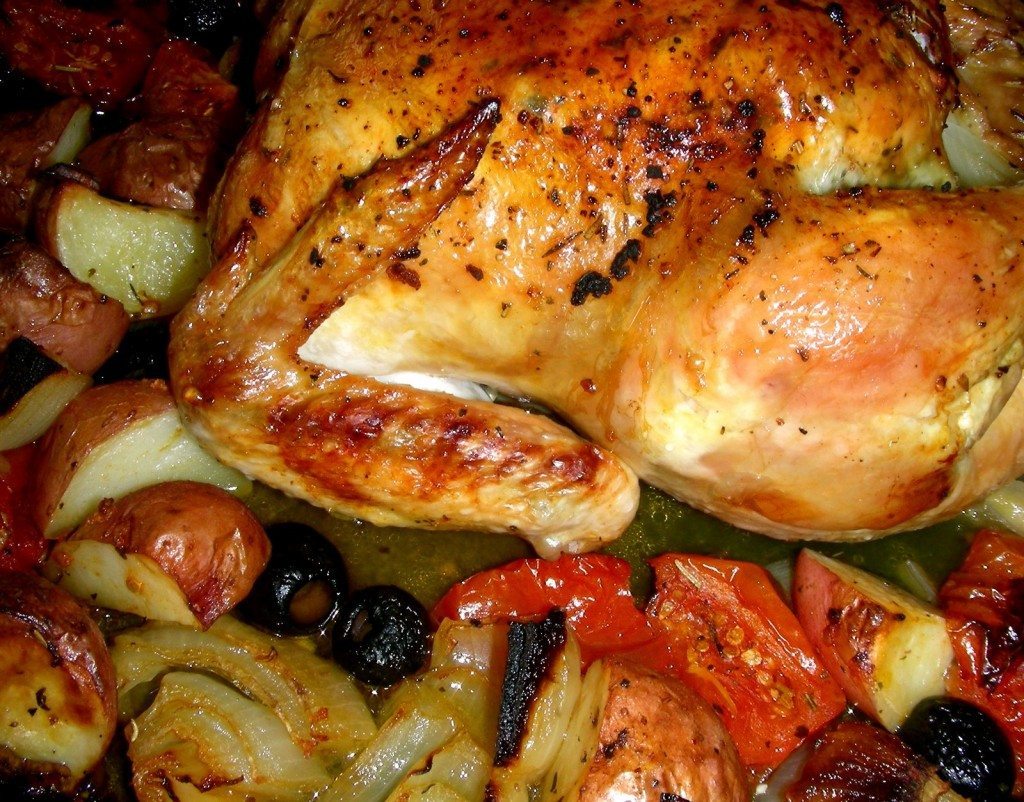 The region of Provence in France is truly a land flowing with good food. Chicken Provençal is one dish incorporating the region's famous ingredients including tomatoes and olives.
11. Gratin Dauphinois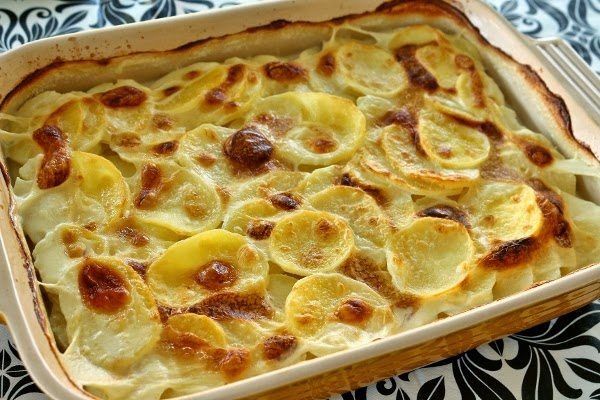 When it comes to traditional French dishes, you can't really go wrong. Gratin dauphinois, for one, has been around way longer than we've been. It's made of potatoes and creme fraiche, a specialty from the historic region of Dauphine.
12. Navarin D'Agneau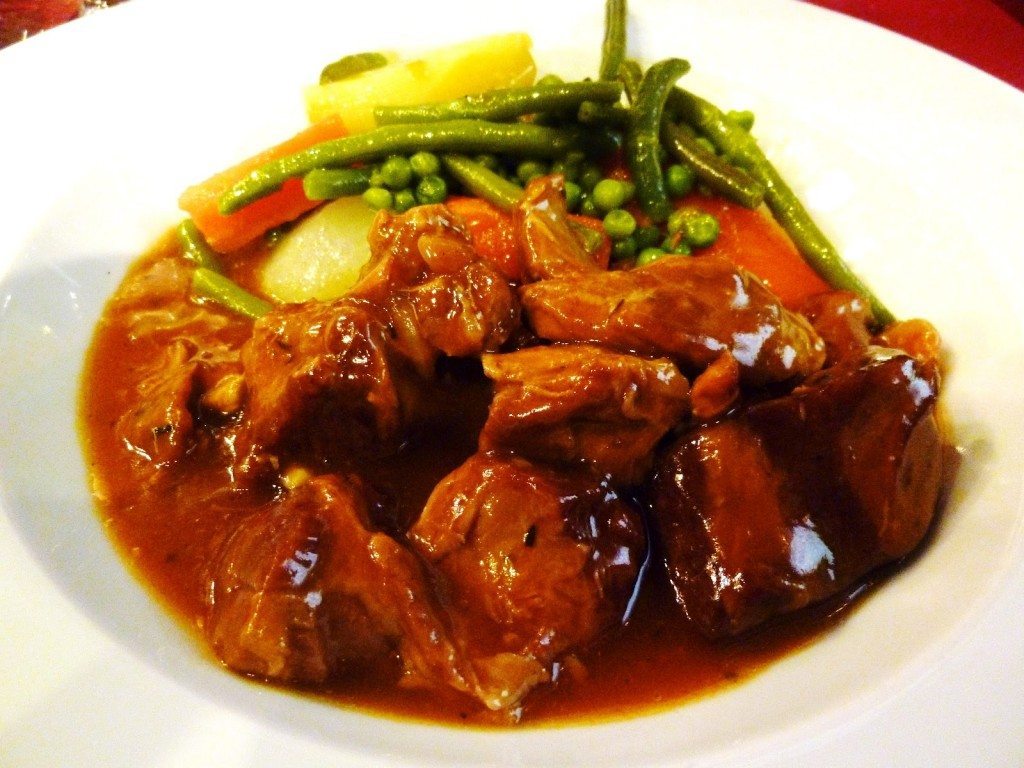 Another hit dish during wintertime in France is this delicious and hearty lamb stew. Often cooked a day ahead, the lamb or mutton is combined with potatoes and other vegetables for one filling and heart-warming dish.
13. Roquefort Winter Salad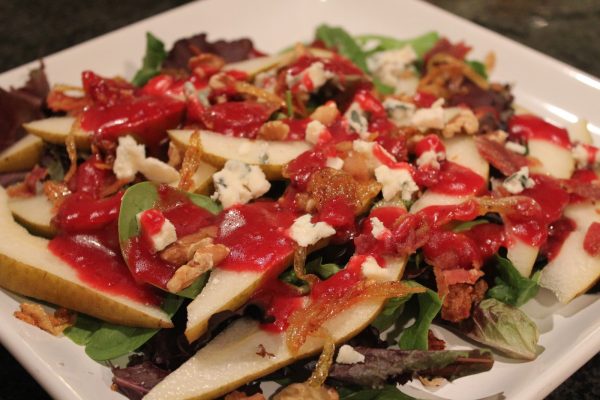 There is no standard salad for wintertime in France. You can try a veggie or fruit mix. What will make the salad perfect for the season is the star of the dish – no other than Roquefort blue cheese.
14. Canard à l'Orange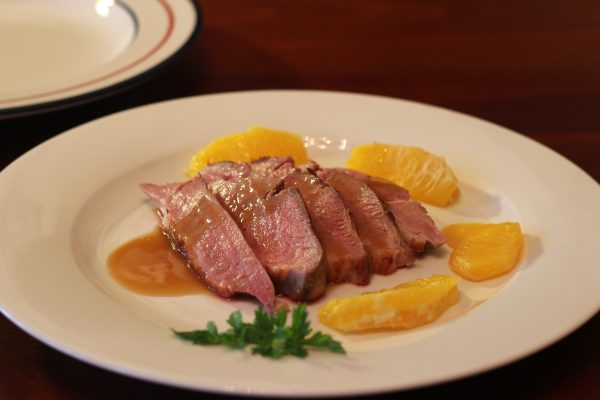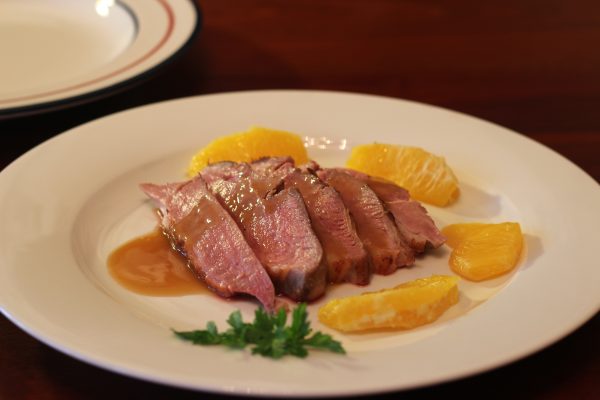 Roasted chicken in winter is a good choice for a main dish. But what's even better is roasted duck in orange sauce. You can't say have eaten duck  until you've tried  this French classic.
15. Coquilles Saint-Jacques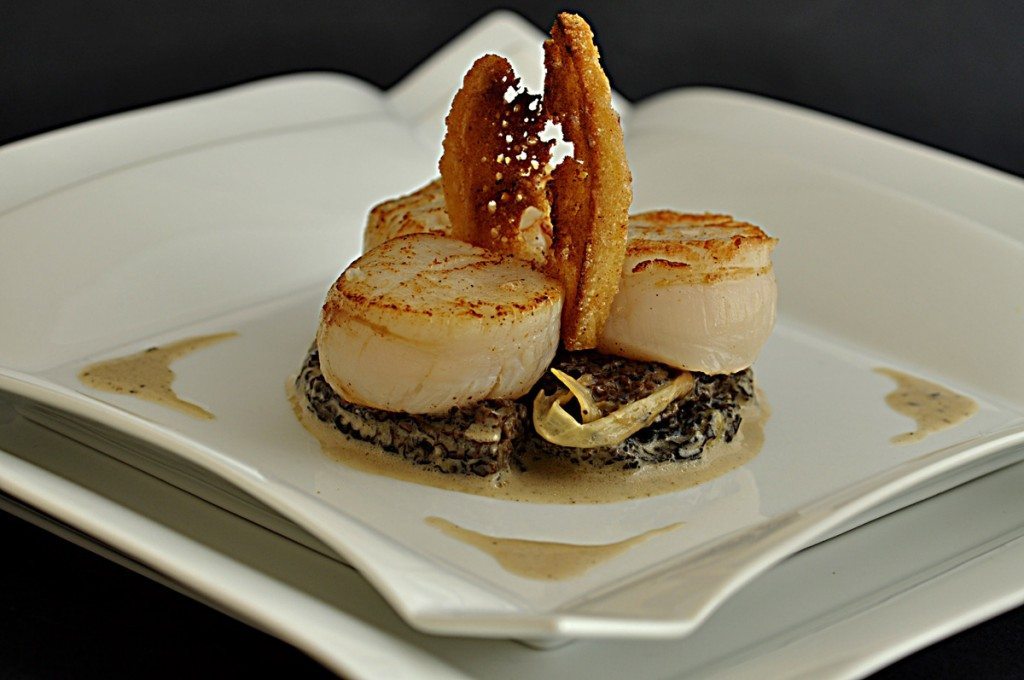 There's no wonder why Coquilles Saint-Jacques is such a French cuisine classic. Imagine combining scallops, mushrooms and wine in one dish… The result is heaven on earth.
Spring
When: mid March to May
After hibernating in the confines of your home during the cold winter months and bundling up like Eskimos, it's time to come out, play and eat some more. Breathe in the springtime air and enjoy the fresh scented surroundings. But more importantly, feast on this season's colorful and fresh French cuisine offerings.
1. Cherry Clafouti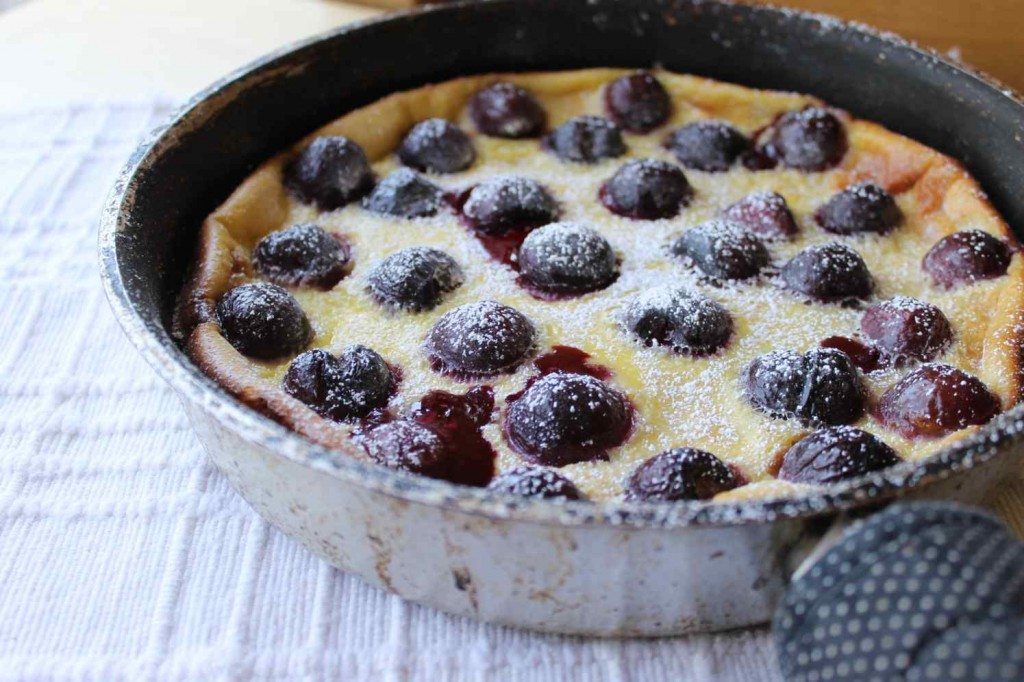 A classic dish from the Limousin region, the sweet clafouti is a rustic baked treat you can devour for breakfast. The fruit brings color, flavor and energy to this custard-like dish which should start any spring day right.
2. Salade Nicoise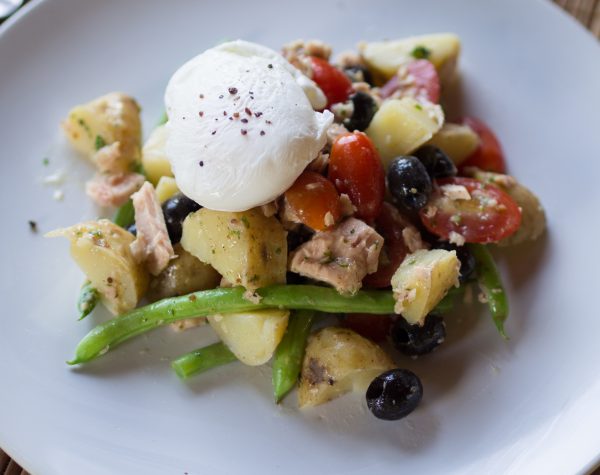 The wonder of spring comes alive when vegetables such as small new potatoes, cherry tomatoes, beets and baby artichokes are widely available and cheaper. Add in black Nicoise olives and tuna to the mix and you have a healthy and protein packed salad from Provence.
3. Quiche Lorraine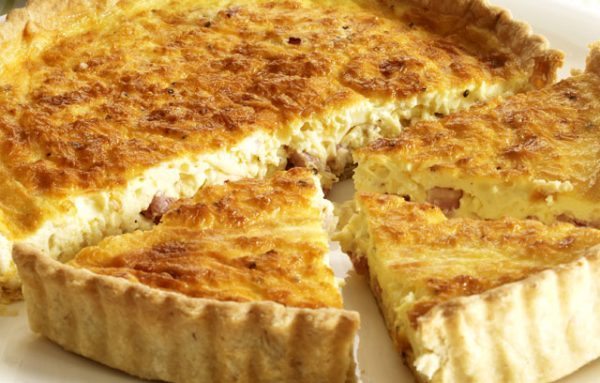 Creamy, rich and mouth-watering, this dish is another classic that will make you fall in love with French cooking. Not only is it incredibly easy to make but it's always a big hit with its perfectly balanced combo of bacon, heavy cream and eggs.
4. Buckwheat Crepes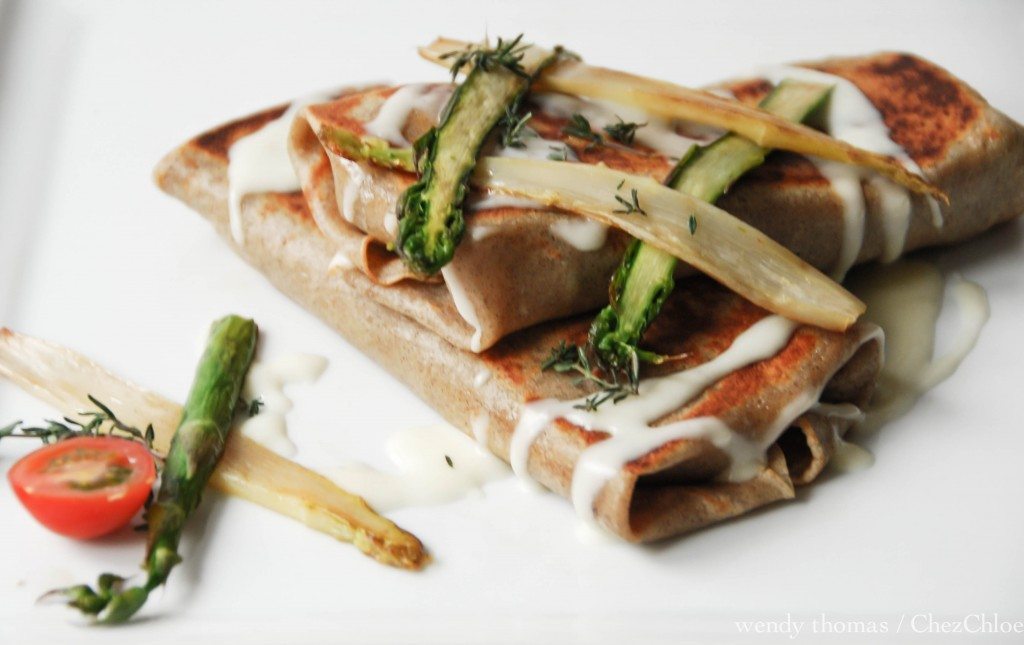 Hailing from Brittany, the buckwheat crepes are flavorful and great with spring's freshest vegetable options like tomatoes and spinach. It's also excellent with your favorite breakfast or main dish fillings.
5. Spinach Soufflé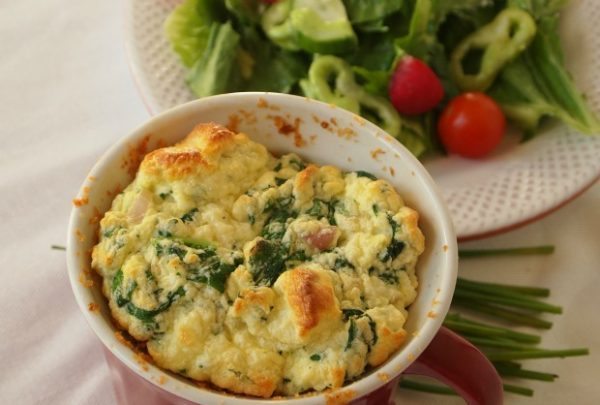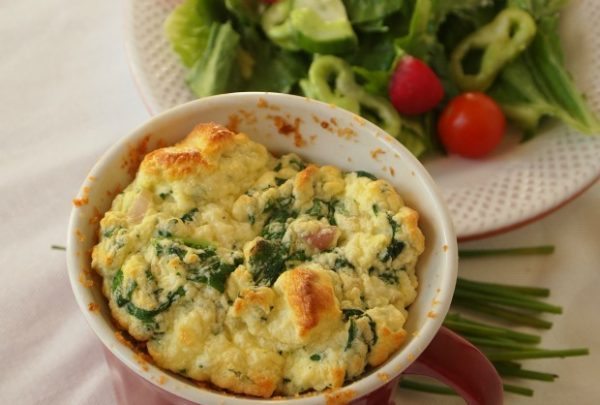 Take advantage of the season's fresh produce by indulging in a delicious spinach souffle. It can be in the form of a light main dish, a side dish or an appetizer in little ramekins. Either way, the lightly baked French cake with a twist is sure to make it onto your favorite food list.
6. Chicken Fricassee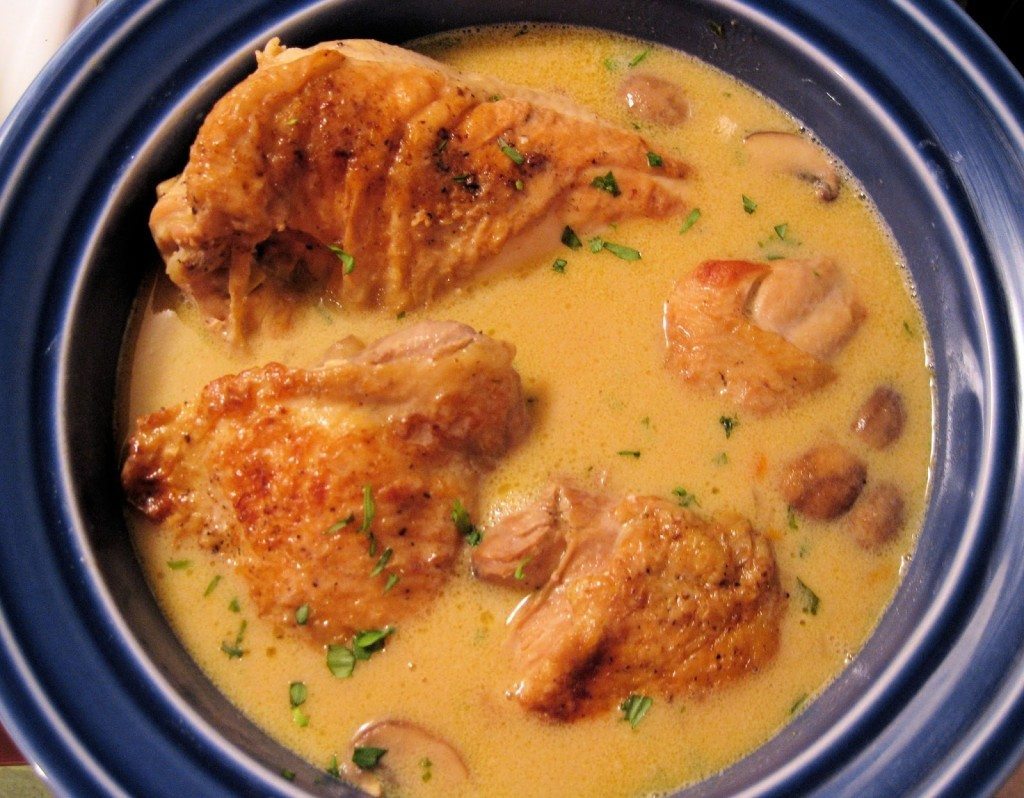 Looking for a filling meal to brighten your day? Try the special known as chicken fricassee. The magic that happens in the French kitchen is transported in your mouth with every bite of the slow braised chicken in wine and  chicken stock dish.
7. Baeckeoffe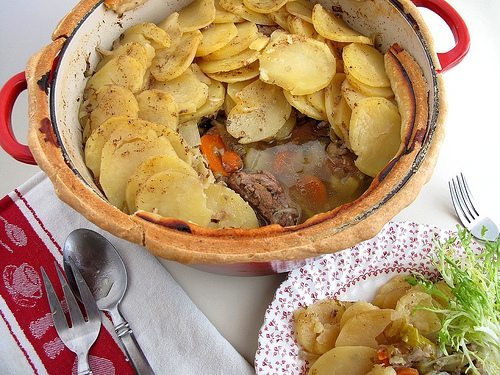 A famous and common dish in the Alsace region of France, baeckeoffe celebrates the goodness of eating marinated meat. Typically soaked in white wine with some berries, the casserole is incredibly flavorful and unforgettable. It makes a perfect spring casserole as the marinated lamb, pork or beef is mixed with sliced potatoes and onions.
8. French Spring Soup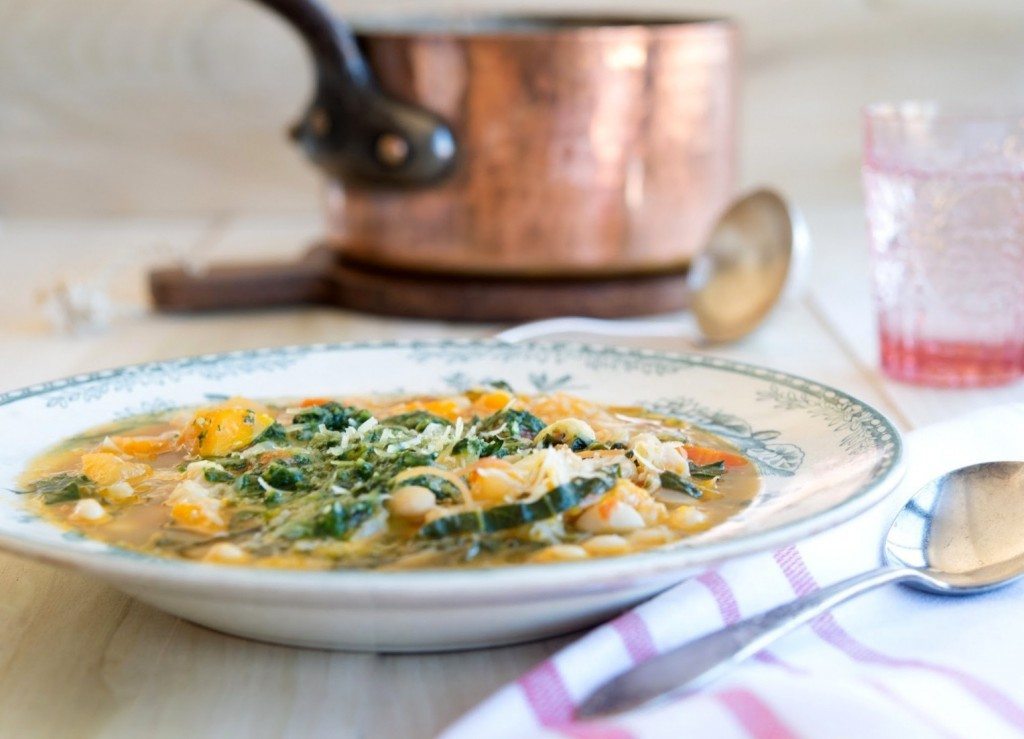 Because spring is asparagus season, one of the best ways to enjoy the vegetable is to include it with other vegetables in the ultimate French spring soup. Made of leeks, potatoes, carrots and a bunch of fresh asparagus, the soup is the perfect remedy for that lingering cold left behind by winter.
9. Snapper En Papillote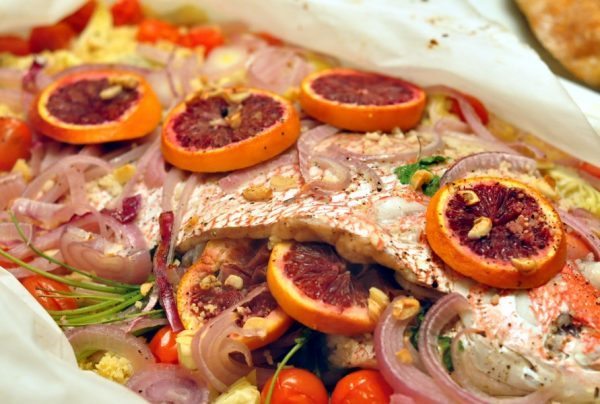 When it comes toways of the kitchen, the French are surely one of the most creative bunch. Take for instance this fish and vegetable dish which is baked to perfection using parchment envelopes. Not only does this technique keep the fish moist but it allows the distinctive Provence flavors to meld beautifully.
Summer
When: June to September
Summer in France is fun and colorful.  When the season is in full bloom, tourists flock to the country to enjoy the festivities as well as the refreshing food choices. This is a time when fruits and vegetables are abundant and hence cheaper. While hitting the beaches, you might as well bring along some of the dishes below.
1. Ratatouille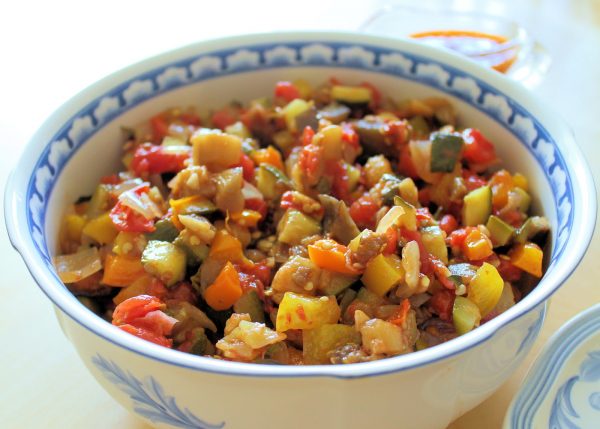 Long before the Pixar animated film made Ratatouille famous, the traditional dish from Nice is already a popular and favorite side dish or stuffing in French cuisine. The recipe is jam packed with vegetables including zucchini, bell peppers, eggplant, and herbs making it a perfect summer food.
2. Bouillabaisse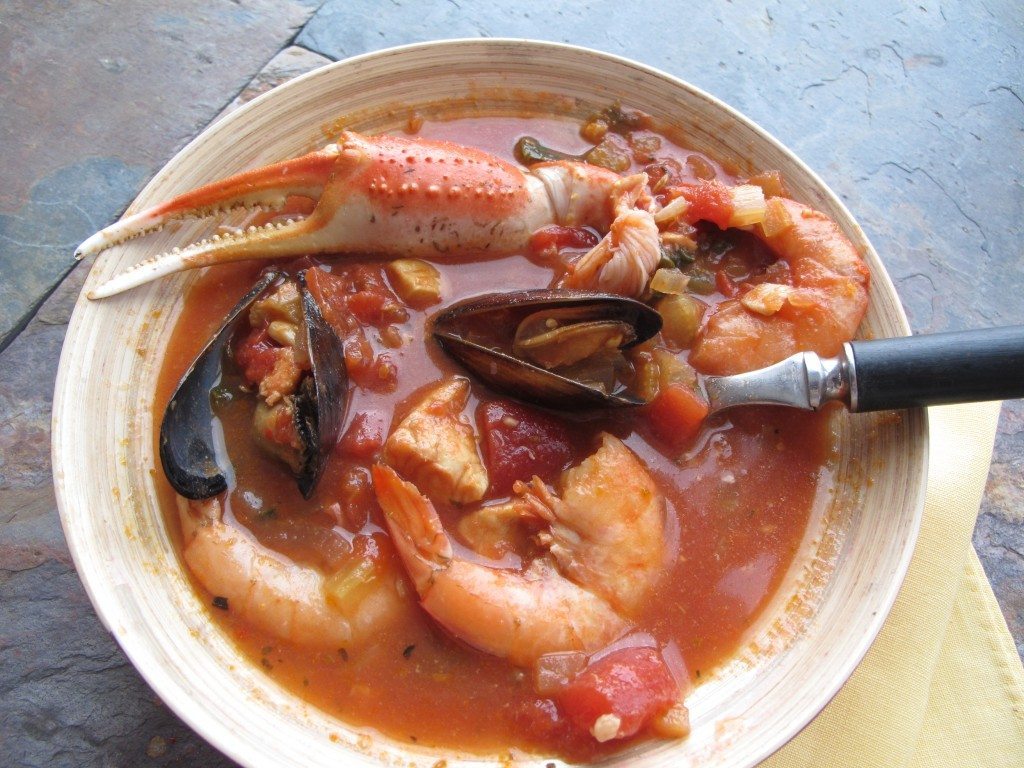 Sharing the warmth of the season is the iconic and very healthy fish stew dish. It is a treasure from the South of France featuring a variety of fishes. Add shellfish for the ultimate and classic treat for seafood lovers.
3. Moules Marinières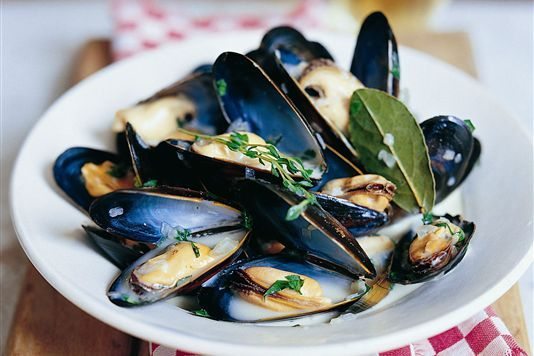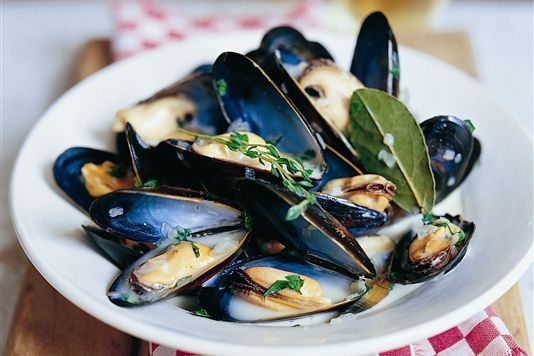 Also known as the French sailor's mussels, this specialty is delicately steamed in a mouth watering sauce of white wine, cream, butter, onion and parsley. And just for fun, when eating this classic, use one empty shell to spoon the remaining mussels.
4. Tarte Tatin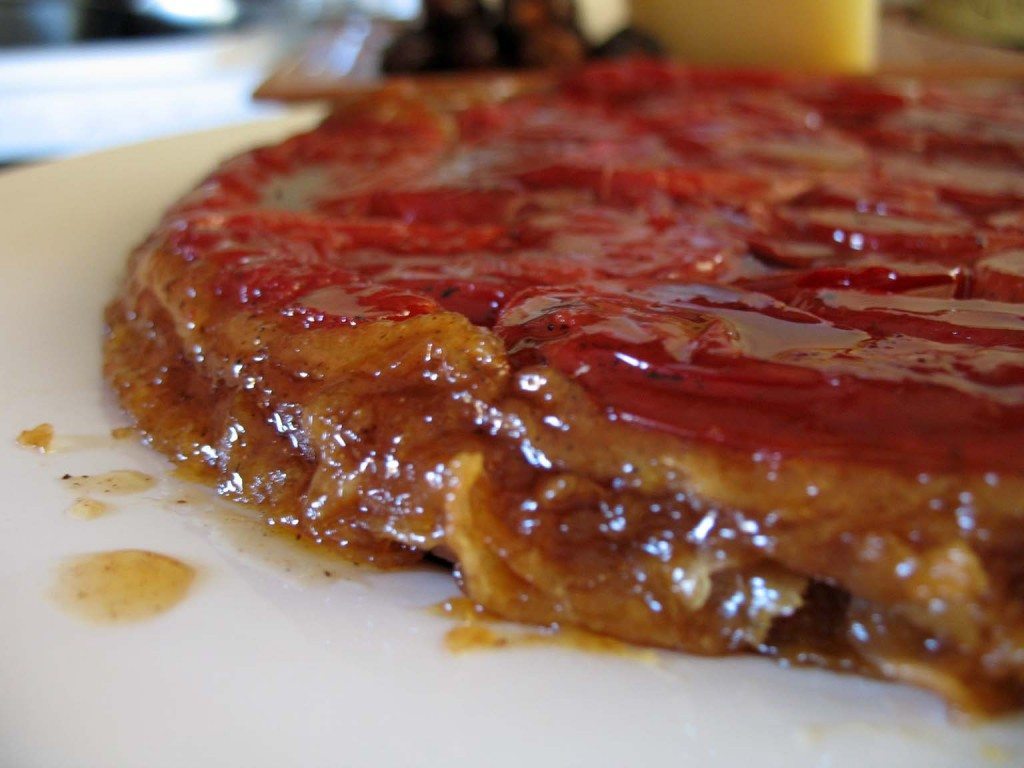 France is world famous for yummy apple tarts. But did you know that the delightful tarte tatin dessert was an accident? Rumor has it that Stephanie Tatin overcooked the apples in sugar and butter one day. She tried rescuing the traditional apple pie by shoving the whole pan in the oven and the rest, as they say, is history.
5. Berthillon Sorbet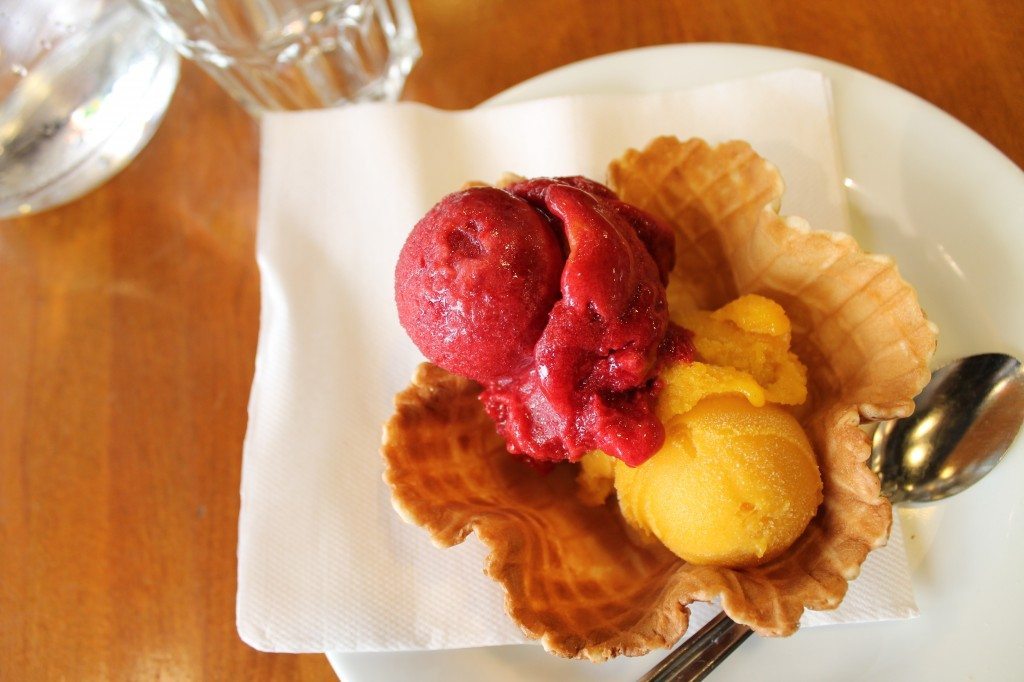 Just ask around for the best sorbet in Paris and they'd point you to Berthillon. Every taste of their dairy-free sorbet is like heaven.There's no better way to beat the summer heat(despite they might be closed in August…) than indulging in the most amazing sorbet in the city.
6. Provençal Herb Terrine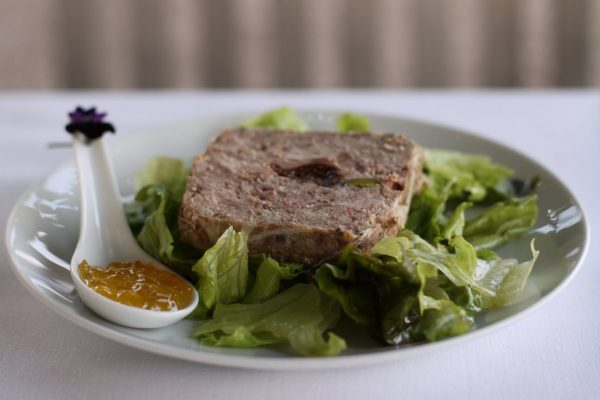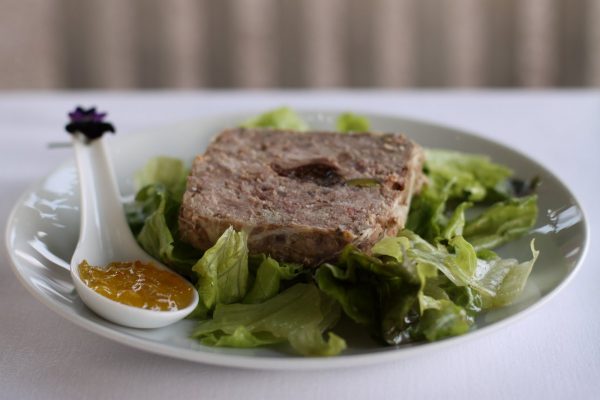 Full of flavors thanks to the melding of herby goodness, the French terrine is one delicious dish.It is typically made with French game meat. One traditional Parisian bistro that is famous for their terrine is Chez Cartet.
7.  Beef Chop / Côte de Boeuf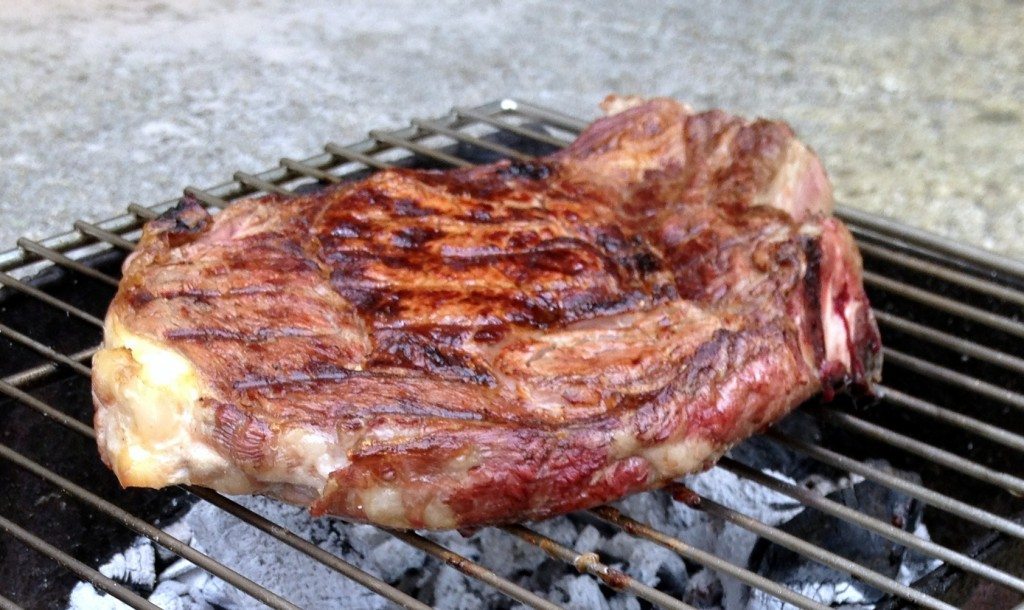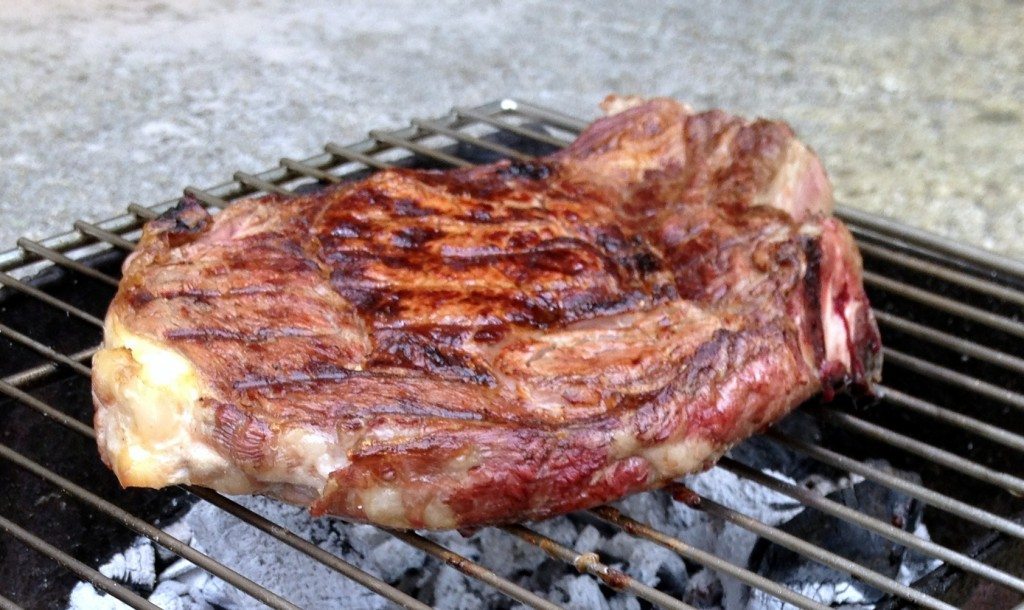 Côte de Boeuf is a single rib cut from the centre of a full rib of beef. It is grilled or fried and often served with a Bearnaise sauce and chips. It is also sometimes called a beef chop. Not the cheapest part of the Beef but a must try.
8. Baked Camembert with Cherries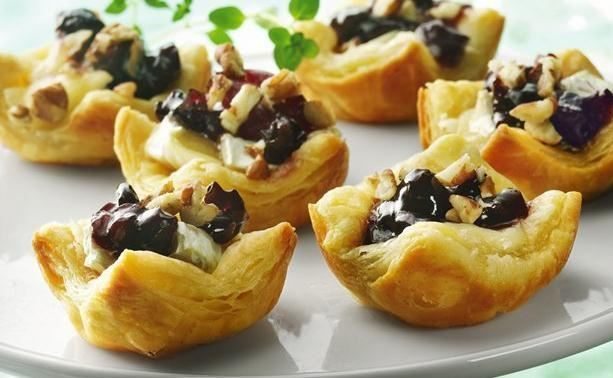 Aside from wine, what is France famous for? There are many things really but for now, we're talking about the land's wide and varied cheeses. And one that you should definitely try is baked camembert topped with fresh cherries.
9. Piperade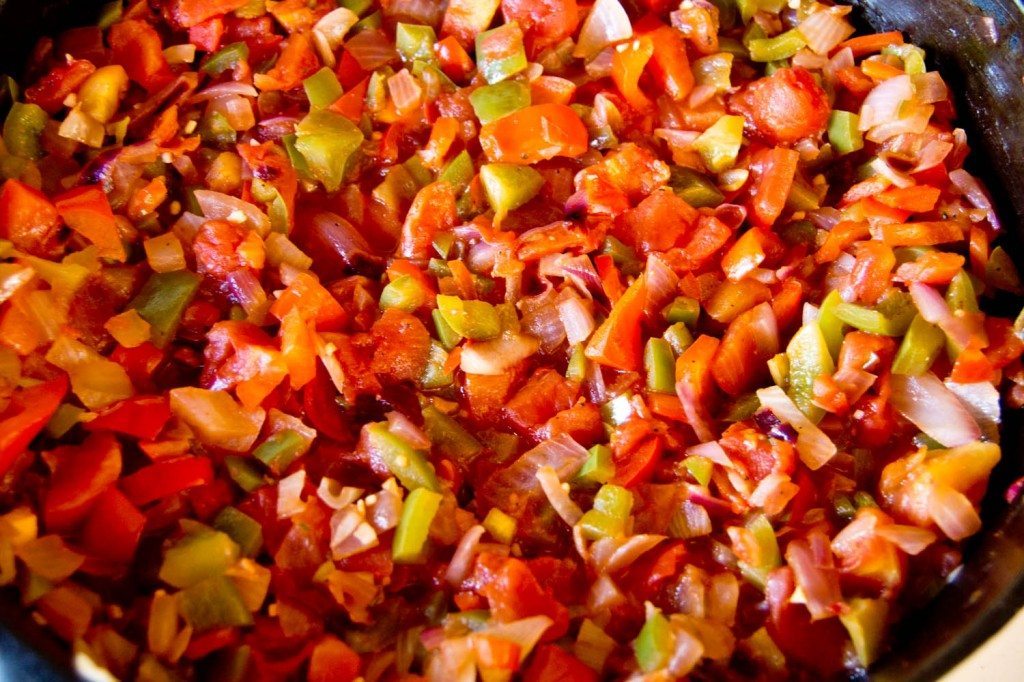 Whether eaten as is or topped off with a plain omelette as what Julia Child suggests, piperade is a wonderful dish made mostly of onions, peppers and tomatoes. The flavor is then enhanced with spicy paprika, cured pork and Bayonne ham.
10. Vichyssoise Soup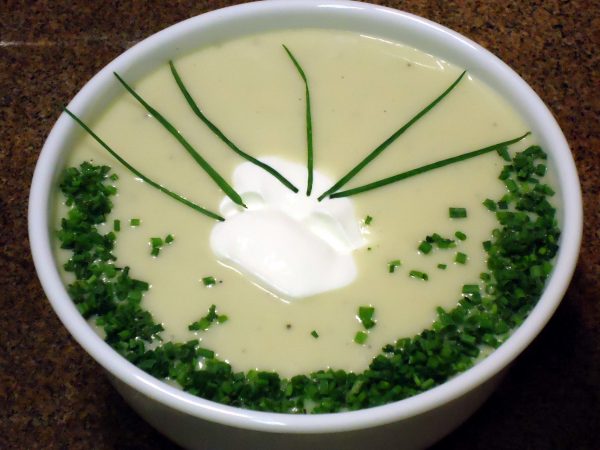 Soup is a staple for any season but one that is perfect to combat the summer heat is Vichyssoise. It is a classic cold soup made of potatoes, mixed with butter, a healthy dose of herbs and flavorings.
11. Soupe au Pistou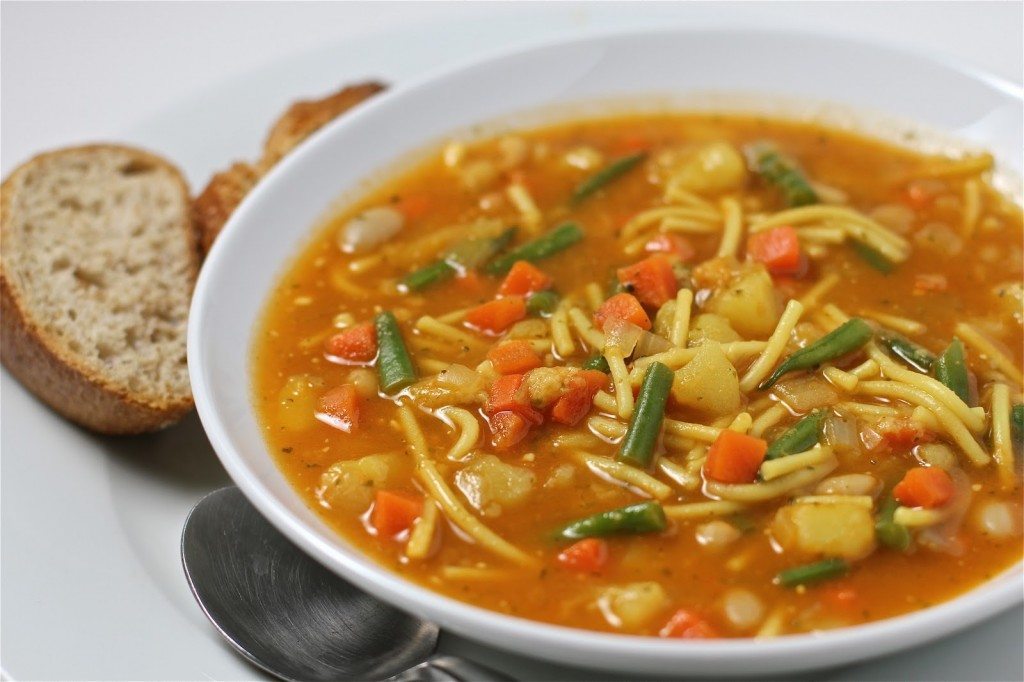 Another soup variety that's perfect for summer is pistou, a specialty from the Provence region that is both comforting and tasty. It is basically a cold sauce made of garlic, basil and olive oil.
Fall
When: late September to November
One of the best times to enjoy and explore France is during  the season of Fall. The long summer has just ended and it's starting to get a bit chilly. And helping you to adjust to the cold winter months are some of the best cuisines from the French's kitchen.
1. Boeuf Bourguignon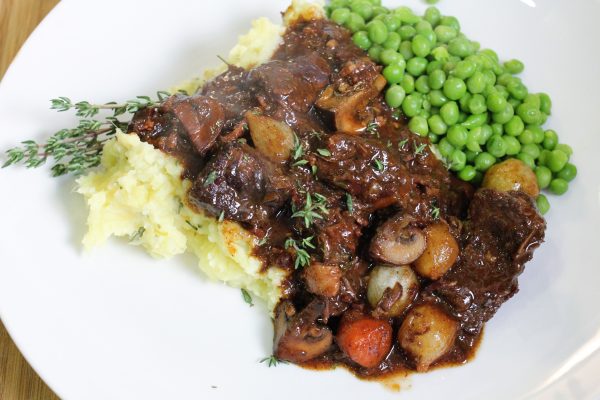 The list for the best French cuisine for fall wouldn't be complete without the ultimate comfort that is beef burgundy. The traditional dish takes hours and hours to cook but every minute is definitely worth it.
2. Tartiflette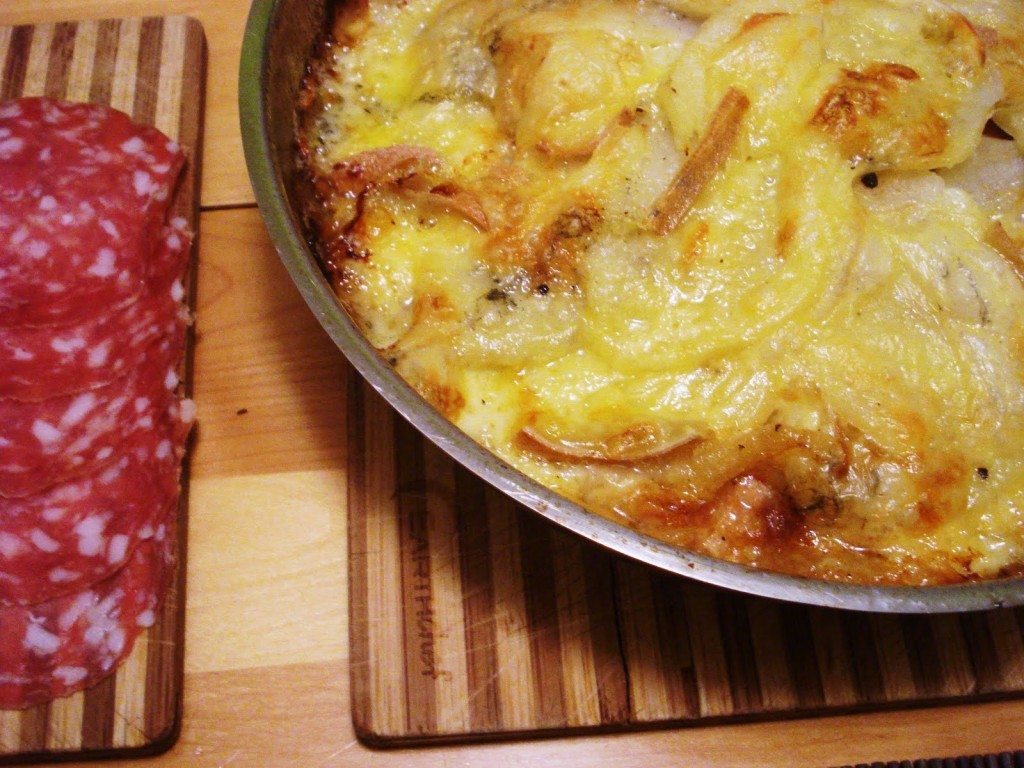 Another king of comfort food that you will undoubtedly fall in love with is the popular dish from Haute Savoie. Dumped in one casserole are potatoes, lardons, onions and Reblochon cheese. Now, it couldn't be more homey or better than that.
3. Butternut Squash Bisque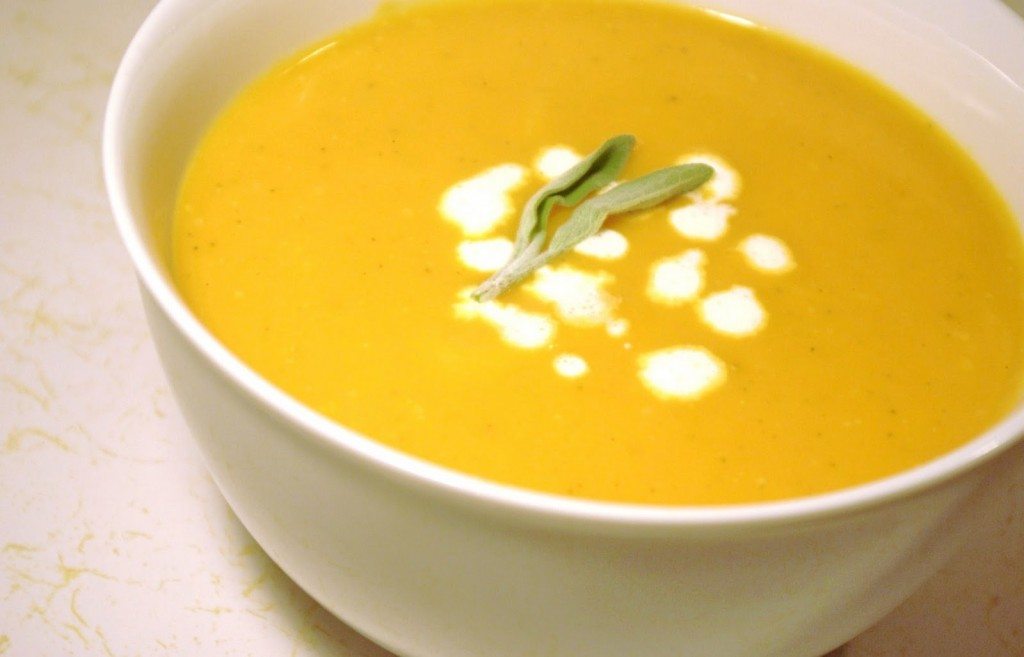 Is autumn getting  too cool for you? You can get warmed up with a bowlful of butter nut squash bisque. Pureed to an ideal velvety texture, the soup offers a contrast of mild sweetness and savory herbs.
4.  Classic French Toast (called Pain Perdu)
Breakfast, as they say, is the most important meal of the day. It's not just because experts say so but also because breakfast dishes such as the classic French Toast is simply delicious.
5. Escargots de Bourgogne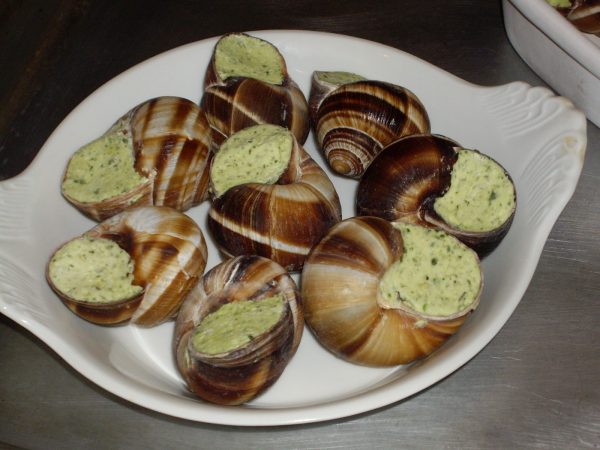 The thought of eating snails may gross you out and that's completely understandable. But don't let that stop you from tasting the exotic dish which originated from Burgundian cooking.
6. Magret de Canard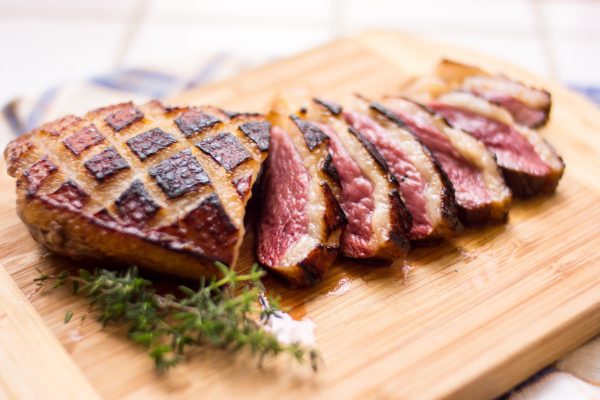 One that is often recommended is Magret de Canard and rightly so because the dish in France is arguably the best in the world (personal opinion ::J)). If you happen to be in the South West of France, go check it out.
7. Coq au Vin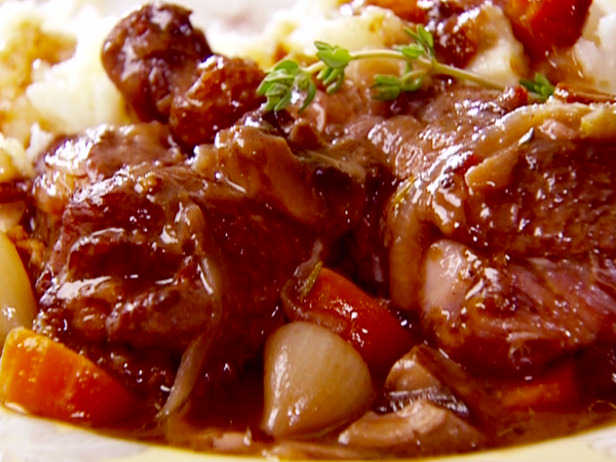 One of the easy ways to make chicken surprisingly delectable is by braising it in red wine. Add mushrooms, lardons and garlic to the mix and you have a classic Frensh favorite known as Coq au Vin.
8. Roasted Chicken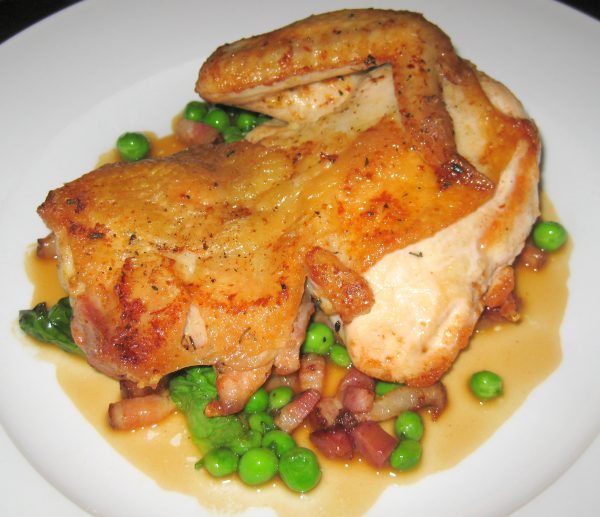 Roasted chicken is not only a staple in France but around the world. The French, however,  as always have a special way to cook the poultry to an unbelievable level of goodness.
9. Pork Rillettes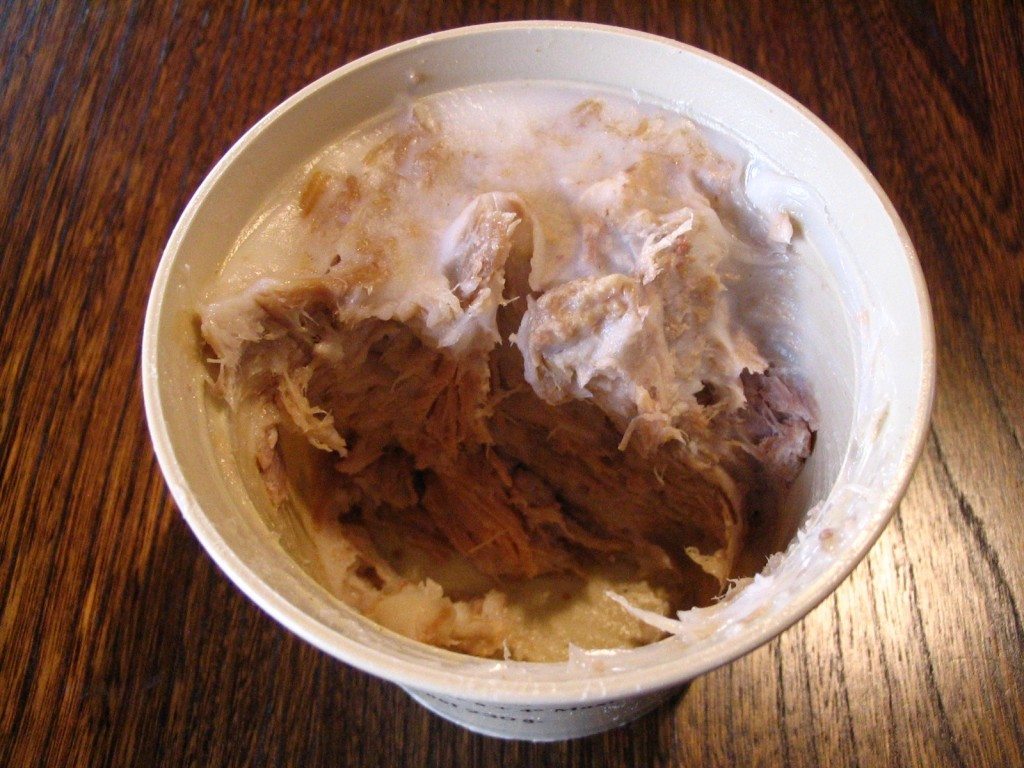 Much like a pâté, pork rillettes is a spread made of chopped and cubed meat. The best known rillettes in France are from Tours and Anjou. It looks incredibly bronze and enticing which will go great with toast.
10. Soupe à l'oignon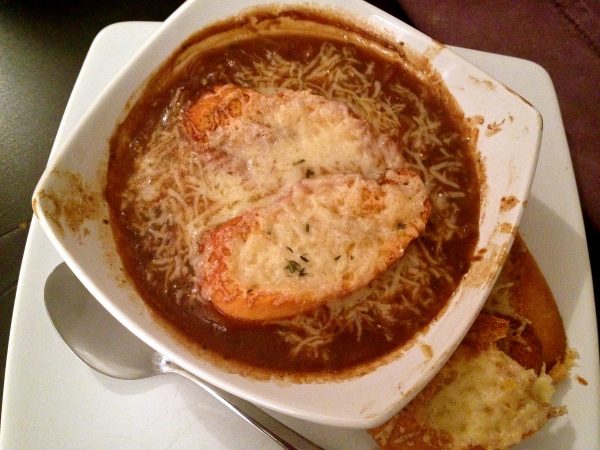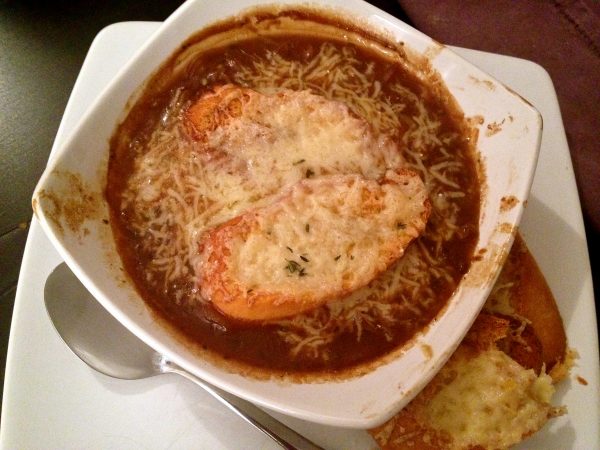 As you may have already guessed, the French love their soups. The variety available is astounding but one that remains a top favorite is the traditional onion soup made of beef stock and onions. It's just so comforting and mouth-wateringly delicious.
11. Pissaladière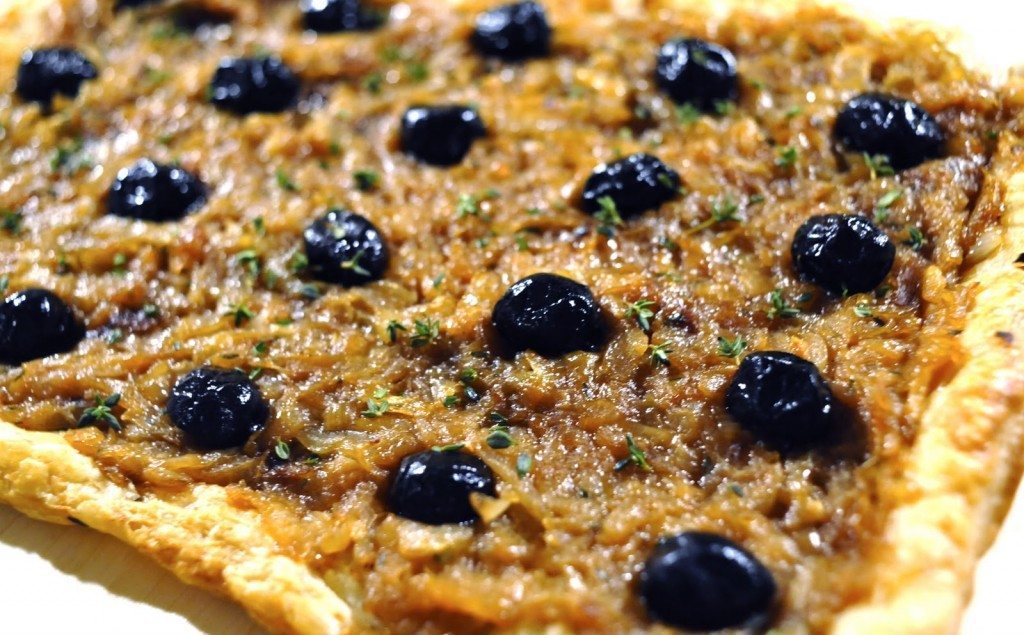 There are many varieties of tarts in France but one that seems perfect for autumn is the Pissaladière from places such as Toulon, Nice or Marseille. The layers of ingredients make a savory appetizer, more like a sneaky peak into how good French cuisine is.
12. Cassoulet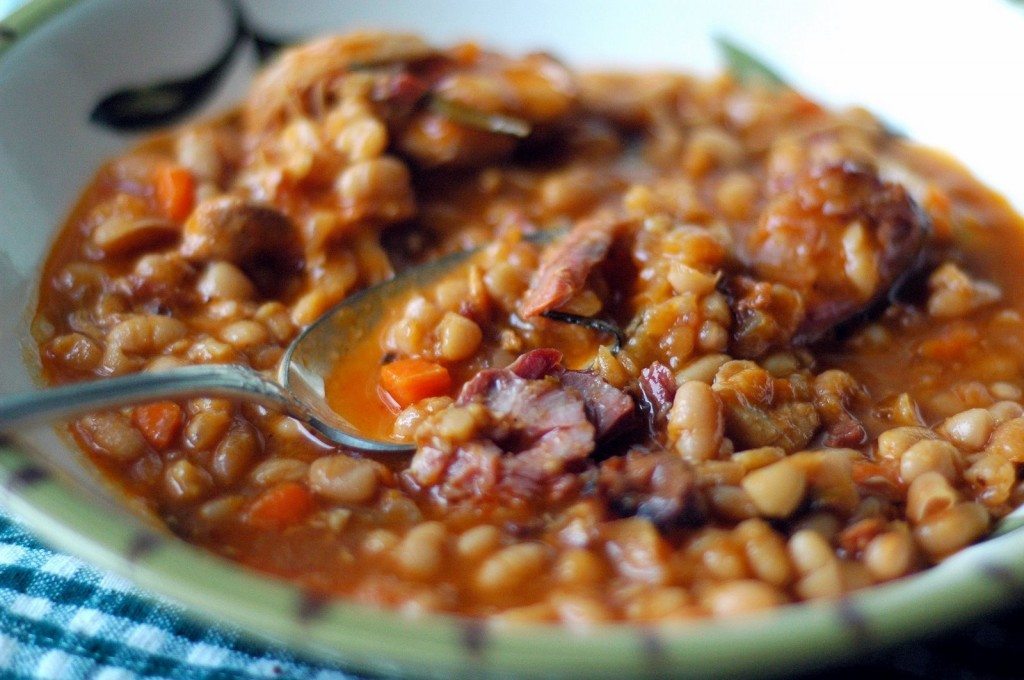 Slow cooked to a wondrous rich and delectable taste, the cassoulet from the south of France is a culinary masterpiece. It is made of meat, pork skin and white beans. The meat can come in the form of duck, goose, pork sausages or mutton.
13. Crème Brûlée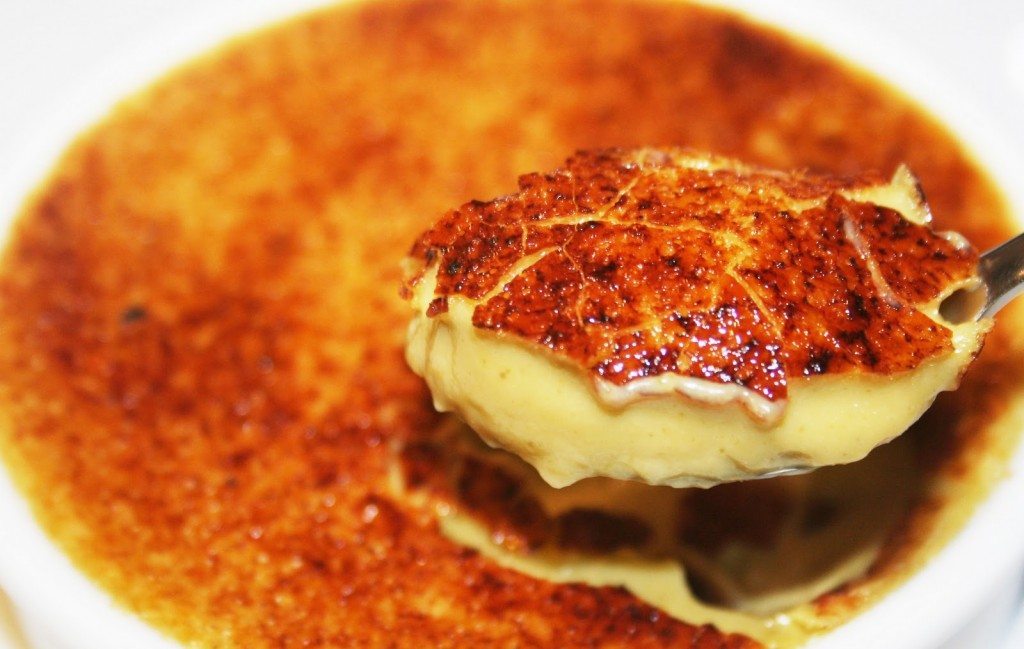 A beautiful velvety texture, gorgeous burnt color and chilled custard makes this traditional French dessert irresistible. It's very simple at a first glance but the undeniably good taste of every bite will leave you wanting more.
14. Pumpkin Mousse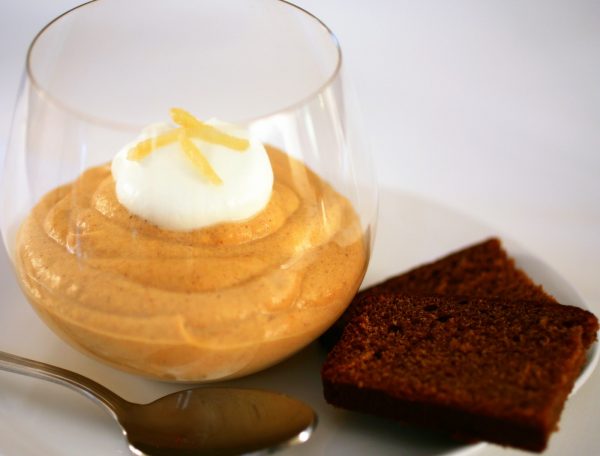 Since pumpkin is abundant this time of year, an affordable dessert to try is pumpkin mousse. Creamy, sweet and spiked with a hint of spice, the dessert is a delicious seasonal treat that will make you love autumn all the more.
Buy now the most complete French Phrasebook for your next visit to Paris
[symple_column size="one-half" position="first"][/symple_column]
[symple_column size="one-half" position="last"] 

[/symple_column]
And that was one long list! It just goes to show that there is so much more to discover about French cuisine. While you're at it, do tell us which of the fifty dishes is your favorite or planning to try in the near future.
[symple_highlight color="red"]P.S. You would be doing me a HUGE FAVOR  by sharing it via Twitter, Facebook, Google + or Pinterest. [/symple_highlight]