The French are all about cheeses. Crumbly cheeses, hard cheeses, moldy and grayish, soft and squishy, and yes---even properly "stinky" types! The question is, can you identify which French cheese is which? Or do all French cheeses look the same to you?
It's time to expand your knowledge of French cheeses and go beyond just Brie, Camembert, or Roquefort with this guide that's broken down and simplified just for you.
You can finally demystify the different kinds of French cheeses and wow everyone when you correctly identify a Cantal from a Salers or when you can extol the rich, buttery goodness of the Brillat-savarin.
But wait---a quick disclaimer!
This mini-guide doesn't hope to cover ALL the cheeses from France because it would have to become a comprehensive God-knows-how-many-parts guide to discuss the estimated 350 to 450 types of French cheeses and about a thousand varieties in total.
This article will only be scratching the surface by covering the most common and the tastiest, in my opinion. But, it will equip you with the right amount of French cheese savvy that you need to sound like a cheese connoisseur the next time you're faced with a cheese platter.
So let's get the ball of cheese rolling, shall we?
1. Soft French cheeses


Brie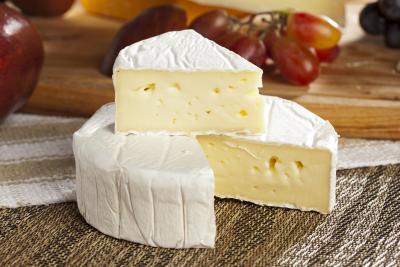 Via livestrong
Brie, one of the world's best-known cheeses, is considered the King of Cheeses. Classified as a soft cheese, it actually gets softer and becomes runny as it ages.
This deliciously creamy cheese is set to make your heart melt and your knees all gooey whether eaten in slices, with fruits and nuts, paired with bread, or with various red and white wines.
Brillat-savarin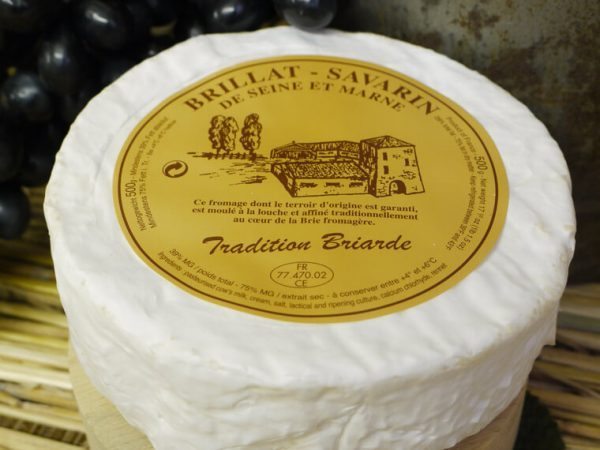 Via Allfood
Brillat-savarin, which has been named after a famous gastronome, is made from both pasteurized and unpasteurized (raw) cow's milk. Decadently delicious to the taste, this cheese dissolves easily in your mouth, leaving a rich, buttery and sweet flavor.
Camembert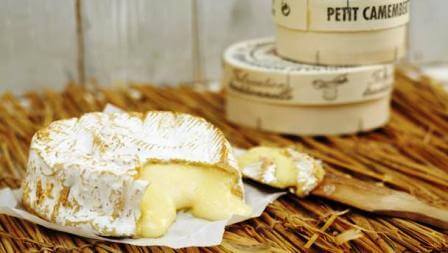 Via BBC
Camembert is arguably the quintessential French cheese, with an earthy flavor a bit stronger than Brie. The next time you're in a French grocery, you may spot les petites vieilles (little old women) removing Camembert from its round wooden box in the refrigerated dairy section, then sniffing, prodding and thoroughly inspecting it before placing it into their basket or returning it to the shelf.
This versatile cheese can be eaten various ways---all of which result to a hearty gastronomic fare.
Munster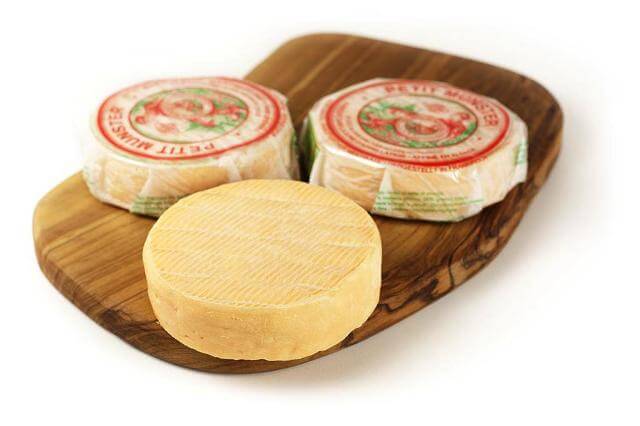 Via cheese-board.co.uk
Munster is a cow's milk cheese with a highly aromatic rind from France's eastern region of Vosges. Despite its strong, stinky odor, its flavor is quite savory and tangy! Now that's one monstrously delicious cheese! (monstrously, as in monster, he he. Get it? No? Oh okay 🙁 )
Edel de Cleron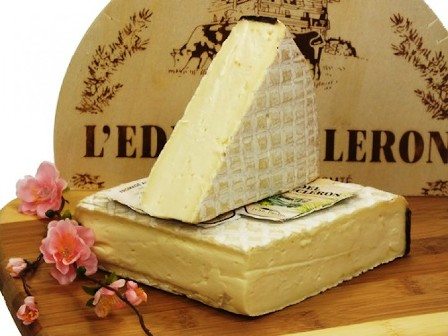 Edel de Cleron is a pasteurized cheese which is wrapped with pine bark, giving it a woodsy character. This cheese is best eaten when it's ripe and the interior is runny that it needs to be eaten with a spoon.
Neufchâtel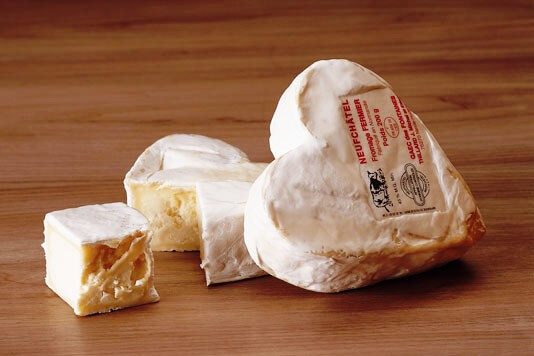 Via lovefood.com
Neufchâtel is a soft and slightly crumbly cow's milk cheese from Normandy that's been used to make raviolis and French cheesecake. It has a nice and lovely distinctive heart shape to it. Ooh la la!
Gaperon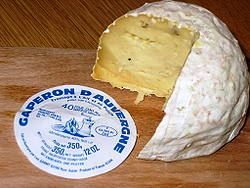 Via politicalstew.com
Gaperon, made from cow's milk, has cracked peppercorns and garlic infused in it. During the maturation process, it develops a soft, buttery consistency and garlic-pepper flavor. Great with red wine!
Reblochon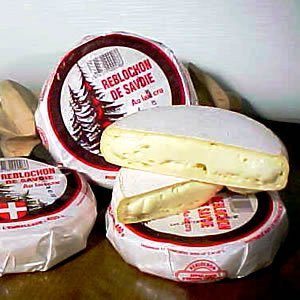 Via cheesewiki.com
Reblochon is exceptionally creamy and is produced from the Haute-Savoie Alps region. This cheese is a grand mountain cheese made from raw cow's milk. It has a strong, herbal fragrance with nutty trace. Try it melted on a baked potato for a heavenly treat!
Delice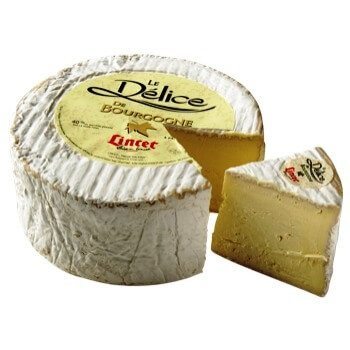 Via www.iga.net
Delice is a cow's milk cheese from Burgundy. During the cheese-making process, cream is added twice to the milk, making it a triple-cream cheese. It is so rich that you can feel it almost melting in your mouth with a soft, buttery feel. It has aromas of straw and mushroom, and pairs well with sparkling wines.
Vacherin Mont d'Or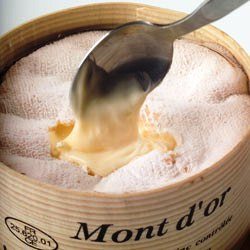 Via lacaveafromage.blogspot.com
Vacherin Mont d'Or has a luscious flavor which is delicate, woodsy and when properly ripe, will be 'spoonable'. Just cut off the top of the rind and spoon out the custardy interior and voila…! Y-U-M!
Époisses de Bourgogne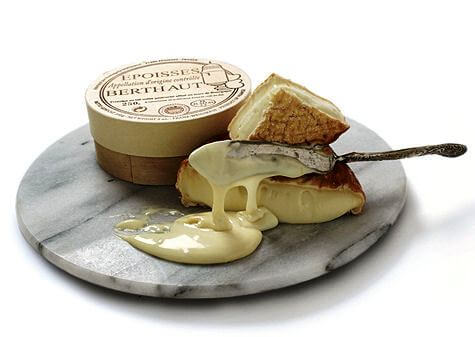 Via www.thecheeseandwineshop.co.uk
Époisses de Bourgogne cheese has a reddish-orange color and the interior paste changes from smooth and creamy to a gooey, thick, 'spoonable' texture as it ages. And the taste? Simply delicious!h
​

2. Semi-soft French cheeses


Port Salut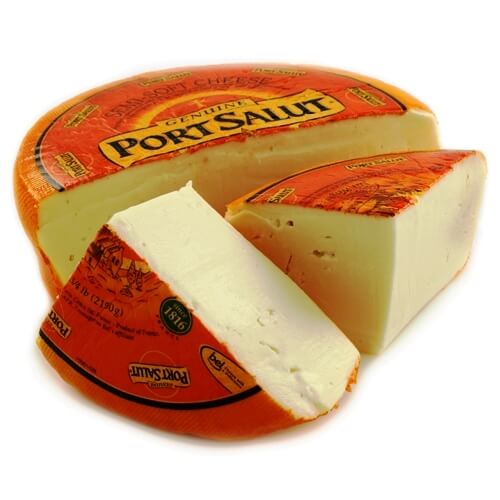 Via www.igourmet.com
Port Salut, one of several semi-soft cheeses from the pays de la Loire, is a cow's milk cheese with a bright orange rind and mild flavor.
Pont-L'Évêque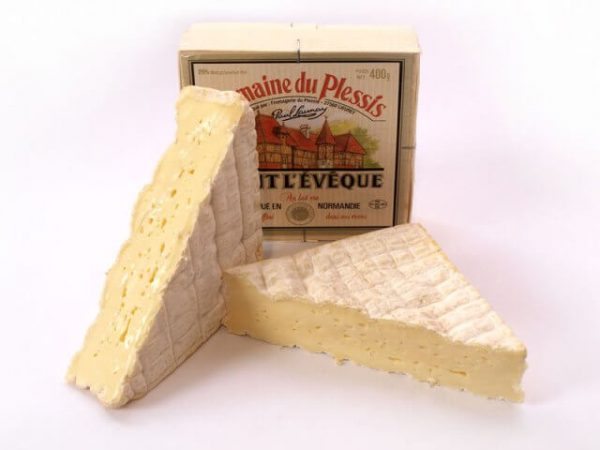 Via www.sheridanscheesemongers.com
Pont-L'Évêque is a renowned and very old cheese from Normandy. With a distinctive orange-yellow rind marked with cross hatching, it becomes stickier as it ages.
Morbier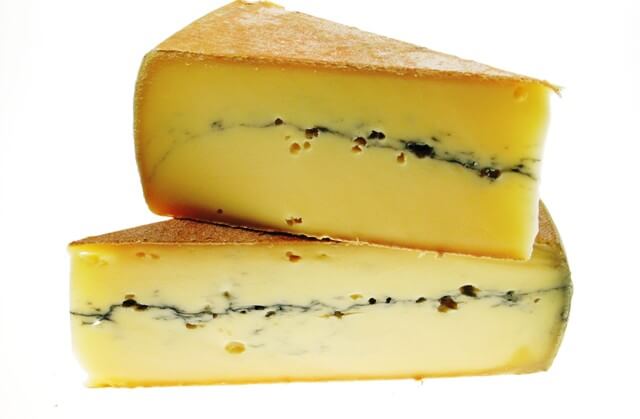 Via www.thecheesesociety.co.uk
Morbier, produced in the Franche-Comté region of eastern France, is a semi-soft French cheese made from raw or pasteurized milk. The cheese has an ivory color and it is a bit soft and fairly elastic. It delivers a citrusy, full-flavored, tangy taste.
3. Hard French cheeses


Mimolette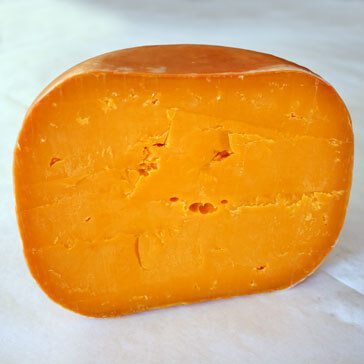 Mimolette, produced originally in the city of Lille, is a hard, sharp and nutty type of cheese. Its brilliant orange color and shape makes it look like a sort of cantaloupe---truly an eye catcher on any cheese platter.
This cheese may be consumed at different stages of aging. When younger, its taste resembles that of a Parmesan, but it is much more popular when it's properly aged and extra old with its flavor tasting a bit like hazelnut.
Abbaye de Belloc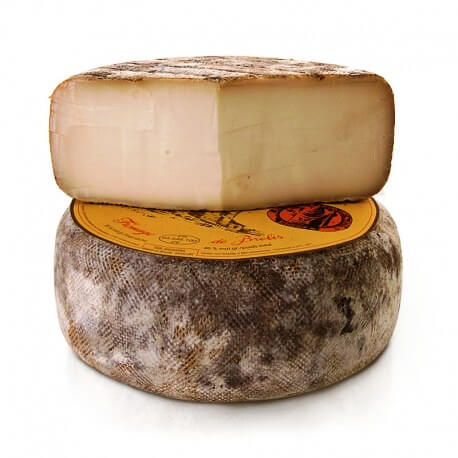 Via www.greatciao.com
Abbaye de Belloc is a hard cheese made from raw sheep's milk. It has a gray rind and a fine, dense texture rich with fat. The lingering flavor has been compared to caramelized brown sugar with a distinctive scent of lanolin (a fatty substance found naturally on sheep's wool). Now grab a glass because this one goes really well with red wine!
Comté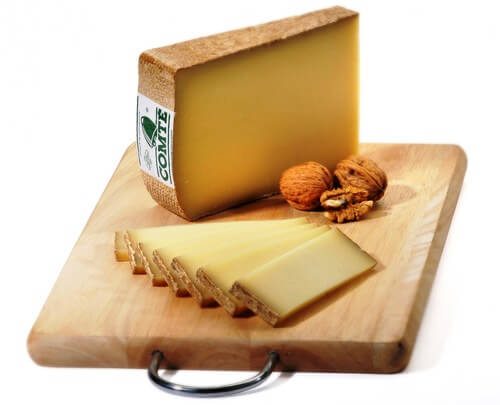 Via cheesenotes.com
Comté or also called Gruyère de Comté hails from Eastern France. Made from unpasteurized cow's milk, this delightful cheese is an all-around versatile star and could be served cubed, on a sandwich, melted in a fondue, folded with eggs, or grated and sprinkled on dishes. It has a fruity yet smoky and salty yet sweet flavor that is sure to please.
Cantal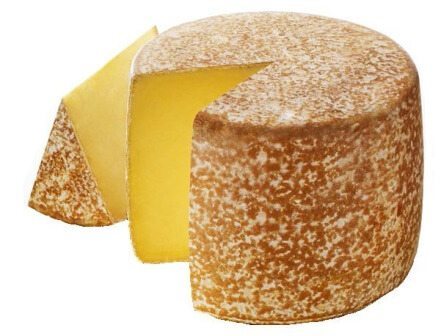 Via frenchcheeseclub.com
Cantal is a French cheese that is often likened to cheddar and can be found in two varieties: either made with pasteurized milk (Cantal Laitier) or with raw milk (Cantal Fermier). It is fresh, sweet, milky in flavor with a light hint of hazelnut, and vanilla.
4. Semi-Hard French Cheeses
Salers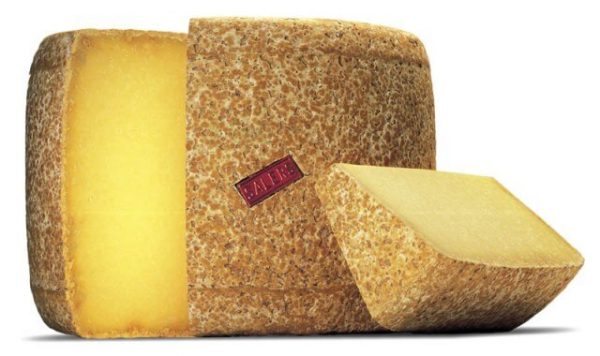 Via w-a-a-s.com
Salers, also known as Fourme de Salers, is a traditional and authentic fermier mountain cheese that has a complex taste that is somewhat fruity and spicy.. This special cheese rarely makes an appearance in cheese platters, but when it does, it sure is the star of the show.
Often confused with Cantal cheese, both Cantal and Salers cheeses are made from the Salers breed of cattle and both are made in the mountains of Auvergne.
Salers, however, is made from the milk of cows that grazed freely in the mountain pastures during the summer---feeding on grass which are extra-rich and special because these same mountains are covered with snow half of the year. Cantal, on the other hand, can be made from cow's milk all year round.
Ossau-Iraty-Brébis Pyrénées
Via www.igourmet.com
Ossau-Iraty-Brébis Pyrénées, an ancient cheese, is a semi-hard, uncooked cheese. It is made from raw sheep's milk, with notable butterfat content. It has a full and rich flavor with herbal and nutty undertones.
Laguiole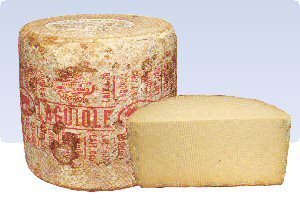 Laguiole is one of the oldest cheese types made in France and it has a tangy, sharp flavor with the delicate hint of the herbs and grasses that the cows eat. It pairs well with apples, pears, crusty artisan bread, sausages and smoked ham.
Tomme de Savoie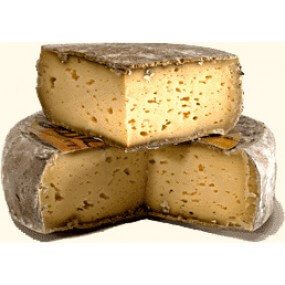 Tomme de Savoie is a regional name for this mild, semi-firm cheese. Don't let its looks fool you. Its bumpy, brownish-grey to russet rind with splotches of yellow and/or red mold showing may not exactly seem appealing. But dig inside its beige insides and you're in for a simple yet delicious and savory treat!
This is a peasant, everyday type of cheese with no pretensions---but an excellent table cheese nonetheless.
5. Stinky French Cheeses and Bleu Cheeses


Saint Agur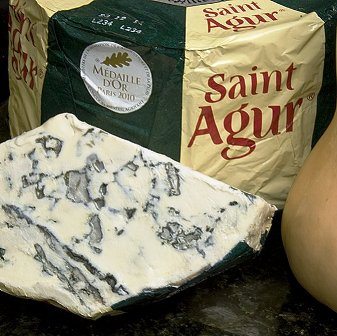 Saint Agur, the least salty of all bleu cheeses, is the smelly kind of cheese that is more creamy than crumbly. With a strong and milky aroma, it gives you the impression of a buttery, salty, sharp, and spicy flavor.
Bleu d'Auvergne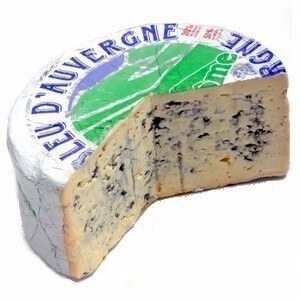 Via edengourmet.com
Bleu d'Auvergne, like its pungent cousins, has a salty, spicy tang that's filled with creamy fresh flavors that bursts in your tongue. Great on its own as it is when used in dishes, its distinct flavor is not overwhelming and milder than similar blue cheeses.
Fourme d'Ambert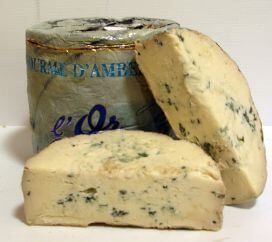 Via pennmac.com
Fourme d'Ambert has lots of flavor, with thick pockets of blue throughout the interior paste underneath the rind. It is a little moister, not quite as dry and crumbly as other bleu cheeses.
Roquefort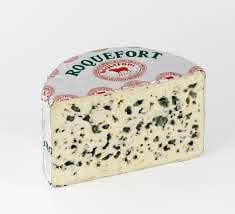 Via www.traduccionesgarantizadas.com
Roquefort, known as the King of the Blues, is a Midi Pyrénées sheep's cheese with blue mould veins. You have most likely heard of this before, because how can you not? This cheese is moist and crumbles into little pieces easily.
It presents the palate a rich, creamy and sharp, tangy, salty flavor. It is also mostly used in hearty salads and dressings. All Hail the King!
Livarot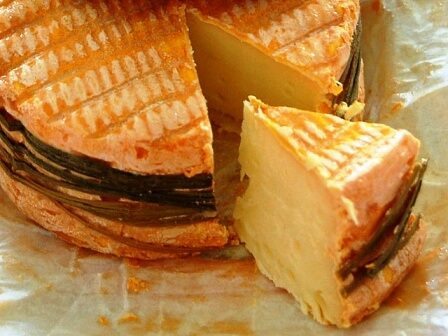 Livarot is another excellent stinky cheese that is smooth, not sticky and an interior paste that is pale to light yellow with a very strong, moist flavor when eaten during its very brief, perfectly ripe stage. Enjoy this fine cheese with some apple cider brandy made in Normandy or with a nice red wine.
6. Goat cheeses (chêvres)
Banon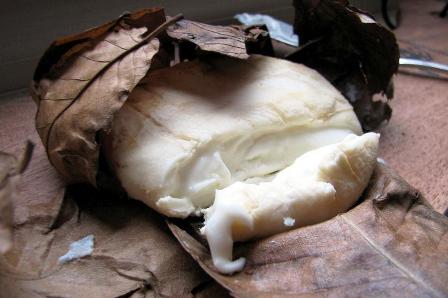 Banon, a French cheese made from raw goat's milk, is best consumed very fresh. Produced in Provence in the south of France, you will it in find small, flat rounds wrapped in leaf wrappers which have been soaked in wine or marc (a French brandy), and tied with raffia twine.
As it ages a bit, the leaf wrapper will darken naturally and the cheese paste will begin to liquefy and ooze, developing a stronger fruity and nutty flavor.
Bûcheron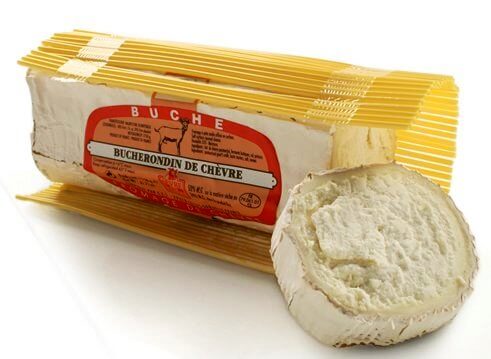 Bûcheron, also called Buche de Chevre, is aged for about two months and develops a tangy flavor close to the rind and gets rich and creamy as you get closer to the center of the cheese. Serve with a baguette and a good bottle of Bordeaux!
Chabichou du Poitou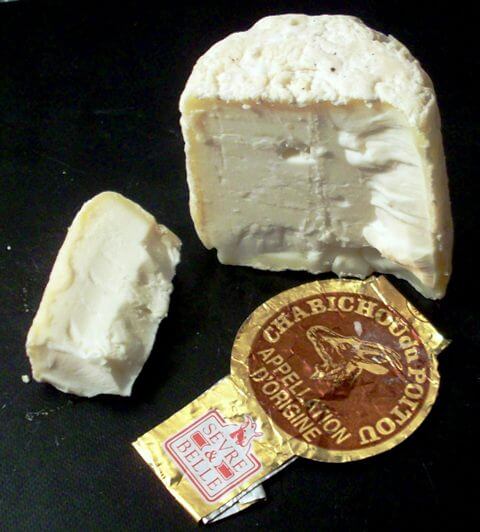 Via datab.us
Chabichou du Poitou has a firm, creamy "bright white" interior after unwinding a thin buttery layer. Despite its odd "goaty" smell, its flavors are sweet with a bit of salty and tangy edge at the end. Indulge in this cheese with some light white wine, champagne, and pilsner beer.
Crottin de Chavignol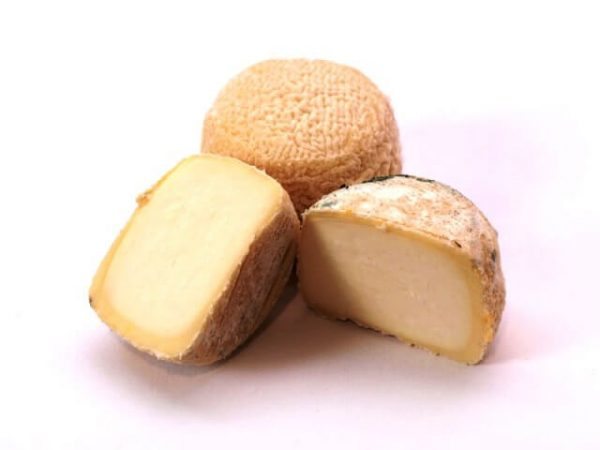 Via www.sheridanscheesemongers.com
Crottin de Chavignol is one of the most popular among the French cheese chêvres in France because of its full and nutty flavor. But don't be put off by the literal translation of the word "crottin", which means horse turd!
(WHAATT??)
It is simply a descriptive reference to its shape, which is a small flat disc about 2 inches in diameter.
Saint-Maure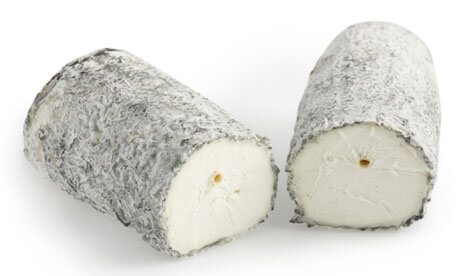 Sainte-Maure is a buttery and smooth cheese with an acidic flavor that emerges as drier and denser and with a fine grey-blue edible rind. This delicious cheese goes well with wines such as Sauvignon Blanc, Fumé Blanc, Sancerre and many white wines.
7. Fresh or Young Cheeses


Fromage Frais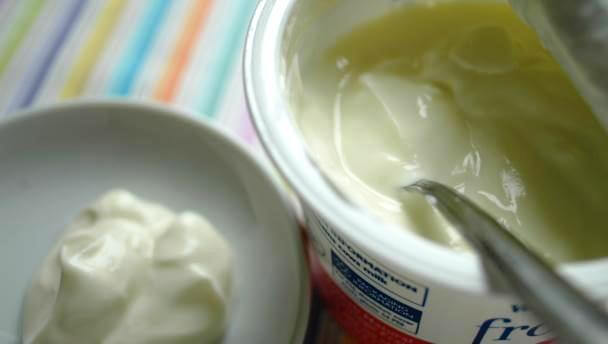 Via BBC.uk
Fromage frais is a fresh creamy white cheese that is made with whole or skim milk and cream, with the consistency of a cream cheese but with fewer calories and less cholesterol. It is a savory appetizer or a rich creamy dessert by combining it with herbs, fruits and spices and is a traditional accompaniment to caviar since it reduces the saltiness of the eggs.
Fromage blanc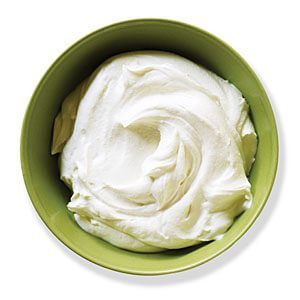 Fromage blanc, which means "white cheese" in French, is a lightly salted fresh cheese for use in sweet or savory dishes. It is a harmonious blend of cream and acidity that is made with whole or skimmed milk and cheese and may also be eaten as you would eat yogurt---as dessert with added fruits.
Conclusion
And there you have it: cheeses of all shapes, sizes, textures, and names. All made in the different areas of France.
Which one is your favorite and which ones do you wish to try? Don't forget to let me know in the comments below!
What's Next?
Can't get enough of French food? Check out other related articles on French food.
French Food and Drinks Vocabulary
Quiz: How Many of these French Dishes Do You Know?
7 Open-Air Markets in France You Shouldn't Miss