Hey, just for fun I decided to create a playlist of French music from the 1980s. Why the 1980s? Simply because I was born in the 1980s. Some songs are now considered as classics (very few to be honest) but it might be interesting for you to listen to these French songs.
You would be doing me a HUGE FAVOR by sharing it via Twitter or Facebook.
1. How to get access to the songs?
As you can see the embed version of this playlist can be limited. You will need to sign-up with Spotify (it's totally free and LEGAL).
You can sign-up here.
2. How to get the lyrics and start to turn your computer into a Karaoke
Add the app called musiXmatch. See the screenshot below.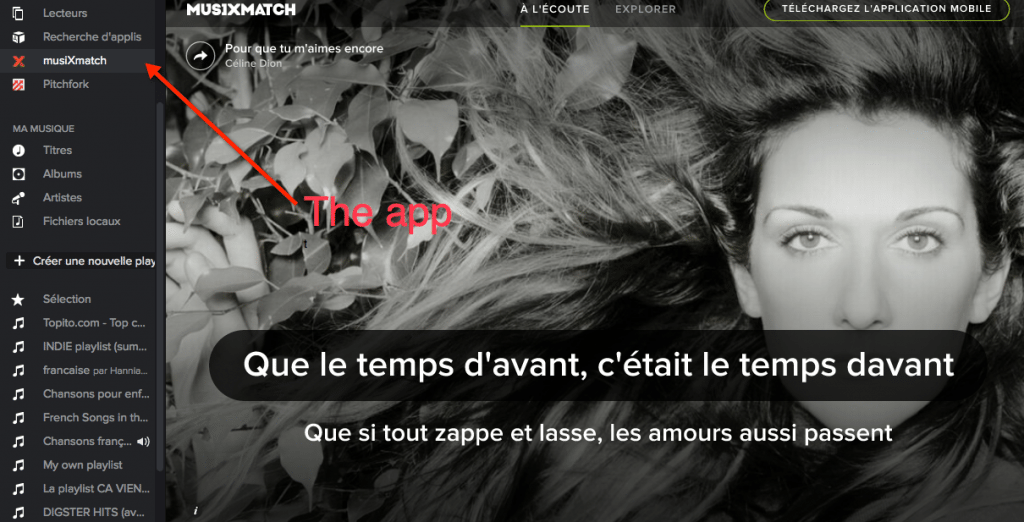 Please note that some of the songs are not synchronized. If some French native speakers are reading this message, please help me sync the lyrics (the app makes it very easy). I already did work on it and I think 80% of the songs have lyrics but less popular songs need some work.
Again If you want to add the playlist on spotify go here.
New: Listen on Deezer.
And again share, share, shaaaare this article on Twitter, Facebook or via Email, Fax, carrier pigeon.