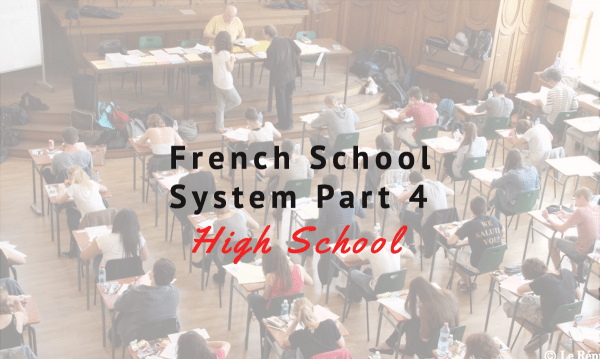 Listening Time:  38 minutes.
Here is the 47th session of  Talk in French Podcast! You can download the podcast to your computer or listen to it here via iTunes.
In this episode:
French School System Part 4: Le lycée(High-school)
How to stay motivated when learning French
Some French Words and expressions.
Download the Podcast now
Right click here and save-as to download this episode to your computer.
or listen on the website.
Want more Free resources? Get the French Learning Package
French Words in the Podcast
les langues étrangères – foreign languages

l'art – art

le dessin – drawing

la musique music

l'informatique computers

les mathématiques – math

l'algèbre – algebra

la géométrie – geometry

la physique physics


la chimie – chemistry

le Grec – Greek
l'histoire-géo – history and geography
French Expressions of the week
Être dans la lune
Bouc émissaire
Emissary goat
Avoir le bras long
Un roman à l'eau de rose
Se casser la figure
À chaque jour suffit sa peine
Mystère et boule de gomme
You can also buy an Ebook if you like this part:
365 days of French Expressions.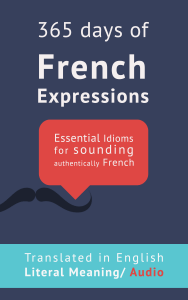 $3.90
It includes: 
French Expression/ Meaning / Literal Translation/ Example/ MP3/ Weekly Recap and Quizz
Available on:


or on the website

THANKS FOR LISTENING!
Also, please leave an honest review for Talk in French Podcast t on iTunes! Ratings and reviews are extremely helpful and greatly appreciated! They do matter in the rankings of the show, and I read each and every one of them.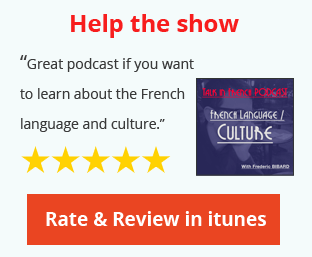 P.S: Do not hesitate to share this article on pinterest,facebook, twitter or google plus.