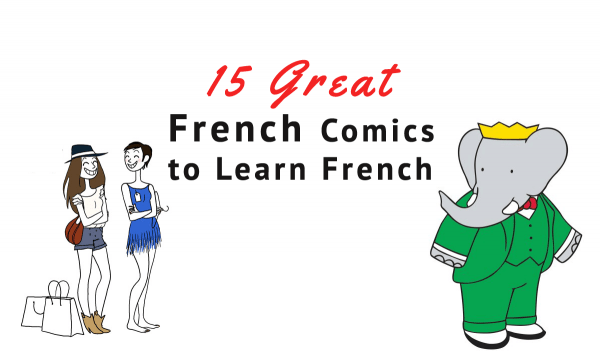 For French language learners, reading a long text or a French novel can be incredibly scary; it's a wall of words, making you feel overwhelmed. The key to learning is creating interest, and French comics are the perfect tool.
Comics help you learn French because they are so visual. Seeing the expressions of the characters' faces help give meaning to the written word, and it also aids with memory. These visuals help you increase your vocabulary through the connection of words and images.
If you are looking for comics in French, you are in luck!
Here in this article, let's explore some of the best French comics that could help you learn French!
Reading French comics offers you insight into the French culture, and it's also a great way to learn colloquial French phrases!
While the comics are in the French language, it's important to note that not all of them come from France. Many of the comics mentioned below come from Belgium. Franco-Belgian comics are one of the most popular in the world, right after US and Japanese.
Bande Dessinée (BD)- as the French call them, are not only seen as just comic strips, but also as an art form known as the "Ninth Art."
So here's the list of the best French comics to get you learning French the fun way!
1. Asterix
Difficultly: Beginner - Intermediate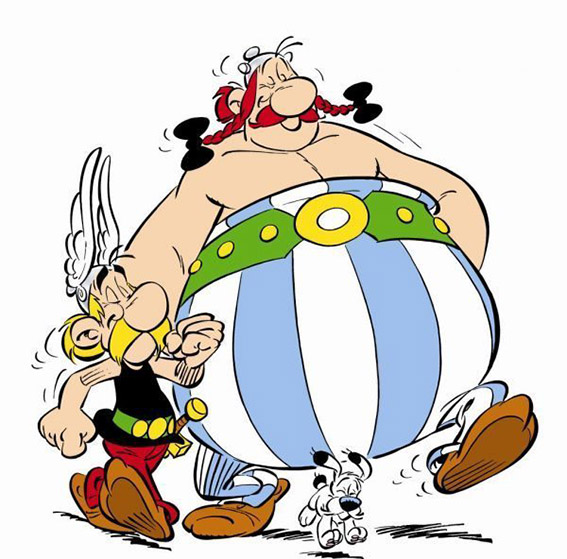 (source: dcinehd)
Plot: This comic in French is about a village of Gauls as they resist Roman occupation in 50 B.C. Asterix, a small, mustached warrior, is the hero of the village, who is accompanied in his adventures by Obelix, his overweight and simpleminded best friend. They avoid Roman occupation by drinking a magic potion prepared by a druid, called Panoramix, that give them superhuman strength.
Why read it: Aside from being one of the most popular Franco-Belgian comics in the world, the humor associated with this comic is French-specific, helping readers and language learners better understand French humor, as well as social criticism.
If you're ready to move to French short stories, this reading and listening course would be your best bet!
2. Les Aventures de Tintin
Difficulty: Beginner - Intermediate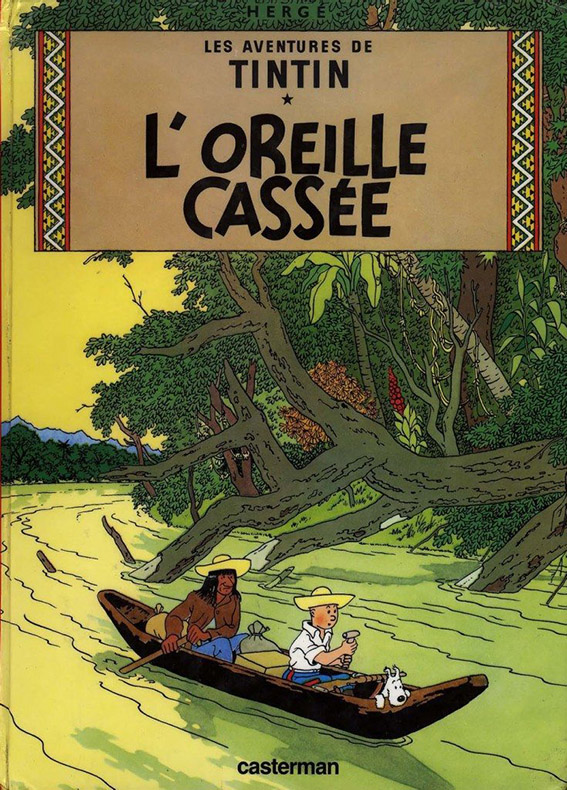 (source: s.hujiang)
Plot:The series is set during a very realistic 20th century, and is about a young Belgian reporter who goes on great adventures to solve crimes and get stories with the help of his trusty four-legged companion, Snowy, the white fox terrier dog.
Why read it? Like Asterix, Les Aventures de Tintin is a timeless classic and a favorite among the French. It's also known for its superb drawings, humor, and its socio-political commentary.
3. Gaston La Gaffe
Difficulty: Beginner - Intermediate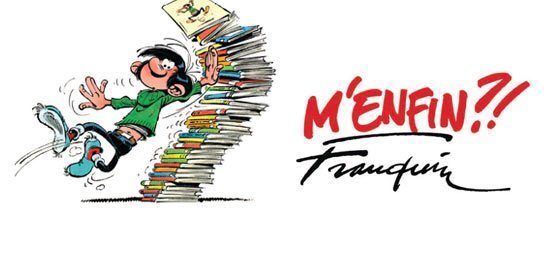 (source: lalydo)
Plot: Another comic in French, but unlike many comics that focus on heroes, this comic focuses on the everyday life of Gaston Lagaffe (whose last name means "the blunder"). He is a lazy and accident-prone office junior working at Spirou- the magazine in which the comic was originally published. Gaston never gets any work done and always avoids his responsibilities. He prefers to spend his workdays assembling together odd contraptions, playing music, and conducting chemical experiments that usually end with the explosion of his makeshift science lab.
Why read it? It's not your usual 'super hero saves the day' comic, and it's sure to bring entertainment and laughter to French language learners of all ages.
4. Blake et Mortimer
Difficulty: Intermediate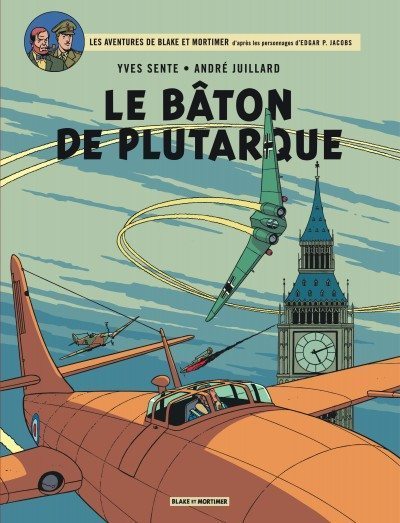 (source: bedetheque)
Plot: Captain France Blake is head of MI-5, and Philip Mortimer is a British Scientist. Their arch-enemy, who appears in almost every book, is Colonel Olrik. This comic mixes traditional mystery, Cold War espionage, and science fiction elements all in one, taking them from routine detective investigation to time travel.
Why read it? For readers who love sci-fi, action, and are looking to expand their reading comprehension, this is the comic for you.
5. XIII
Difficulty: Intermediate - Advanced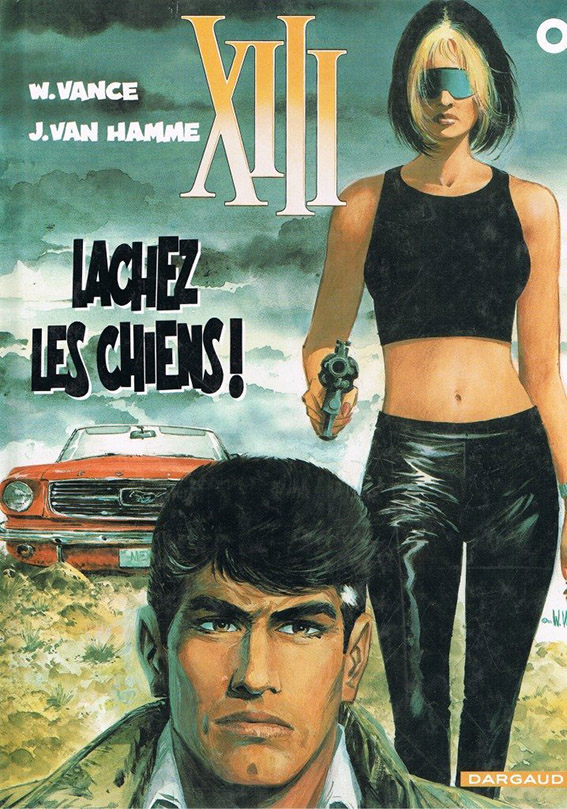 (source: hasnainrocks)
Plot: XIII lost his memory and he doesn't remember who is he: an assassin, a mercenary, a soldier? The only thing he knows is that he has the number XIII tattooed on his neck. The comic chronicles XIII's attempts at recovering his identity, while being consistently pursued by assassins and secret agents.
Why read it? Assassins, secret agents, and mystery, this comic will keep you on your toes.
6. Boule et Bill
Difficulty: Beginner - Intermediate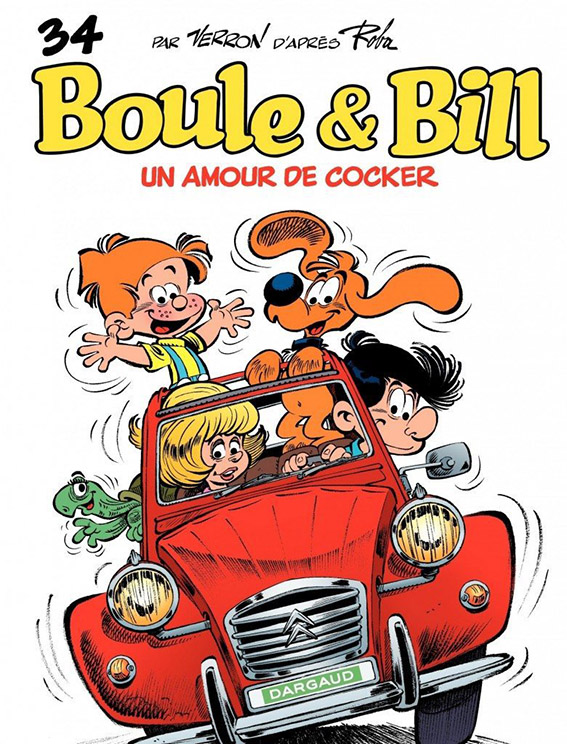 (source: lenvoleeculturelle)
Plot: Centered on a typical family: a man and his wife, their young son Boule, Bill the cocker spaniel, and even Caroline the turtle; the comic places comical adventures in a realistic setting of a normal family with normal lives.
Why read it? It's an excellent example and a great look at what it means to be a 'typical French family', with a lot of jokes.
7. Lucky Luke
Difficulty: Beginner - Intermediate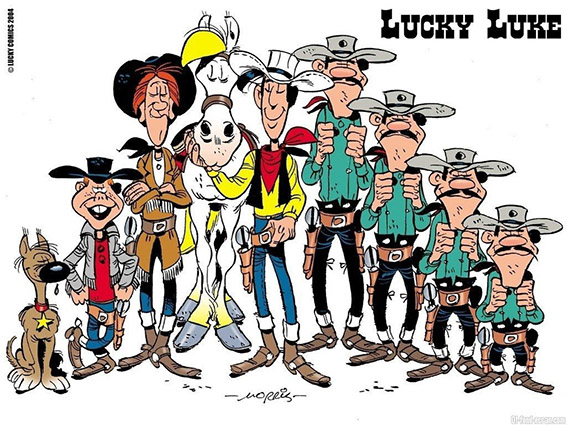 (source: /kalatis)
Plot: Set in the Old American West, Lucky Luke is a lone Cowboy known to "shoot faster than his shadow." Most of his encounters are with gangsters, but he also has run-ins with various historical fictional characters. His companions are Jolly Jumper, the brightest horse in the world, and Rantanplan, the stupidest dog in the world.
Why read it? The fact that Lucky Luke has encounters with historical fictional character like Abraham Lincoln, Mark Twain, and many infamous gangsters is exciting!
8. The Smurfs / Les schtroumpfs
Difficulty: Beginner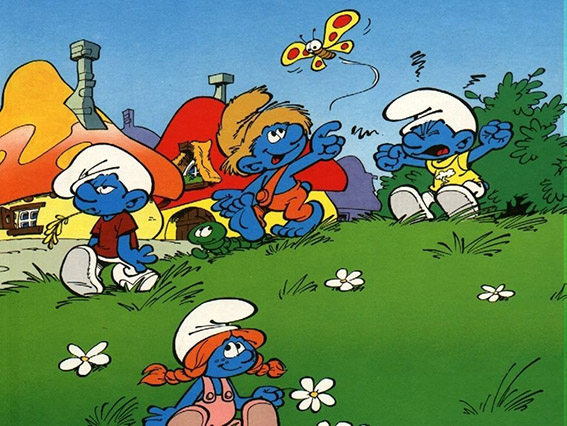 (source: doridro)
Plot:Named for their personalities, the Smurfs are little, blue elf-like creatures that live in mushroom houses in an enchanted forest. The little blue creatures wear Phrygian caps, which came to represent freedom during the modern era.
Why read it? This comic consists of simple tales of bold adventure, guaranteed to entertain readers. Also, since the Smurfs are all named after their personalities, it's great practice for learning French adjectives!
9. Spirou et Fantasio
Difficulty: Beginner - Intermediate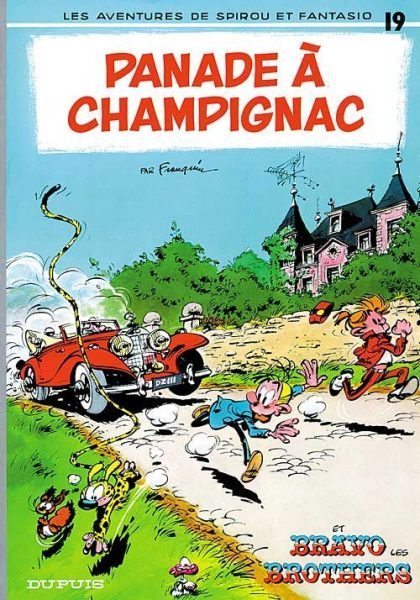 (source: bd-sanctuary)
Plot: Spirou and Fantasio are two adventurous journalists who go on fantastic adventures around the world accompanied by Spip, their pet squirrel, fighting mad scientists, evil dictators, but also doing their fair share of actual reporting too!
Why read it? Another French classic and a favorite among young French boys, it's somewhat similar to Les Aventures de Tintin. It's packed with adventure and interesting stories.
10. Titeuf
Difficulty: Beginner - Intermediate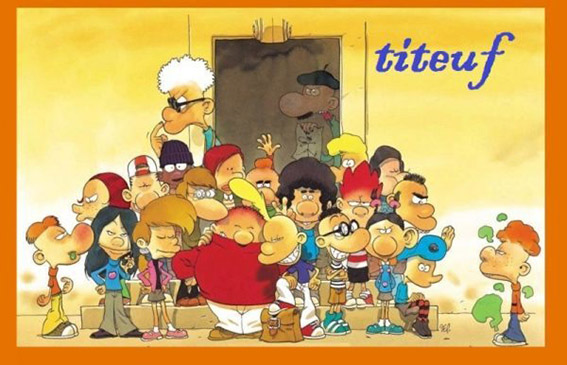 (source: planet-series)
Plot: Titeuf, a prankster with weird hair and an egg-shaped head, is fascinated but bewildered by the world of teenagers, which he knows he will enter soon. While he spends a lot of his time doing childish and mischievous things, his main characteristic is that he is curious. The world puzzles him, and while he tries to understand, he understands nothing.
Why read it: Titeuf lives a life that is instantly familiar to millions of adults as they were growing up. This is an awesome comic to get you to relate to the protagonist of the story and bring back childhood memories.
11. Le Marsupilami
Difficulty: Beginner - Intermediate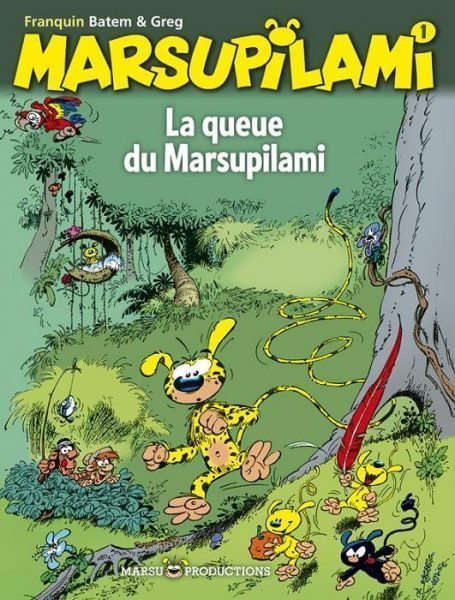 (source: comicvine)
Plot: First appearing in Spirou et Fantasio, Marsupilami eventually got its own spin-off series. The comic is set in the Palombia jungle and follows the lives of marsupilamis- which are yellow creatures with black spots and enormously long tails- in their natural habitat.
Why read it? Similar to Tintin and Spirou, its stories are filled with action and adventure.
Readers love this comic because in contrast to Tintin and Spirou, the yellow, black-spotted creature is more imaginative, making it more amusing.
12. Babar
Difficulty: Beginner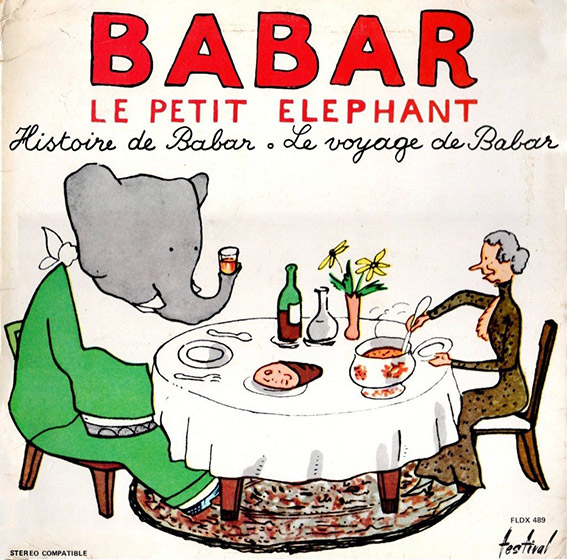 (source: imgkid)
Plot: Babar is a civilized elephant with human qualities. After Babar's mother is killed in the jungle by hunters, young Babar escapes the jungle and finds himself lost in a big city. A kind old lady takes him in, clothes him, and hires him a tutor. After learning the human way of life, he returns to the jungle to teach his fellow elephants how to be civilized.
Why read it? Babar is an excellent bedtime book for young children. It's also an ideal tool for children in preschool or elementary school that go to a French immersion school.
13. Josephine (Penelope Bagieu)
Difficulty: Intermediate - Advanced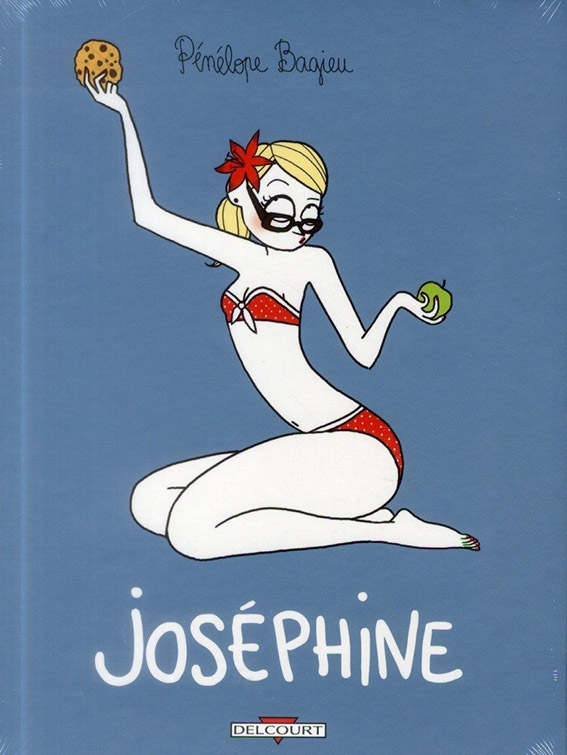 (source: gibertjoseph)
Plot: The French version of Bridget Jones, Josephine is a thirty-something Parisian professional who lives in the shadow of her brilliantly stylish (and very French) sister. The story is of Josephine's misfortunes as she struggles to find the perfect man, gets put under pressure by her parents, and deals with 21st-century girl problems.
Why read it? An insightful view of what it's like to be a modern-day professional Parisian woman, and it gives readers a chance to laugh at 21st century complexities- like internet dating.
14. Becassine
Difficulty: Beginner - Intermediate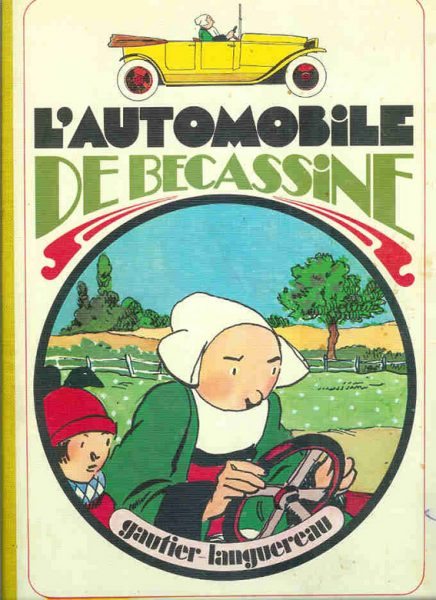 (source: lafermedubuisson)
Plot: Becassine, the first female protagonist in the history of comics, is a young provincial housemaid from the French province of Bretagne. She wears traditional clothing and is clumsy, yet has a heart of gold. The story covers her daily life as a housemaid and nanny, as well as a number of adventures as she travels the world.
Why read it? Created in 1905 and considered one of the first comics in France, it's a great representation of France during this period for history lovers. It also might interest readers to see the older style of drawings in comic strips.
15. Lou!
Difficulty: Intermediate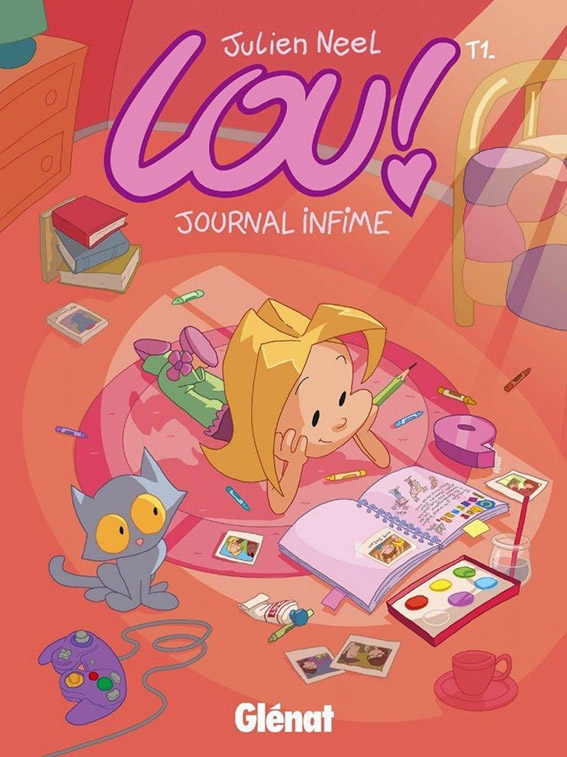 (source: stumptowntradereview)
Plot: Lou! stars a tween girl named Loulette and her single mom Emma. First a comic book, then an animated television series, and recently made into a movie, Lou! combines elements of farce and romantic comedy appropriate for children and adults.
Why read it? Like Titeuf, readers will relate to the protagonist of the story and also remember their childhood. Ideal for pre adolescent girls.
Where to read it?
While a number of these comics can be found online or bought on Amazon, bookstores and comic shops, you can also borrow these books in a French Cultural Center near your place.
Try below is a list of four other options to learn French through comics. They are bilingual webcomics available online, completely free! Yup! Free!
Xkcd
Difficulty: Intermediate

(source: josephhannon)
Plot: A comical webcomic that deals with sarcasm, math, language, and romance.
Why read it? It's updated three times a week and it's super entertaining for math, computer, and physics fanatics.
Where to read it: https://xkcd.lapin.org/
Coby Cur
Difficulty: Beginner

(source: cobycur)
Plot: This webcomic follows the adventures of the dog Coby Cur, along with his friends: Toby Terrier, Bo Bastard, Fynn Fish, Henry Hedgehog, and Willy Wasp.
Why read it? Short, easy, funny, and the whole series is available online for free.
Where to read it: https://www.cobyclebard.ch/
Boulet Corp
Difficulty: Intermediate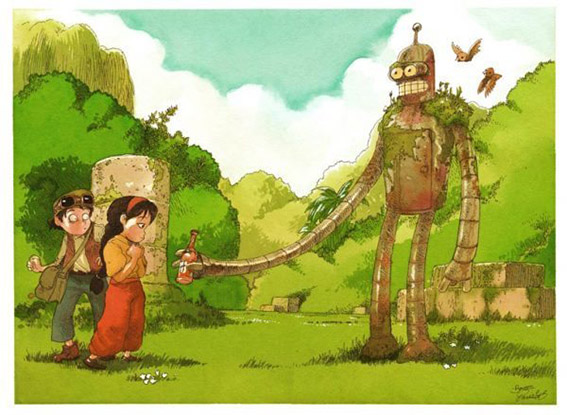 (source: english.bouletcorp)
Plot: Bouletcorp itself is a journal comic examining Boulet's life and career as a French cartoonist and all the struggles it entails.Follow Boulet as he strives to meet deadlines, deals with the arrogance of the art world, and navigates frustrating book-signing events.
Why read it? Why read it? While not packed with a lot of punches, it's perfect for comic lovers as it shows readers the not-so-glamorous, but definitely not boring life of a cartoonist. Plus, the visuals are great.
Where to read it: https://www.bouletcorp.com/
Maliki
Difficulty: Intermediate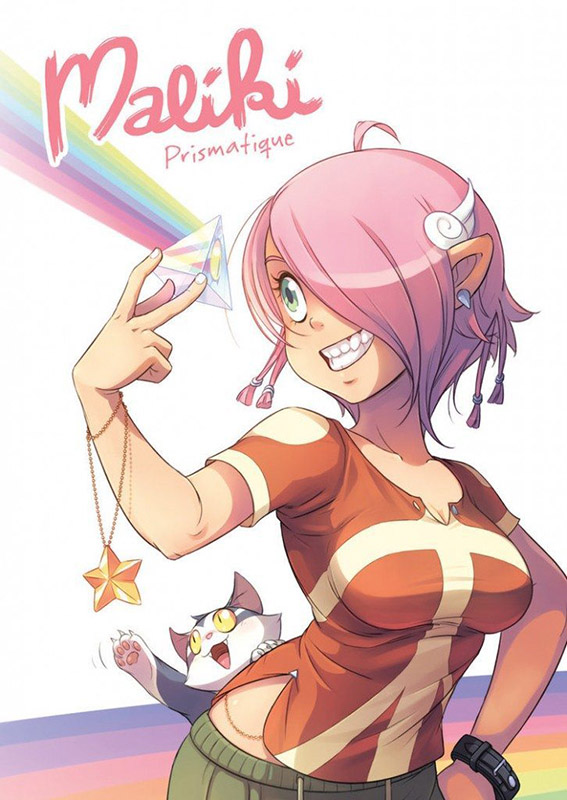 source: maliki
Plot: Maliki is a young woman with pink hair and pointed ears. This comic follows Maliki's daily life full of spontaneity and originality, while also taking her back to her childhood memories.
Why read it? Each story in Maliki is short, so it's a good way to get a short practice in, and it's not too difficult for readers who already have a decent level of French. Also, the visuals are more of a Japanese/manga style.
Where to read it: https://maliki.com/
Want more?
On Wikipedia you can find a very complete list of webcomics. Click here
Conclusion
So, there you have it. Learning French shouldn't be a chore, it should be fun and exciting. What better way than reading popular French comics? They provide great visuals and help you learn more vocabulary from context, all while giving you insight into the French culture.
Whether you're into crazy adventure, science-fiction and mystery, life as we know it, or history, there's a comic out there for everyday!