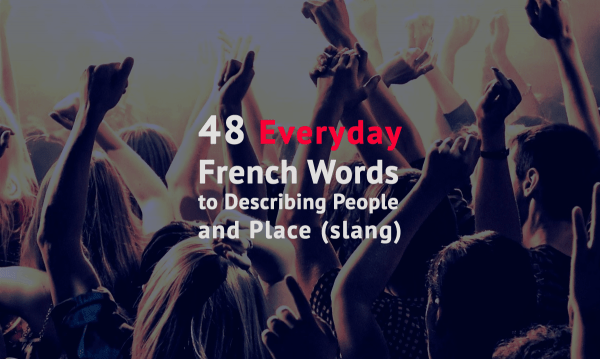 Planning to go out and paint a French town red? Don't get left in the gutter. Get down and dirty the French way! Here are some French slang words to help you describe people (the lovely French ladies and the ooh-la-la Frenchmen) and places in French.
These colloquial expressions are guaranteed to make you sound like you are one of the locals already. Other equally important words like I'm drunk, let's go home are other phrases your brain needs to remember, too!
Remember two glasses of red wine a night will make you live longer so live it up while in France!
Save the PDF format of this list on your computer or mobile phone.
French Slang to Describe A Place
| | |
| --- | --- |
| une ambiance | atmosphere |
| un appart(ement) | apartment (flat) |
| le boucan | racket, row |
| la bouffe | meal, grub (nosh) |
| la chierie* | something really tedious |
| chier: On s'est fait chier.* | We were bored out of our minds. |
| crade | filthy |
| dégoter | to find |
| dégueu(lasse)* | disgusting |
| en chier* | to bust a gut |
| fourré | hanging out (holed up) |
| partante | ready and willing, up for it |
| passer bien | to be well suited |
| rapidos | quick |
| se concocter | to concoct, to hatch (a plan) |
| se payer un coup | to go for a drink |
| se ramener | get together |
| tape-à-l'oeil | tacky |
| lourder | to kick out |
| Cassos. | Let's go. |
| s'empiffrer | to stuff your face |
| tenter le coup | to try your luck |
| hyper-bondé | packed full |
| s'empiffrer | to stuff your face |
| tenter le coup | to try your luck |
Conclusion
French slang terms are a fun way to bond with your French friends especially on a drunken (or not!) night out on town. But always remember, only use French slang if you're being cheeky and you know you can get away with it!
French slang terms are incredibly informal, so never attempt to whip out these words when you're in formal conversations or talking to strangers in a formal setting.
For more French slang, you can check out the following related articles:
French Teen Slang: Speak French like a Cool Kid
61 French Text Slang and Instant Messaging Shortcuts
35 French Gay Slang Words You Need to Know
Slang French Words and Phrases for Dining and Drinking
Do you want more? Check out our French Vocabulary Mastery Course and learn 20,000++ French words and colloquial expressions!