Reading time: 1 minute
Difficulty: Beginner- Intermediate
Go grab some fruits and hit two birds with one stone because today's lesson is all about fruits and vegetables.
While munching on some apples, make your time count learning a new set of French words at the same time. You'll see that eating and learning make a good combo if you want to remember words and phrases more effectively.
The words will also come handy if you're planning on grocery shopping any time soon.
| | |
| --- | --- |
| Fruit, Fruit Trees | Fruits, arbres fruitiers |
| almond | l'amande (f ) |
| almond tree | l'amandier (m) |
| apple | la pomme |
| apple tree | le pommier |
| apricot | l'abricot (m) |
| apricot tree | l'abricotier (m) |
| avocado | l'avocat (m) |
| avocado tree | l'avocatier (m) |
| banana | la banane |
| banana tree | le bananier |
| cherry | la cerise |
| cherry tree | le cerisier |
| fig | la figue |
| fig tree | le figuier |
| grapefruit | le pamplemousse |
| grapefruit tree | le pamplemoussier |
| lemon | le citron |
| lemon tree | le citronnier |
| mandarin | la mandarine |
| mandarin tree | le mandarinier |
| mango | la mangue |
| mango tree | le manguier |
| olive | l'olive (f ) |
| olive tree | l'olivier (m) |
| orange | l'orange (f ) |
| orange tree | l'oranger (m) |
| peach | la pêche |
| peach tree | le pêcher |
| pear | la poire |
| pear tree | le poirier |
| plum | la prune |
| plum tree | le prunier |
New! Get the printer-friendly PDF version of this vocabulary list

| | |
| --- | --- |
| GRAIN | LE GRAIN |
| barley | l'orge (f ) |
| cereal | la céréale |
| corn | le maïs |
| oats | l'avoine (f ) |
| rye | le seigle |
| wheat | le blé/le froment |
Please consider buying a copy of my vocabulary e-book and support Talk in French as the same time 🙂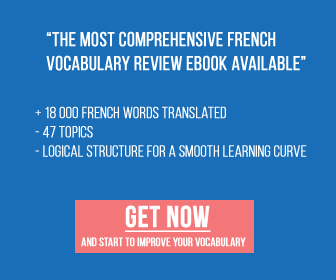 New! Help your friends learn some new French Vocabulary
Share the picture below to your friends on Pinterest, Facebook, Twitter or Google +