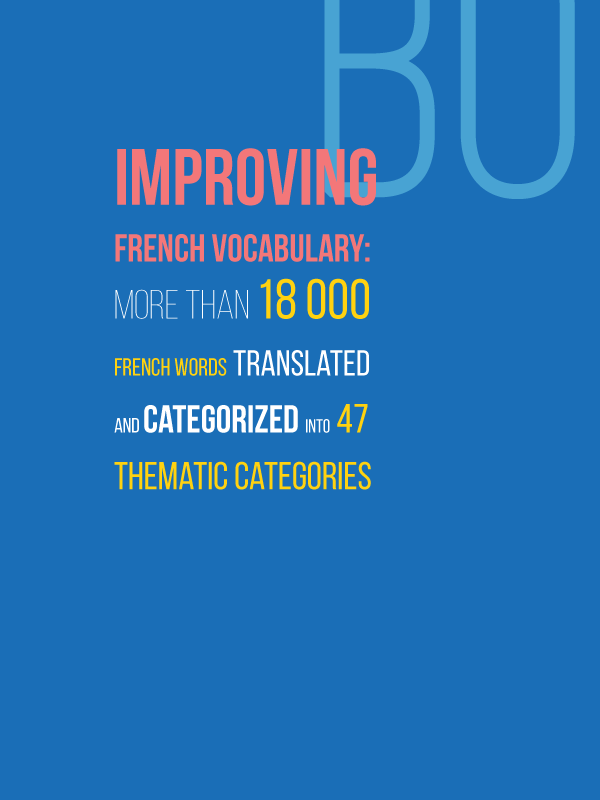 [symple_highlight color="green"]Reading time: 2 minutes[/symple_highlight]
Hello, just a quick announcement. I have just launched a BIG new ebook « Improving French Vocabulary ». This ebook was designed for French Learners who are serious about learning French. Its purpose is to enrich the vocabulary of both advanced beginners and experienced students of French.
I wanted to create the most comprehensive French Vocabulary Review Ebook available on earth (yeah, a little ambitious maybe!).
The book has more than 18 000 words and is divided into 44 categories.
With this ebook you should not only be able to learn all the relevant vocabulary for exams, but also the essential vocabulary for everyday communication in French.
I tried to have placed the topics in a logical structure in order to allow a smooth, organic, learning curve:
Topics 1- 18: Focus and spend the more time on it.
Topics 19- 28 : Pay attention to this if you want to reach the next level of fluency
Topics 29- 46: Focus only on the vocabulary that is relevant for you.
Topic 47 (main verbs): Important, but since you will need to master conjugation as well pick the ones you find useful for you.
Here are some of the topics:
Daily Routine
Personality
Weather
Politics
Finance
Connectors and small talk vocabulary (to avoid awkward silence in a conversation)
and so much more (47 topics in total)
 (Check the product page here, you will find the table of contents in the product image gallery)
Some Highlight:
The most complete collection of French Vocabulary on Earth (More than 18 000 words)
Electronic Format: No More Lugging Around A Heavy Text-Book!
Glossary including
44 categories (easier for you to navigate)
Free Lifetime Guaranteed Update: I will update this ebook every 6 months with new features and vocabulary. I will increase the price every time there is a big update but you will get all the new features for free.
Exclusive: Almost 500 Conversational connectors words (e.g. "Sorry, but I can't agree with that" – "désolé(e) mais je ne peux pas être d'accord avec ça") . Fake having a conversation in any situation.
PDF, Kindle, E-reader format available.
30 day money back guarantee
For one week, you can get this new ebook for only $8.90 instead of the $14.90 regular price. This offer ends on Sunday 12th October 2014.