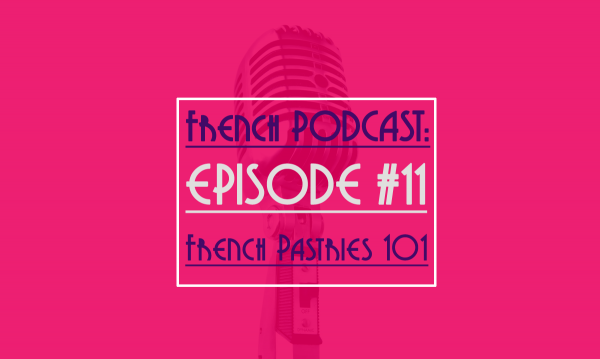 [symple_highlight color="green"]Listening Time: 30 minutes.[/symple_highlight]
Here is the 11th session of  Talk in French Podcast!
You can download the podcast to your computer or listen to it here via iTunes. There is a button where you can download the Podcast.
In this episode:
– Some information about French Culture. French Pastries 101. Discover what makes the French Pastries so delicious
– Some French Words with an English Translation. Ideal when you cook, run, commute….
– A quick French Grammar Explanation: Today I explain a very common mistake. What's the difference between "Il est" and "C'est"
– Some French Expressions and their translation
You like French Foods?
Paris for Foodies (plus the freebie Paris for Selfies) is available now for only $5 (or equivalent in your local currency). So, make sure to get your copy and start planning that food adventure. 
Download the Podcast now
Right click here and save-as to download this episode to your computer.
or listen on the website
Listen on iTunes
The podcast has been approved by Apple so you can now listen the podcast on iTunes and give me an honest review here .
I will create a french version of the podcast in the coming weeks,  if you are a bit advanced learners you should enjoy it more.

Listen the Podcast Now.
Articles Mentioned in This Session:
French Words in the Podcast
le serveur – the waiter
la carte – menu
le pourboire – tip
les ingrédients – ingredients
la serveuse – the waitress
l'addition – bill
une boisson – beverage
la salade – salad
épicé – spicy
la restauration rapide fast food
French Expression in the Podcast
Ça ne fait rien – That's OK, it doesn't matter.
Ça ne vaut pas la peine. – It's not worth it.
Ça se voit. – That's obvious.
Ça va bien – I'm doing well
Ça va mal – Not well
J'ai craqué. – I couldn't resist.
Nous vous sommes extrêmement reconnaissants. – We are very grateful to you.
Again your feedback are appreciated and a review on iTunes as well.
P.S: Do not hesitate to share this article on pinterest,facebook, twitter or google plus.