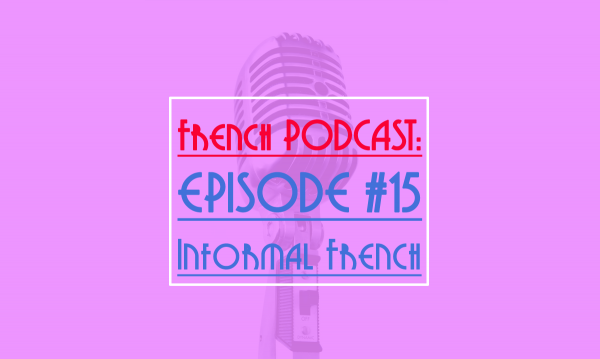 [symple_highlight color="green"]Listening Time: 28 minutes.[/symple_highlight]
Here is the 15th session of  Talk in French Podcast!
You can download the podcast to your computer or listen to it here via iTunes. There is a button where you can download the Podcast.
In this episode:
– Some information about French Culture. How to date a French woman (requested by someone)
– Some French Words with an English Translation. Ideal when you cook, run, commute….
– A quick French Grammar Explanation. 3 informal words to improve your listening (super useful in my opinion)
– Some French Expressions and their translation.
Download the Podcast now
Right click here and save-as to download this episode to your computer.
or listen on the website.
Listen on iTunes
The podcast has been approved by Apple so you can now listen the podcast on iTunes and give me an honest review here .
I will create a french version of the podcast in the coming weeks,  if you are a bit advanced learners you should enjoy it more.

Listen the Podcast Now.
Articles and vocabulary Mentioned in This Session:
3 Informal Words :
il y a (there is) = y a
Je suis (I am) = chui /  j'suis prêt
Tu as (you have) = ta /T'as
Tu n'as pas (you don't have)= ta pa / t'as pas
Listen to the french grammar point for more information.
French Words in the Podcast
la taille – size
petit(e) – small
grand(e) – large
minuscule – tiny
énorme – enormous
gigantesque – gigantic
la longueur – length
French Expression in the Podcast
faire l'enfant – to act like a child
une fois de plus – once more
On se tire. – Let's get out of here
Entrons voir. – Let's go in and see.
C'est facile – It's easy
féliciter de -to congratulate
C'est rare – It's rare
Again your feedback are appreciated and a review on iTunes as well.
P.S: Do not hesitate to share this article on pinterest,facebook, twitter or google plus.