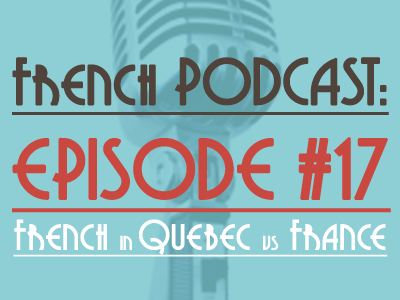 [symple_highlight color="green"]Listening Time: 49 minutes.[/symple_highlight]
Here is the 17th session of  Talk in French Podcast!
You can download the podcast to your computer or listen to it here via iTunes. There is a button where you can download the Podcast.
In this episode:
– Some information about French Culture. I explain about some differences between French in Quebec and in France including some misleading expressions.
– Some French words with English translation. Ideal for listening when you cook, run, commute….
– A quick French grammar explanation. 10 French double syllable words (e.g: Bonbon), easy to remember and will make you sound more like a native.
– Some French expressions and their translation
Download the Podcast now
Right click here and save-as to download this episode to your computer.
or listen on the website.
Listen on iTunes
The podcast has been approved by Apple so you can now listen the podcast on iTunes and give me an honest review here .
I will create a french version of the podcast in the coming weeks,  if you are a bit advanced learners you should enjoy it more.

Listen the Podcast Now.
Articles and vocabulary Mentioned in This Session:
10 double syllables French words (listen to the podcast for more details):
baba = dumbfounded. To be knocked for a loop. Je suis baba de ce restaurant
bobo = superficial wound (pain) / bourgeois bohemian
bouiboui = low dive
chichi = manner/ way
cucul / gnangnan = silly/ nuts qu'est-ce qu'il est cucul la praline.
foufou =crazy / cracked
fute-fute = stupid / nice way  (futé / smart) . Not smart/ idiot (but a nicer way)
toctoc = crazy
toutou = doggie / puppy
zinzin = crazy
Listen to the french grammar point discussed in the podcast for more information.
French Words in the Podcast
la table basse – coffee table
le canapé – sofa
la cheminée – fireplace
la pendule – clock
le tableau painting
le rideau – curtain
le plafond – ceiling
French Expressions in the Podcast
D'accord. – OK
Dans ce temps-là – at that time
Dans un deuxième temps – subsequently
D'après moi – In my view
D'autant plus! – All the more reason!
En aucun cas (with a negative statement) – no matter what happens
En bon état – in good condition
Again your feedback are appreciated and a review on iTunes as well.
P.S: Do not hesitate to share this article on pinterest,facebook, twitter or google plus.