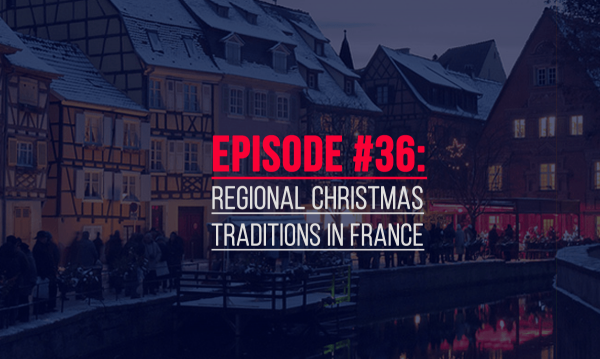 [symple_highlight color="green"]Listening Time:  35 minutes.[/symple_highlight]
Here is the 36th session of  Talk in French Podcast! You can download the podcast to your computer or listen to it here via iTunes. There is a button where you can download the Podcast.
In this episode:
– Some information about French Culture. Discover some unique regional christmas tradition in France
– Some French Words with an English Translation. Ideal when you cook, run, commute….
– Learn about the Verlan (Colloquial French): How to use it? When to use it? + I am sharing some popular one.
– Some French Expressions and their translation
Download the Podcast now
Right click here and save-as to download this episode to your computer.
or listen on the website.
Understanding Verlan: French Slang
Some slang mentioned in this podcast
 meuf = (femme)= chick
keum= (mec)= dude
reuss =(soeur) = sister
reuf = (frère) = brother
relou = (lourd) = annoying person
chelou = (louche) = weird
zarb = (bizarre) = weird
keuf  = (flic)= cop
téma = mate = look (verb)
bolosse = lobos (lobotisimé) = idiot
French Words in the Podcast
money – Le fric Le pognon Le pèze La galette L'oseille (f) Les ronds (m) Le flouse La thune
Loose change – La ferraille (literally, scrapiron)
To be broke – Etre fauché, être a sec
A daddy's boy – Un fils à papa
To be loaded – Etre plein aux as
cheapskate – Radin,e
To fork out – Casquer
To blow  – Claquer (la thune)
It's a fake, it's imitation – C'est du toc
Junk, rubbish – De la camelote
French Expression in the Podcast
Une bouteille d'eau minérale – A bottle of mineral water
Des légumes –vegetables
du riz – rice
le verre – glass
J'ai faim – I'm hungry
C'est délicieux! – it's delicious
J'ai soif – I'm thirsty
C'est dégoûtant! – it's disgusting
le serveur – waiter
goûter – to taste
Articles and vocabulary Mentioned in This Session:
Again your opinion are appreciated and a review on iTunes as well.
P.S: Do not hesitate to share this article on pinterest,facebook, twitter or google plus.