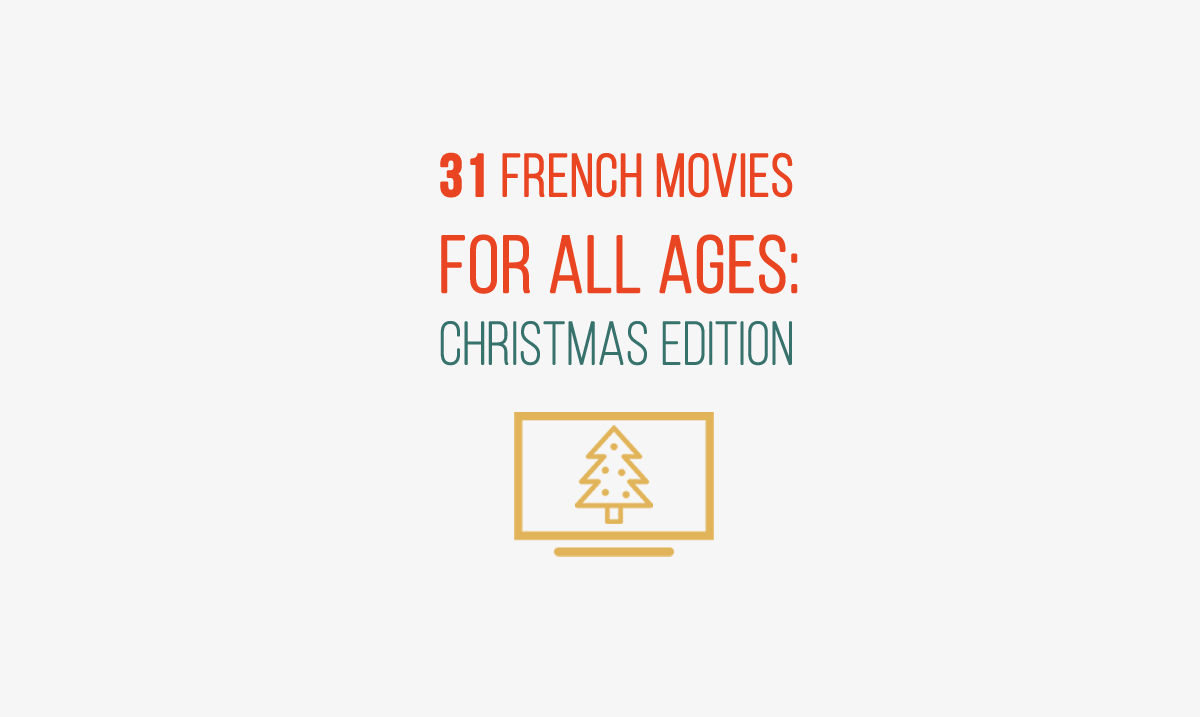 Reading time: 15 minutes
It's Christmastime!
There's a festive spirit in the air, Christmas songs can be heard everywhere, and the weather just makes you feel like staying at home with some chocolat chaud.
Well, if you're planning some evenings at home with the entire family, this is a perfect article for you.
I've listed down 31 French movies to watch while you're snuggled up at home on the cold winter nights of December.
Full of good cheer, they're ideal for the festive season.
For a list of French movies to watch for the entire year, this FREE e-book is for you.

Day 1: Azur et Asmar
Directed by: Michel Ocelot
Written by: Michel Ocelot
Year: 2006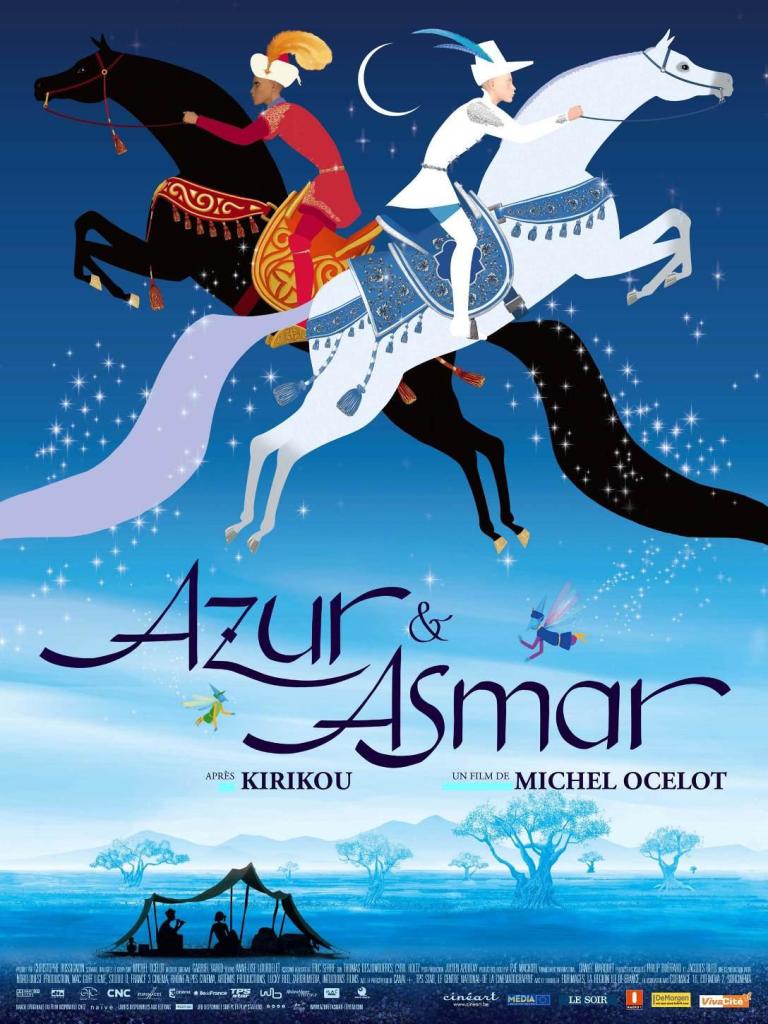 (source:fr2eso.wikispaces)
Two childhood friends are destined to be reunited on a dangerous quest to find the beautiful Djinn fairy. Azur is a blond and blue-eyed son of a nobleman, while Asmar is a dark skinned peasant boy. Despite their differences, they become as brothers, united in all that they do. As children, colour and status are nothing, their friendship overcoming the barriers society has created. Their bond is broken when Azur's father forbids their friendship, yet they are destined to meet again.
A luxuriously painted animated tale, with strong middle-Eastern influence, it's guaranteed to warm the hardest of hearts.
Day 2: Le renard et l'enfant (The Fox and the Child)
Directed by: Luc Jacquet
Written by: Luc Jacquet and Eric Rognard
Year: 2007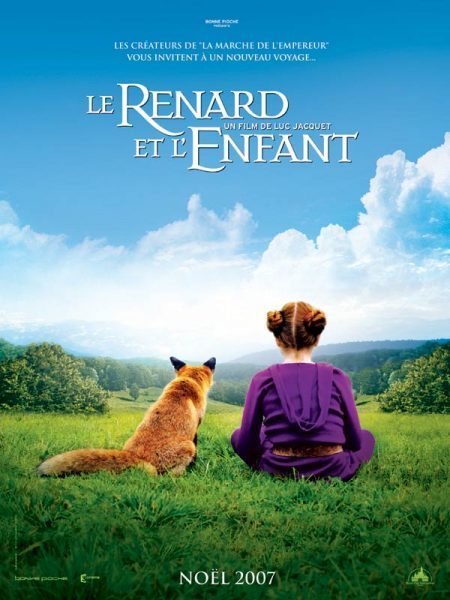 (source:allocine)
Le renard et l'enfant is the entrancing story of a young girl and a fox who become friends one summer. A fascinating look at the limitations of friendship between humans and animals, it is part documentary, part fantasy, and entirely engrossing. Boasting some stunning cinematography and wholly endearing, its lack of dialogue reflects the underlying truth that not all communication needs to be spoken.
Day 3: Le Ballon rouge (The Red Balloon)
Directed and written by: Albert Lamorisse
Year: 1956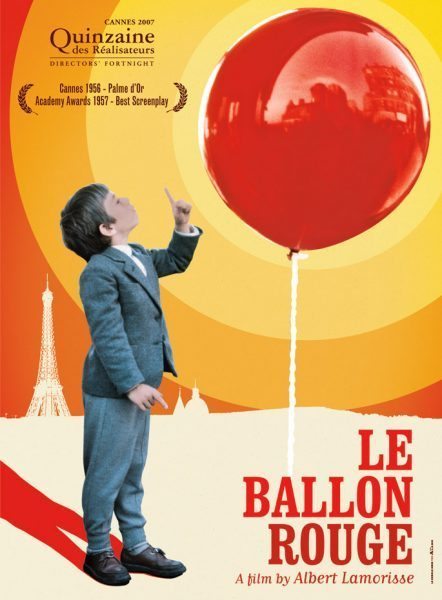 (source:aureliehuet)
Even if Le Ballon Rouge is categorized as a short film, this classic contains more ideas than many films several times its length. Le Ballon Rouge follows the life of a young Parisian boy who finds an oddly sentient balloon which follows him around.
The film positively exudes the sense of childlike wonder before adult conformity takes over and the world becomes a somehow grayer place. Making fantastic use of its Parisian locations throughout, this is a magical film which can be enjoyed by both the young, and the young at heart.
Day 4: Le Roi et l'oiseau (The King and Mister Bird)
Directed by: Paul Grimault
Written by: Paul Grimault and Jacques Prévert
Year: 1980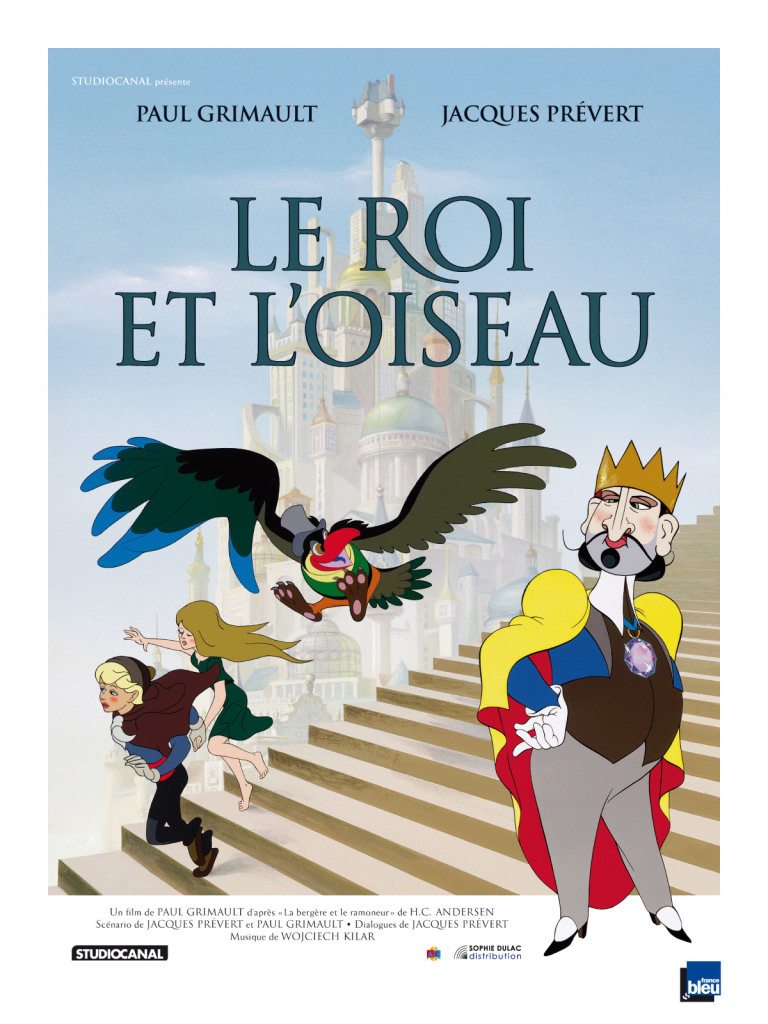 (source:catsuka)
A collaboration between the master animator, Paul Grimault, and the famous poet and screenwriter Jacques Prevert, Le Roi et l'oiseau (The King and Master Bird) took an incredible 30 years to be finally completed due to conflict between the two men. A magical tale of the gap between the haves and have nots, this important and memorable film is way more than a simple fairy tale!
Day 5: L'ours (The Bear)
Directed by: Jean-Jacques Annaud
Written by: Gérard Brach
Year: 1988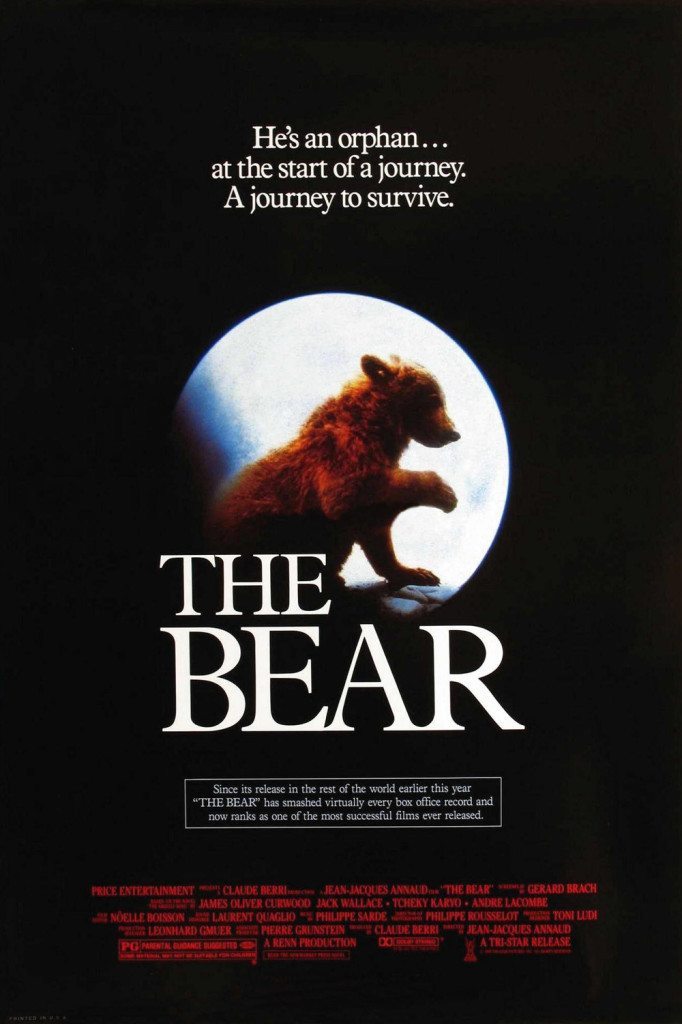 (source:movies.film-cine)
Bears! They are always portrayed as dangerous, wild, and strong animals who roam the mountains and forests. However, Director Annaud shows a completely different side to them in his movie L'ours. Set in the late 19th Century British Columbia, L'ours explores the life of an orphaned bear cub as he tries to survive the lonely mountains filled with dangerous mountains and deadly hunters. This touching story e is notable for its lack of dialogue and minimal score, which create a more natural and realistic backdrop.
Day 6: Le Petit Nicholas (Little Nicholas)
Directed by: Laurent Tirard
Written by: Laurent Tirard, Grégoire Vigneron, Alain Chabat
Year: 2009
(source:peliculamotion)
A cute and fun movie to watch with your children this December, Le Petit Nicholas will bring you back to the time when we often felt at the mercy of an adult world whose rules we couldn't understand. Nicolas is an eight-year-old boy living a happy life with his loving parents until he discovers his mother is now pregnant. Misunderstanding the adult conversation around him, he assumes he is to be replaced. But how will he cope alone in a world governed by adults?
Day 7: Joyeux Noel (2005)
Directed and written by: Christian Carion
Year: 2005
(source:flickfacts)
As the end of the year arrives, it is also the time when we contemplate on the events that have transpired: the good times and the bad times in our lives.  But what was new year like for those caught up in the most destructive war that mankind has ever known? Joyeux Noel is not an ordinary Christmas movie as it dwells in the madness of war and the greed and intolerance that causes it.
Joyeux Noel depicts World War I through the eyes of three soldiers: a Frenchman, a Scot, and a German, and examines how the unique Christmas day truce that occurred in the trenches caused them to question their motivations for fighting.
Day 8: Le père Noël à les yeux bleus/ Santa Claus Has Blue Eyes (1967)
Directed and written by: Jean Eustache
Year: 1966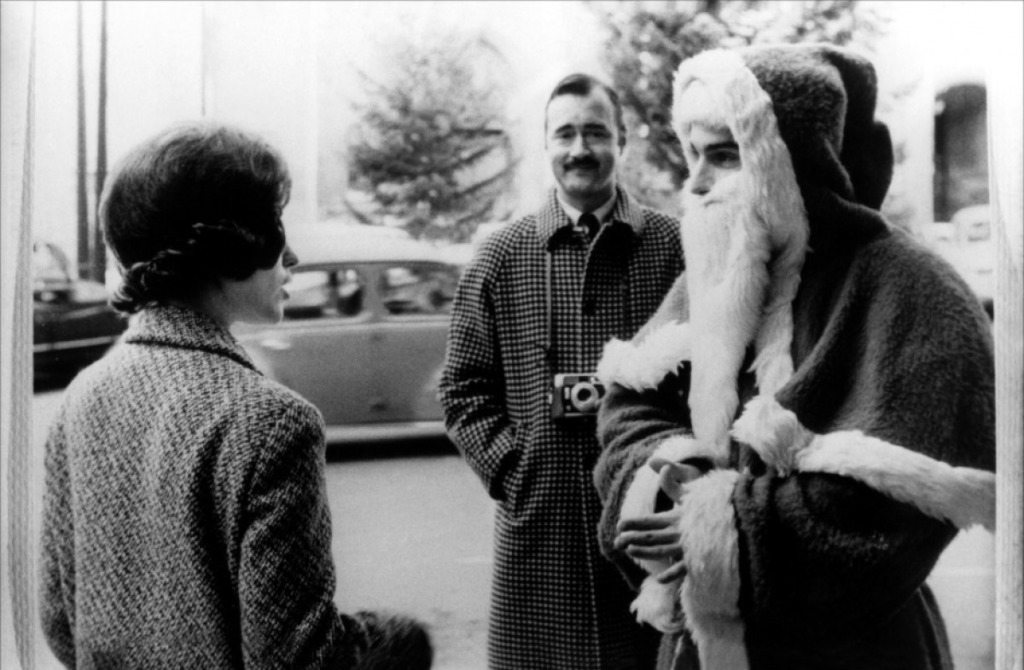 (source:toutlecine.challenges)
How far would you go to keep up with the "in" crowd? Daniel pushes his determination to the limit when he agrees to work for a photographer and dress up as Santa Claus so he could save up for a stylish coat. Starring Jean-Pierre Leaud as both Daniel and the narrator, Le père Noël à les yeux bleus follows the journey of a young man who believes that the only way to be accepted in a respectable social stature is to by concealing his true identity through how he dresses.
However, once inside the Santa Claus costume, he sees how people's treatment of one another changes depending on how they are dressed. Le père Noël à les yeux bleus is a witty and fascinating reflection on our obsession with fashion and materialism.
Day 9: La bûche (Season's Beatings)
Directed by: Daniele Thompson
Written by: Christopher Thompson and Danièle Thompson
Year: 1999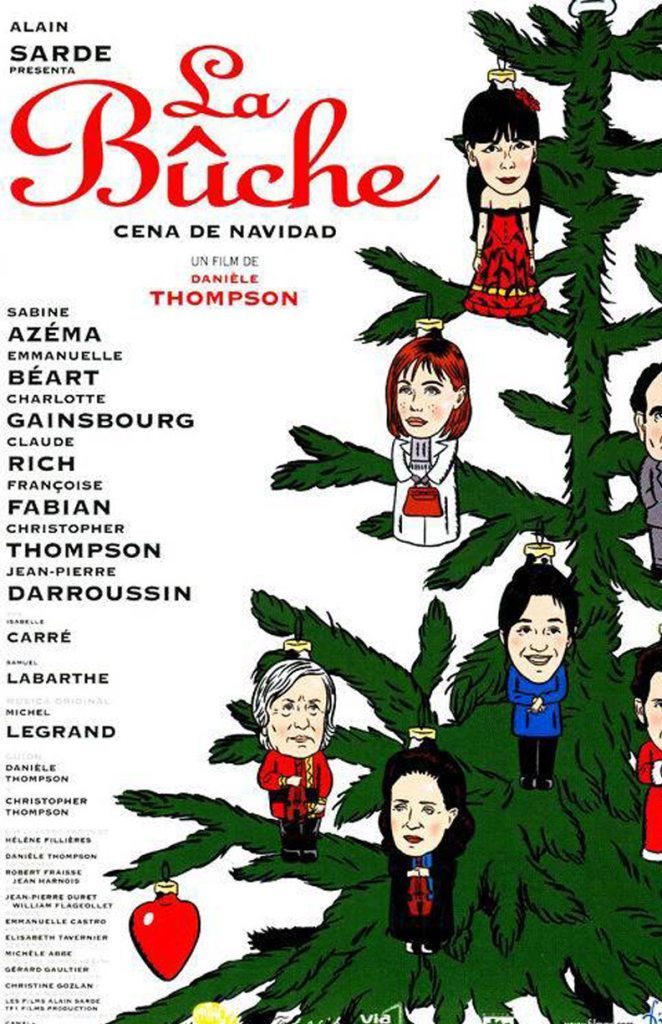 (source:cinematecadominicana)
Christmas and stress, they often go together like holly and ivy, right? Three dysfunctional adult daughters, Yvette, Sonia and Louba, are reunited with their widowed mother to enjoy the festive season together. With so many problems to overcome between them, can this unhappy family pull themselves together in order to celebrate 'the most wonderful time of the year'?
Day 10: Tom à la ferme (Tom at the Farm)
Directed by: Xavier Dolan
Written by: Xavier Dolan, Nathanaël Karmitz, and Charles Gillibert
Year: 2013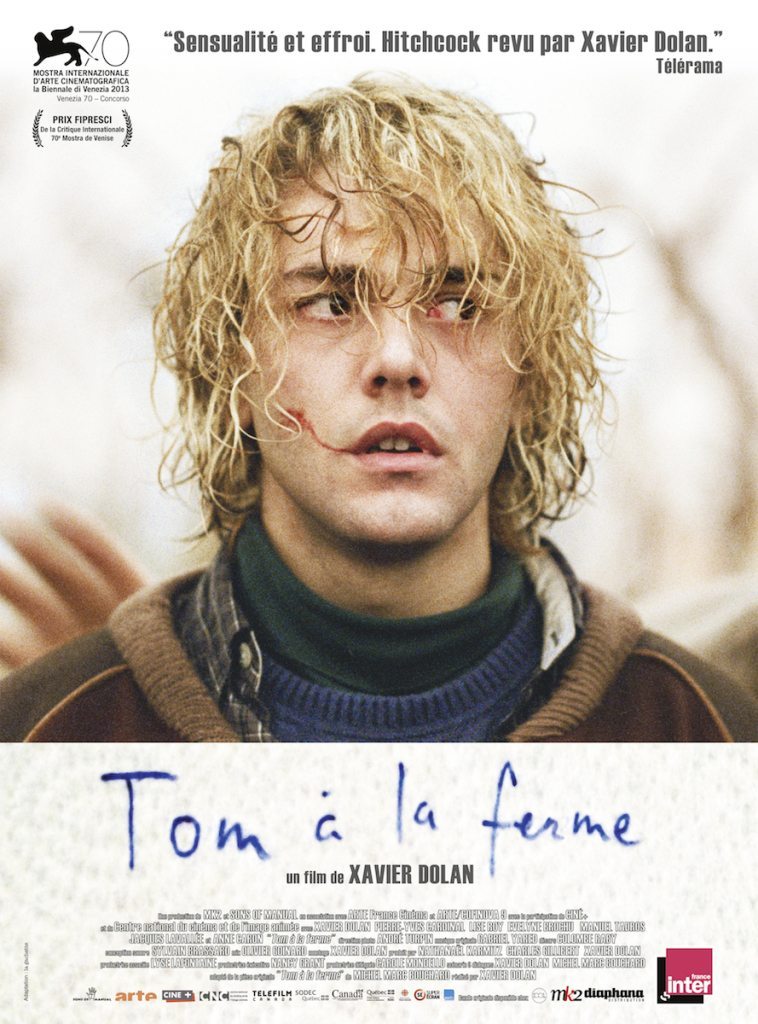 (source:filmosphere)
If all this Christmas viewing is starting to feel like you're being force-fed leftover turkey, then, just for a change, I'd like to introduce this psychological thriller. Xavier Dolan's film Tom à la ferme circles around Tom's travel to his lover's funeral.
He is a young middle-class gay man who makes the decision to attend his boyfriend's wake. There, he is shocked to learn that no one knows about his lover's sexuality. He decides to disguise their relationship to protect the family from discovering the truth, but how far is he prepared to go to keep the secret? Considered one of the best films of Xavier Donald, Tom à la ferme shows the alienation many gay men and women still experience in traditional societies.
Day 11: L'enfant au grelot (Charlie's Christmas)
Directed by: Jacques-Rémy Girerd
Written by:  Jacques-Rémy Girerd , Benoît Chieux, and Damien Louche-Pélissier
Year: 1998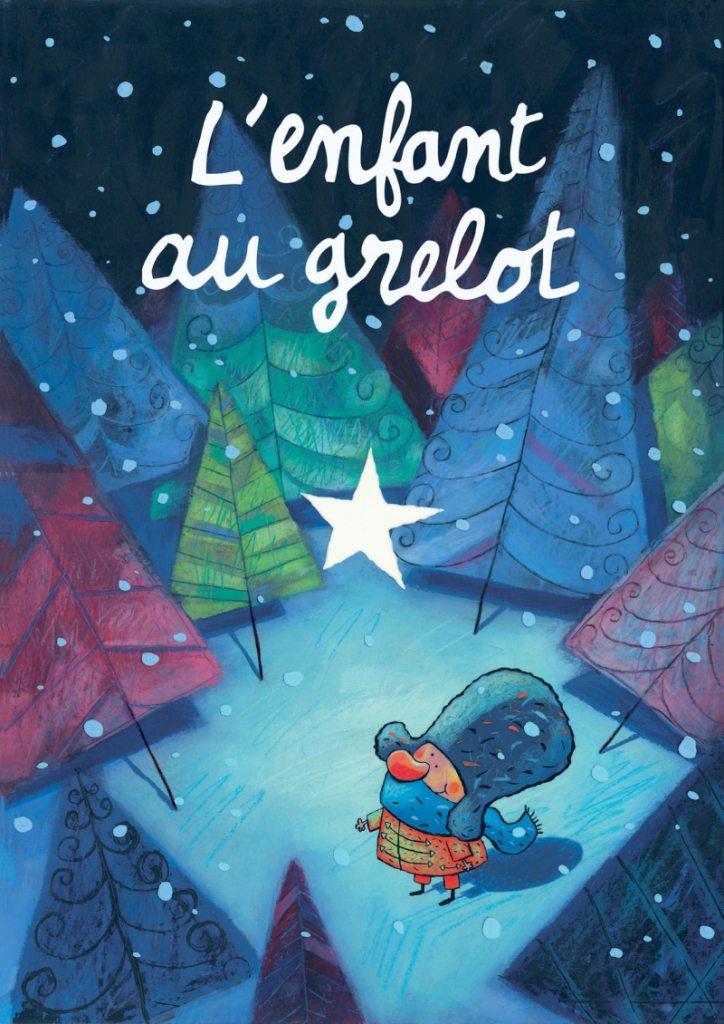 (source:folimage)
A Cartoon d'Or winner, along aside more prominent animations like The Triplets of Belleville, Oh Willy, and The Illusionist, L'enfant au grelot is a two-dimensional cartoon your kids will love. One winter day, while going home, a postman sees a basket descending from heaven. As he opens the basket, he sees a cute little baby. Clutched in the baby's tiny hand lays a rattle which will unlock the puzzle of this mysterious child's existence…
Day 12: L'arbre de Noël (The Christmas Tree) 
Directed and written by: Terence Young
Year: 1969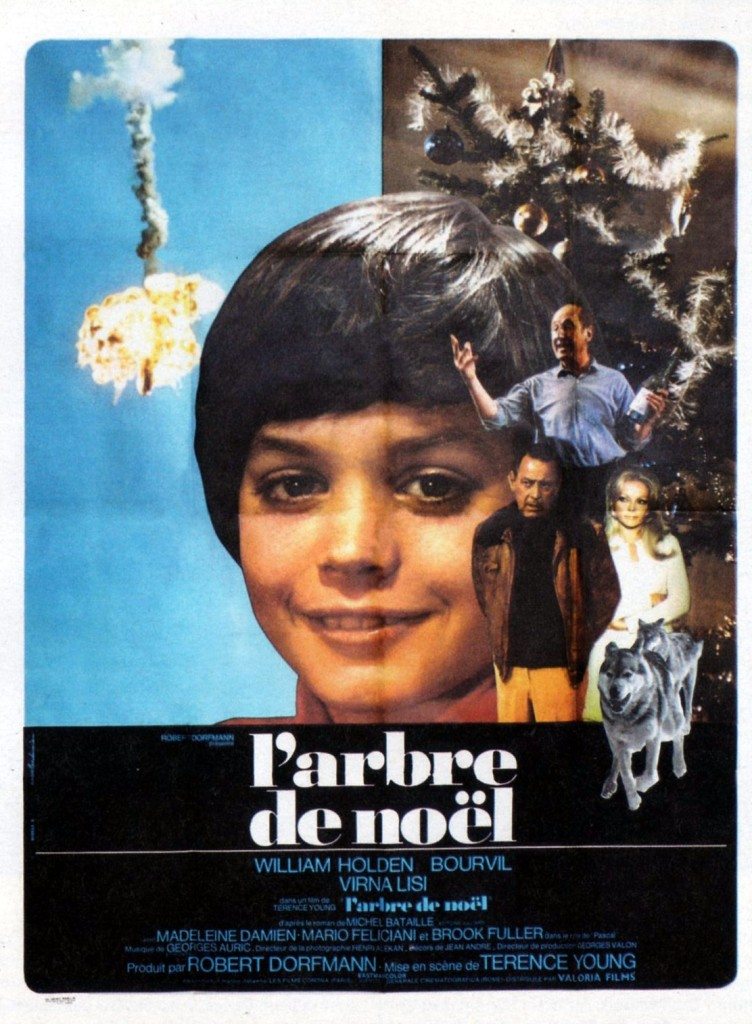 (source:cine-sanctuary)
Let us now try a heart-breaking but very touching story from the sixties called L'arbre de Noël. Pascal is a lovely child until an aircraft crashed into the sea nearby; it's toxic cargo irradiating the area. Discovering his son has been contaminated and has only six months to live, his father is determined to make this last six months the best of his life.
L'arbre de Noël is a masterpiece of a French-Italian collaboration where it is also released in Italy under L'albero di Natale. Get your box of tissues ready for the most tear-inducing film of the sixties.
Day 13: Le Père Noël est une ordure (Santa Claus is a Bastard)
Directed and written by: Jean-Marie Poiré
Year: 1982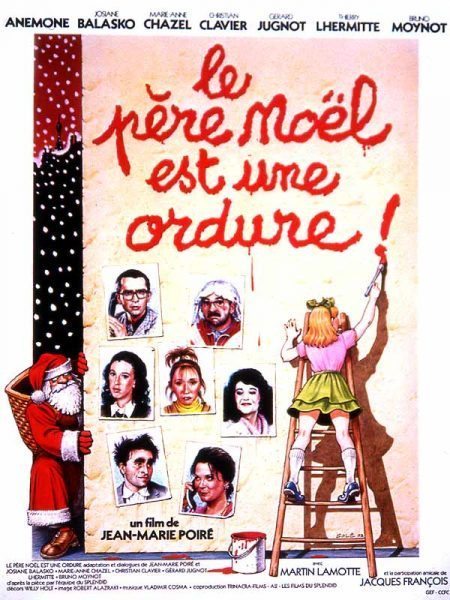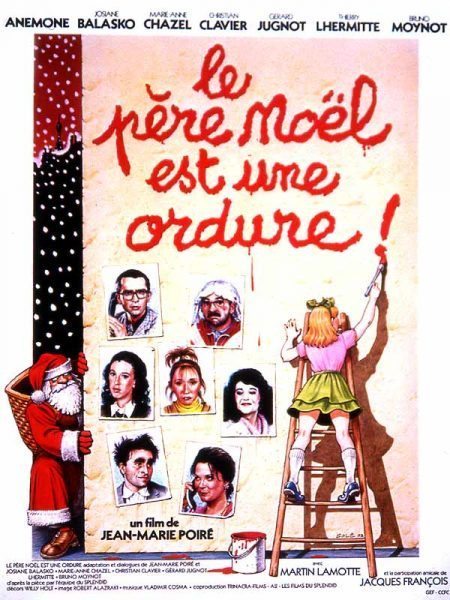 (source:schwingeninswitzerland)
Who says that Christmas Eve is always the time for pleasure and fun? Two neurotic volunteers at a suicide hotline, Pierre and Therese, will find their night shift on Christmas Eve thrown into chaos by some very special (and strange) visitors. With its smutty and surreal humour, this broad comedy is just the thing for adults to unwind with after a productive day.
Day 14: L'apprenti du Père Noël (Santa's Apprentice)
Directed by: Luc Vinciguerra
Written by: Alexandre Révérend
Year: 2010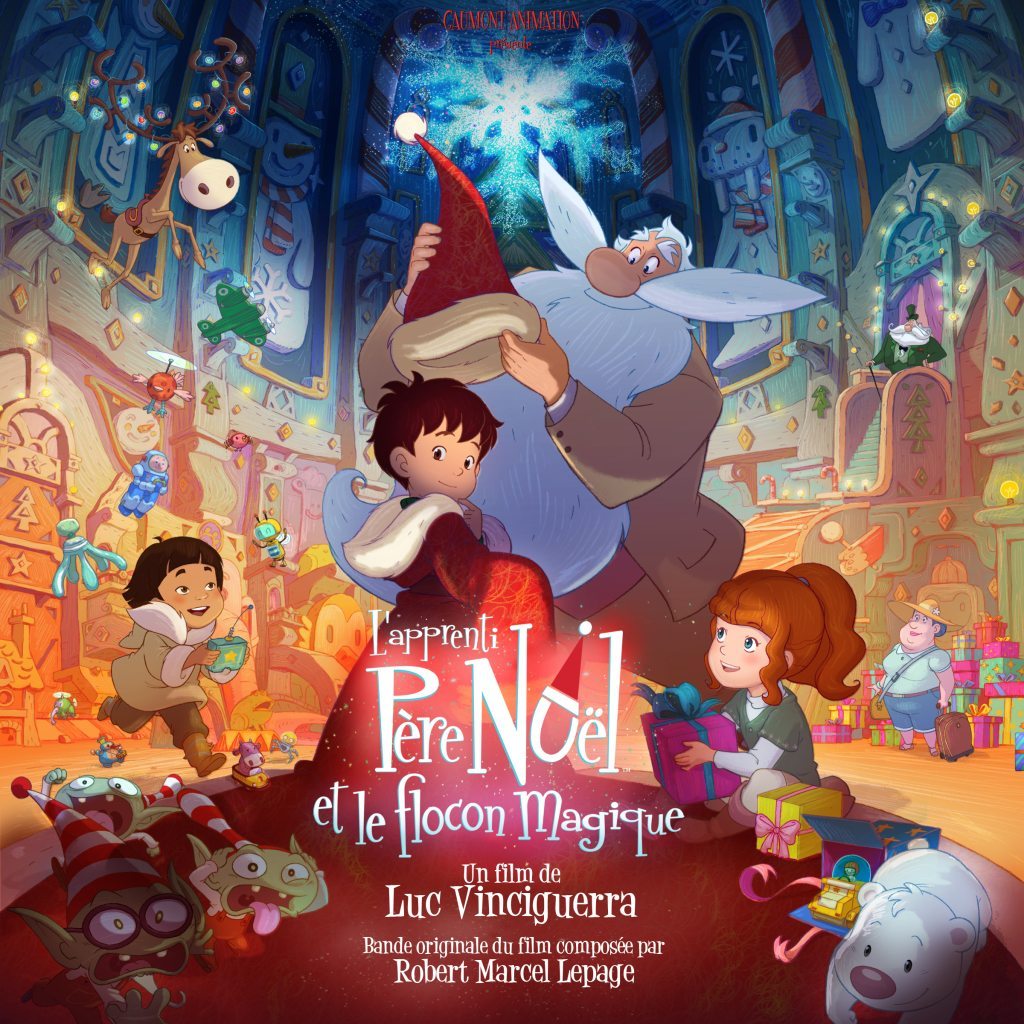 (source:22dmusic)
Santa has to retire and he is looking for an apprentice. What child on earth would not want such a role? In L' apprenti du Père Noël, directed by Luc Vinciguerra, the legendary present-giver needs to find the best replacement for him, having to select the right kid from the countless millions of children on earth.
So what are the requirements? He has to be an orphan with a pure heart. That's it! Nicholas is just that, but can he rise to the challenge? A cute hand-drawn animation that provides simple fun for all ages.
Day 15: Nez Rouge (Red Nose)
Directed  by: Érik Canuel
Written by: Sylvie Desrosiers, Sylvie Pilon
Year: 2003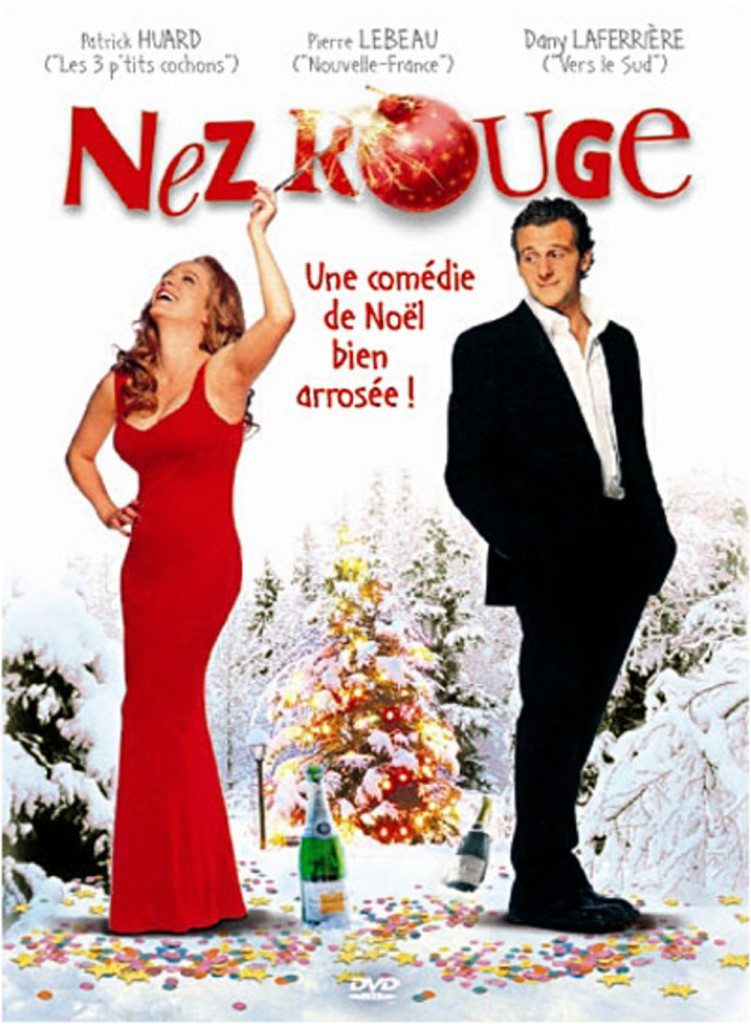 (source:senscritique)
For our fifteenth movie, let us take a French movie from another French speaking region, Quebec! Did you know that this city offers a service to those who have had too much 'Christmas cheer' to drive themselves? They call this service as Operation Nez Rouge.
To celebrate the idea of Operation Nez Rouge, Erik Canuel created Nez Rouge. A literary critic doing community service driving drunks home during the holiday season finds himself paired with a writer whose work he trashed years ago. Can she overcome her hatred of him in order to work together?
Day 16: J'ai Rencontré Le Père Noël (Here Comes Santa Claus)
Directed by: Christian Gion
Written by: Christian Gion, Didier Kaminka
Year: 1984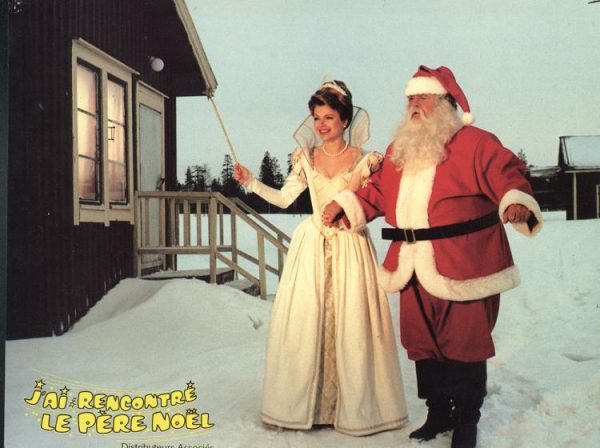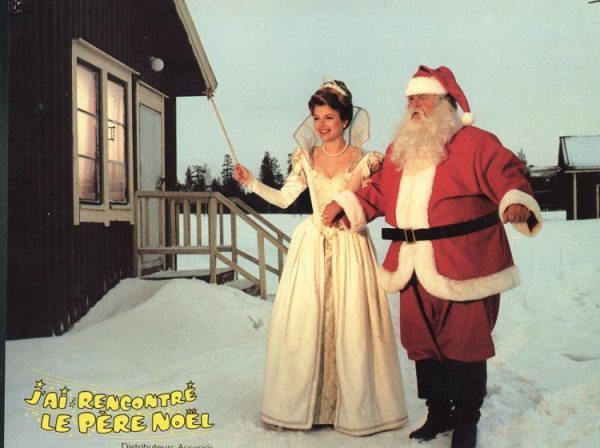 (source:chantemavie)
A must-see movie for kids, J'ai Rencontré Le Père Noël is about a young boy who loses his parents whilst they are working in Africa. Together with a friend, they head off to find Santa to gain his assistance. While on their travels, they encounter a beautiful fairy and the devilish Ogre whom they have to escape from. Will they find their white bearded saviour in time for Christmas Eve?
Day 17: La petite marchande d'allumettes (The Little Match Girl)
Directed and written by: Jean Renoir
Year: 1928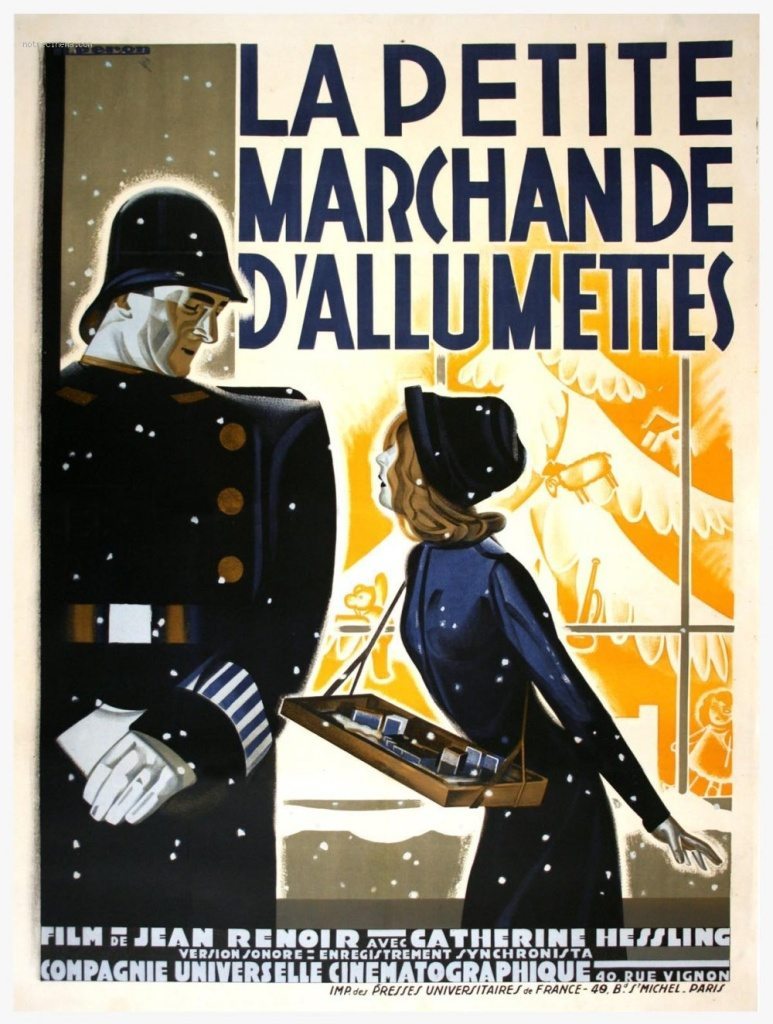 (source:lecoinducinephile)
Now let us take a nostalgic trip to the golden era of 1920s cinema while watching La petite marchande d'allumettes. The movie translates as the Little Match Girl and is adopted from a Hans Andersen tale. As the title suggests, La petite marchande d'allumettes revolves around the life of a poor girl who tries to sell matches one winter New Year's Eve.
Shivering and unable to sell her matches, the little girl attempts to get warm by striking her matches one by one, each bringing her visions of a happier life. A poignant and touching film by one of the great geniuses of early cinema.
Day 18: L'Assassinat du père Noël (Who Killed Santa Claus?)
Directed by: Christian-Jaque
Written by: Charles Spaak
Year: 1941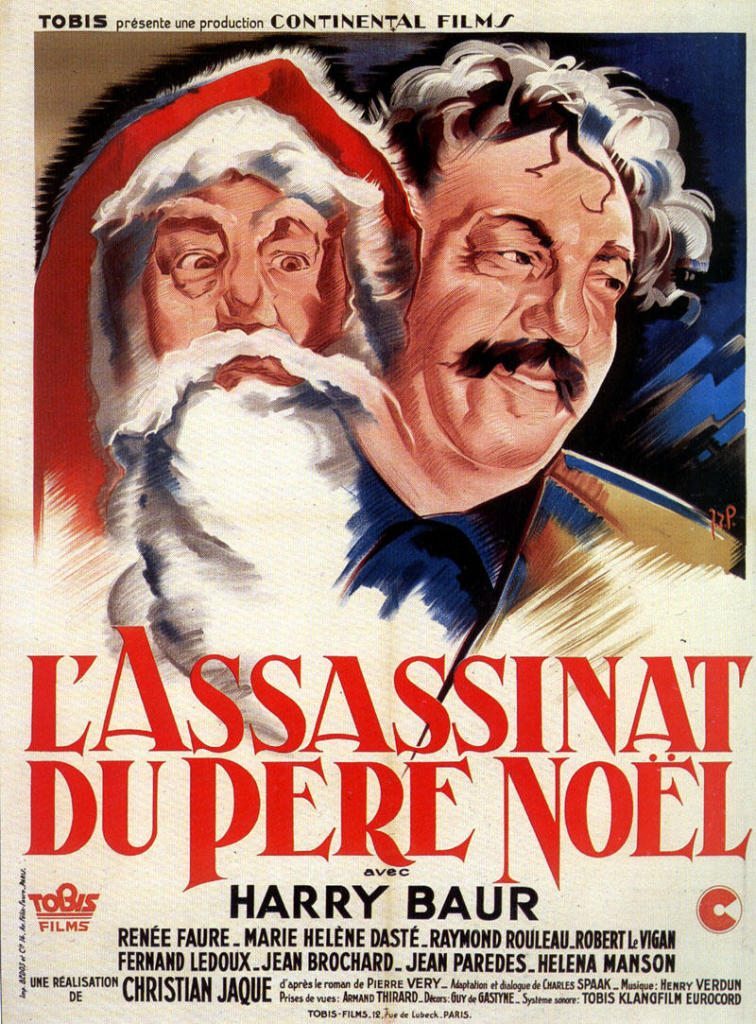 (source:fan-de-cinema)
Notorious as the first film allowed by the Nazis in occupied France. L'Assassinat du père Noël gathered some very critical reviews due to its connection to the puppet Vichy government. In recent years it has been interpreted as a critique of fascism. Hwever, its intentions were masked by symbolism as a means of tricking the German censors.
On the night of Christmas Eve, in the small village of Savoy, a snow globe maker prepares to play Pere Noel (Santa Claus), as he does every year.  As he does this, his daughter is sewing dresses for her doll while dreaming of a Prince Charming to come. As he is portraying Pere Noel, he is mysteriously killed. Who has killed Pere Noel and will the daughter's Prince Charming still come?  
L'Assassinat du père Noël is well worth a look, for both film fans and historians alike.
Day 19: La Guerre des boutons  (War of the Buttons)
Directed by: Christophe Barratier
Written by: Christophe Barratier , Louis Pergaud ,Stéphane Keller , Philippe Lopes-Curval
Year: 2011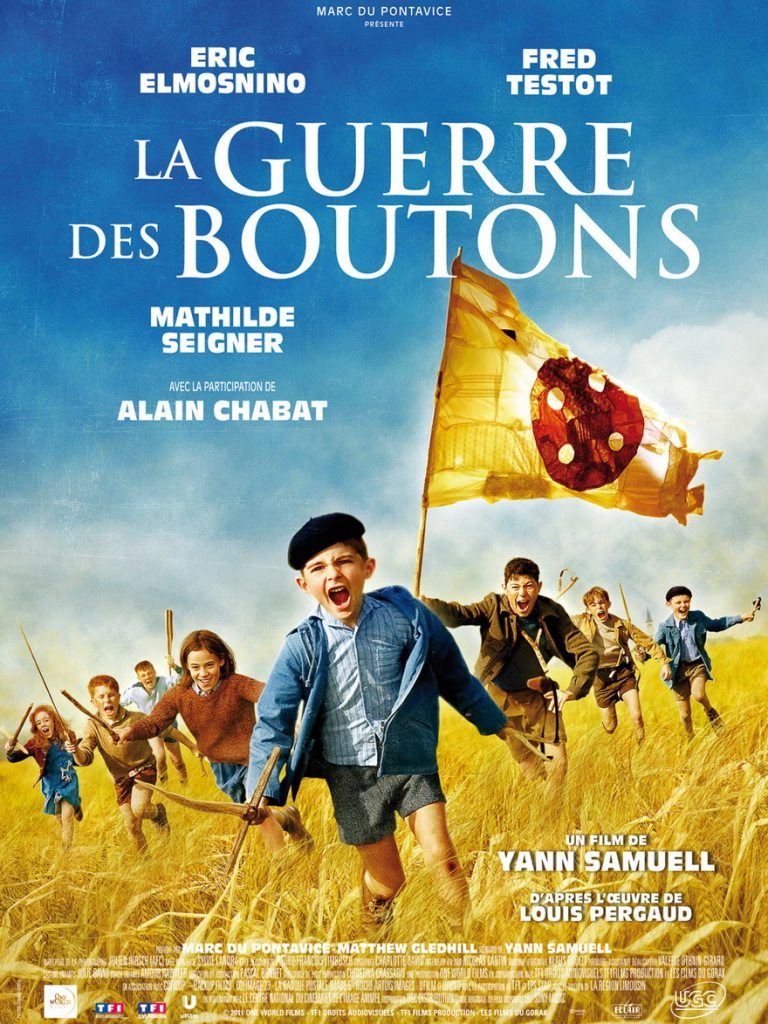 (source:fr2eso.wikispaces)
Another movie set during World War II, La Guerre des boutons is similarly offbeat and thought-provoking. The movie is set in the countryside of France during the Nazi's occupation in World War II.
Two rival gangs of boys from the villages of Longeverne and Velran are in a constant state of war against each other. A war which involves cutting off buttons as mementoes of victory. However, what they didn't stop to consider is that this war has been going on for much longer than they realise. A touching, deceptively simple film about the beginnings of the hatred that leads to conflict.
Day 20: Kirikou et les bêtes sauvages / Kirikou and the Wild Beasts (2005)
Directed by: Michel Ocelot and Bénédicte Galup
Written by: Philippe Andrieux, Bénédicte Galup, Marie Locatelli and Michel Ocelot
Year: 2005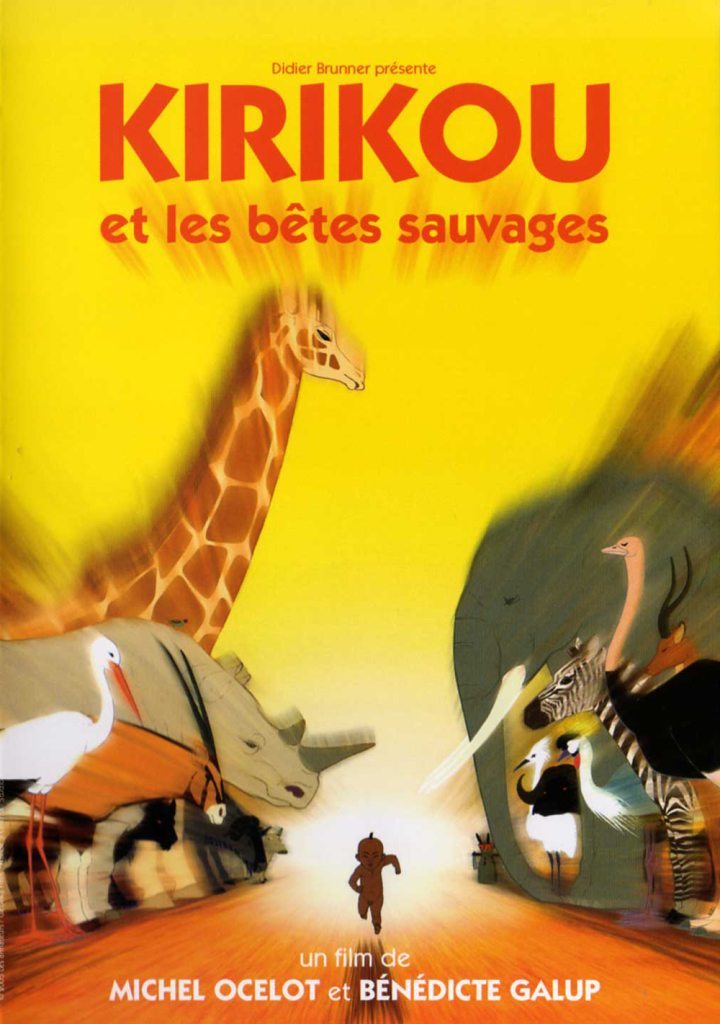 (source:gopixpic)
Can you still remember our August movie film Kirikou et la Sorciere? Our next movie is a prequel to Kirikou et la Sorciere. It is narrated by Kirikou's grandfather, who claims that the story about Kirikou and his battle with the Witch is too short; therefore, he proceeds to provide several stories about the formative years of the eponymous hero. With its distinct visuals and boundless imagination, this is ideal for younger viewers.
Day 21: Kérity, la maison des contes / Eleanor's Secret
Directed by: Dominique Monfery
Written by: Anik Leray, Alexandre Reverend
Year: 2009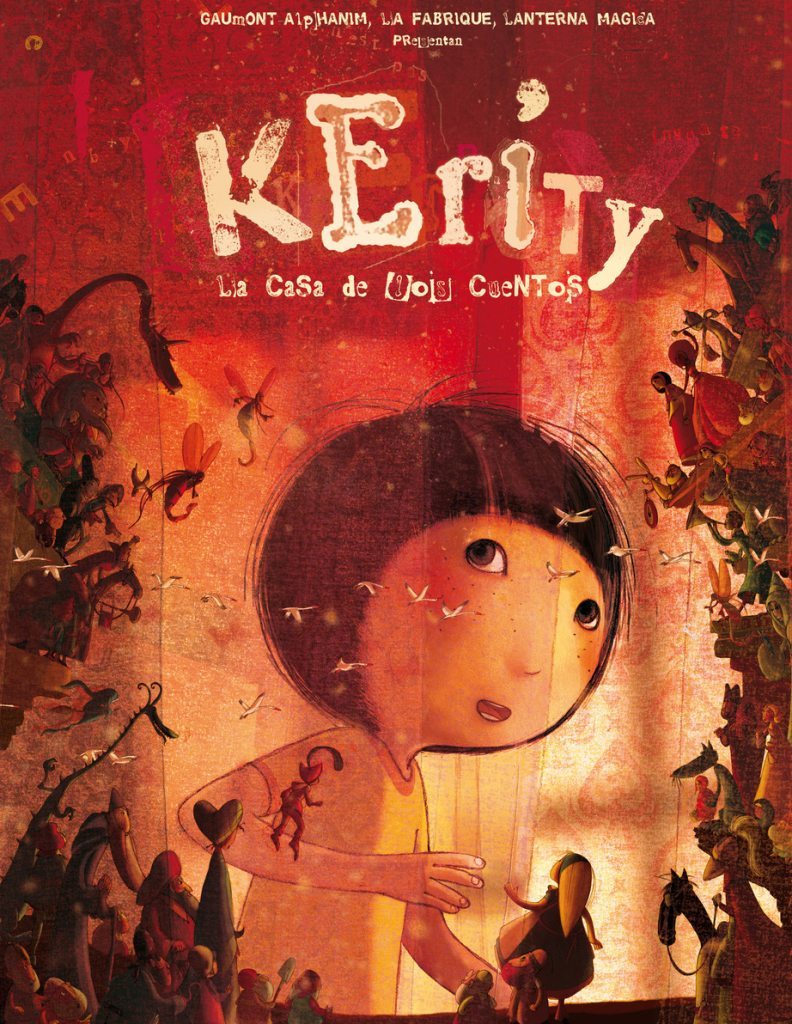 (source:ciudadanorosense)
A young boy named Nathaniel learns how to read after his grandma gives him the key to her secret library. This is a library like no other; it is a sanctuary, where all the literary characters we love have gone to rest. But to survive, they must never leave this place. When he discovers the wonderful library is in danger, Nathaniel must do everything in his power to prevent the books from being sold off.
Day 22: My Father's Glory
Directed and written by: Yves Robert and Marcel Pagnol
Year : 1990
(source:mibih)
Family conflicts are familiar to most of us. Certain issues arise because of misunderstanding. Certain problems cannot be resolved because of the pride and stubbornness of one, or all, the people involved. This classic film by Yves Robert shows the lengths people will go to maintain the family unit. Semi-autographical in nature, and set among the serene hills of the director's native Provence, this intricate film about the complexities of family life is something that we can all relate to in some form.
Day 23: Le Voyage en ballon (Stowaway in the Sky)
Directed and written by: Albert Lamorisse
Year: 1960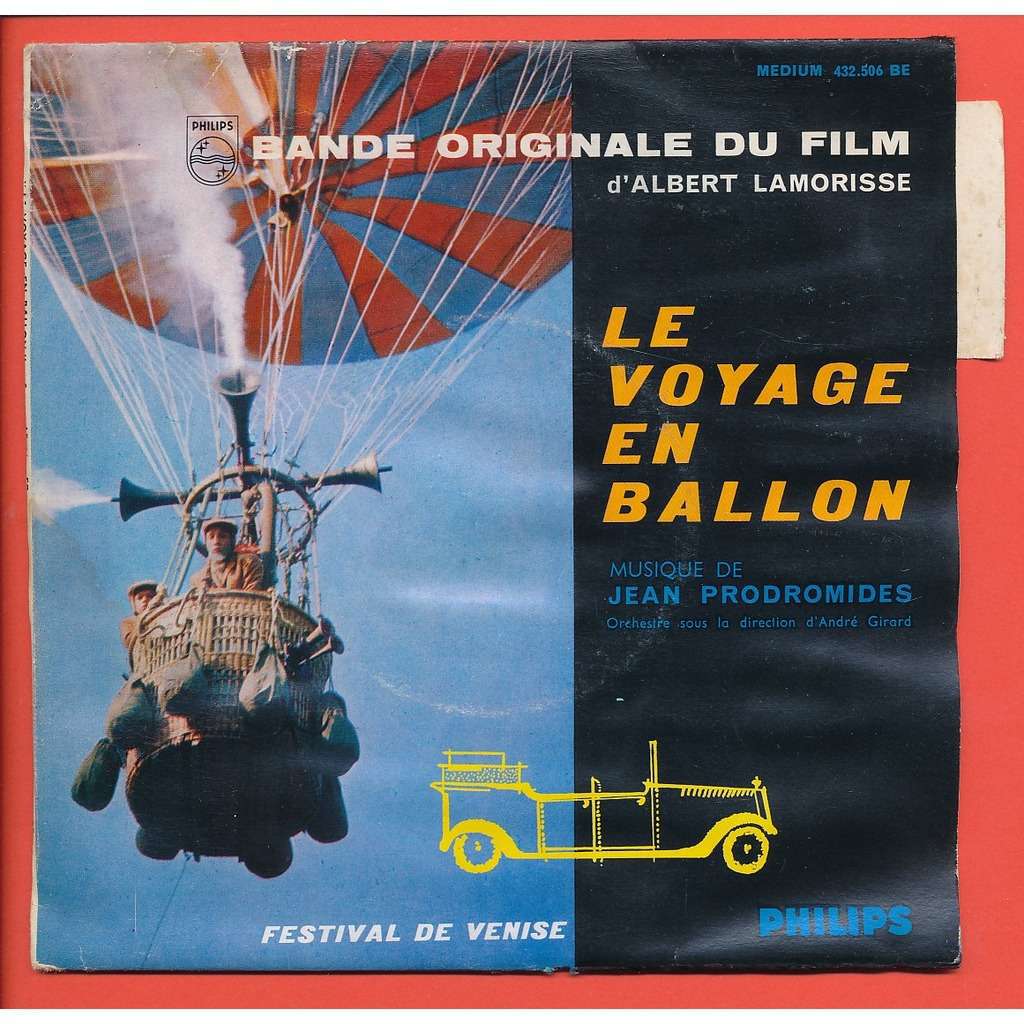 (source:cdandlp)
Albert Lamorisse was a French filmmaker, film producer, and writer. He is internationally recognised for his work, in  particula, the short and medium-length films involving the fantasy world of children.
As one of his masterpieces, "Le Voyage en ballon" or Stowaway in the Sky, tells the story of little Pascal, who is fascinated by his grandfather's (a frustrated scientist/engineer) balloon. Join the two on a fascinating voyage through remarkable lands, with a stunning orchestral score that will leave you breathless.
Day 24: Deux Frères (Two Bothers)
Directed and written by: Jean-Jacques Annaud
Year: 2004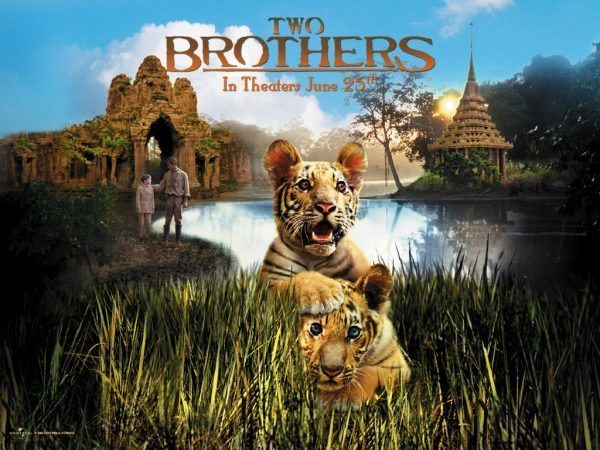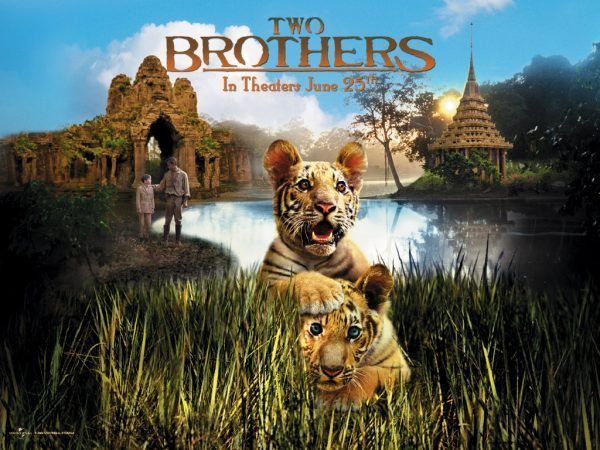 (source:gopixpic)
Who says that enemies can't be reconciled? This is certainly not the case in the touching Deux Frères.
Two tiger cubs are separated when their parents are shot dead, One is sent to a circus, where it is mistreated; the other suffers a similar fate at a zoo. Through an unfortunate twist of fate, they eventually find themselves in a cage, expected to fight to the death for the amusement of humans.
A shocking but ultimately humane look at the way in which humans treat animals with some fantastic wildlife photography and plenty of questions raised.
Day 25: Mia et le Migou (Mia and the Migoo)
Directed and written by: Jacques-Rémy Girerd
Year: 2008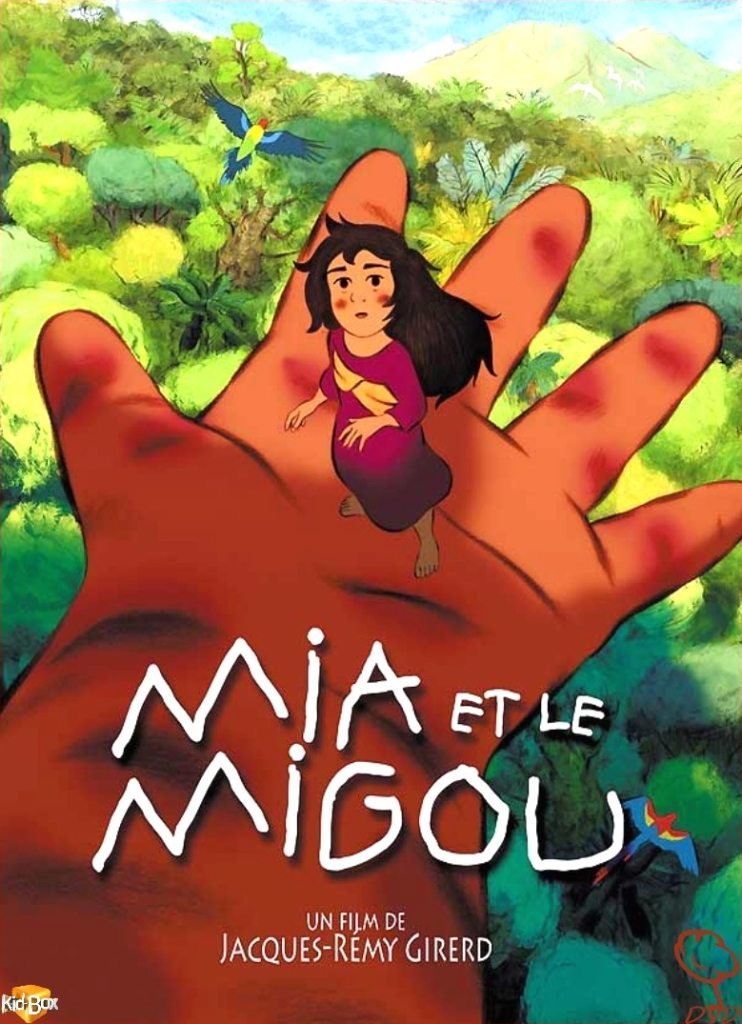 (source:cinemagia)
In this family-friendly cartoon, a young South American girl has a premonition that her father is in danger and heads off to help, seeing the destruction of her land as she travels. Mia et Le Migou is an ecological fable with something to say. Like the previous film, it's well worth a look for those who want both fun and an important message.
Day 26: Les Chansons d'amour (Love Songs)
Directed and written by: Christophe Honoré
Year: 2007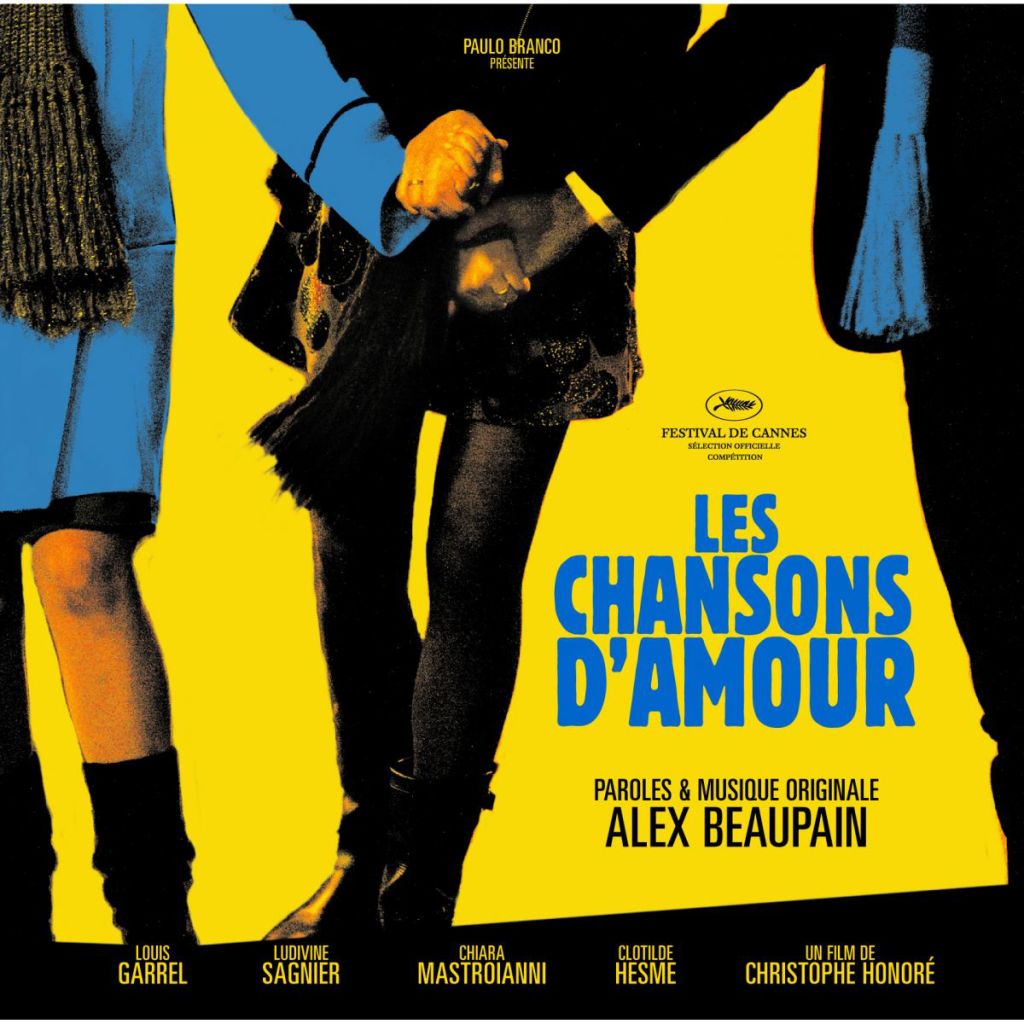 (source:commeilsdisent)
In this musical, love is shown as a combination of confusion and realisation. Julie is in a happy relationship with Ismael; however, one day she finds out something shocking about him. Because of this, she starts to doubt Ismael, her relationship with him, and her love for him. Will they be able to surpass this challenge in their relationship? Can they overcome this obstacle in the name of love?
Day 27: On connaît la chanson (Same Old Song)
Directed by: Alain Resnais
Written by: Agnès Jaoui and Jean-Pierre Bacri
Year: 1997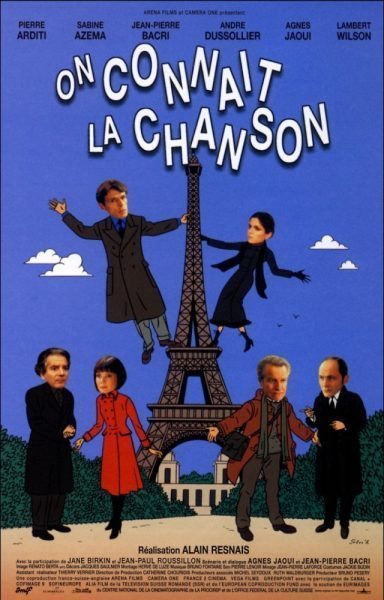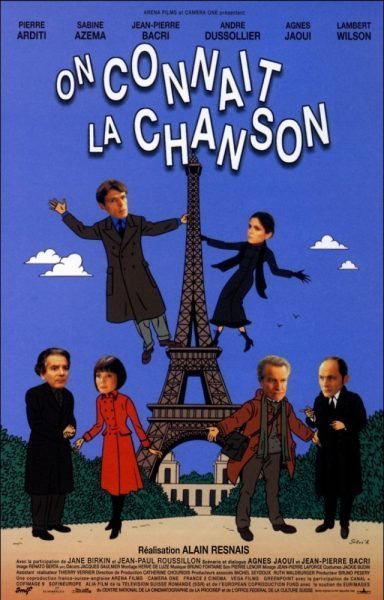 (source:grignoux)
Being in love is probably one of the most exciting feelings we could ever have. Do you agree? Well, believe it or not, fate has something to do with how two people become as one in a relationship. This is the main premise of On Connait la Chanson by Alain Resnais. A musical about romance, like the previous film, yet one where the actors don't sing, so much as lip-sync their lines from background music.
The story revolves around Camille, Nicolas and Oldie. Camille has just finished her doctoral thesis, and is working as a tour guide in Paris. She has fallen in love with a real estate agent named Marco. Nicolas is a businessman who is married with kids, but decides to take a break and return to Paris. See how their stories entwine in this innovative, and typically French film!
Day 28: French Cancan
Directed by: Jean Renoir
Written by: Jean Renoir and André-Paul Antoine
Year: 1954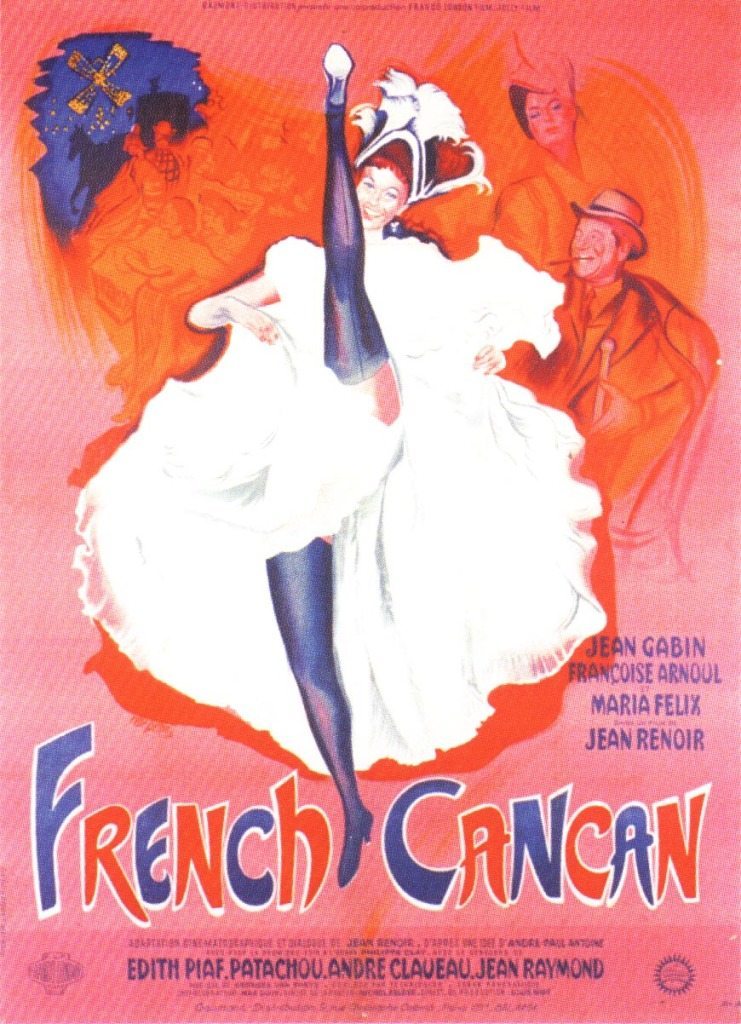 (source:bengale.afindia)
Another French musical, this one starring Jean Gabin and Maria Felix, French Cancan is a quirky Jean Renoir film celebrating the 19th century Parisian dance movement. Set in 1890s, French Cancan starts with Henri Danglard. The owner of a cafe features Lola, the belly dancer mistress of Danglard.  However, with business down, he has to find a new sensation to pull the punters in- an attraction in the shape of dancer Nini and a shocking new dance!
Day 29: Crustacés et coquillages  (Cockles and Muscles)
Directed by: Olivier Ducastel and Jacques Martineau
Written by: Olivier Ducastel and Jacques Martineau
Year: 2005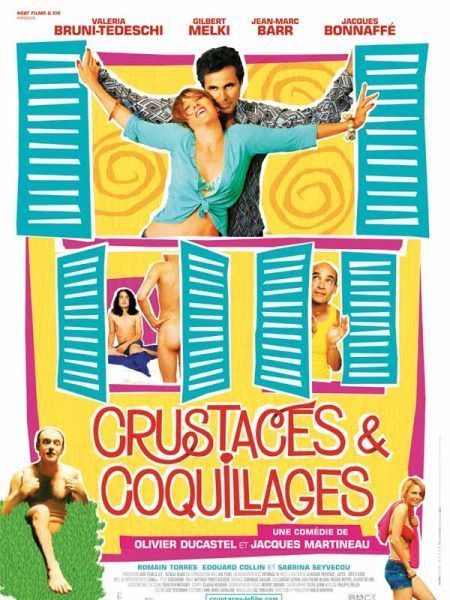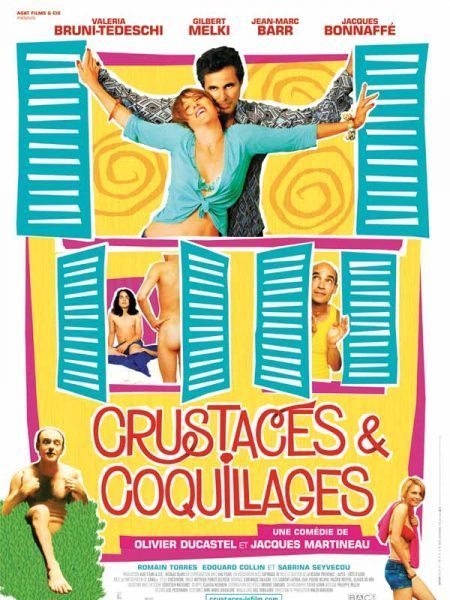 (source:allocine)
One summer vacation Marc, Beatrix, and their two children visit their beachfront family home to relax. However, their doubts about their son's sexuality start to manifest themselves. On top of this, their daughter starts to hang out with a local biker, and the exes of both parents have shown up. Will they be able to remedy their seemingly endless family problems? Crustacés et coquillages is a fun movie to watch for those who are looking for a light comedy-drama while preparing for the upcoming New Year!
Day 30: Jack et la mécanique du cœur -Jack and the Cuckoo-Clock Heart
Directed by: Mathias Malzieu , Stéphane Berla
Written by: Mathias Malzieu , Trevor Laurence
Year: 2013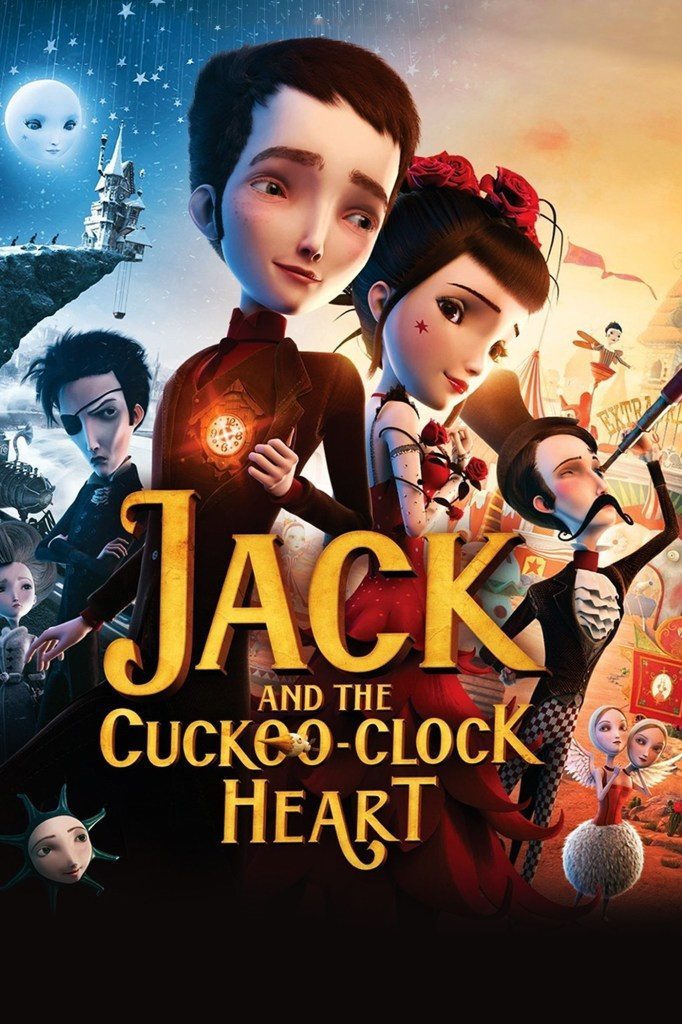 (source:subscene)
A young man has had his heart replaced with a cuckoo-clock on the day of his birth. Due to the nature of his condition, he must be very careful to avoid strong emotions and must never, under any circumstances, fall in love. Though it is an animated film released recently, children who wishes to watch this film must be guided by parentsdue to some sensitive scenes in this film.
Day 31: Pas sur la bouche (Not on the Lips)
Directed by: Alain Resnais
Year: 2013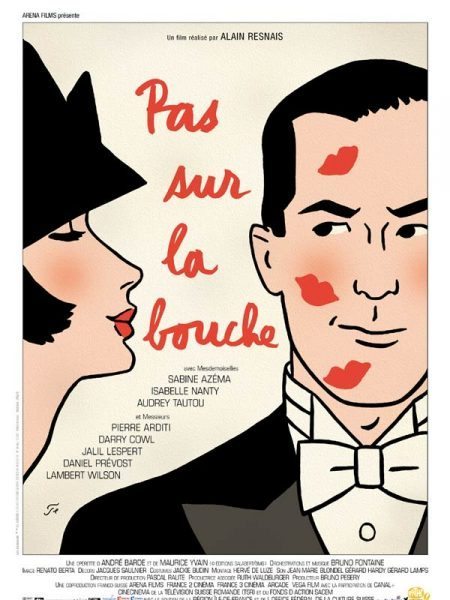 (source:naive)
Loving someone is sometimes confusing, but committing to someone is even more complicated. Set in the 'anything goes' era of the 1920's, this film follows the complex relationships of a group of characters whose good intentions are waylaid by their desires. A fun musical/sex farce which anyone who has traversed the winding path of love will surely be able to relate to.
Conclusion
Did you enjoy this last batch of movie recommendations for this year? Christmas is coming and the whole world will be full of lights and decorations soon. "The month of the children" as we French would say, but I dare say that this month is not only for children, but rather it is also for the homeless, the elderly, families, each and every one of us out there.
The good thing about Christmas season films is that they are always both light, yet poignant. They are suitable for children, yet they are packed with life lessons we can all benefit from. Merry Christmas everybody and thank you for following the movie lists here in Talk in French!
Will you be watching any of these movies? Let me know in the comments when you do.
Merci and Joyeux Noel!
Make sure to grab your FREE e-book 365 Days of French Movies! Click the photo below to get your copy!