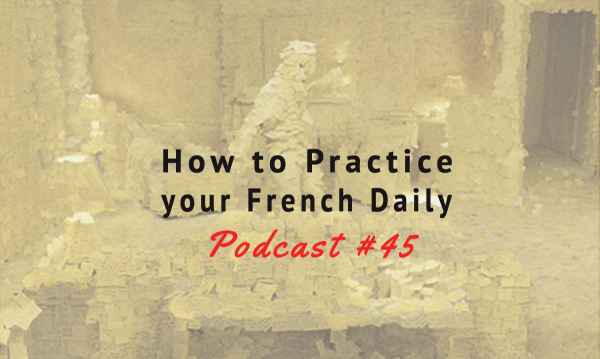 [symple_highlight color="green"]Listening Time:  35 minutes.[/symple_highlight]
Here is the 45th session of  Talk in French Podcast! You can download the podcast to your computer or listen to it here via iTunes.
In this episode:
What was like it to switch from Francs to Euros.
How to practice your French daily: 10 tips for you
Some French Words and expressions.
Download the Podcast now
Right click here and save-as to download this episode to your computer.
or listen on the website.
French Words in the Podcast
[list type="check"]
promener/sortir le chien -walk the dog

se reposer – to rest

écouter de la musique -listen to music

téléphoner/passer des coups de fil -make phone calls  

s'amuser -have fun  

faire sa toilette -groom oneself

prendre le petit déjeuner -eat breakfast   [/list]
French Expressions of the week
C'est le pied
Raser les murs
Tomber sur un os.
Avoir un poil dans la main
Être bien / mal luné
Listen the podcast to know the meaning.
You can also buy an Ebook if you like this part:
365 days of French Expressions.
It includes: 
French Expression/ Meaning / Literal Translation/ MP3/ Weekly Recap and Quizz
Available on:



Again your opinion are appreciated and a review on iTunes as well.
P.S: Do not hesitate to share this article on pinterest,facebook, twitter or google plus.