Paris is known for its wonderful wines, but its alcoholic offerings by no means end there. Home to some of the best bars in the world, it's no wonder this city's cocktails are such a hit among locals and tourists alike.
From timeless classics to modern mixes, here's a list of 10 Parisian cocktails to give you a taste of Paris, wherever you are.
Discover Parisian or French cocktails that you and your friend will enjoy!
1. The Black Rose
Dating back to the Art Deco Era, this pretty little thing is a favourite amongst Parisians, both young and old. While it may look as feminine as a flower, don't be fooled; its heavy dose of Vermouth certainly packs a punch, and one too many of these pink potions and you'll be drooping over.
Here's how to prepare it.
via Flickr
Ingredients:
2 oz French Vermouth
1 oz Blackberry Cordial
1 teaspoon Blackberry Syrup
Blackberries & Rosemary to garnish
Method:
Strain measured ingredients into a short glass over ice. Garnish with blackberries, a sprig of rosemary et voilà!
2. The Sidecar
The name speaks for itself: you'll be in no state to get behind the wheel after a few sips of this stuff, that's for sure! There is some dispute over its creation---with no other than The Ritz Hotel, Paris taking claim for this age-old classic---created way back when sidecars were actually a thing. Wherever it originated from, boy are we glad it came into existence!
via Wikicommons
Recipe:
1 1/2oz Cognac or Armagnac or Bourbon
1oz Cointreau or Triple Sec Orange Liqueur
1/2oz Lemon Juice
Lemon Twist to garnish
Sugar for rimming (optional)
Method:
Shake up Cognac, Cointreau and Lemon Juice in a shaker filled with ice. Wet rim of tall glass and dip in sugar to coat. Strain cocktail into glass, top with lemon twist, et voilà!
3. Le Forum Cocktail
If you're lucky enough to actually be in Paris, you should hit up Le Forum, one of Paris' most historic cocktail bars. At 85 years old, it's as much of a museum as it is bar; what better excuse is there to drink than that? Devised in the Roaring Twenties, it's a Parisian twist on the classic Gin Martini. It was popular then, and remains so, now. It's featured on their menu, even today.
via Pixabay
Ingredients:
1 1/2 Gin
2 tsps Noilly Prat Vermouth
4-5 drops Grand Marnier
Method:
Stir ingredients in a large glass filled with ice and strain over frozen Martini Glass.
4. The French Martini
Paris is scandalously sexy, and a few sips on a French Martini is sure to get you feeling that way, too. A sumptuous purple colour issuing from the famous Chambord, it gives a nod to its heritage—it's Louis XIV himself who is said to be the first to have sampled the liqueur.
It's an elegant love potion made in the City of Love itself. And well, if it was good enough for The King, surely it's great for anyone, don't you think?
via Wikicommons
Ingredients:
1 1/2 oz Chambord flavoured Vodka
1/2 oz Chambord liqueur
2 oz Pineapple Juice
Fresh Raspberries to garnish
Method:
Add Ingredients to a mixer filled with ice, shake, then strain over a Martini glass. Garnish with raspberries to serve, et voilà!
5. Serendipiti
A cocktail with its own cheer; you'll shout its name upon tasting! This noisy number hails from one of the most glamorous hotels in the world: The Ritz, Paris. A refreshing, fruity concoction with added bubbles, it's elegant and sophisticated—just like the place itself. If getting hold of one of the Ritz' world class cocktail recipes isn't a reason to shout, I don't know what is! Serendipiti!
via Flickr
Ingredients:
1 oz Calvados (or Apple Brandy of choice)
1 oz Apple Juice
Champagne to fill
Spring of Mint
Method:
Add Apple brandy and mint to a tall tumbler, mashing the two to mix and bruise leaves. Fill with ice, then pour over apple juice. Top to brim with Champagne, garnish with mint et voilà!
6. Bobo Parisian
Make way, Hemingway! Here comes the new, hipster, gin-drinking Parisian: a Bobo. The Parisian hipsters already have a drink named after them and you can get your hand on one of these at equally edgy bar, Jefrey's, in the 2ème arrondissement of Paris.
If the City of Lights doesn't happen to be right at your doorstep, don't fret; with this bitter beverage, you can recreate a piece of Paris chez toi. No, it's not the easiest of drinks to make, but becoming Parisian--and a hipster one at that---doesn't happen overnight!
via Flickr
Ingredients:
1 3/4 oz Gin (Tanqueray preferred)
1/2 oz St. Germain
1/2 oz King L'avion D'or
1 dash Rhubarb Bitters
White of 1 Egg
Splash of Club Soda
Star Anise to garnish
Method:
Shake everything up in an iced cocktail shaker. Pour into an over-sized tea-cup, top with floating star anise to serve et voilà!
7. Libertine
If you're a free thinker that disregards social norms, this French cocktail is for you—or so says it's creator, Jen Riley of Le Red House in Paris. With a reputation for fun over fancy, the Dive Bar's eclectic range of inventive and intriguing drinks have made it a favourite among hipsters and bartender professionals alike. Get in on the action:
via Flickr
Ingredients:
1 oz Vodka
2 tsps Campari
2 tsps Simple Syrup
2 tsp Lemon Juice
1 tsp Grapefruit Juice
1/2 oz Egg White
1 bar spoon Rhubarb & Ginger Jam
1/2 oz Ruby Port
Method:
Add ingredients to shaker filled with ice and shake to combine. Double strain, then shake again without ice. Pour into Champagne flute, top with Ruby Port et voilà!
8. Dirty Margarita
While the idea of Caper Juice in a cocktail might put you off, knowing it was thought up by Rob McHardy of the World Famous Parisian NightClub, Silencio, should help reassure you. David Lynch's Paris Club is known for being one of the most exclusive in the city, and its cocktails are just as divine.
Can't be bothered to queue? Turn your pad into a Parisian party and shake up this quirky take on a classic Margarita for extra cool points.
via Flickr
Ingredients:
5cl Ocho Blanco Tequila
2cl freshly squeezed Lime Juice
1cl Cointreau
0.35cl salted Caper Juice
0.4cl Agave Syrup
Lime Zest
Method:
Shake vigorously is a mixer, double strain and pour into a chilled Martini Glass. Garnish with Lime Zest to serve et voilà!
9. Le Maudit Français
Pushing Parisian boundaries in both taste and name, this Cocktail comes from one of the most popular bars in Paris, The Experimental Cocktail Club. 'Le Maudit Français' translates as 'Bloody French', and can be both a compliment or an insult, depending on your mood. So whether you love them or hate them, this cocktail is the one for you!
via Flickr
Ingredients:
3 measures Darroze 8-year Armagnac
1 measure Oloroso Sherry
1 measure freshly squeezed Orange Juice
1 measure Maple Syrup
3 measures Champagne
Dash of Bittermans Boston Bitters
Orange Zest
Method:
Add all ingredients except Champagne, Bitters & Orange into a shaker filled with ice. Shake vigorously, pour into a Champagne flute and top with Bitters. Top with orange zest to serve et voilà!
10. French 75
Forget the Arc de Triomphe; Harry's New York Bar, Paris, offers just as much culture, dating back to 1911. Also the birthplace of the Bloody Mary, the French 75 is a light, refreshing and sophisticated French cocktail that suits its Parisian surroundings perfectly.
Simple to make with added bubbles, sit back with one of these in hand, close your eyes, and think of Paris. Ahh, la vie est belle!
via Flickr
Ingredients:
2 oz Champagne
1/2 oz Lemon Juice
1 oz Gin
2 dashes Simple Syrup
Lemon Twist
Method:
Add gin, champagne & syrup to a cocktail shaker filled with ice, shaking vigorously, to combine. Strain into an iced champagne flute. Top with champagne, garnish with lemon twist et voilà!
Grab your shaker, grab your friends, and get mixing; there's never a bad time for a famous Parisian cocktail!
Ah! That's quite a number of French cocktails to try during happy hour. Make sure to drink responsibly!
Which of these Parisian or French cocktails is your favourite? Which one are you planning to enjoy with friends? Leave your comments below!
You may also share your favourite French cocktails in comments to help fellow readers find the cocktail they will love.
Enjoy the best restaurants Paris has to offer with your copy of Paris for Foodies. It's the ULTIMATE guide to eating in Paris!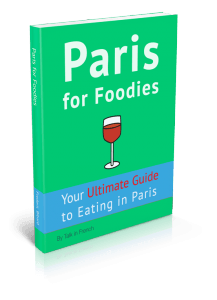 Here are some FAQs about French Cocktails
What is a popular drink in France?
Wine is generally very popular in France. In fact, the national drink is red wine! Other popular drinks that don't fall in the cocktail category include the café au lait (coffee with milk), citron presse (lemonade), and chocolat l'ancienne (thick dark chocolate with whipped cream).
What is the most popular cocktail in Paris?
There's no single cocktail that is the most popular in Paris, but we can name a few. For one, the French Connection is half cognac and half amaretto, served slightly stirred and chilled. The modernised Kir, known as the Kir Royale, is champagne with 1/10th of the drink being crème de cassis. And finally, the Mimosa. This is a cocktail that makes a normal breakfast into a fancy affair, and is half champagne, half orange juice.
How do you order cocktails in French?
Once you have la carte (or menu) in your hands, you can order a cocktail as either an apéritif (pre-dinner drink) or a digestif (after-dinner drink). Here are a few ways to order cocktails in French:
Un cocktail, s'il vous plaît. (A cocktail, please.)
You can replace un cocktail with the name of your preferred drink. Here are some ways to order customised cocktails:
Un cocktail composé de rhum blanc, s'il vous plaît. (A cocktail consisting of white rum, please.)
Un cocktail à base de whiskey et de rhum, s'il vous plaît. (A cocktail made of whiskey and rum, please.)
Other useful phrases include:
Servez-vous des boissons alcoolisées? (Do you serve alcoholic drinks?)
Encore un/une autre, s'il vous plaît. (One more, please.)
How do the French drink alcohol?
In France, people indulge and take their time to appreciate their alcohol. With wine in particular, it is a drink to be savoured. As "slower" drinkers, they don't binge, and therefore won't get inebriated as easily. This leisurely attitude is not limited only to drinking; from the moment they enter a restaurant, the French will seat themselves at a table and take their time to socialize. There is no rush to eat or have their order taken. Another interesting note is that alcohol is more of a complement to a meal, to upscale a breakfast or precede a dinner; it isn't that big a deal in French culture to drink alcohol.
French drinking etiquette is also quite interesting, and adds to the entire experience of drinking alcohol. For example, when clinking wine glasses, you must partake in the toast and drink even if it's just a sip. Be sure to make eye contact with the person you're clinking glasses with. Don't fill up the wine glass all the way to full, as the beverage needs to breathe. And finally, there is no interest in being drunk when the best part of the dining (and drinking!) experience is to actually sit there and spend quality time with others.