France is not always the classy, extravagant, and over-romantic place it is  portrayed in movies and books. In the hidden corners of the City are bizarre networks of sewers, catacombs and places which you will find puzzling at first, yet amazing locations to add to your adventures.
You will find horrific medical museums, unique taxidermy shops, beautiful cemeteries, erotic historical shops and museums, and many more.
So pack your bags and start a surreal adventure in the City of Lights.
1. Musée Dupuytren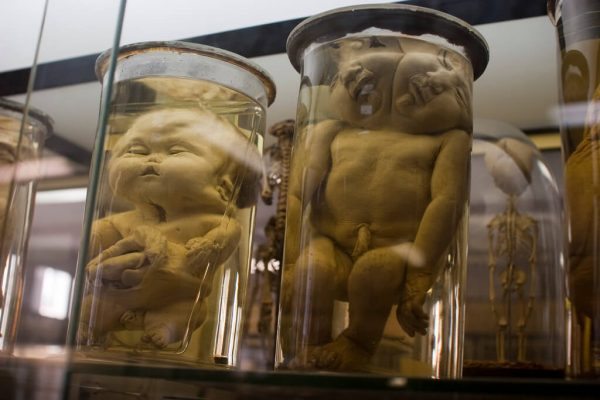 (source: natebeaty.com)
Brains, fetuses, anatomical wax models, and various specimens preserved for hundreds of years, Musee Dupuytren is a delicacy for the curious, bizarre minds out there. The museum was established by Mathieu Orfila in 1835 as the Museum of Pathological Anatomy of the Medicine Faculty of the University of Paris under the bequest of Baron Guillaume Dupuytren, an anatomist and celebrated professor of surgery (hence where its current name came from).
Its very first catalogue ranges between 1836 and 1842, where thousands of specimens from surgical operations were collected, as well as research on unusual diseases and what was thought to be "abnormal characteristics" of minority racial groups at that time. Currently, the museum houses an amazing library along with its thousands of visual samples of gory specimens collected over the centuries.
Address: 15, rue de l'Ecole de Médecine, Les Cordeliers,
Opening hours: Monday to Friday from 2pm to 5pm. Closed during university vacations from
15 July to 31 August.
2. Ghost station of the Paris Metro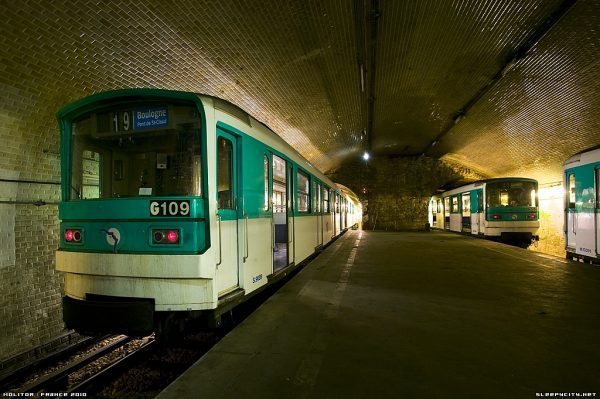 (source: sleepycity.net)
The Paris Metro is the most utilized mode of transportation in Paris. It serves more than 4 million commuters daily, and most likely, it is the location where you would least expect to find a surreal spot. On the other hand, behind the bustling noise of the crowd moving to and fro in this public transportation, in its hidden parts lie some stations that have been closed to the public, abandoned, or completely forgotten; hence sleeping behind the busy transit networks of the Paris Metro.
Most of these stations were closed during World War II, and for years they have been made inaccessible and unused, conferring a sense of mystery. Why are these stations closed to the public? And why do they still remain sleeping under the streets of Paris?
3. Villa La Roche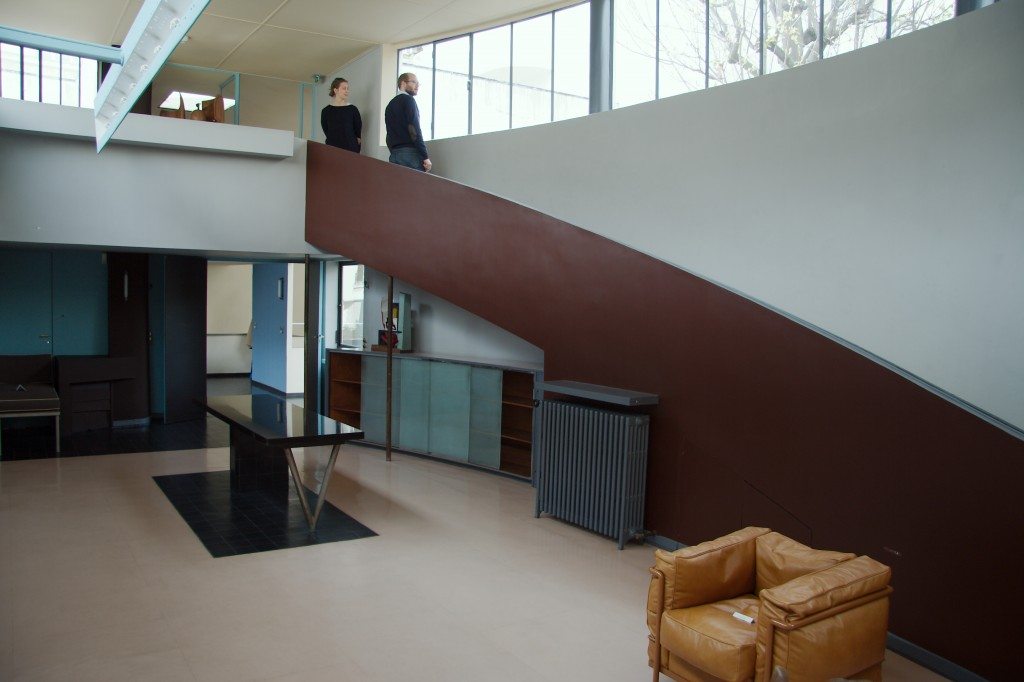 (source: wikipedia)
Villa La Roche is a house designed with unconventional concepts, which gives it a dreamlike nature. When you enter the house, it seems like you are entering a painting at the same time. The house is a true artwork conveying Cubism and Purism.
The promenade also leads to the piano into a series of wonderfully crafted illuminated spaces, including walls that open, stairs, ramps, balconies, and contracting and expanding corridors which will give you a dynamic three dimensional grid-like perspective in different angles.
The house was owned by Raoul La Roche, a Swiss banker and collector of "avant-garde" art. It was designed by the famous architect Le Corbusier in collaboration with Pierre Jeanneret in 1923, and now, it is the current home of the Foundation Le Corbusier containing about 8,000 original drawings, studies, and plans by Le Corbusier.
Address: 10, square du Docteur Blanche 75016 Paris
Opening hours: Monday 1pm – 6pm; Tuesday – Saturday 10am – 6pm
4. Deyrolle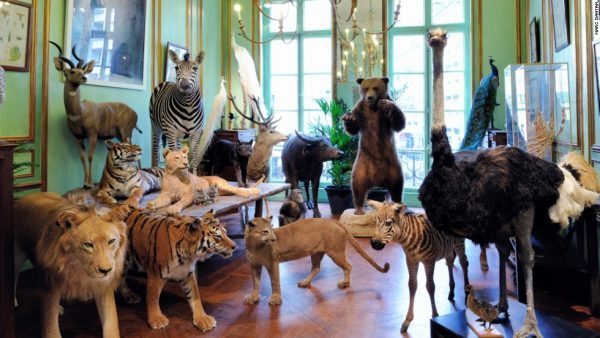 (source: cnn.com)
Have you ever been in a shop where you feel like you've been taken into the world of a jungle? Deyrolle, a 170-year old taxidermy shop, looks fairly normal at first, but when you start to ascend its stairs, your jaw will drop when you see its stuffed animals of all shapes and sizes, as well as its ancient wooden cases full of insects, shells, botanical prints, and other curiosities crammed together in an unruly way.
The shop has been open since 1831, and since then, it allows visitors to enjoy the view of their products even without buying anything. Their generosity is paid back with the smiles of their awe-struck visitors.
Address: 46 Rue du Bac, 75007 Paris, France
Opening hours: Monday: 10am – 1pm and 2pm – 7pm; Tuesday – Friday: 10 am – 7pm
5. Montmartre Cemetery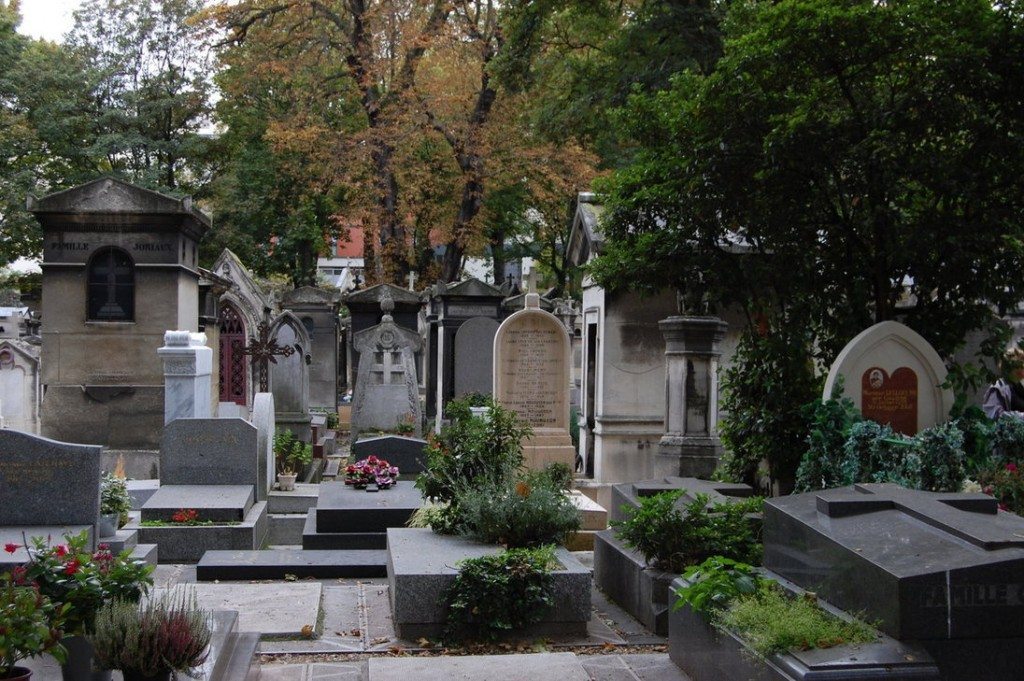 (source: toloquta)
Aside from its more illustrious counterpart cemeteries in other parts of Paris such as Père Lachaise in the East and Montparnasse in the South, Montmartre is less populated which gives you more freedom in roaming the place undisturbed by other people. Montmartre Cemetery radiates an eerie, surreal atmosphere with its gloomy yet tranquil environment, life-sized statues, cobwebs, mausoleums, long-forgotten tenants and dozens of cats wandering around tombs.
Built underneath the busy street of Rue Caulaincourt, Montmartre opened in 1825. Montmartre cemetery is the final resting place of many famous artists, composers, playwrights, actors, and architects. If you wish to visit the cemetery, but are afraid to get lost in its maze of tombs and landmarks, there are maps conveniently located inside the front gate with a detailed itinerary of all the most important tombs and landmarks within this beautiful cemetery.
Address: 20 Avenue Rachel, 75018 Paris, France
Opening hours: Everyday from 8:30 am – 6pm
6. Le Musée des Moulages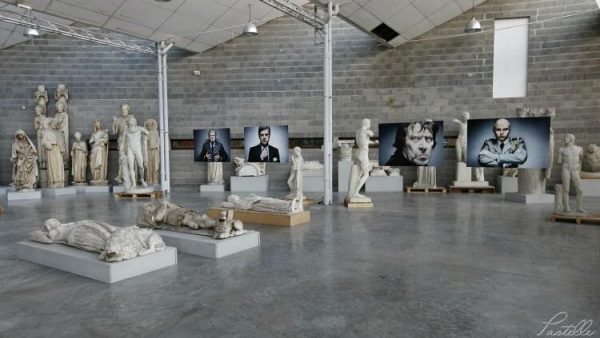 (source: lumieresdelombre)
As its name signifies, the museum is dedicated to "moulages", or wax models of body parts afflicted with diseases. It was opened in 1867 and begun with drawings and photographs of skin diseases until the museum hired Baretta – a wax fruit modeler. They made him create wax models using papier-mâché of skin diseases to provide a more visual representation of the skin diseases.
The museum is filled with around 5000 wax models of diseased flesh, pus-filled wounds, boiled-covered skins, rash afflicted skins, and casts. Today, the museum contains one of the most important dermatological wax collections in the world.
It is a great place for people who love medicine, and aspiring artists who are interested in the interaction between arts and science. Nonetheless, if you have weak stomach, the dizzying array of horrible skin diseases portrayed by the models is definitely not for you.
Address: 1 avenue de Vellefaux – Porte 14 – Secteur gris 75010 Paris
Opening Hours: It is open from Monday to Friday from 9:00 AM – 5 PM; however you will
have to arrange before your visit.
7. Le Musée d'Histoire de la Médecine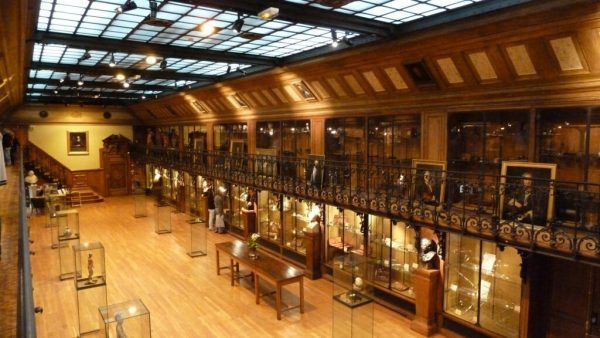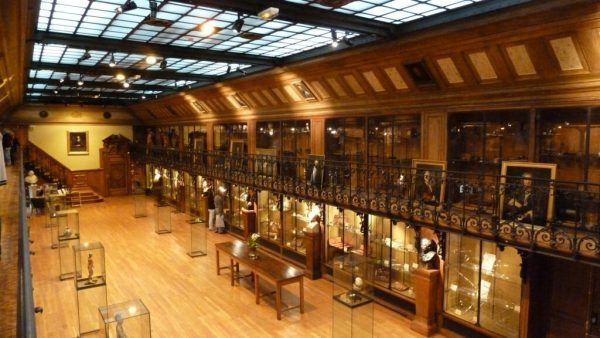 (source: paristoric)
Are you a big fan of horrifying films with mad doctors, serial killers, screaming patients, and scary medical instruments? Strolling inside Le Musee d'Histoire de la Medecine will give you goose bumps while observing the creepy medical stuff it keeps.
The museum is full of old medical instruments (from 18th century – 19th century), medical models like its strange human anatomy model, prosthetic limbs (see the evolution of prosthetics from the 18th century), several accounts about the different types of the "art of surgery" followed until the end of the 19th century, and other medical related collections.
On the second floor, you will find one of the most bizarre and creepiest objects that you will ever lay eyes on. There is a small circular table right by the staircase. At a glance, the table seems to be nothing but a common table, but taking a closer look, you will see an intricate design which is made entirely of human body parts! Unbelievable right!?
Address: Université Paris Descartes- 12 rue de l'École de Médecine 75006 Paris
Opening hours: Winter timetable from 1st October: every day from 2pm-5.30pm except
Thursdays, Sundays and bank holidays. Summer timetable from 15 July to 30 September:
Monday to Friday 2pm-5.30pm.
8. Musée des Arts Et Metiers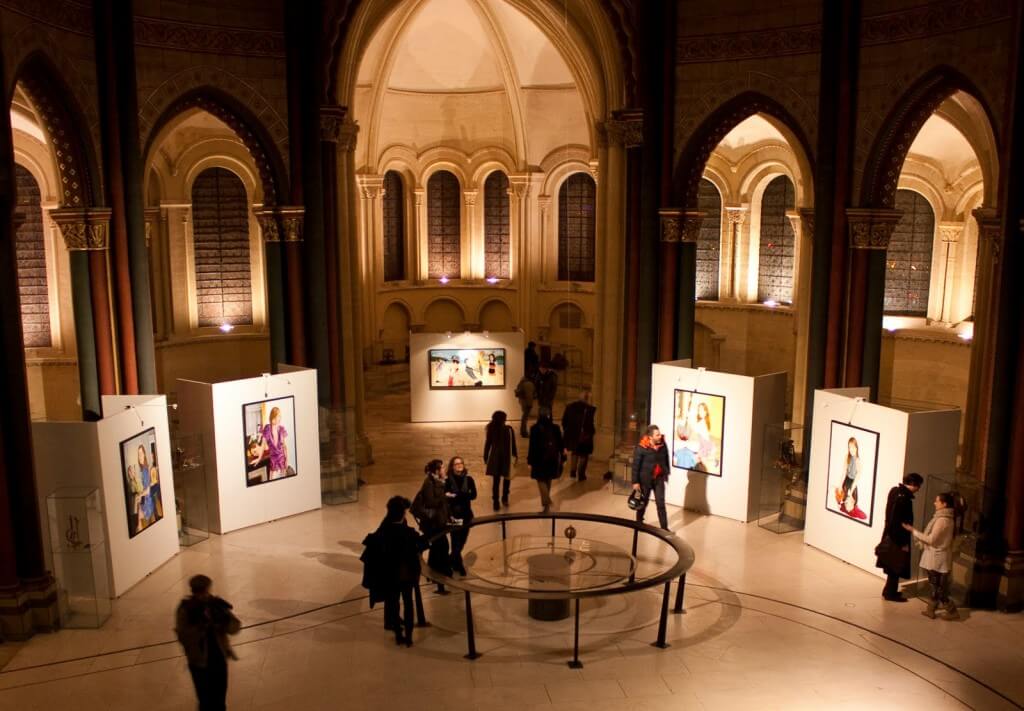 (source: kostakulundzic)
Ever imagine living during the period of the Alchemists? Musee des Art Et Metiers gives the surreal sci-fi feeling of being time warped with the various scientific innovations and inventions from the time of Blaise Pascal, Auguste Bartholdi, Foucault, and other scientists and inventors of the time.
Musee des Arts Et Metiers is an industrial design museum in Paris founded in 1794 for the preservation of scientific instruments and inventions in France. The museum has over 2,500 objects and drawings from its 80,000 collections displayed in Paris under its seven departments/ collections such as: scientific instruments, materials, energy, mechanics, construction, communication, and transportation.
Some of its collections are: the original version of the Foucault pendulum, the original model of the Statue of Liberty, some of the first planes, Pascal's calculator, Jacquard looms, chronometers, the first steam-powered automobile, and other inventions of the Enlightenment period. There is also a darkened room hosting a theater of automata.
Address: 60,rue Réaumur, 75003 Paris
Opening hours: Tuesday – Friday: 10 am to 6pm; First Sunday of the month and Saturdays:
1pm to 6pm
9. Paris Point Zero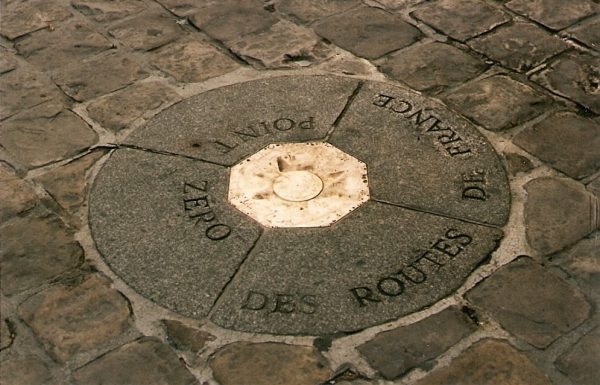 (source: Panoramio)
You might be thinking what could be surreal about Paris Point Zero. It is just a small octagonal brass plate set in the ground and labelled as the official center of Paris! Nevertheless, most people like to stare at the ground here opposite the Notre Dame Cathedral because of the surreal feeling of being on the landmark considered as the heart, the starting point of all geographical measurement in Paris.
The Paris Point Zero is the central part of the city. It marks the exact spot from which all distances throughout France are measured (in relation to Paris).
Honestly, there are weird activities that many people do while standing in this "Point Zero", which I, myself find unusual. For instance, some Parisian tourists spin on it on one foot while making a wish – for good luck. There are couples who kiss while standing together – for a blessed relationship, and there are some who touch it to celebrate the time they have conquered Paris (not in the war-like sense of course).
There are other traditions, and most of them radiate the sense of accomplishment and happiness to reach the heart of Paris even once in their lives.
10. Rotary Love Hotel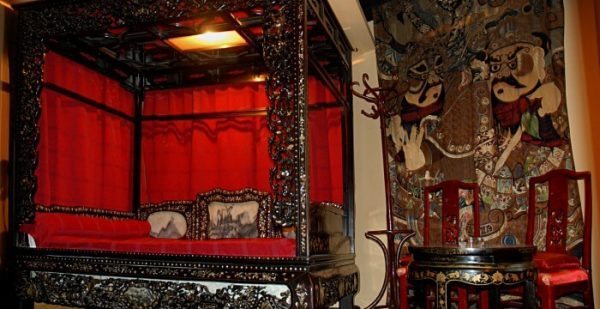 (source: pariszigzag)
Located in what was once the Parisian Red Light District, the Rotary Love Hotel keeps sordid secrets tucked behind its lustrous doors. The hotel is just a few minutes away from the Moulin Rouge, which is the symbol of entertainment in Paris.
The hotel is surrounded with various rumors about its lustful past. They said that during its utmost popularity the hotel was once a Belle Epoque bordello or in layman's term, a well known brothel. Today, even if the hotel keeps its lips tightly sealed about its past, it remains one of the sexiest places to stay the night.
Address: 4 Rue de Vintimille, 75009 Paris, France
11. Gallery of Paleontology and Comparative Anatomy and La Grande Galerie de l'Evolution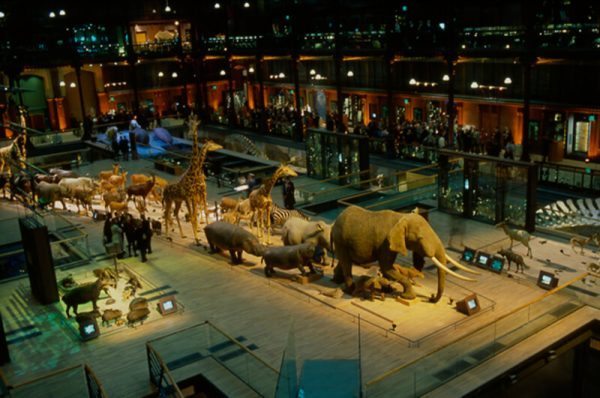 (source: www.france.fr)
Over the years, the Gallery of Paleontology and Comparative Anatomy has been fascinating and terrifying visitors – adults and children alike – with its procession of stuffed animals displaying the evolution of life. It is not an ordinary taxidermy museum or any other natural history museum, because it generates a surreal effect of walking with all types of animals from prehistoric to modern times.
Once you enter its premises, you will find long lines of animals from mammals to reptiles. On one side, you will find another line of the procession but in skeletons. The bones line the walls, floors, and even the ceiling! These are bones of dinosaurs, primates, whales, fishes, mammoths, etc…ranging from small, tiny bones to humongous set of skeletons.
After enjoying the sites in this museum, you can run to another surreal taxidermy museum named La Grande Galerie de l'Evolution located within the Jardin des Plantes. It showcases a procession of animals that demonstrates the procession in the biblical story of the Noah's ark.
Its difference with the first is its exodus manner of animal procession with all animals walking in one path. Take a selfie with walking and crawling animals, walk with different species of birds, and get to know endangered animals who once dominated this earth.
Gallery of Paleontology and Comparative Anatomy
Address: 4 Rue Buffon, Paris, 75005, France
Opening Hours: Monday and Wednesday – Sunday: 10 am – 5 pm
La Grande Galerie de l'Evolution
Address: 36, Rue Geoffroy Saint-Hilaire, 75005 Paris
Opening Hours: Grande Galerie 10am-6pm Mon, Wed-Sun. Other galleries 10am-5pm Mon,
Wed-Fri; 10am-6pm Sat, Sun
12. La Recyclerie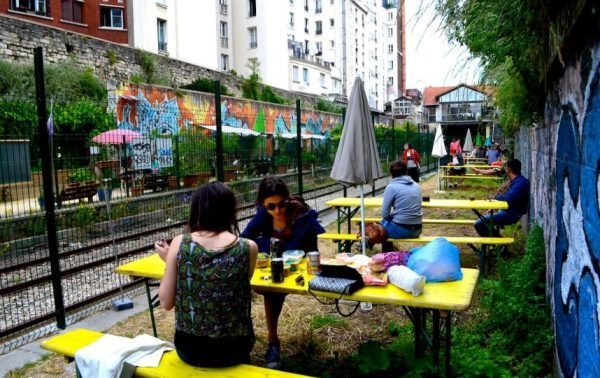 (source: tendaysinparis)
A restaurant beside a former train station. What a weird location to set up a restaurant, right? Not the usual place for a restaurant to be, but for the owners and managers of La Recyclerie this spot is the best place for their combined restaurant, bar, café, farm and vegetable garden.
La Recyclerie is located in the former railway station on the Petite Ceinture. La Recyclerie is also known for its vibrant-themed second hand furniture and fixtures comprisedof reused colorful chairs and benches, tables, and other second-hand objects from the Comptoir General, the Glazart, the Divan du Monde, and the Machine du Moulin.
The building is soaring, with its high ceiling, enormous glass window offering a calming view over the railway tracks, mobile exterior bar, and open kitchen.
Address: 2 Rue Belliard, 75018 Paris, France
Opening Hours: Daily: 12 pm -12am
13. Le Passe Muraille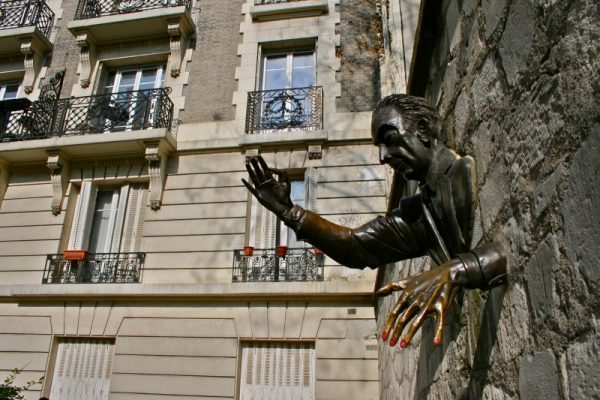 (source: paripolis)
La Passe Muraille or translated as "The Passer -through-walls" is one of the most bizarre monuments you will find in Paris. The monument is adapted into several movies and books like in the short story by Marcel Ayme in 1943 and the French comedy film Mr. Peek-a-Boo in 1951.
This monument in Montmartre gives a surreal feeling with its life-sized man who seems asking for help to completely pass through walls, or the eerie thought of a man who can actually walk pass through walls in the night.
Address: Place Marcel Aymé, Paris, 75018
14. Au Bonheur Du Jour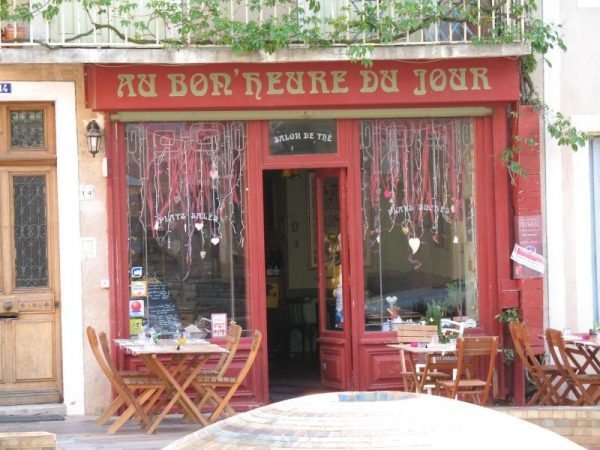 (source: justacote)
Where is sexual perversion not a perversion? In Au Bonheur Du Jour, your fantasies are allowed and accepted. Au Bonheur Du Jour gallery is a haven of all sorts of erotic art for those who are looking for additional spices for their sexual life. From being a former brothel, the retro vibe of the Au Bonheur du Jour differentiates itself from the other galleries you will find in Paris.
You will find nude photos and paintings of male and female adorning its walls. There are also books, letters, photos, drawings, researches, and sensual anecdotes to choose from. For those looking for an unusual present for their beloved one, one may try Au Bonheur du Jour's collection.
Address: 11 rue Chabanais 2e, Paris
Opening Hours: Tue-Sat 2.30pm-7.30pm
15. JULIEN AUROUZE AND CO.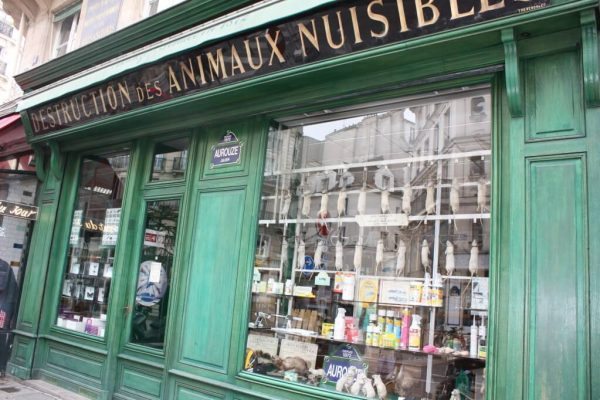 (source: ladouceurdevieaparis)
Rats! The most dreaded species of all. What if you found dead rats hanging inside a shop as decorations? Would you still enter that shop?
The shop of Julien Aurouze and Co. has been open since 1872 and have served hundreds of clients who want to destroy and annihilate these animals. The shop even has a slogan saying "destruction of harmful animals". Today, the shop stands out from its relatively modern neighborhood.
Address: 8, Rue des Halles, 75001 Paris
Conclusion
While most tourists flock to the Eiffel Tower, the Louvre Museum, and Notre Dame, there are less crowded places which are good alternatives for you to enjoy your trip to Paris.
These places are so surreal, as if you have entered a portal which takes you to another dimension you never imagined could exist. Paris is not really known for surreal places, but at least it keeps a number of weird places which will truly amaze you.
If you have any comments, suggestions, or even violent reactions, let me know through the comment section below. I always appreciate discussions with my readers. Merci!
Never travel to France without your copy of the best French Phrasebook in the market. Click the photo below to know more.