[symple_highlight color="green"]Listening Time:  38 minutes.[/symple_highlight]
Here is the 48th session of  Talk in French Podcast! You can download the podcast to your computer or listen to it here via iTunes.
In this episode:
French School System Part 5: L'université (University)
How to learn the Demonym (Parisian, German…) – Gentilé. + I shared a silly (but efficient) trick for you.
Some French Words and expressions.
Download the Podcast now
Right click here and save-as to download this episode to your computer.
or listen on the website.
Want more Free resources? Get the French Learning Package
French Words in the Podcast
le film d'horreur – horror film
le metteur en scène – director
le placeur – usher
l'écran – movie screen
le texte – script
la distribution – cast
la bande sonore – sound track
French Expressions of the week
Être vache
En connaître un rayon
Faire devenir / Rendre chèvre
Laisser tomber quelqu'un comme une vieille chaussette
Se creuser la tête
Se casser la tête
Être tiré par les cheveux
You can also buy an Ebook if you like this part:
365 days of French Expressions.
It includes:  French Expression/ Meaning / Literal Translation/ Example/ MP3/ Weekly Recap and Quizz
Available on:


or on the website

THANKS FOR LISTENING!
Also, please leave an honest review for Talk in French Podcast t on iTunes! Ratings and reviews are extremely helpful and greatly appreciated! They do matter in the rankings of the show, and I read each and every one of them.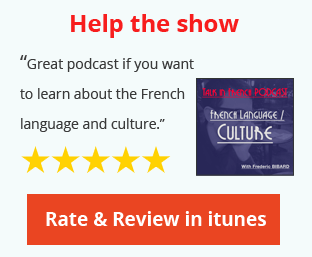 P.S: Do not hesitate to share this article on pinterest,facebook, twitter or google plus.