Let's face it, France is not exactly known as a haven for vegans and vegetarians.
What with all the hearty and meaty classics like steak au poivre, boeuf bourguignon, coq au vin, and foie gras. Add to that the restaurant culture that has not yet fully embraced ordering food the exact way you want it (unlike other western countries).
In a French restaurant, the chef is the artist that runs the show and the dishes s/he prepares are painstakingly planned and prepared just like any artistic masterpiece. So try not to get upset if your special requests do not get considered.
All these (plus loads of other reasons) combined could make it difficult for any vegan or vegetarian planning to take a trip or move to France. But don't despair; all hope is not lost. Besides, it's not as hard as you might imagine. France is actually becoming more and more vegetarian and vegan-friendly in recent years.
But whether you are planning to stay in France for a few days or for an extended period, you can check out these tips on how you can survive----and even enjoy---being a vegan or vegetarian in France.
1. Learn words and phrases related to veganism or vegetarianism
Before anything else, make it a point to learn French vocabulary and phrases that are specific to your vegan or vegetarian diet. Trust me, this will come in very handy and will make your life so much easier.
With the help of some very important French phrases and words, you will be able to explain properly what you can and cannot eat, and help you recognize words when you scan the restaurant menu or the food labels at the supermarket. To help you with that, you can check out this handy list of words and phrases we have previously prepared for you.
But you might be wondering: why is it important to explain exactly what you can and cannot eat? Is saying "Je suis un végétarien" not enough?
Unfortunately, it's not. In France, there is sometimes a confusion between vegetarians and "pescatarians" (people who don't eat meat but will eat fish). So if you say you are a vegetarian or vegan, some French people would assume you eat fish. Besides, the French terms for vegan (végétalien) and vegetarian (végétarien) are almost similar, so it's best to explain what you can and cannot eat to avoid any confusion.
Better yet, learn conversational French to be able to get your point across with much more clarity. For that, you can make use of the all-in-one learning series: My French Routine e-books with audio to help you master French conversations.
<Insert photo of My French Routine Series>
2. Make use of technology.
Using your smart phones, download apps like Happy Cow or check out their list of restaurant options here. According to this list, there is a total of 1,458 vegan/vegetarian restaurants in France, and 278 of those can be found in Paris! Hooray!
3. Try cooking vegan/vegetarian versions of traditional French food.
If you're going to be in France for an extended period of time and fancy doing a little bit of cooking in your French kitchen, why not try whipping up veggie equivalents of tasty French classics? You can check out this list of vegetarian recipes from FrenchEntree.com and try their veggie-friendly take on French favorites.
4. Reach out to other vegetarians.
Doing this has never been easier with today's modern technology. You can scout for Facebook groups, forums in sites like couchsurfer, and even join societies---the options are endless. You can also subscribe to vegan newsletter for updates or visit the Association végétarienne de France site.
5. Do a thorough research of the area.
If you are planning to stay in France for longer than a few days, it's always good to check out the places around your neighborhood. Find out where the health food shops are, the best boulangeries, as well as markets where you can buy fresh produce.
The great part about France are the outdoor markets that are teeming with the freshest, healthiest produce that are sure to make any vegan/vegetarian's heart skip a beat.
When you're in Paris, you can also make use of this guide on where to buy organic foods.
6. Be prepared for some curious questions and know how to answer them.
In a meat-loving country like France where every meal is graced with a main meat course, being a vegetarian or vegan can still make you seem like some sort of an oddity. Even if vegetarianism/veganism has grown leaps and bounds in the last few years, there are still not that many people practising this lifestyle. So don't be weirded out when you get asked questions about your diet.
A good advice from other vegetarians/vegans is to answer questions as simply as you could and not get into any argument by insisting how eating animals is wrong. Remember that being a gracious guest is highly valued not just in France but anywhere in the world. So try to explain your reasons as simply as possible and don't be like:
7. Get a copy of updated restaurant guides like Paris for Foodies.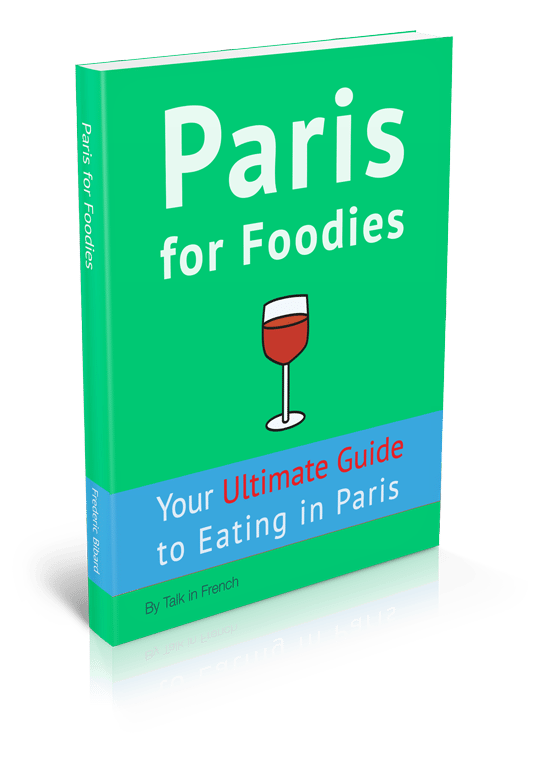 There are plenty of restaurant guides out there but updated e-books like Talk in French's very own Paris for Foodies is a pretty handy one that stands out above the rest. Not only does it lists down the best restaurants per arrondissement, it also includes insider tips and important details for gluten-free and vegetarian/vegan restaurants.
As an added tip, some vegan/vegetarian restaurants in Paris are closed in the evening and are open only for lunch. So it's important to double check the opening hours or secure a reservation beforehand.
Going to France when you're a vegan doesn't mean you'll have to resign yourself to going hungry. If worse comes to worst, you can always get a falafel in one of the touristy streets. And don't forget, there's always the omnipresent baguette that you can buy from boulangeries everywhere. Just slice up some tomatoes or slather it with some veggie toppings then go take a seat in one of the many gorgeous parks. Voilà, an instant vegan/vegetarian picnic lunch for you!
What other tips can you share to vegans or vegetarians in France? Don't forget to share your thoughts in the comments section.
Merci!