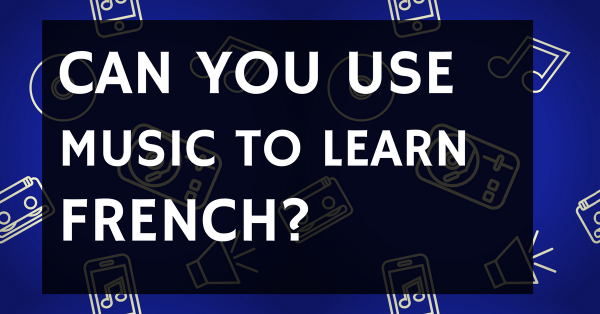 This is a common question raised by language learners—is music a good way to learn a language?
To be honest, I'm not the biggest fan of using music as a way to learn French. Musicians often take shortcuts liberally, making words blend together and alter individual word sounds more than necessary. This could make it very hard for beginner French learners to identify words properly and learn correct pronunciation.
Still, music is a good way to:
Immerse yourself in French culture

Train your ears to French sounds

Discover new French words, and

Memorize phrases with the help of a catchy tune.  
French music can be a great supplement to your French lessons, so here in the Talk in French blog, I've prepared a lot of French song playlists for you to listen to. The playlist are quite substantial including a collection of more than 600 French songs that you can listen to for free.
Sounds awesome, right?
I even added synchronized lyrics so you can turn your computer or your smartphone into a mini karaoke! This is especially helpful in learning new French words. You can list down words you don't understand and look it up later on.

You can check out the playlists below. You'll find the instructions on how to access the music inside the articles.
600 French Songs – More than 30 hours of French Music.
70 French Songs for Children – Playlist
Please share these playlists with friends who might be interested 🙂
Do you have any other French music playlist suggestions? Let me know in the comments and I'll see what I can do.

Do you want more tips on how to learn French effectively? Grab your copy of Fluent in French, the ultimate French language study guide. You'll get language hacks, tried-and-tested formula specifically for French, and lots of useful guides regardless of your level.