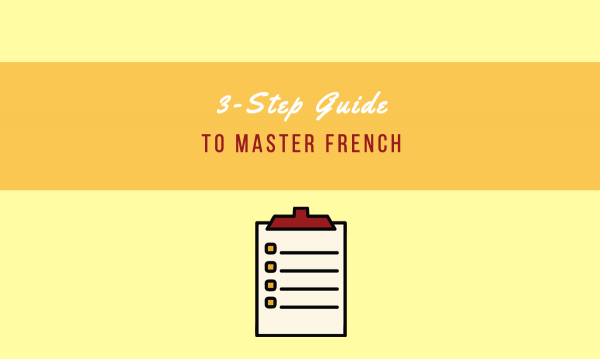 Bonjour! Maybe you've been following Talk in French for a long while now and you're already subscribed to my weekly newsletter. Or maybe you're a complete newbie who has only stumbled across my website recently. No matter which one of the two you happen to be, I know you probably have this question at the back of your mind:
How can I learn and master French through Talk in French.com?
I know it could be difficult to navigate your way through the dozens of tabs and the hundreds of articles there. So here, let me break down everything to you using this 3-step guide.
Step 1. Create a Learning Habit.
The entire Talk in French website and its array of products are all built upon the idea that you can learn French without all the unnecessary stress and pain—and that is through developing a healthy learning habit. Learning French is not a sprint but a marathon; an hour spent daily can be so much more effective than long periods of time spent learning French sporadically.
To help you with that, you can do the following:
Get a copy of a complete guide to learn French for Beginners.
You can find two volumes on that series. The first one is here and I have just recently released the second volume.
With this book, you will be able to teach yourself conversational French with short daily lessons for 20 days. Each daily lesson consists of the following:
One grammar topic per day

Sample dialogue to illustrate a grammar point

Audio recorded by native French speakers for you to listen and follow along

MP3 guides to help you learn the pronunciation

Exercises and practice activities

Vocabulary lists

And more!
The lessons are carefully selected and arranged to make learning not just a breeze, but also for you to build on every day until you have accumulated enough knowledge to speak conversational French confidently.
Aside from that, we have made sure that the lessons which have a strong focus on listening are short enough to grab your interest but still challenging enough to keep you going. After the end of 20 lessons, you should already be able to speak conversational French and participate in French discussions about various topics.
You can check out the rest of the details about this new book here.
2. 
Follow Talk in French on social media.
Another tip to ensure that you are well on your way to building a learning habit is to follow Talk in French in the different social media sites such as Facebook, Instagram, Twitter, Google+ and Pinterest. There, you can check out French words everyday as well as extra tips to help you learn French in small doses every day.
Step 2: Immerse in French Culture
You don't need to spend a few months in a French-speaking country or move to France for good to fully immerse yourself in the French language and culture. You only need to check out French culture topics every day and let it help you learn the language some more.
Talk in French.com has ways to help you with that.
If you head over to the blog and click the "MOVIES" category, you will be able to find lists of recommended French films that you can watch one for each day of the month. For example, there is a list of 31 movies for 31 days of January, another 28 days for February, and so on. You get the drill.
There are many ways to experience French culture even if you're just at home and Talk in French has got you covered.
Step 3: Polish your skills with more French language products
The 3rd and final step to master French would need a more thorough focus. But regardless of where you are on your language learning journey, you can ask help from a lot of Talk in French products.
Here are some ways to take that final leap to achieve fluency in French:
Get a few hours of tutorial and learn French with me.

Yes, I also teach French and I can help you iron out any difficulties you might have with the language.

Check out the Talk in French store for more language help.

Whether you're having trouble with grammar, noun genders, idioms, or simply want short stories to listen along to, there is a Talk in French product for you.
So, are you ready to take the first step? Get your copy of the complete step by step method for beginners today!